Birthdays, anniversaries, memorials. Who knows where the time goes?
There is something in our wiring that makes us reconsider events in an orderly, time related  fashion, I suppose some of it has to do with our annual trip round the Sun. Maybe the concept of decades came from having eight fingers and two thumbs. Whatever, ten years seems to be significant period, perhaps because we know that we will only experience a handful of such landmarks in our brief time here on earth, it us gives pause to stop and reflect.
Ten years ago tomorrow, St. Patrick's Day 2001, I stumbled into Sebring International Raceway in the dark. Our American cousins love their early morning photo meetings. So we assembled grumbling, the collective noun for a bunch of photographers is a Moan. Sheriff Rick Dole tried to instil some sense into us, giving details of the reserved spots for the turn one opening lap scramble and reciting the dos and dont's.
Then someone, I can't remember who, asked had I heard about Bob?
Bob?
That could only mean Bob Wollek.
What?
He's dead, killed last night in a road accident.
This seemed impossible, Bob Wollek had survived during a truly dangerous period in motorsport and now as he contemplated retirement he was killed in a pointless traffic incident.
Just how pointless was soon evident when the circumstances emerged. Bob was a keen cyclist and would use that method of transport to get to and from the circuit. In fact he would ride to Le Mans every year from Strasbourg. So on Friday afternoon he left the Sebring paddock en route to his lodgings, west along Highway 98 towards the small town of Lorida. An 82 year old local resident driving a van collided with the Frenchman killing him instantly.
The Florida Highway Patrol reported "Wollek had been riding close to the edge of the pavement marking and the van, traveling in the same direction behind other traffic, hit the back of the bicycle.
Wollek was taken to Highlands Regional Medical Center with fatal injuries."
To say the paddock and the whole crowd were shocked would be a gross understatement, as evidenced by the signs posted up around the pits and the respect shown on the grid of a minute's silence. The Petersen/White Lightning Porsche that Bob was scheduled to drive was also withdrawn from the race.
I am not about to try and write a feature on Bob Wollek's career, that requires a book, in fact one has just been completed by Jean-Marc Teissedre. Rather I have looked through the small archive and using a few shots will post some recollections in my personal tribute to the man.
Back in 1981 Bob was already a top line sportscar driver and champion, I could not even get media accreditation at that year's Brands Hatch 1000kms. However with a bit of effort from the spectator area this modest effort was possible. A Kremer 917? Yes the brothers from Cologne built up this fibreglass kit car, based around the original iconic design. It failed to impress at Le Mans but ran respectably at Brands, dueling for the lead till suspension failure.
Another year, another adaptation, this time the 936C. For 1982 Joest Racing was aware that getting a customer version of the Porsche 956 would have to wait till 1983. So adapting their 'customer' 936 chassis and sticking some bodywork allowed them to be in the pack. In fact they were best of the rest after the Porsche and Lancia factory efforts.
1983 saw Joest get hold of a Porsche 956 , chassis 104. Wollek used it to good effect with WEC wins at Monza and Mugello (both with Stefan Johansson) to bag the WEC European Drivers Championship. The DRM title too with three wins.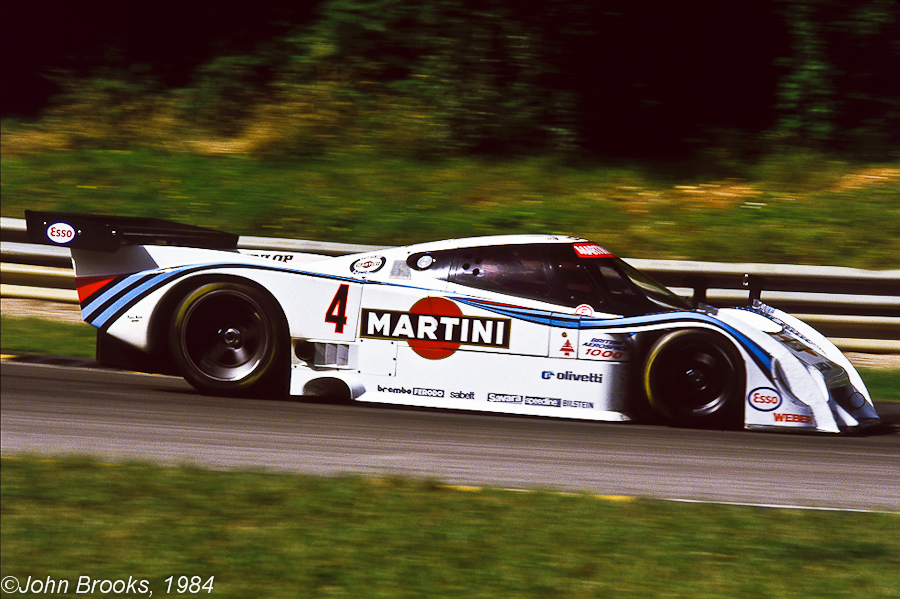 1984 saw Wollek join the Martini Lancia team, an odd choice given the reputation for chaos that the Italians had. The LC2s were fast and fragile.
The following year the problems persisted, though there was a win at Spa. No one cared though, Stefan Bellof had been killed during the race, the result was irrelevant. Of course it would not have escaped Wollek's attention that had he stayed with Joest in '84 and '85, he might well have been a double winner at Le Mans.
1986 came and Lancia left Group C and Jaguar joined. Wollek returned to the factory Porsche team, in place of Jacky Ickx who retired. Pole at Le Mans meant nothing after co-driver Jochen Mass clouted the barriers after encountering an oil spill.
I was at Brands Hatch to see Mauro Baldi and Bob defeat the other privateer Porsches and the TWR Jaguars, in the Richard Lloyd 956 GTI.
More tomorrow.
John Brooks March 2011