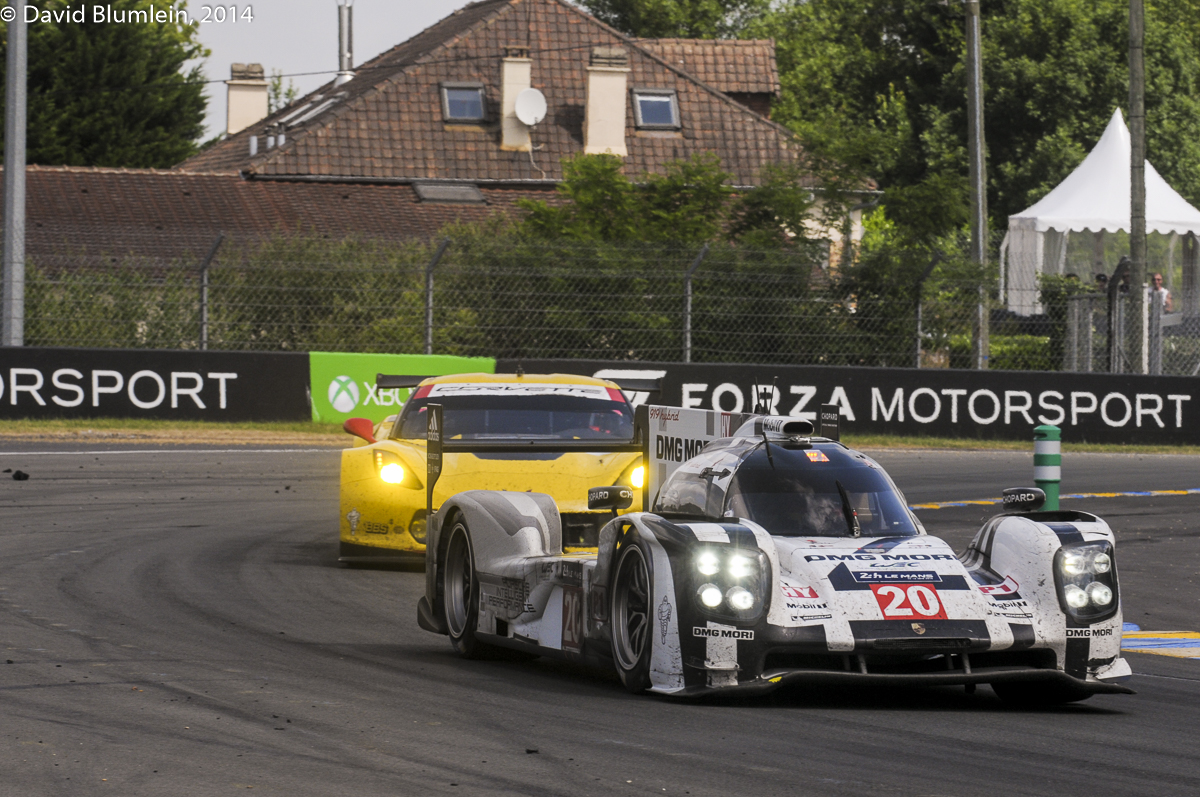 If Toyota were the pre-race favourites, Porsche were the star attraction. Since their last outright win in 1998, they had contented themselves during the intervening years with supporting their favoured private customers in the GT categories but now they were ready to add to their impressive record of sixteen wins in the race, although Audi was steadily creeping up on them, finishing this race with their thirteenth win, comfortably ahead of Ferrari's nine set as far back as 1965.
This was the first confrontation between Porsche and Audi at Le Mans for overall victory and Porsche was attracted back by the challenge of the new LM P1 regulations. To help they had added the ex-F1 driver Mark Webber to their driving strength. The Australian had appeared at Le Mans twice before but this was to be the first time he had driven any racing miles: in 1998 his Mercedes CLK LM, while being driven by Schneider, suffered engine failure after only nineteen laps before Webber had a chance to take the wheel; in 1999 he was the innocent victim of two "flights" when the Mercedes CLR took off during Thursday's practice and again in the Saturday warm-up, denying him a start in the race. Fortunately he was not hurt in either spectacular accident.
The Webber/Hartley/Bernhard Porsche 919 Hybrid no. 20 led the race at the 21st hour but mechanical failure at this late stage left it unclassified.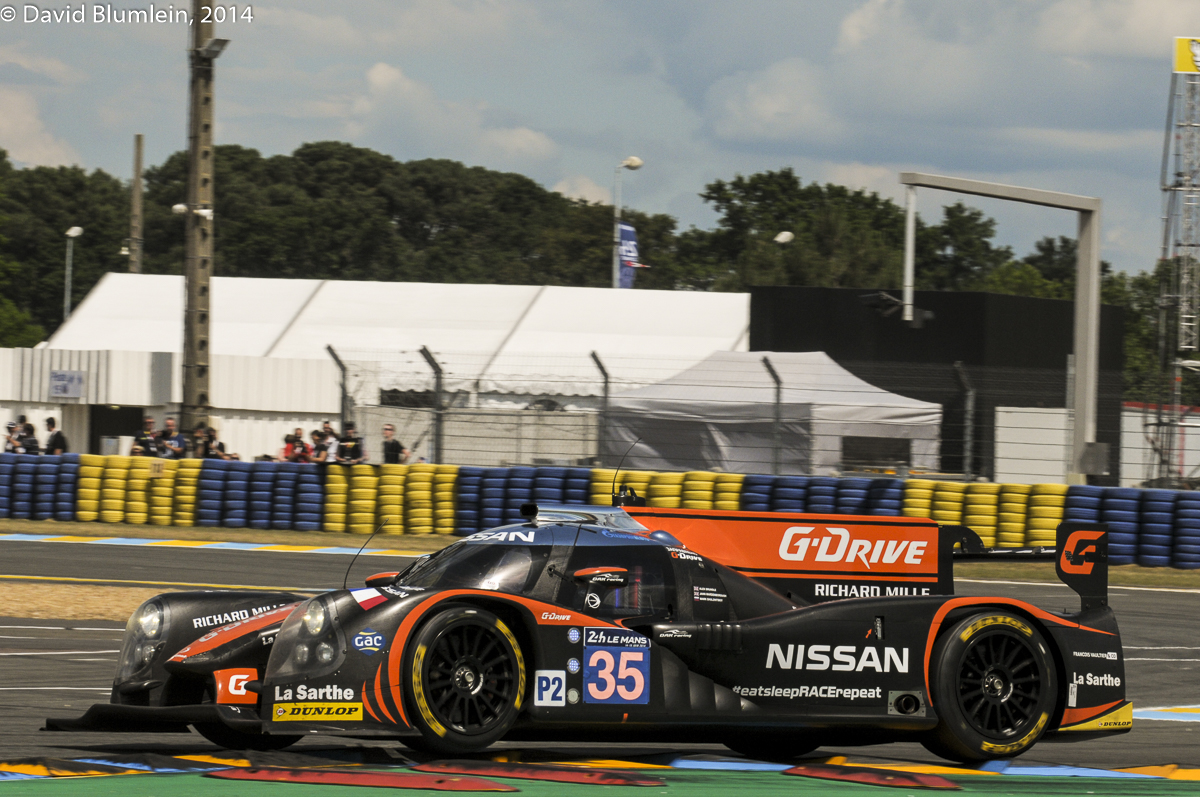 Not only Porsche came back – so did Ligier, after thirty-nine years. This happy event came about when Jacques Nicolet, the man behind Oak Racing which won the LM P2 class at Le Mans last year, decided to buy through his Onroak Automotive concern Ligier's racing operation at Magny Cours. The two men share a deep passion for racing and the outcome was the appearance of three brand-new Ligier JS P2 cars, a completely new design all of which finished the race, one of them coming second in the class after leading for some of the way.
A pre-race press conference afforded me the opportunity to meet and talk with Guy Ligier, a very special privilege.
The success of the Jota Sport Zytek Z11SN in winning the P2 class this year reminds us that it is not necessary to have a new car in order to do well at Le Mans. This design dates from 2011 and Jota acquired theirs in 2012. I recall a privately-entered Aston Martin, a design conceived for the 1953 season, coming second overall in 1958!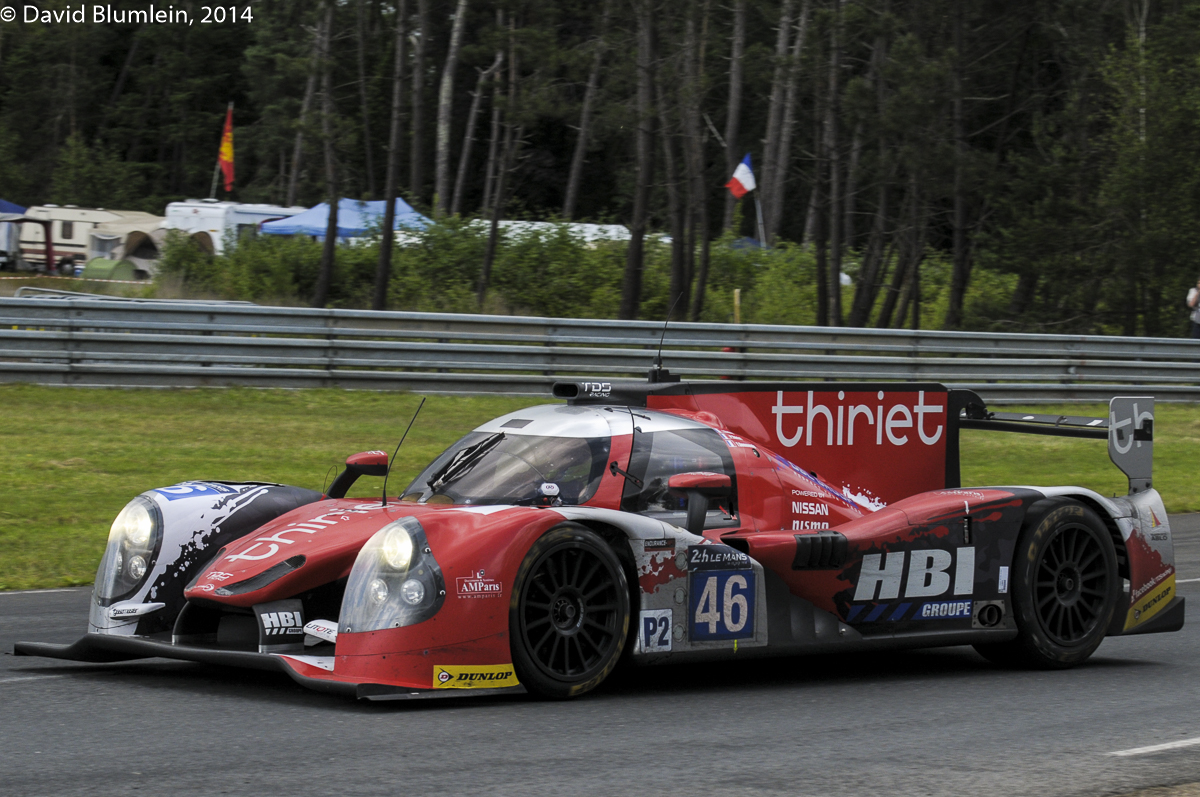 It was the Thiriet Ligier which claimed second.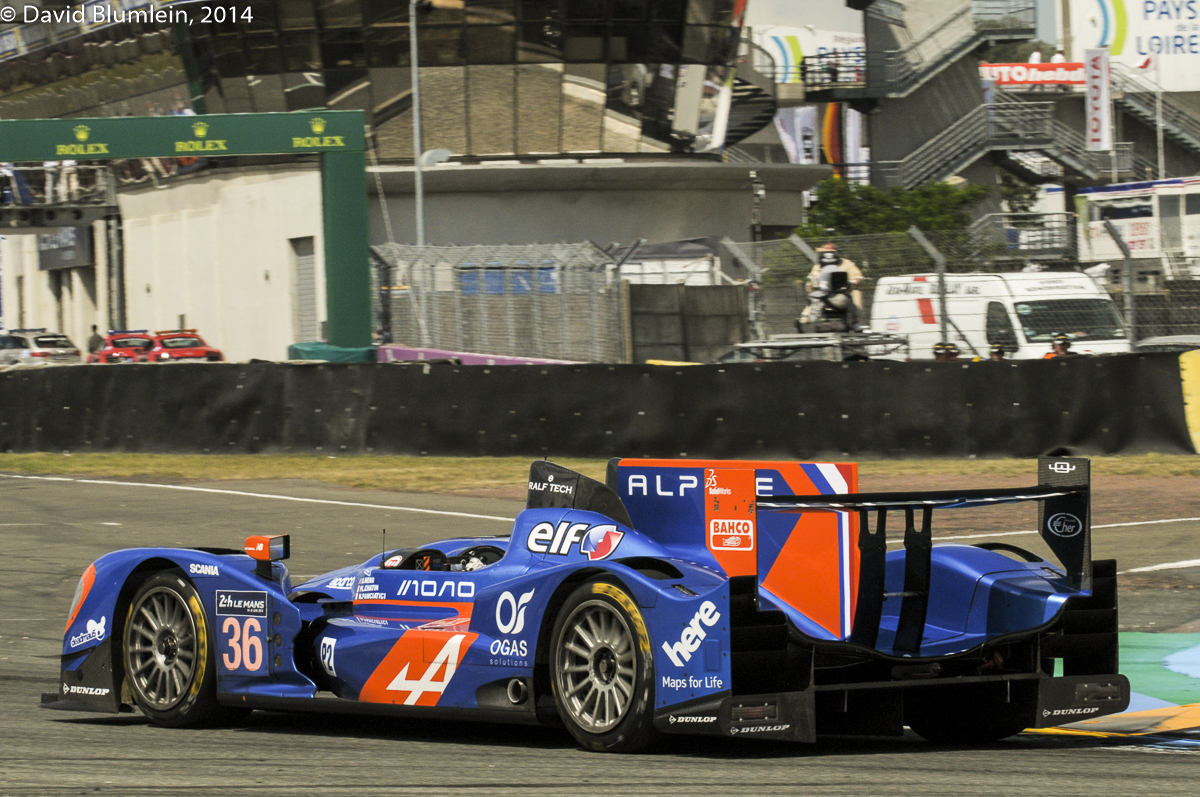 The Oreca-based Alpine followed in third. Will we see a home-grown Alpine soon, I wonder?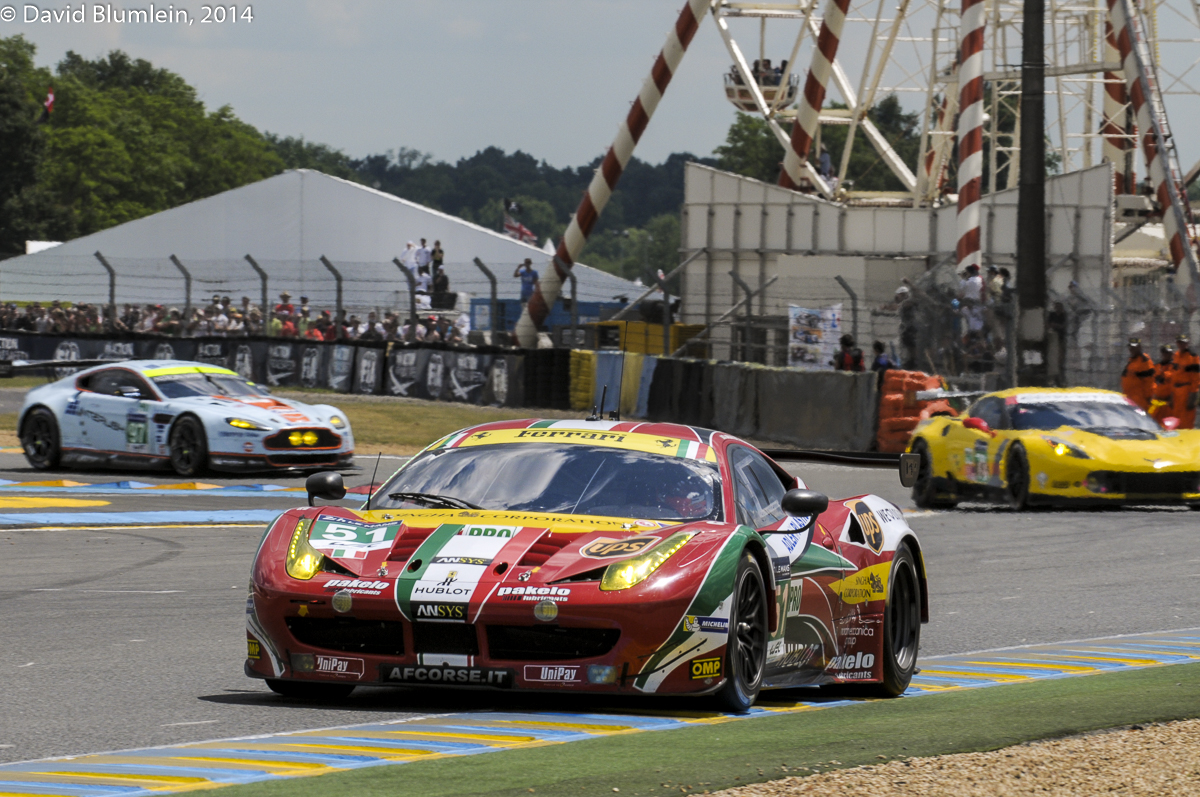 What a superb struggle was put up by the leading contenders of GTE Pro! Ferrari 458 Italia, Aston Martin Vantage and the new Chevrolet Corvette C7.R were at each other's throats from the start – here they are at the Ford Chicane.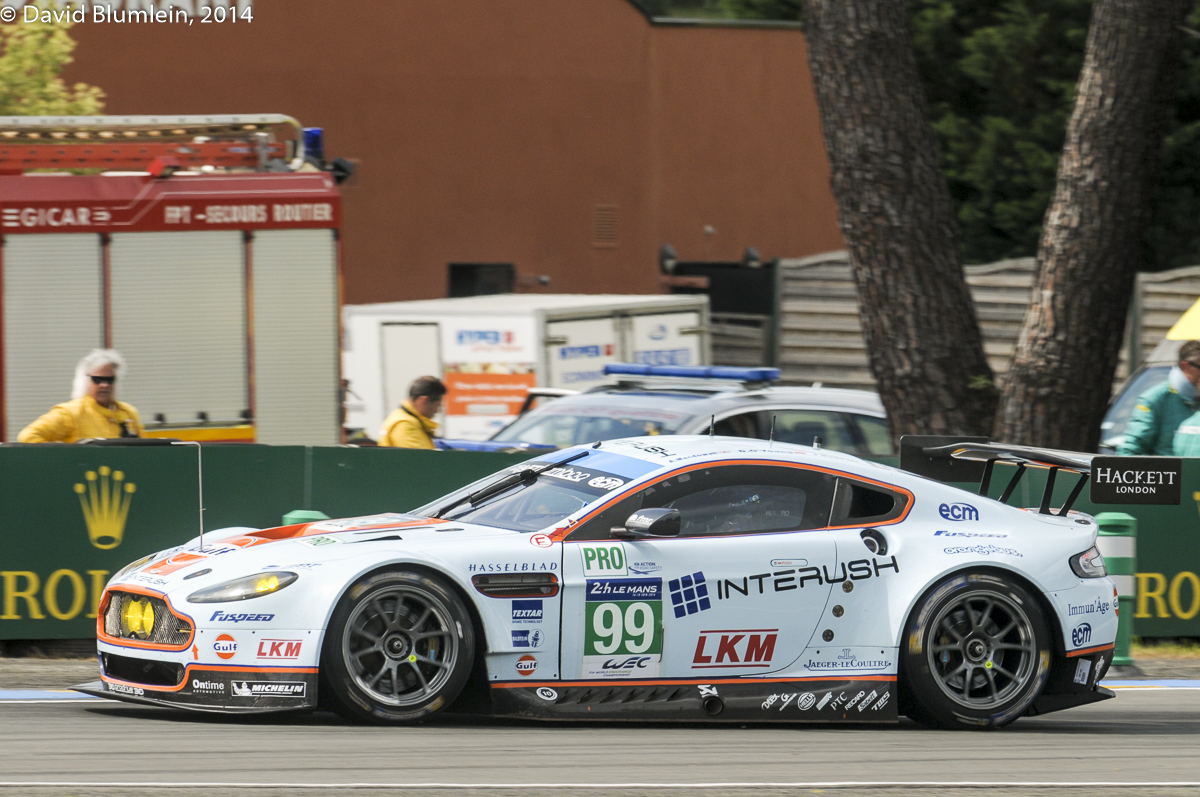 Unfortunately Aston Martin had to withdraw their no.99 car after Fernando Rees crashed it badly in practice.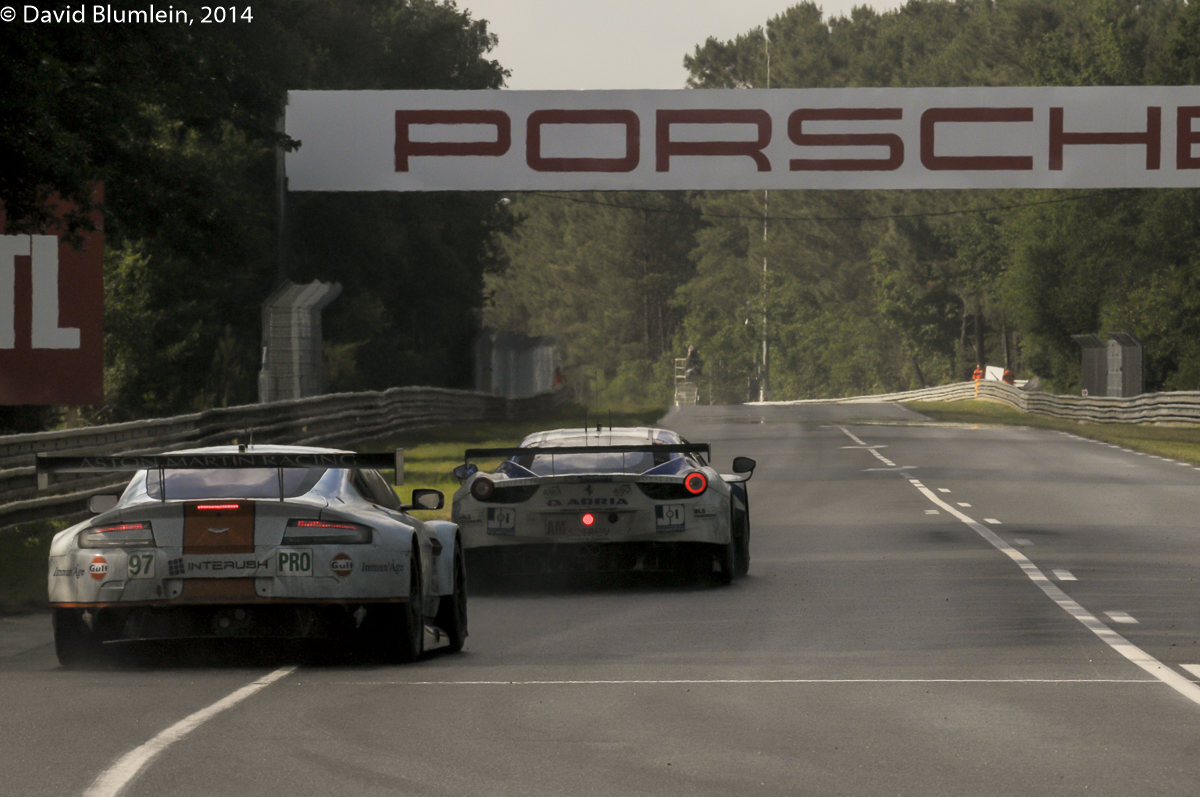 Their other car gave up the fight, finishing a lowly 35th.
It was the well-tried AF Corse Ferrari of the experienced Bruni, Vilander and Fisichella which took the spoils, as they did two years ago.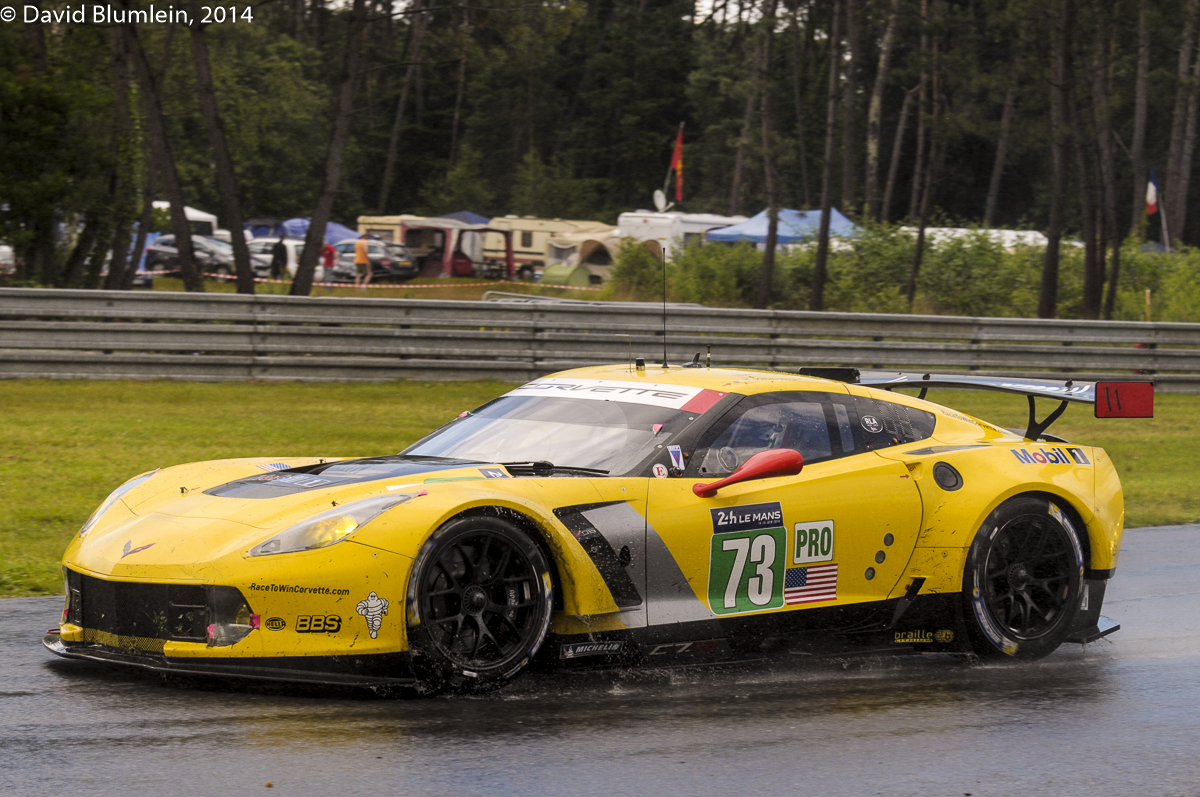 The no.73 Corvette finished second in class.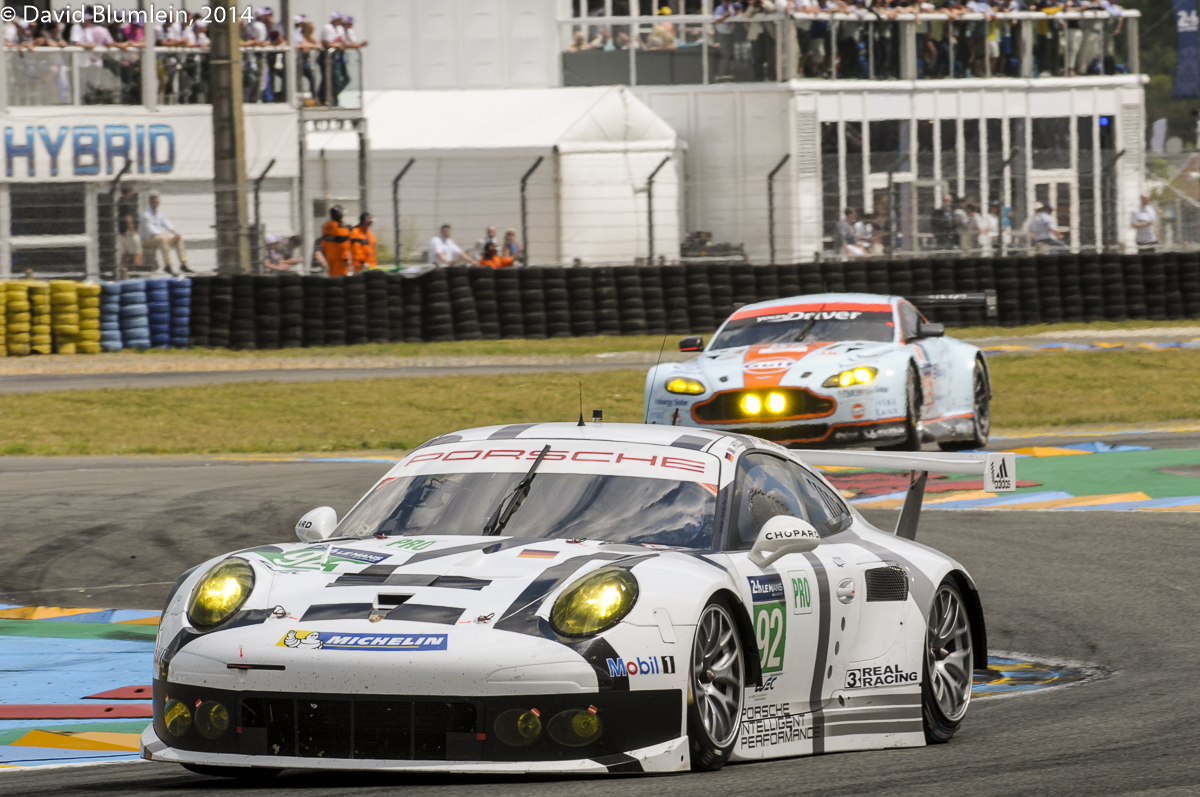 Last year's winners, the Manthey Porsche, was next up.
The two Manthey cars were never really in contention because their previous success earned them a Balance of Performance ballast of 25kg! Something wrong here – I thought motor-racing was about the best driver/team winning. Shades of a circus act, alas.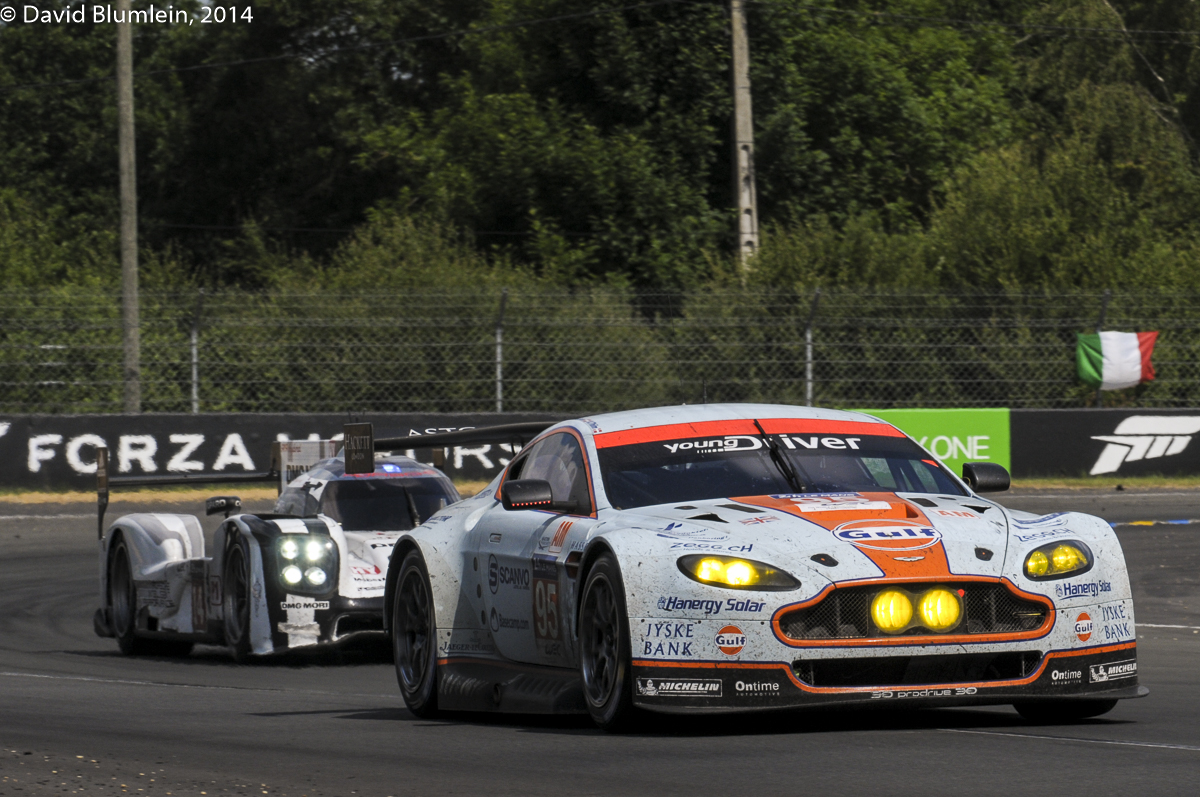 Some compensation for Aston Martin came with their winning the GTE Am class ahead of Porsches and Ferraris, thanks to their Danish drivers.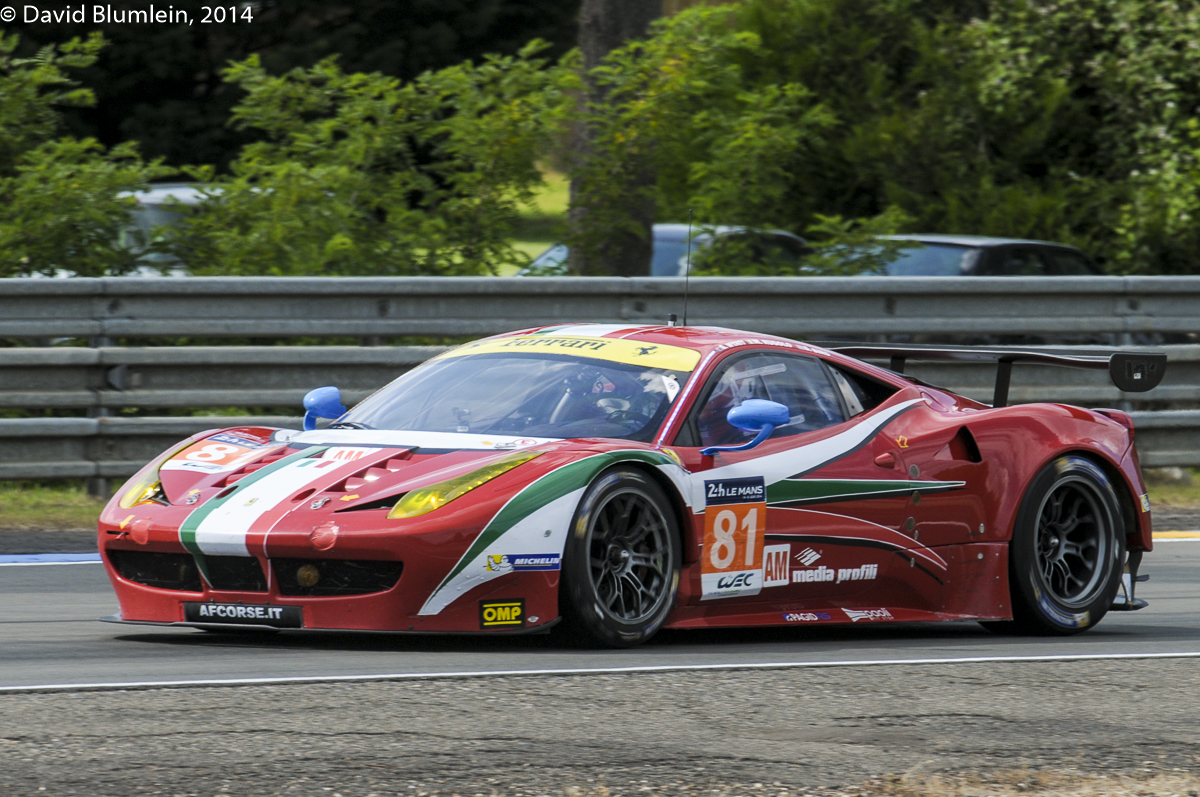 This was for the most part a dry race but very heavy showers interrupted proceedings in the third hour and created some havoc. Audi lost their third car, AF Corse their no.81 Ferrari.
Toyota no. 8 struggled back badly hurt although it eventually worked its way up to third by the end.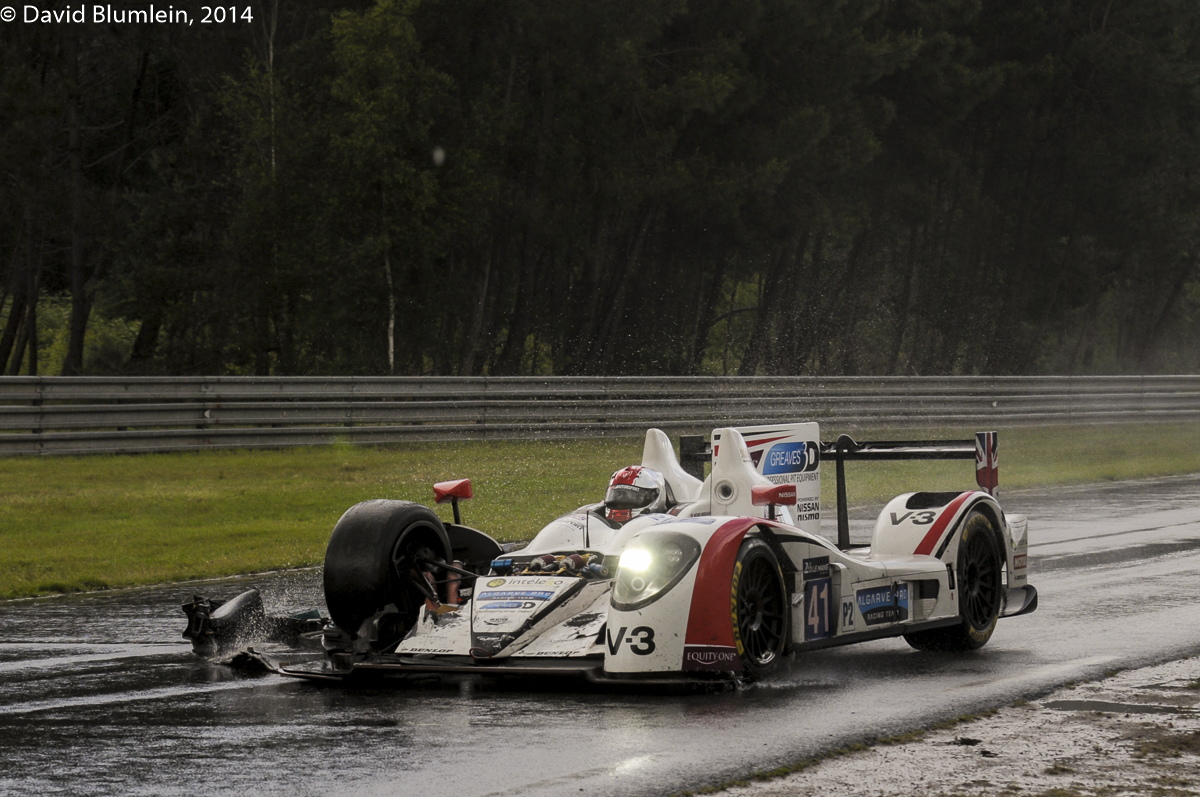 Not so lucky was one of the Greaves Motorsport Zyteks: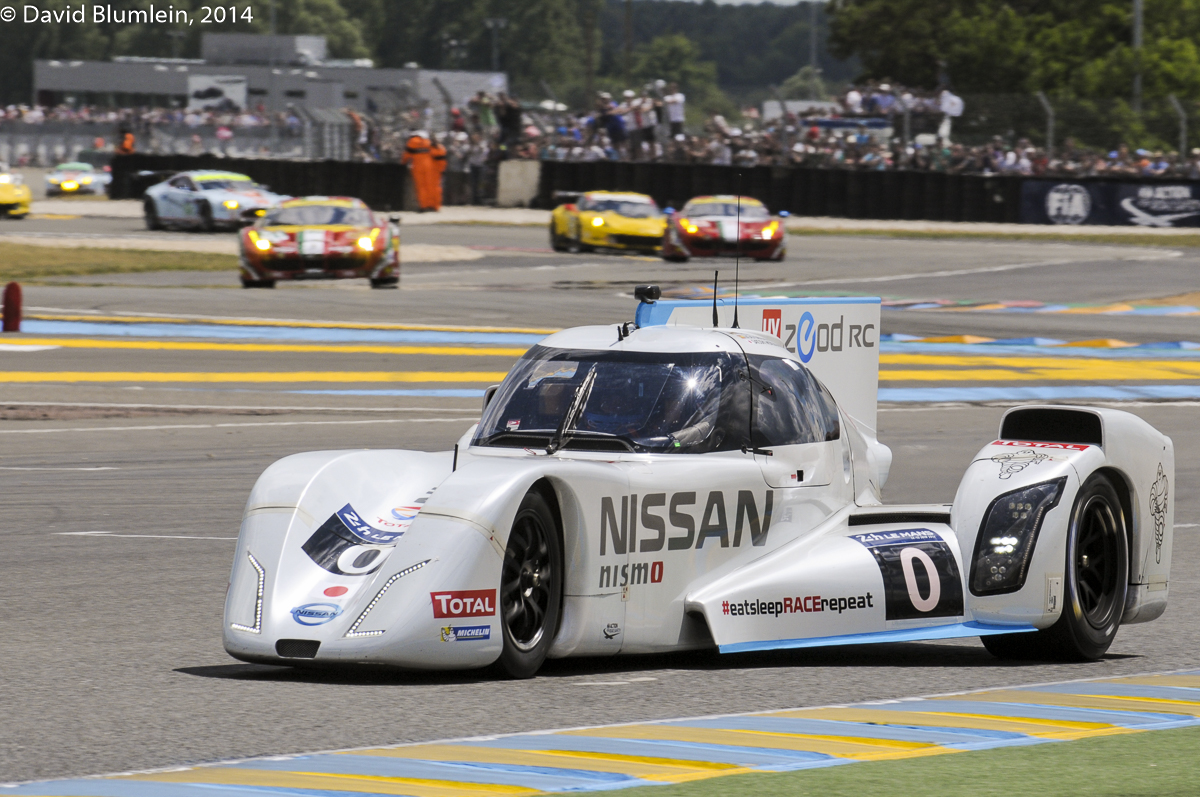 ZEOD – Zero Emissions On Demand, or should it be ZEOT – Zero Effect On Track? Two years ago the predecessor of this bizarre machine was put out of its misery by being punted off the track by a Toyota; this year it failed mechanically after just five laps, the first retirement.
Are these to be taken as omens for Nissan who were at great pains to inform the whole Le Mans community that they were going to win in 2016? True, their engines filled the first five places in P2 but we have yet to see a Japanese manufacturer emulate Mazda's achievement in 1991. Yes, in that year a Nissan Skyline did win the Spa 24 Hours but Mazda had done that too, ten years earlier with the RX-7 in 1981! My thoughts are that Nissan should have a quiet word with Toyota. Still, as the experienced Manceaux would say, On verra, we shall see.
Happily no lasting harm to drivers who crashed – here is Audi 1 just before its destruction on Wednesday evening.
Audi did very well to build up a replacement by Thursday evening's practice and managed to enlist Marc Gené to replace Loïc Duval. The Spaniard knows a thing or two about having a massive shunt in the Porsche Curves – he destroyed a Peugeot 908 HDi-FAP in 2008!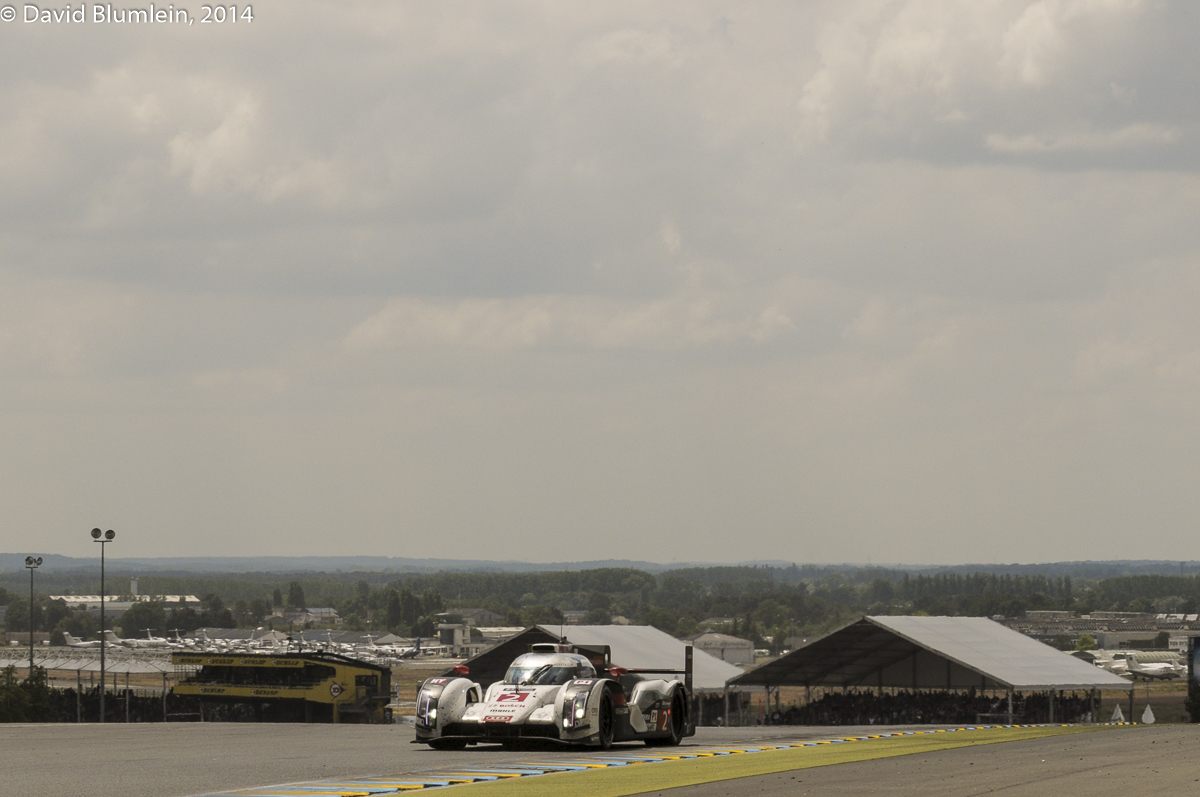 And Audi knows a thing or two about winning 24 hour races. Cars 2 and 1, despite having their turbos changed, outlasted the others to be on top yet again:
TAILPIECE
The Drivers' Parade was very short of interesting old French cars this year but one of note was this escapee from the Le Mans museum:
It is a 1912 Type F Amédée Bollée and if you look inside the cockpit you will see no gearchange lever. That is because it is the inner ring on the steering wheel!
David Blumlein, July 2014