The launch of a new Bugatti is a very rare event, like the alignment of the planets, it may come but once or twice in our life spans. So the opportunity the witness the latest model from this most exclusive of brands in the flesh was not to be missed by our Special Correspondent. So he set course for Geneva and here are some of his reflections.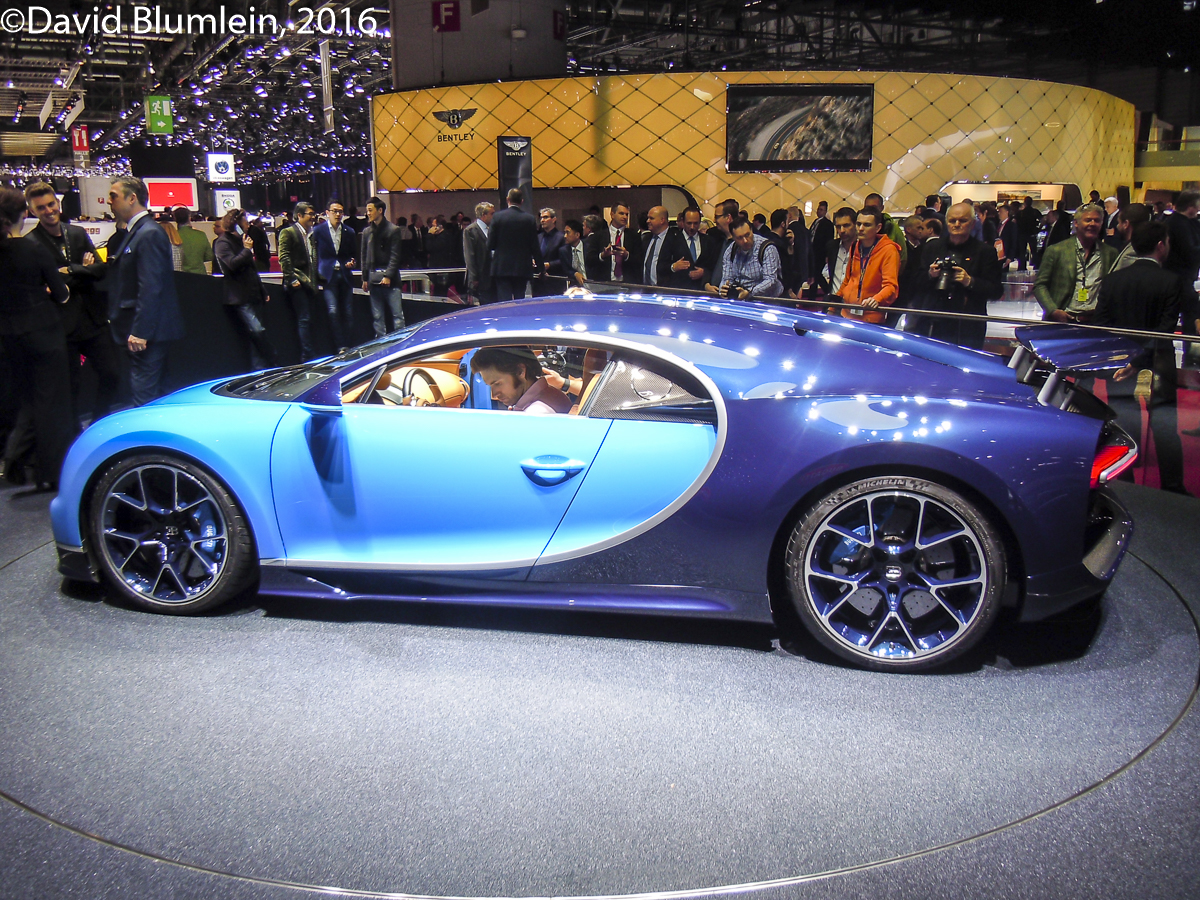 For this scribe the chief excitement of the 2016 Geneva Motor show was the début of the Bugatti Chiron. Based on the Veyron, the Chiron pushes all the limits of its predecessor further ahead.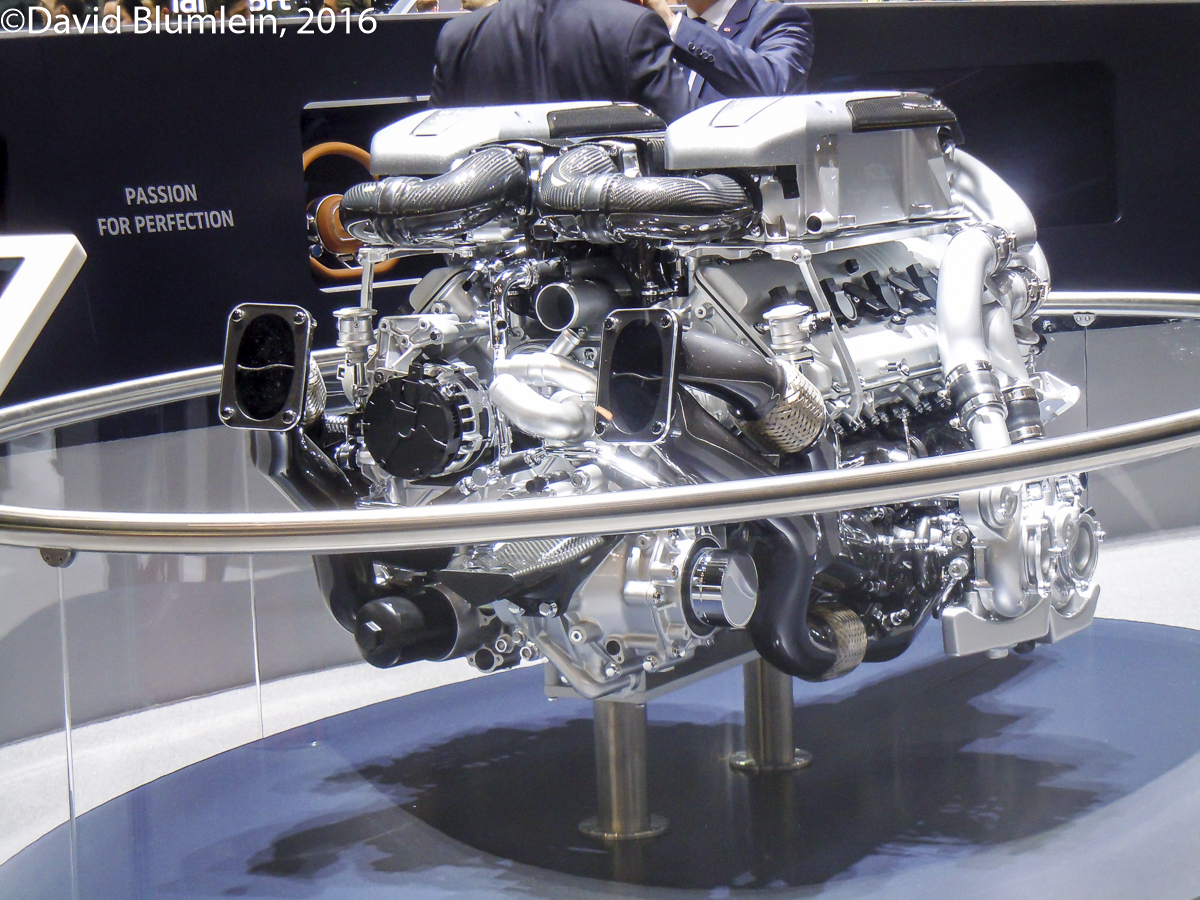 It's taller and wider and the 8.0-litre quad turbo W16 has been re-developed to give a staggering 1,479 b.h.p., almost 300 b.h.p. more than the Veyron, by dint of stronger titanium connecting rods, enlarged (by 30%) turbos while 1.4 kg have been machined off the crankshaft. There is an up-graded 7-speed Ricardo DCT with a bigger crown wheel, stronger universal joints and stouter driveshafts. Carbon silicon brakes with eight pistons and an air-brake help to arrest the unbelievable performance. The car sits on a new lighter carbon-fibre monocoque to which is attached the adaptive suspension and specially developed tyres. The carbon-fibre bodywork is a bold mix of curves and straight lines and a cutaway rear end is used to get rid of the enormous heat.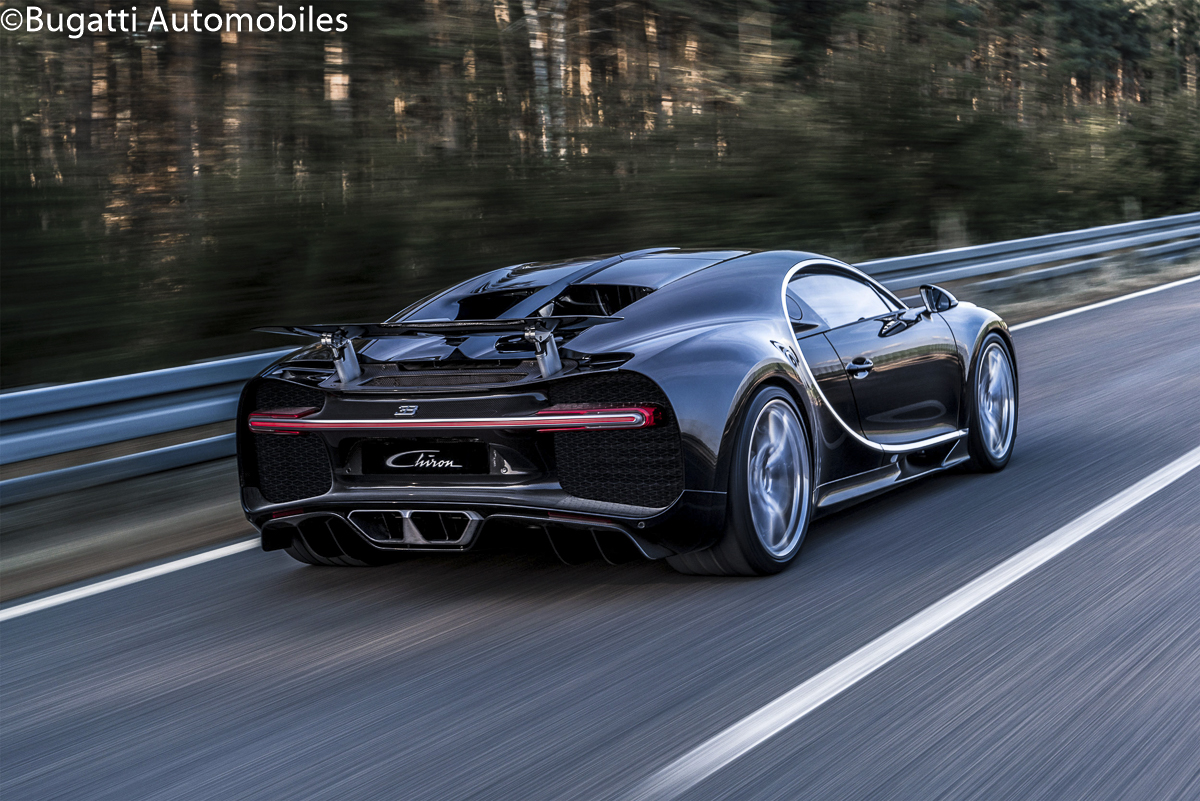 Some 300,000 miles of testing has proved that these improvements are up to the job and customers (existing Veyron owners are given first refusal) are invited to part with a mere £1.9 million as from the autumn. To reassure them the road car is limited to a top speed of 261 m.p.h. Bugatti expects to make up to 500 Chirons, taking production up to 2024.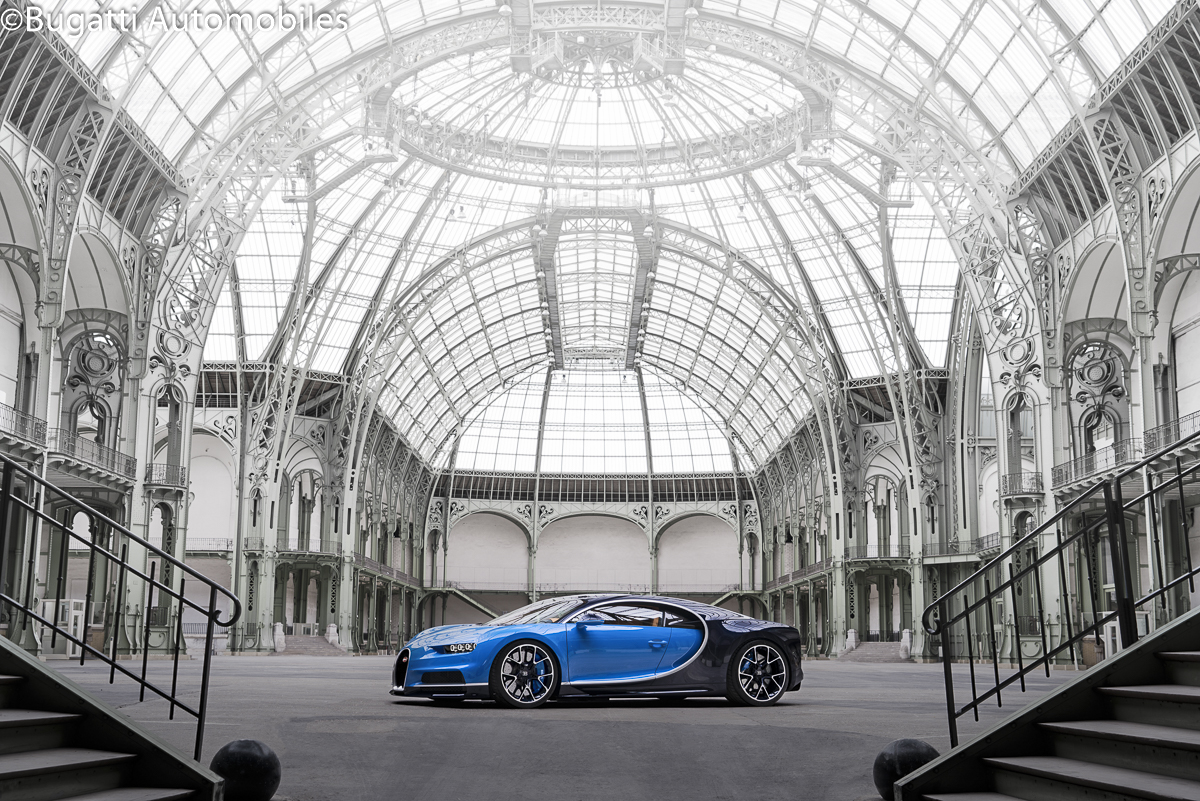 Let us not forget that there was an earlier Bugatti Chiron, a concept car which appeared at the Frankfurt Show in 1999. It was a 2-seater mid-engined coupé, labelled "EB 18/3 Chiron", the 18 indicating the number of cylinders and the 3 representing Volkswagen's project.
So why Chiron, and who was he? Like Pierre Veyron he was a successful Bugatti driver but he drove other marques as well.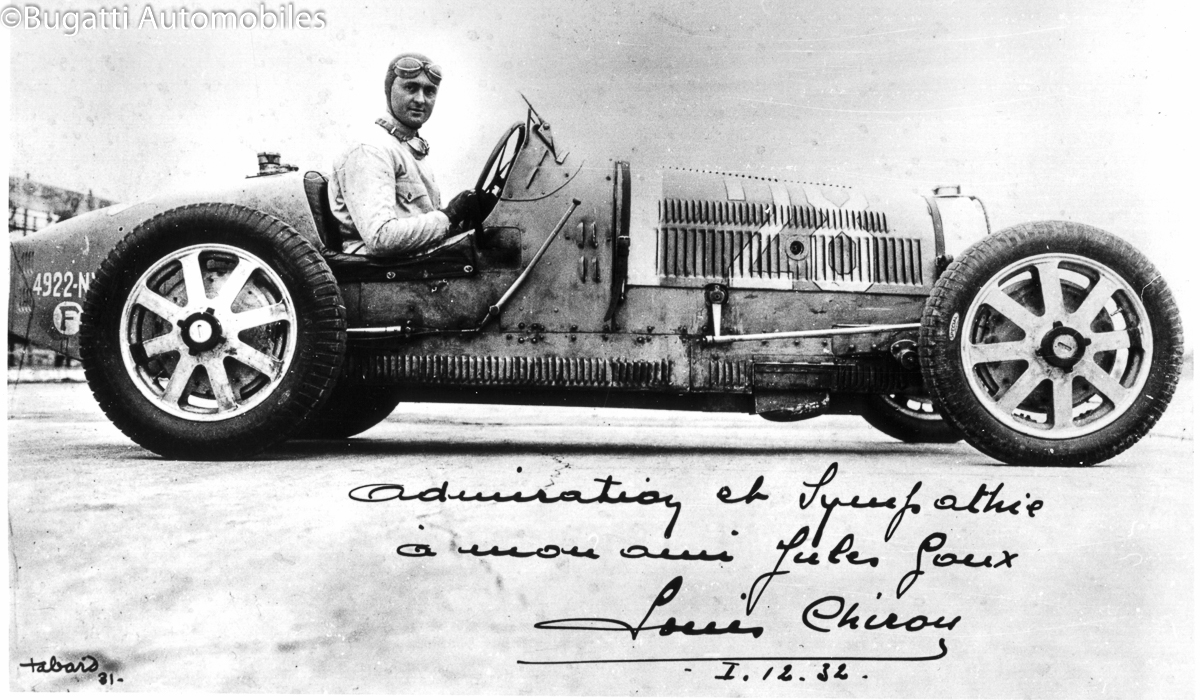 He was born in Monaco in 1899, the son of the Maître d'Hôtel in the Hôtel de Paris. Having joined the French Army as an artilleryman, he became the chauffeur to Marshal Pétain. He was then able to obtain a Bugatti T22 which was prepared and supported by Ernest Friderich who was the Bugatti agent in Nice. In 1923 Chiron started taking part in local sprints and hill climbs, registering an initial success with a 3rd place in the Mont Agel hill climb.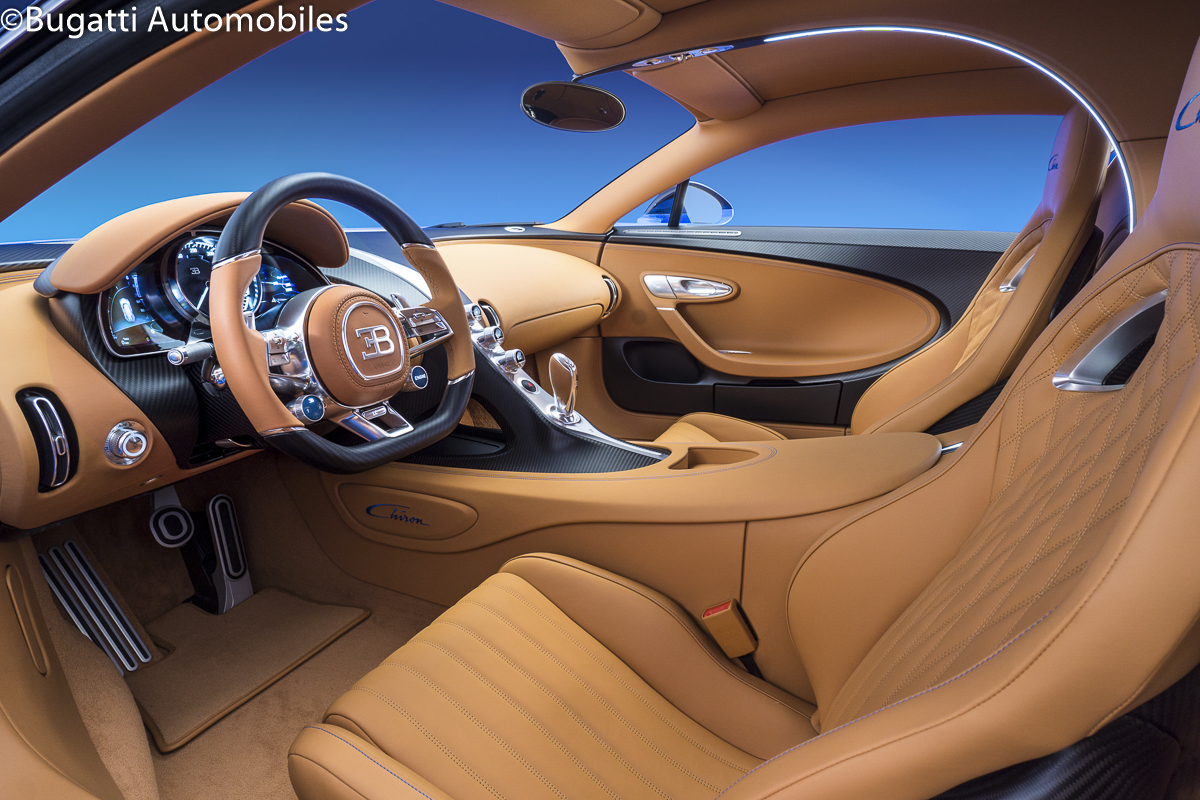 By 1926 a Bugatti T35 was bought for him by Alfred Hoffman, heir to the Hoffman-La Roche pharmaceutical empire, and Chiron finished 4th in the Grand Prix de Province, his first circuit race; a win at the Grand Prix de Comminges followed. For 1927 Hoffman obliged with a T35T which was converted to T35B specification. A first at Miramas was scored and then a second in the supporting race to the French Grand Prix. Chiron took 7th at Indianapolis in a Delage 15S 8 before going on to Brooklands where he finished 4th in the British Grand Prix.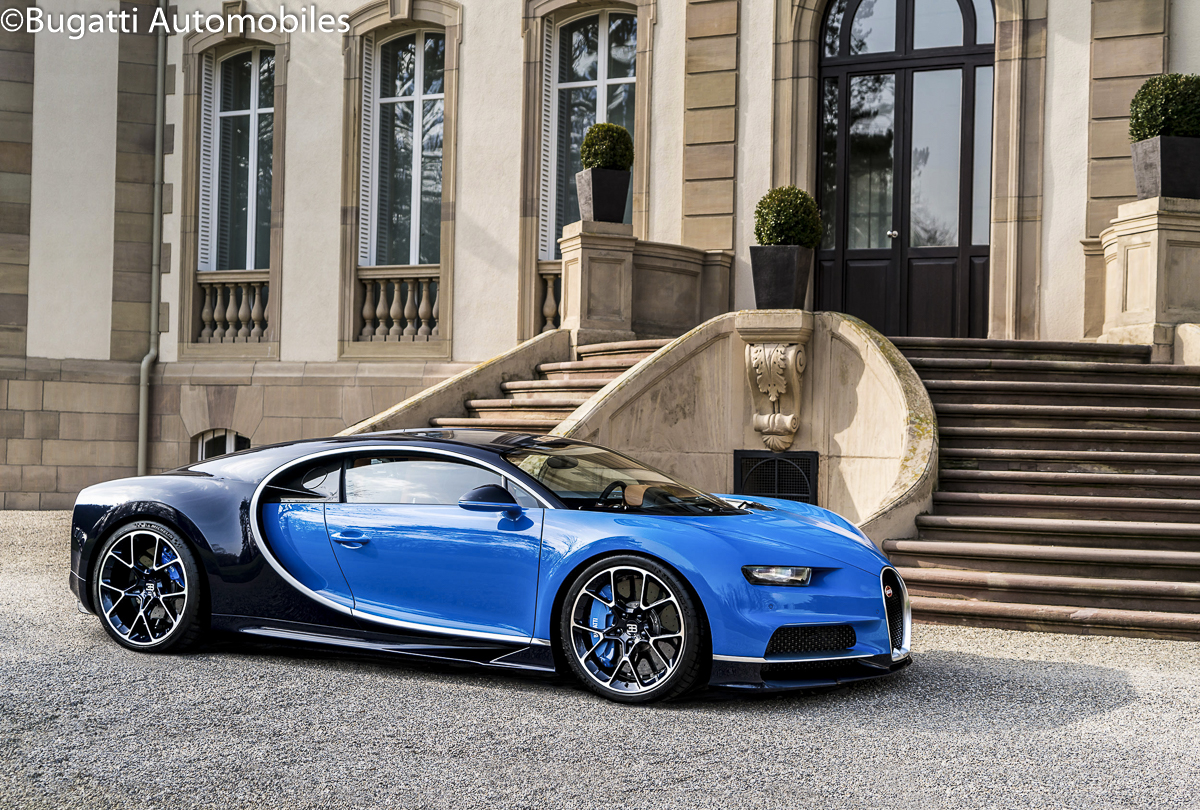 All this brought Chiron to the attention of Ettore Bugatti who invited him to drive for the works team. So for 1928 a T35C was used to win at Rome, Reims, San Sebastian and the Grand Prix d'Europe at Monza. In 1929 he won again at San Sebastian and took victory in the sports car Grand Prix von Deutschland. By now the T35 was becoming outclassed but he still managed to win at Spa.

The twin-cam T51 restored his fortunes and in 1931 he won his home race, the Monaco Grand Prix, as well as taking a shared victory (with Varzi) in the French Grand Prix; he also won at Brno. 1932 began with a 9th place in the Monte Carlo Rally, Chiron driving a big Type 50 Bugatti, but back on the circuits the T51 was in turn being outpaced by the P3 Alfa Romeo; nevertheless, he managed victories at Nice, Dieppe and Brno again.

So in 1933 it was all change to Alfa Romeos, initially teaming up with Caracciola to form Scuderia CC but this fell apart when the German ace crashed badly at Monaco. Chiron joined Scuderia Ferrari and threw away a certain win at Monaco with two laps to go in 1934. He made up for it with a splendid victory over the full might of the German teams in the French Grand Prix at Montlhéry. A season with Mercedes-Benz in 1936 did not work out well and this prompted his (premature) retirement. He was tempted back to drive sports T150C Talbots in 1937 and won the French Grand Prix, whereupon he retired once again.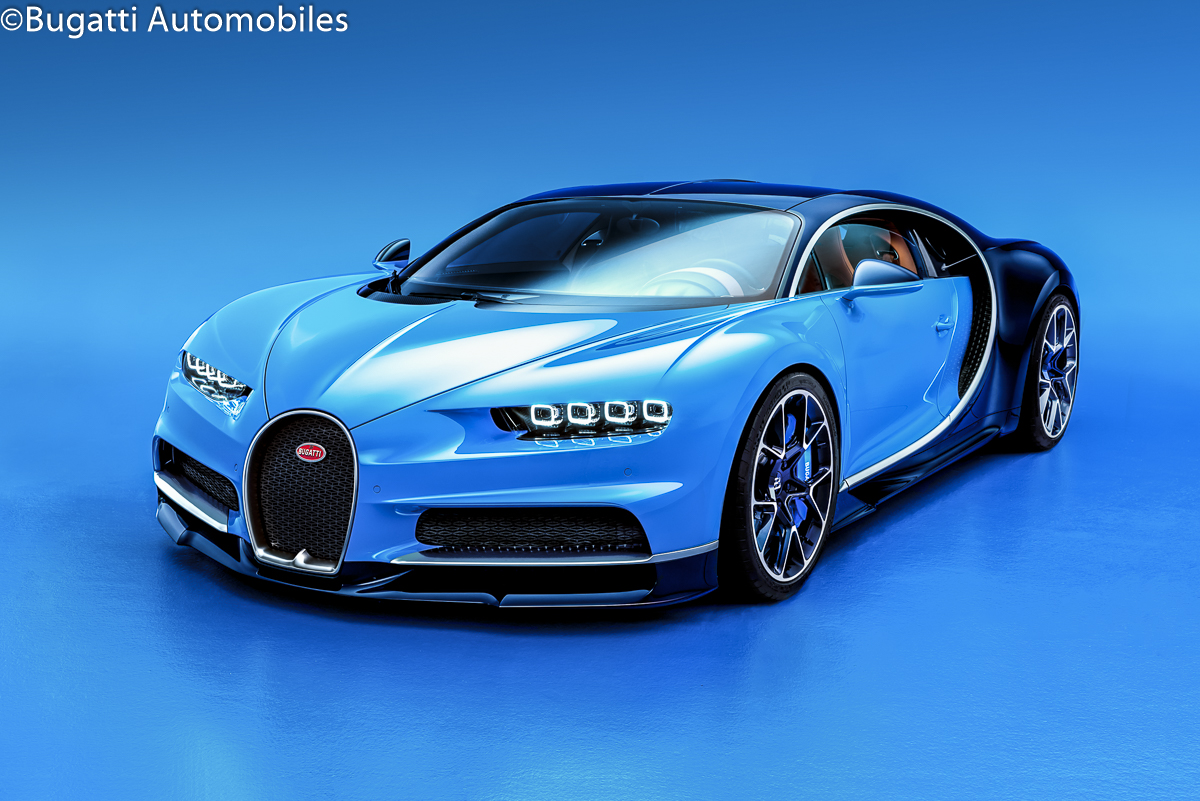 Chiron returned to Talbot after the war and won the first post-war French Grand Prix at Lyon, repeating the victory at Reims in 1949. His best performance in 1950 was a 3rd place at Monaco in a Maserati 4CLT/48. In the 1951 Monte Carlo Rally he brought his Delahaye 175S up to 5th overall by being the fastest in the Test around the Monaco Grand Prix circuit. His last Grand Prix was at Monaco in 1955 when he finished 6th in one of the Lancia D50s at the age of almost 56 years; he had won the Monte Carlo Rally the year before in a Lancia Aurelia. Non-qualification at Monaco 1958 in a Maserati 250F saw his last Grand Prix appearance, and a class win that year in a Porsche Carrera at the Vuillafans-Echevannes hill climb brought his impressive career to a close. He then devoted himself to organisation with the Monaco Club and died in 1979, appropriately, in Monaco.
The new car has much to live up to!
David Blumlein, May 2016