DDC is a broad church with its congregation drawn together by a common interest in motoring and motor sport. It has given a pulpit to many fine preachers over the past decade, the latest to join this roll of honour is our old friend, Julian Roberts. Back in 2007 he fell from grace and joined the media circus. Over the next few weeks he will recount his path to redemption.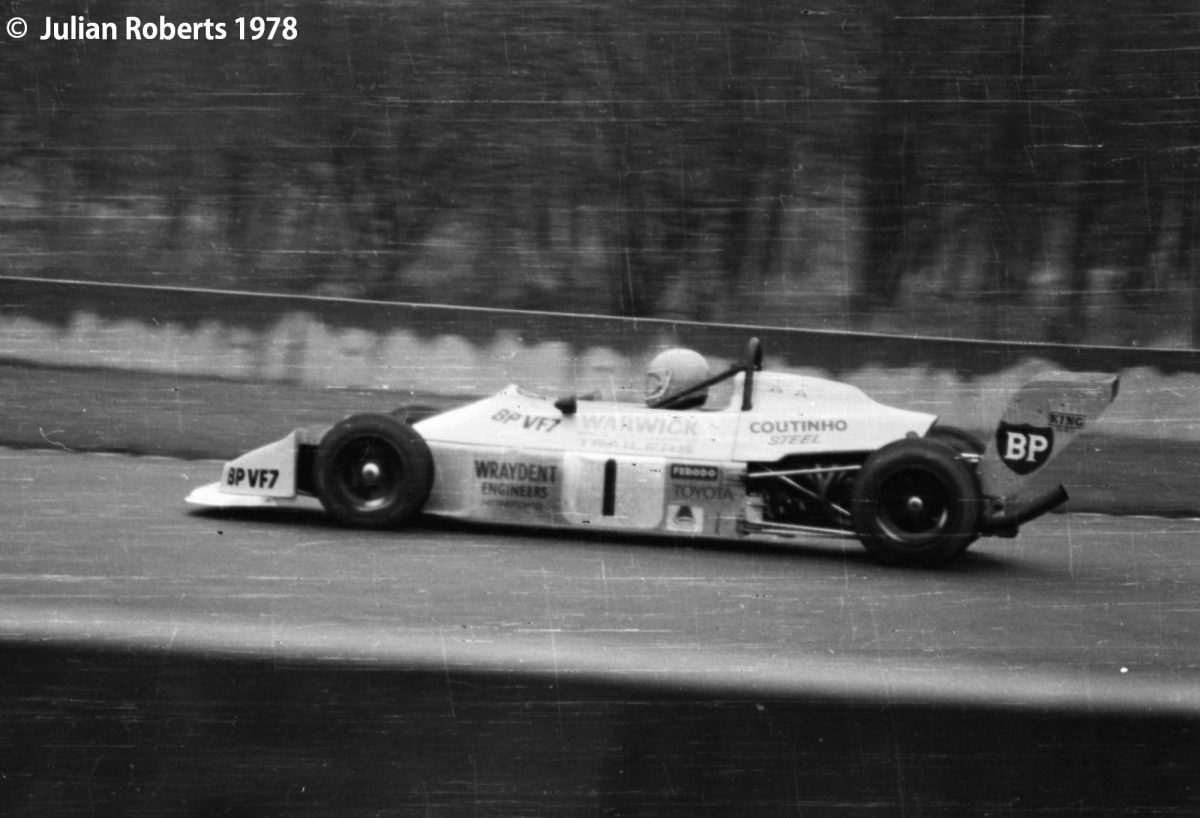 I have been a keen amateur motor racing photographer since 1978 when I bought my first SLR camera, a Nikkormat FT3 with a Vivitar 135mm lens. The first race I attended with my camera was the Easter round of the BP Super Visco British Formula 3 Championship held at Donington Park. As a favour, my close friend Clive offered to develop my film allowing me to see my precious negatives that night, before having them professionally printed the next day. He knew a little about processing as he used to help his father in the darkroom. His father was George Phillips, the chief photographer with Autosport when it was first published in 1950. He had also been as successful racing driver, developing and driving his own MGs at Le Mans in 1949/50/51. George was a lovely old chap with a caustic wit that equally amused or terrified his victims – often me!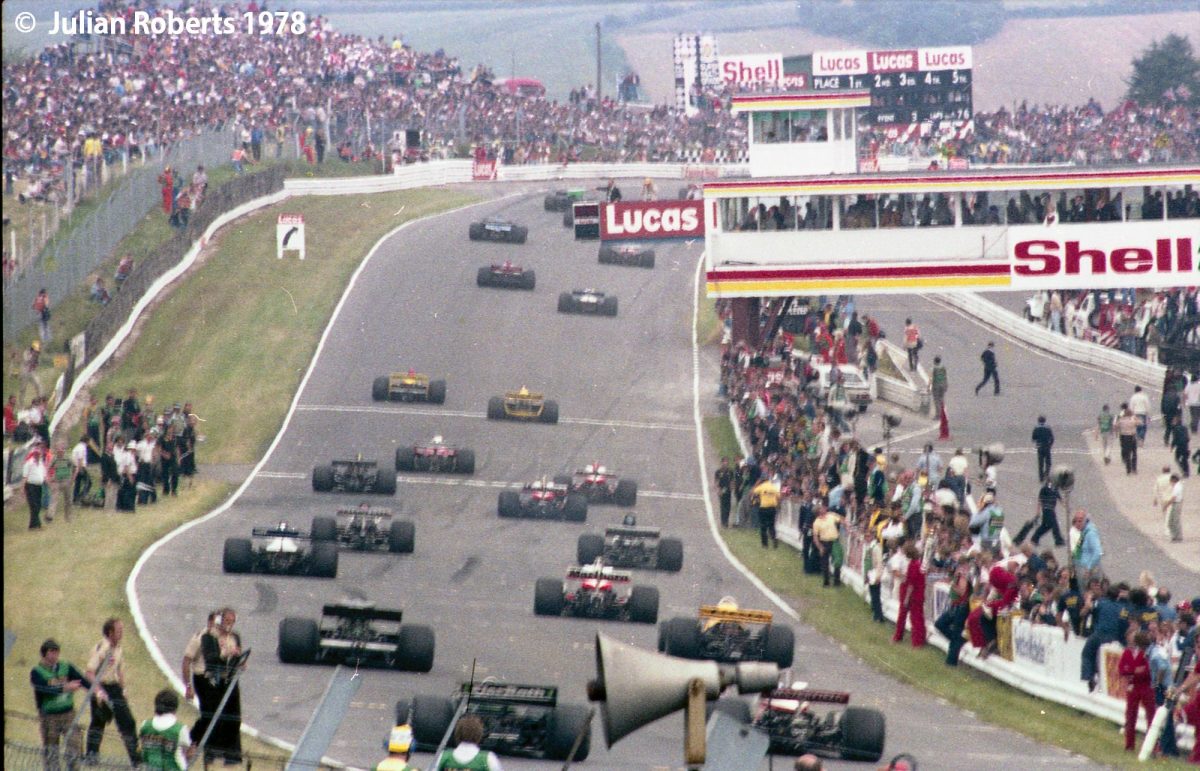 I attended every British Grand Prix and 6 Hour race plus as many 'clubbies' as I could get to, usually at Silverstone which is only 40 minutes away.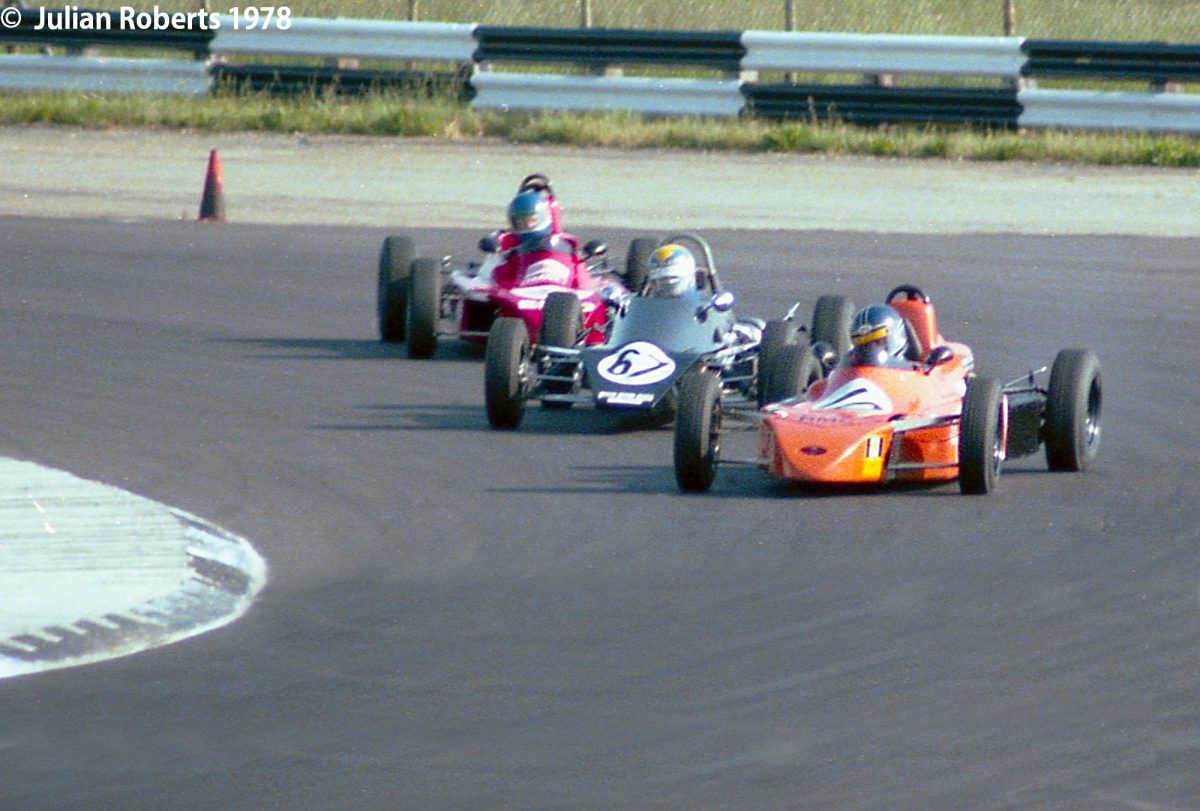 But despite loving Grand Prix racing and devouring Motoring News and Autosport every week and Motor Sport once a month, I was already an Endurance racing fan.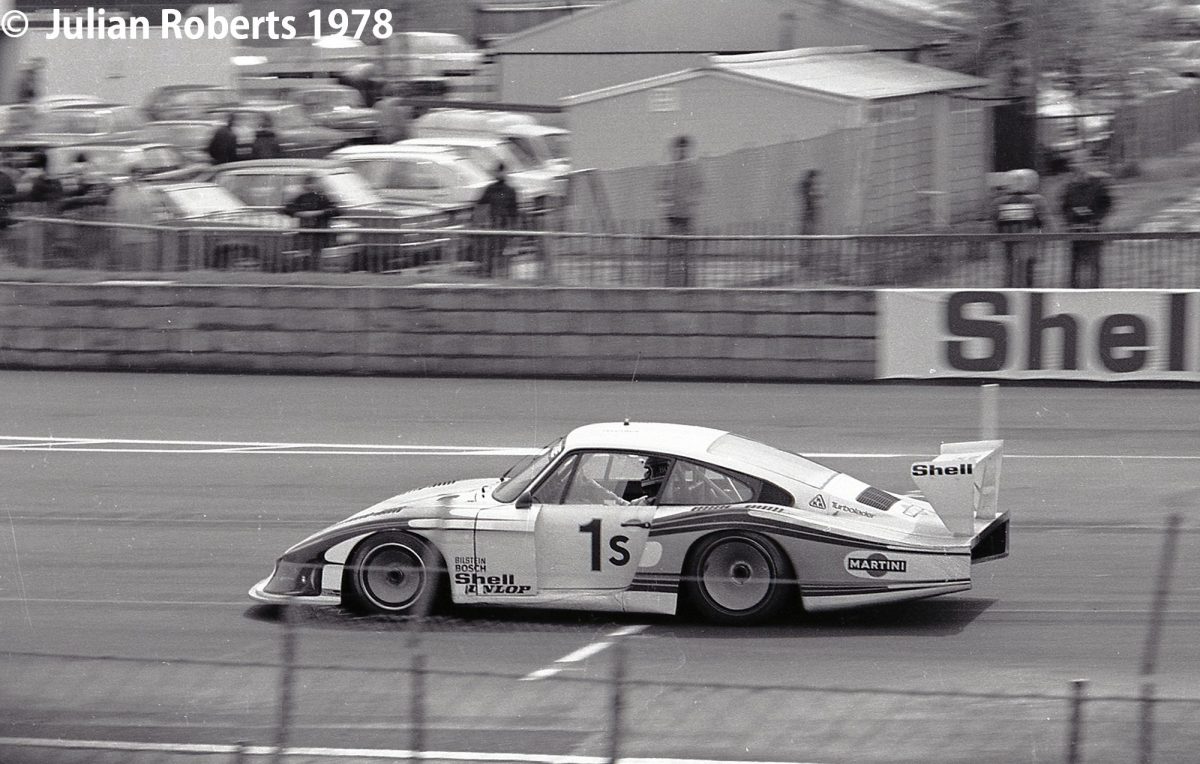 Formula One was great, but a Martini Porsche 935-78 was greater. As soon as I could just, possibly, afford the new Canon A1, I upgraded and also bought Tamron 300mm f5.6 lens. This was a much better combination than my faithful Nikkormat, though I did keep that as a second body.
In 1980 as a ridiculously generous twenty-first birthday present, my father paid my share for a two week trip to the French Riviera which included attending the Monaco Grand Prix. Two friends and I rented a villa in the hills above Menton and I found a hospitality package offering grandstand seats just beyond Ste. Devote and lunch in the Restaurant Quicksilver which was located beneath, near Tabac corner, I think it was £50 each! We missed Thursday practice and watched Qualifying from the grandstand opposite the swimming pool. I shot three rolls of film from there and another roll from our grandstand during the Sunday morning warm up. I have some excellent images from that weekend, but I think my favourite is one I literally snatched on the way to the boat taxi which would take us across the harbour to the swimming pool grandstand. In a gap between two buildings there was an aerial view of La Rascasse. Being hurried along I hastily snapped five shots and left.
In 1982 I finally got to visit Le Mans and began a love affair which is still as strong today after 23 events. Incidentally, this is the first photo I ever took at Le Mans, spoiled somewhat by the chap in front holding his camera at arms length above his head, though I mustn't complain as I doing exactly the same thing! I had arrived at the first corner too late to get a clear view and held my camera aloft finger on the shutter and hoping. With the motordrive I managed 10 shots, but this was the best.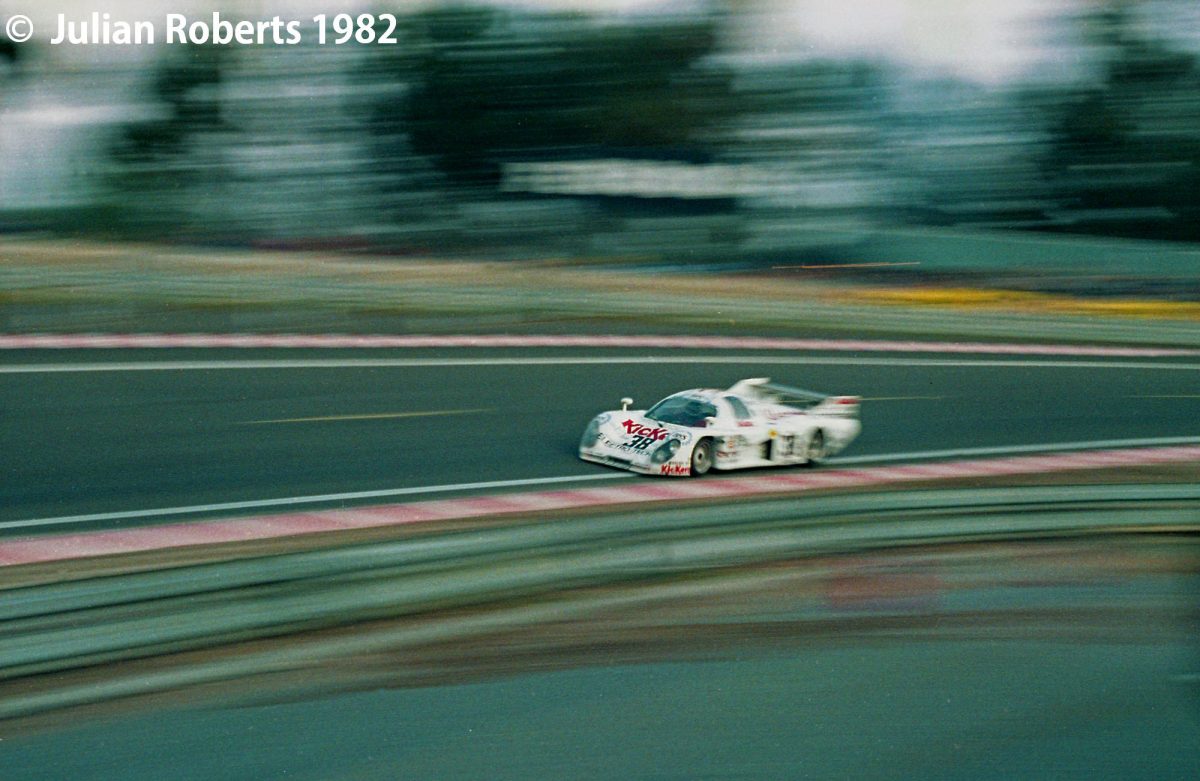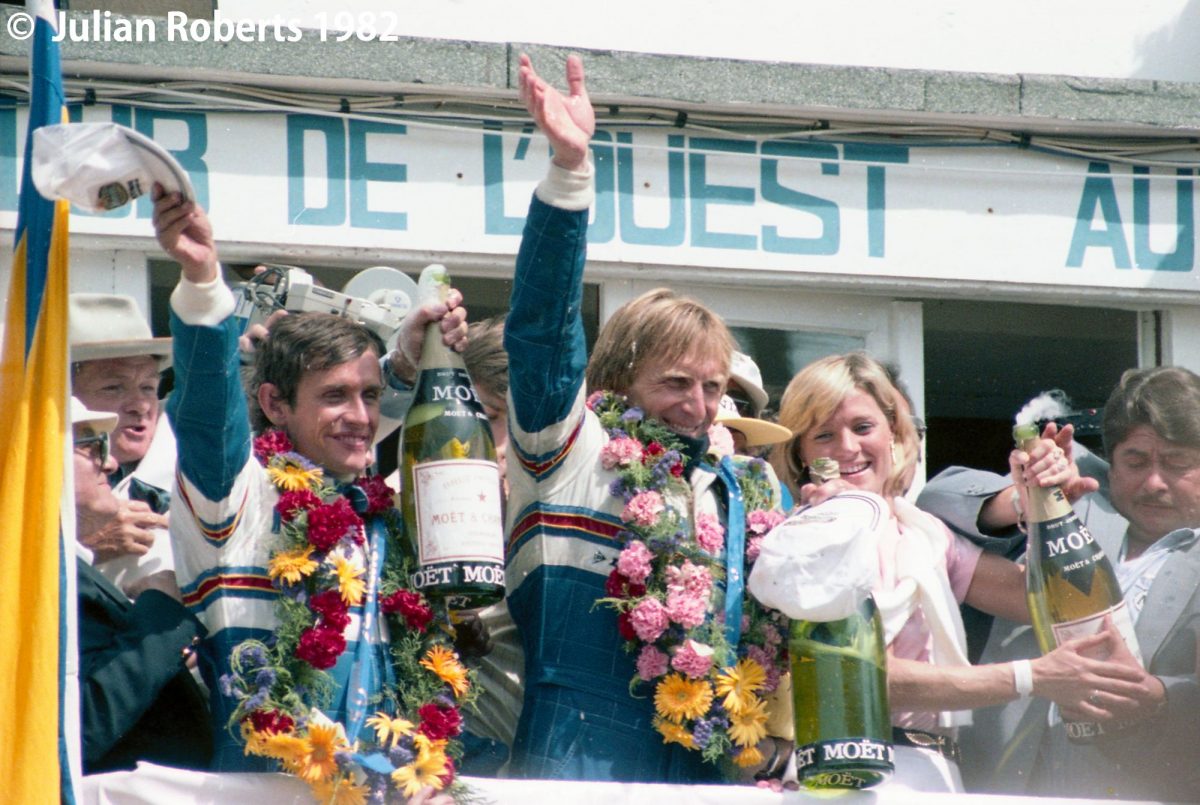 I stayed trackside for 18 hours and although I only shot three rolls of film all weekend I am still very pleased with my results shooting from the Tribunes.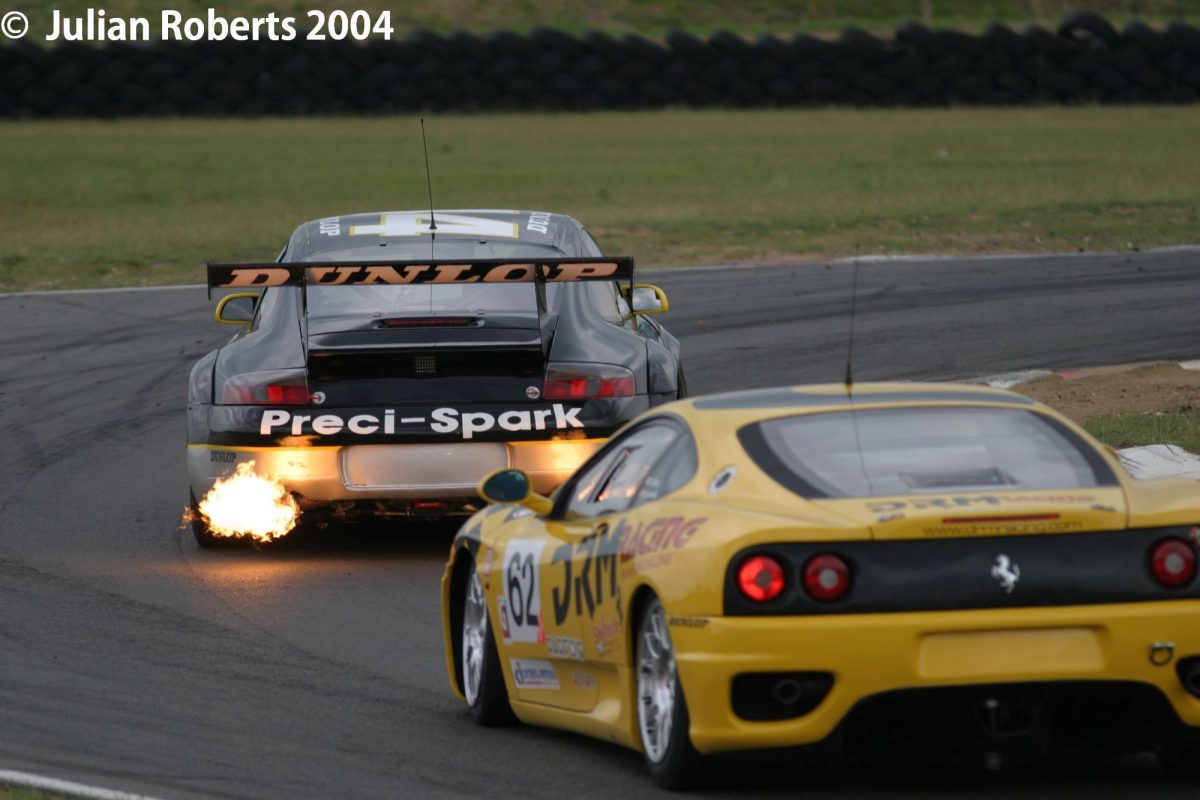 By 2004 used digital SLR cameras were becoming affordable and with some trepidation, and against all advice, I ordered a year old Canon EOS 10D and 28-135mm kit lens from an American seller on ebay. I also added a new Canon EF300 F4 L IS USM together with a Canon X1.4 extender from Digitalrev (again via ebay) in Hong Kong – back in 2004 it was by no means usual to pay hundreds and hundreds pounds, in advance, to unknown foreign sellers hoping they'll do their stuff.  They both did, in fact I still buy from Digitalrev today. What became of my faithful friend of 26 years the Canon A1?  I sold it and all my analogue gear immediately and without a qualm ! The 10D (not forgetting my beautiful L lens) was a game changer.  I was now able to produce very good work consistently. Because I was able to critique my shots on the go, I quickly learnt much more about proper exposure and to alter ISO as and when required (remember on film I was stuck with the film's ISO and never beyond 800). My first time out with the 10D was a round of the British GT Championship at Snetterton.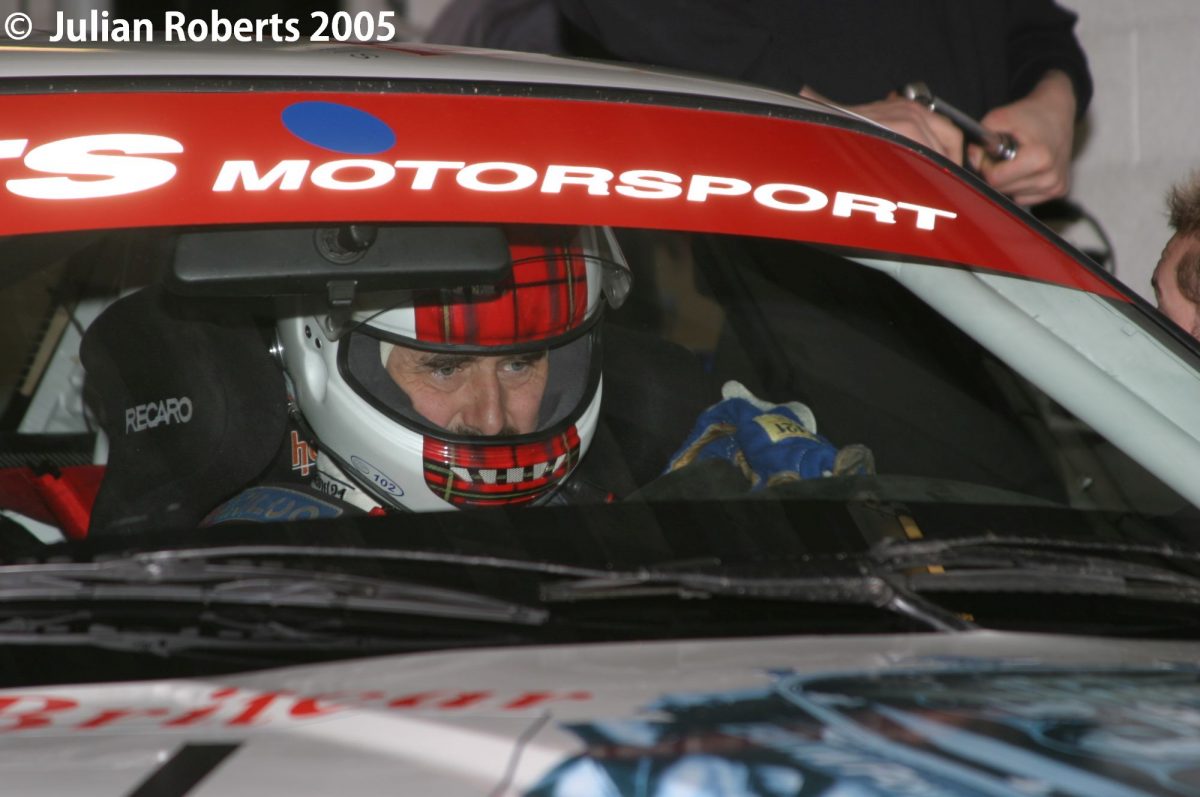 As my photography improved so did my desire to share my photos with a larger audience. I had been an early convert to Malcolm Cracknell's excellent websites SportsCarWorld.com and TotalMotorSport.com and then DailySportsCar.com. So in 2005 decided to go to the opening Britcar meeting at Silverstone and 'pretend' I had received a commission from him to cover the event.
My intention being to submit my photo's as a sort of visual c.v. I spent a lot of time in the paddock and pit garages and eventually the pitlane as I could take better photos there than through the tall fences synonymous with Stalag Silverstone.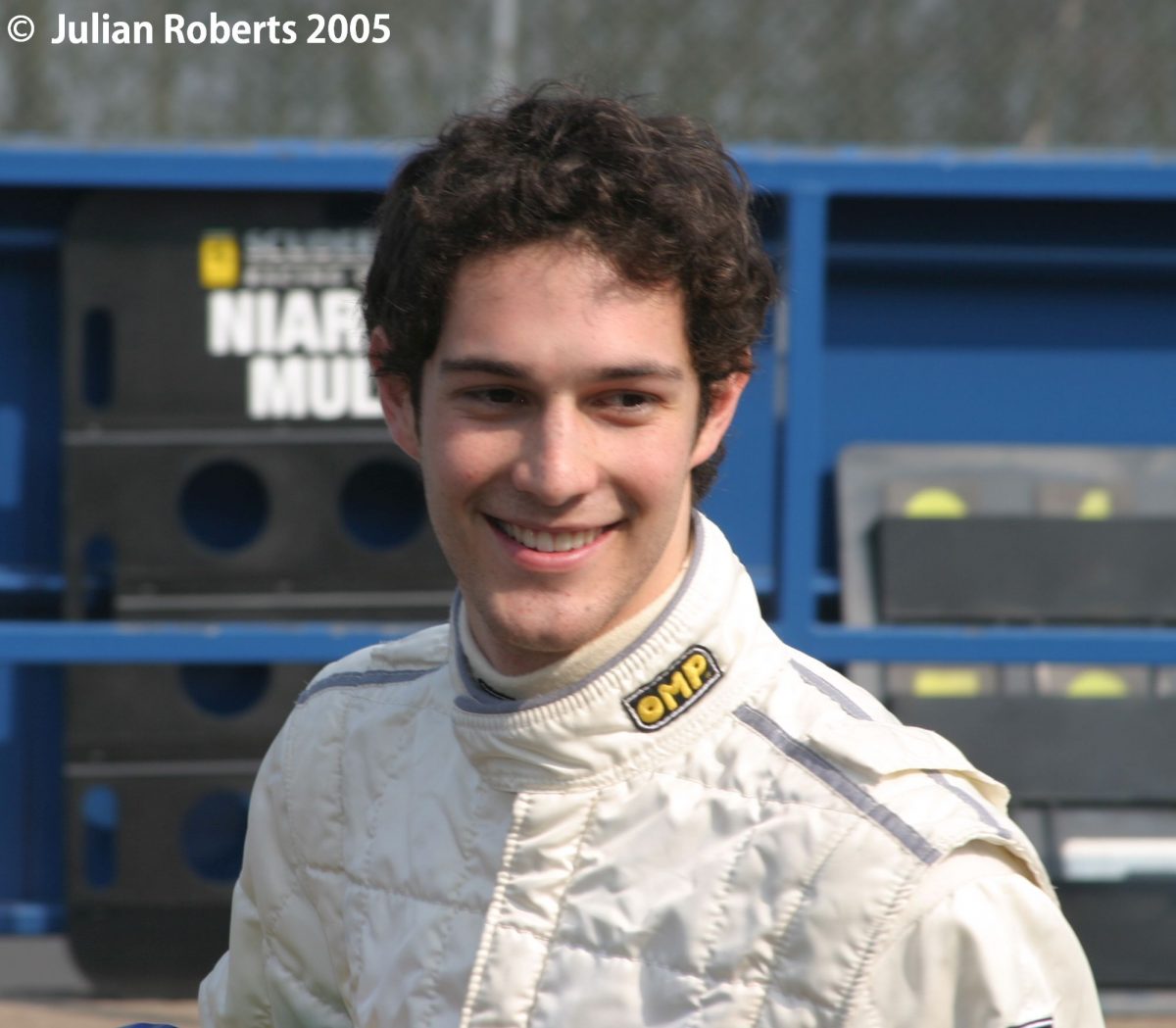 I selected a dozen of what I considered to be the best and emailed them to Malcolm. He was very pleased and used some of my images in his report. He also asked me to go the Donington for the opening round of the British GT Championship.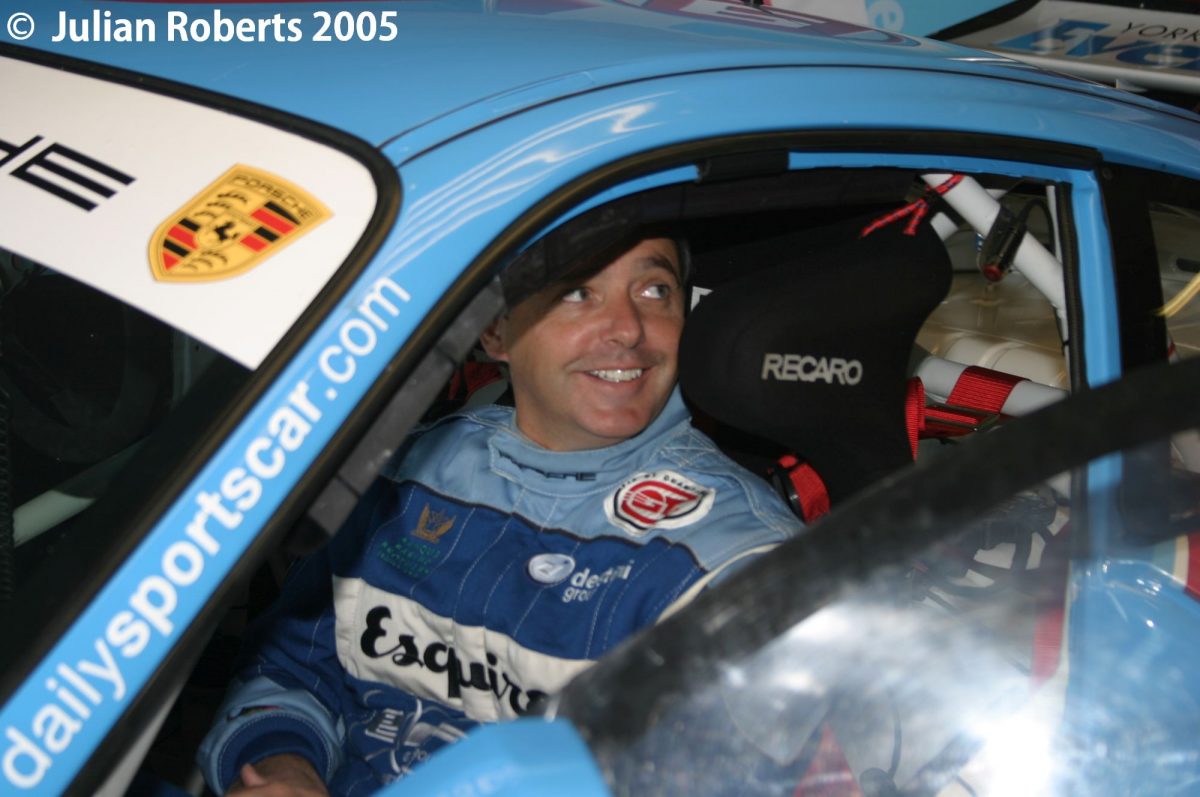 Arriving at Media Accreditation bursting with anticipation I was quickly brought back to earth with a bump; there was no media pass and I was expected to pay for my entry ticket! Hmmm. Oh well, I hadn't driven 90 miles to turn around so I paid up and went to find my contact, Graham Goodwin. GG gave me a quick tour of the pitlane pointing out favoured teams to pay extra attention to and that was it.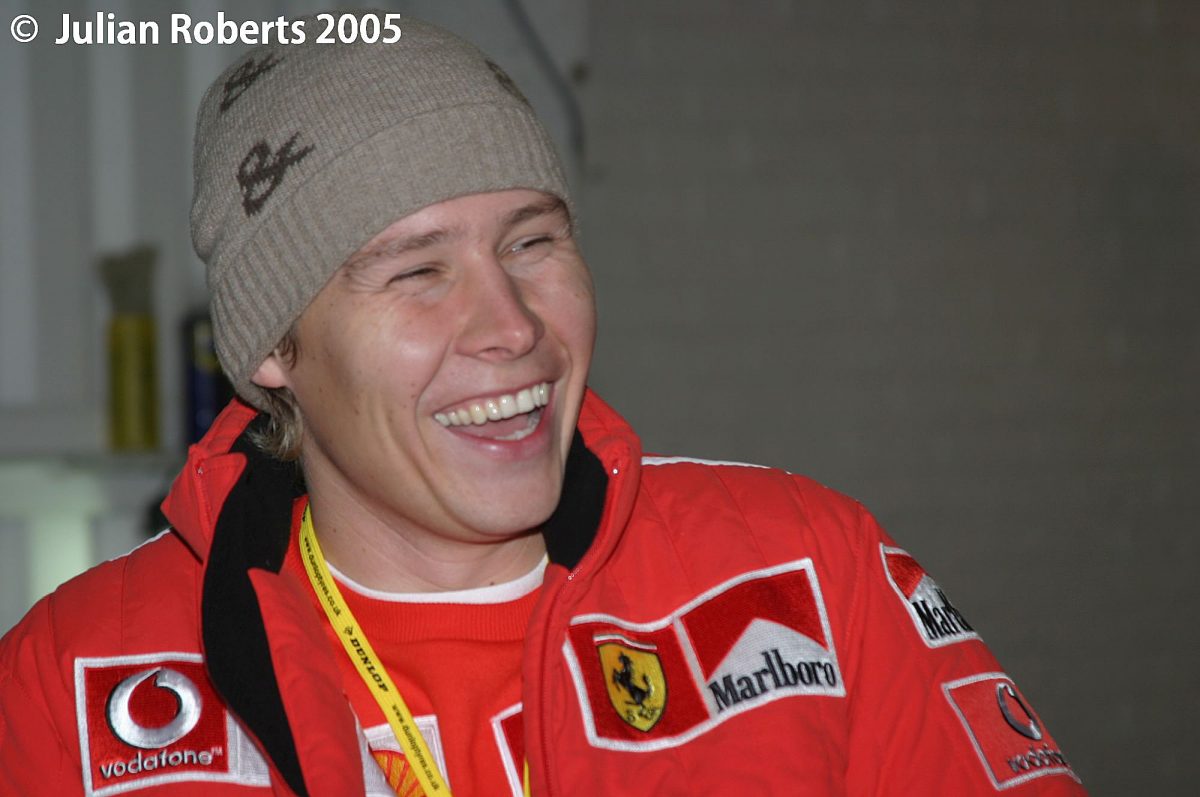 I made myself busy and, as usual, roamed the pitlane as if it were my own. To my wife's irritation I arrived home about 7pm and spent the next 4 hours editing photo's for submission to DailySportsCar.com. I got a few more gigs from DSC but in every case I had to contact them and offer my services for free rather than be asked. So I continued as an amateur snapper peering through the fence, a totally free agent, photographing what I liked.
In late 2006 my employers (a North African oil producer) announced they were to close all European operations and I was to be made redundant in 2007 after 20 years. By now I was 48 and (thankfully) financially stable. So on a bit of a whim I decided to give myself a redundancy present and take a year discovering whether I had what it takes to be a freelance motorsport photographer.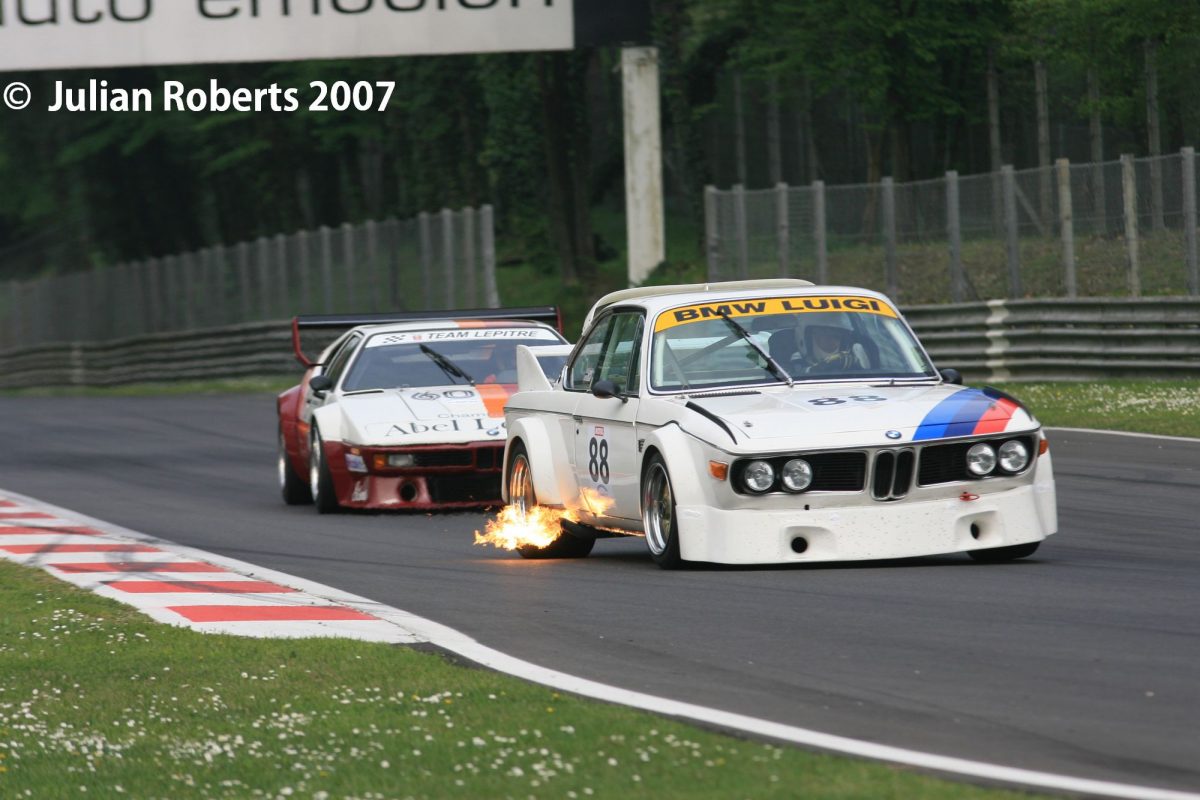 I knew of Martin Krejci's superb website RacingSportCars.com and had been contributing my images to him for a number of years. With this in mind I had the idea to contact him and suggest I apply for media accreditation acting as his photographer, he agreed. In early 2007 I applied to the FIA GT Championship, the Le Mans Series and, heart in mouth, the ACO. After a bit of form filling, a lot of emails, and supplying website traffic statistics to the ACO, all three accepted me. WOW !
No longer would my humble EOS 10D cut it as my main camera, so I bought a year old Canon EOS1D MkIIN and a new Canon EF400 DO IS USM plus a Pelicase to cart it all around Europe in safety.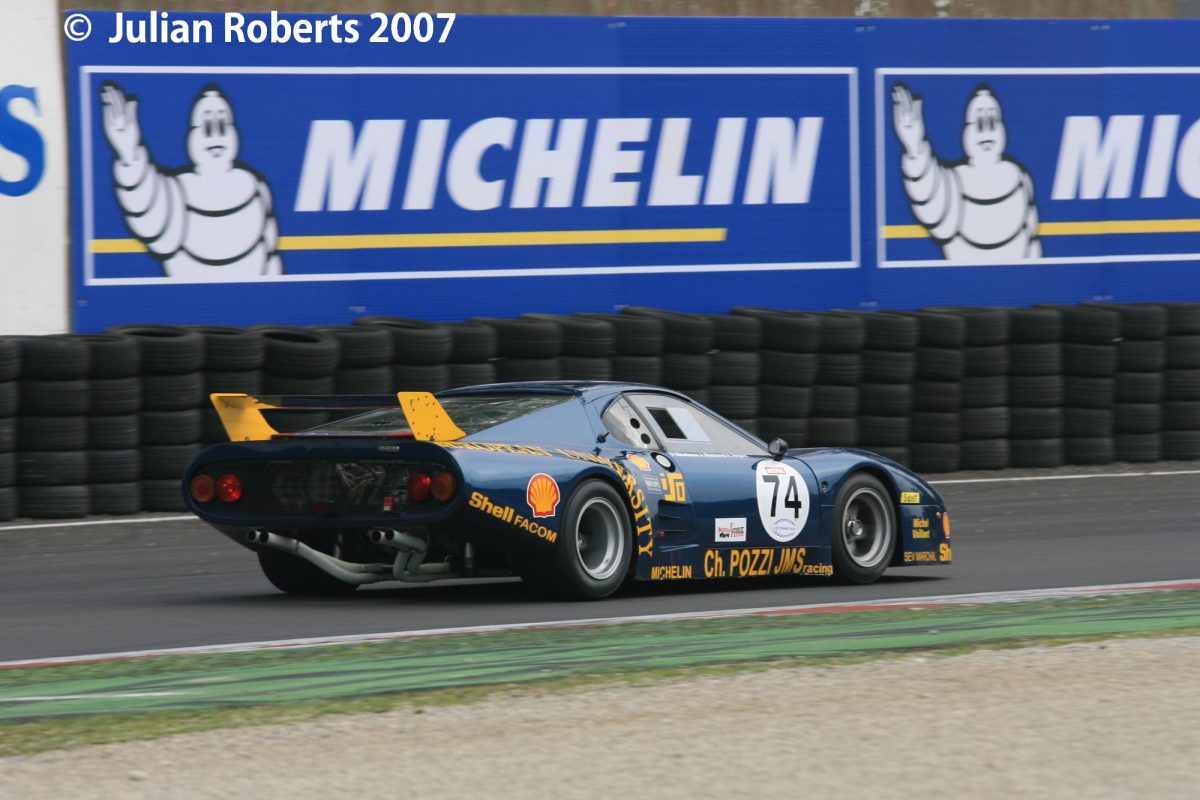 The first race for me was the 2007 Monza 1000kms. The media representative for the LMS was a French lady. She had confirmed my acceptance via email and I was given details of how to collect my media pass from a school in suburban Monza (why not at the circuit I have no idea). In my job as a Client Procurement Co-ordinator I had many contacts worldwide and one in particular with whom I was on very good terms lived and worked in Milan. He found me a small but classy hotel on the edge of the Parco di Monza, roughly opposite the circuit, but a few kilometres away, plus he arranged a taxi to meet me from the airport.
The flight was incident free and I easily found my taxi. Once I'd checked into the hotel, with numerous signed Ferrari driver portraits behind the desk, the driver took me to collect my passes. We eventually found the school and I followed the signs downstairs to a small room with a table and dozens of envelopes containing passes. I announced myself and the young lady searched her list and with a look of genuine regret said "non". I almost dropped to my knees! I really couldn't believe it. I recovered my composure and asked to borrow her phone so I could speak to the LMS Media representative. I have to say she was very offhand with me, initially denying I had been accepted (fortunately I had printed copies of all emails and forms so my case was watertight). She eventually agreed to permit me access; she would see me in the Media Centre. Note; only whilst writing this have I realised this all occurred on Friday the 13th!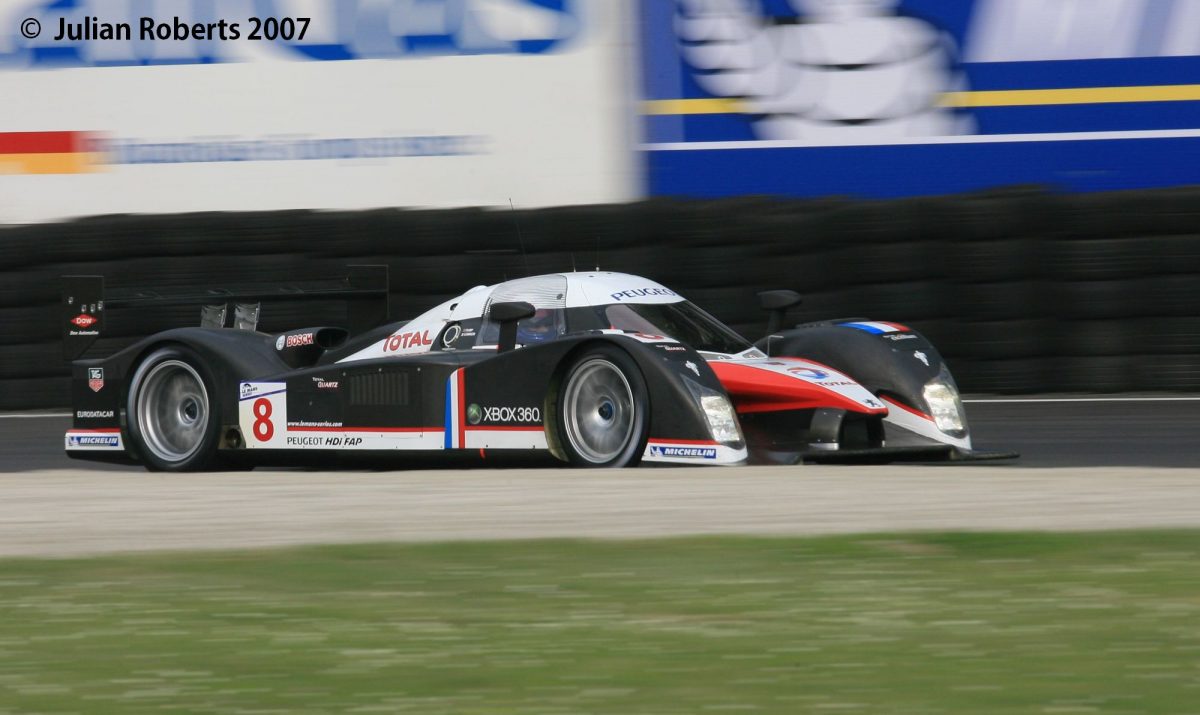 Back to the car and my willing driver. He drove to the circuit and to my joy blagged us through the main gate then into the Paddock itself, not bad going without a ticket between us. I climbed the stairs to the Media Centre and found my target. I won't go into too much detail but I made it clear I was extremely unhappy and she made it equally clear she couldn't care less. My Media Pass ? Nothing doing, I was given a 'Guest Pass'! We didn't part as friends and I still haven't sent or received a Christmas card. I then went to speak with the local media representative on the front desk, a charming Italian lady who on hearing my tale of woe arranged everything I would need to make my visit a success. Bless her heart.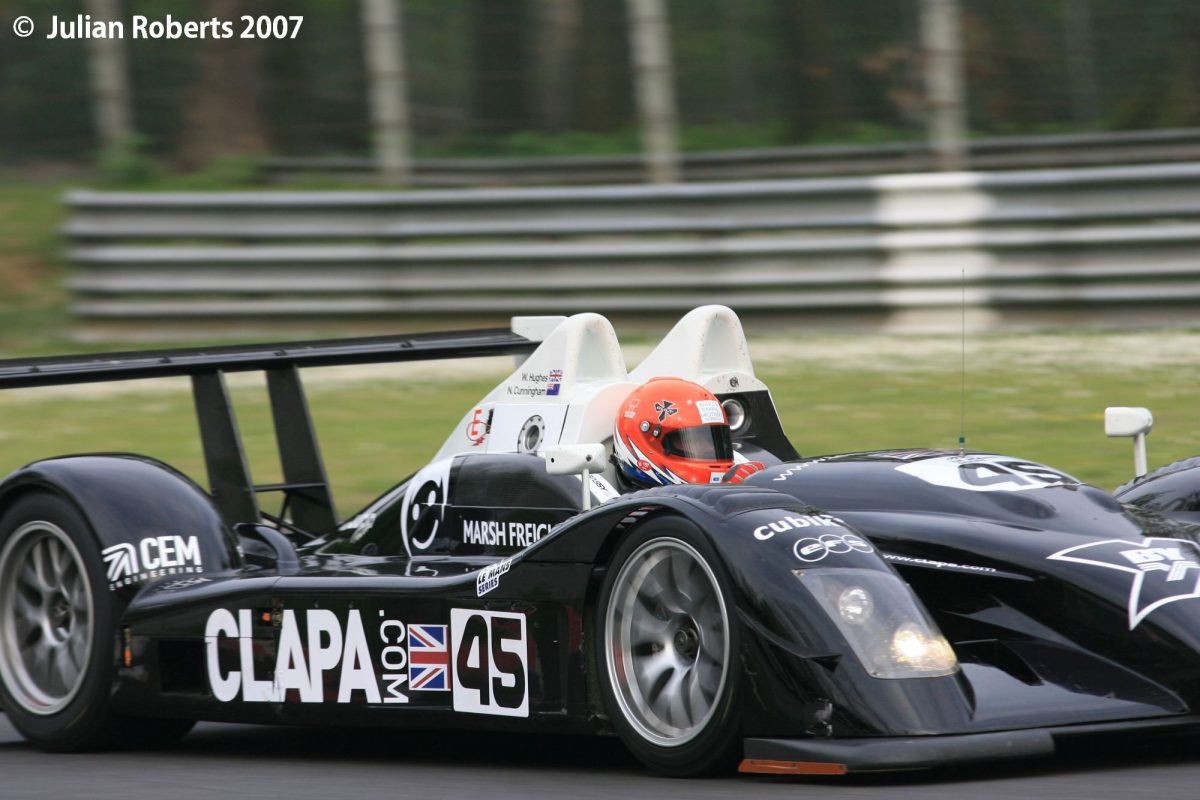 I'd missed the entire morning so I bade my driver farewell (with a fat tip) and walked out to the track. I'd been to Monza once before in 1994 to see the Italian Grand Prix so I had a reasonable idea of the layout, and knew exactly where I wanted to go first, the Variante Ascari.
The first group out on track after lunch were the Classic Endurance Series or CER. Lola and Chevron prototypes, Ferrari Boxer, Porsche 911, 935, 908, BMW M1 and so many more. I'd never seen such a group of cars in England. I was in my element and was almost disappointed when the session ended and the LMS cars came out.
I remained blissfully happy at the Variante Ascari until the end of the day. I'd asked the hotel receptionist to arrange for a taxi to collect me from outside the main gate at 6pm.  After 90 minutes (during which time I'd declined two lifts from kindly Brits) no taxi had arrived so I elected to walk back across the park. The walk was much further than I anticipated, taking over an hour, and by the time I reached my hotel, having been on the go since 5 a.m., I was exhausted. I had a quick shower, a restorative beer or three, followed by dinner and bed.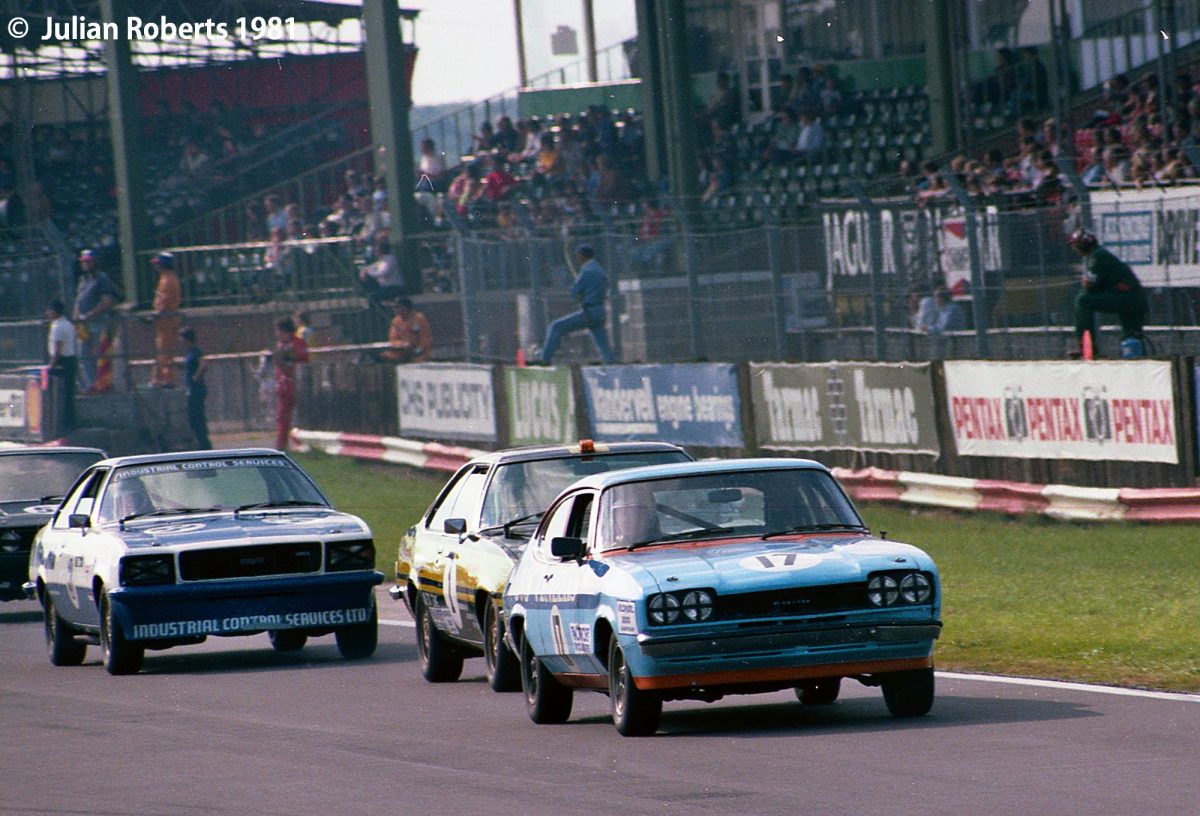 The next morning, during breakfast I noticed an English registered car with an historic racer on a trailer. There was another English couple in the dining room so assuming it was theirs I introduced myself. I was wrong, but it was a happy mistake as the gentleman was former British Touring Car ace, Peter Hall. He and his wife were there to support their son Stuart who was driving Martin Short's Rollcentre Racing LM P1 Pescarolo 01.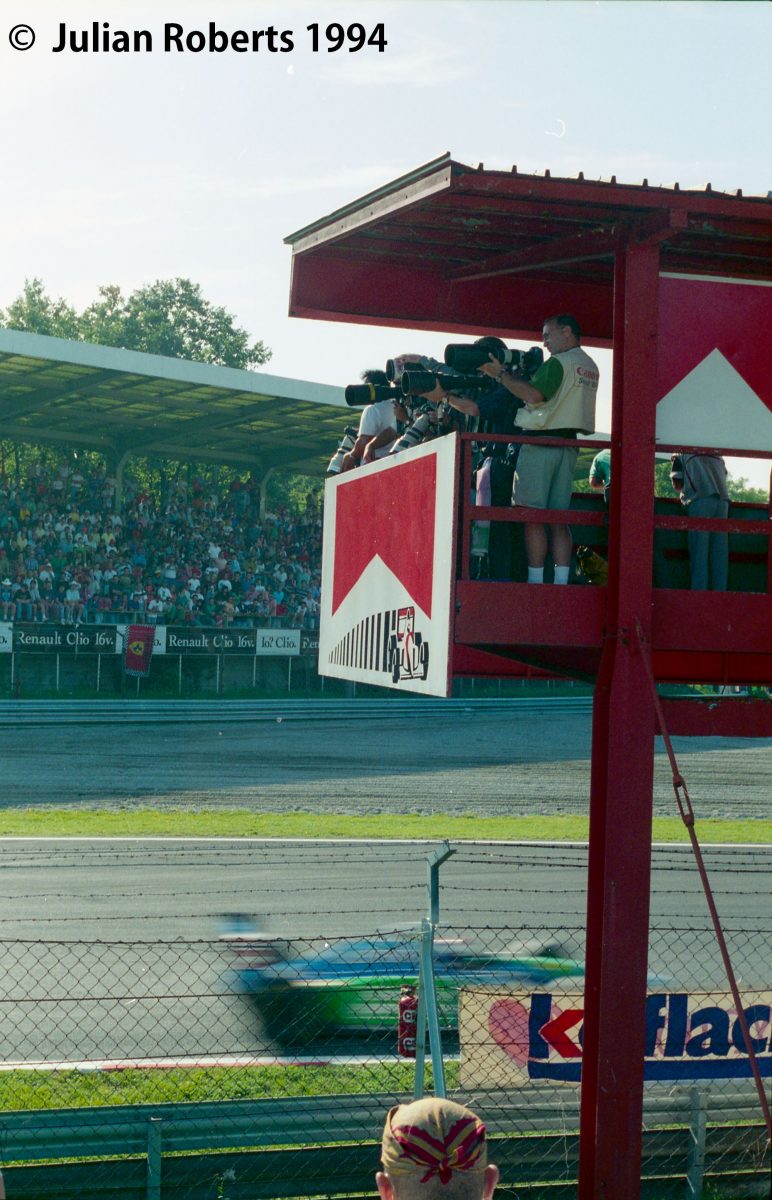 Back at the circuit bright and early on Saturday morning, the next item on my Monza bucket list was the raised photographers box above the turn-in point for the Curva Parabolica.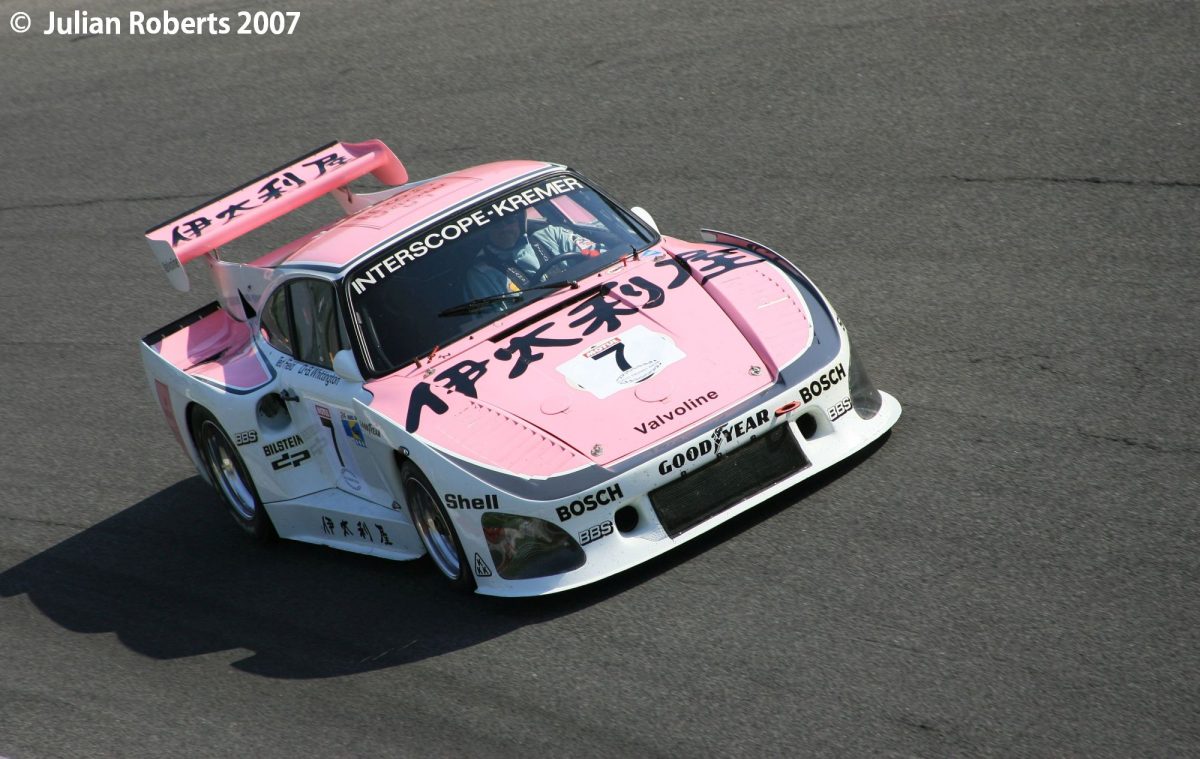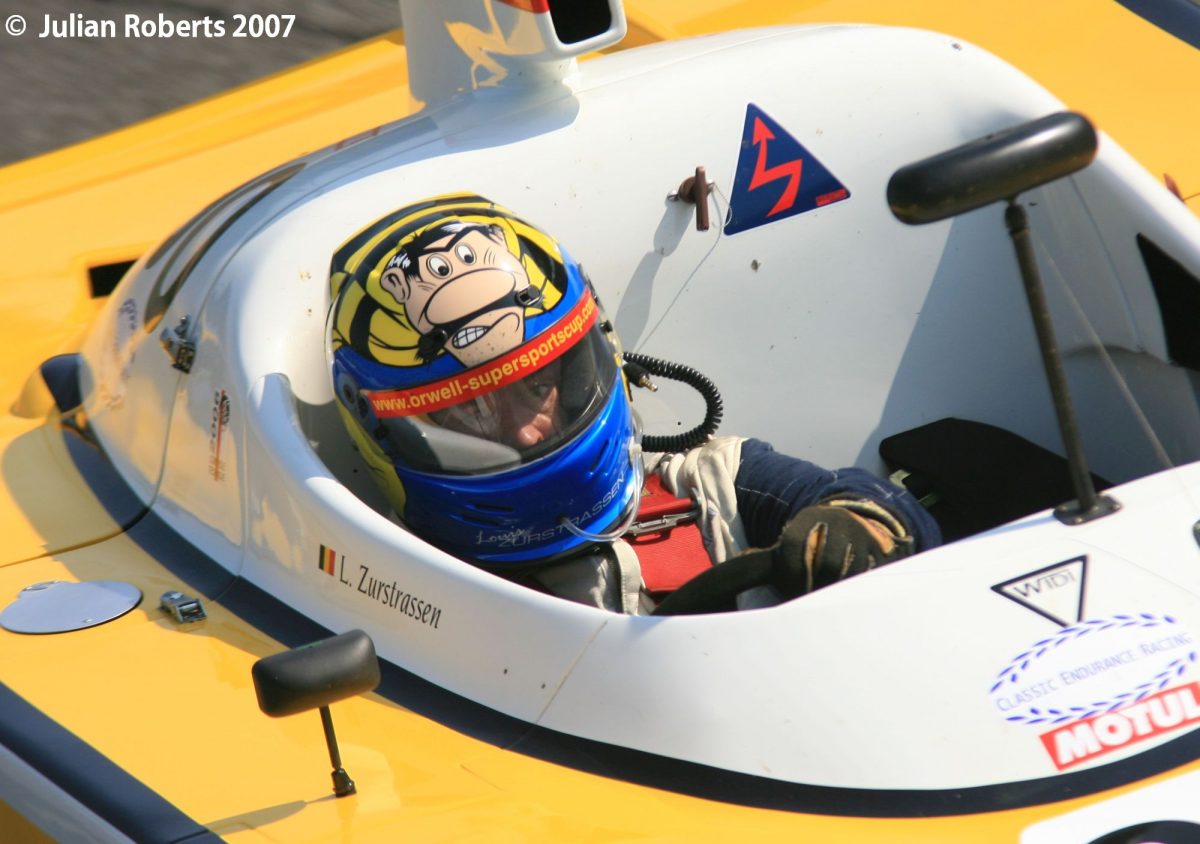 Once again the first cars out were the Classics, and I had a classic view of them.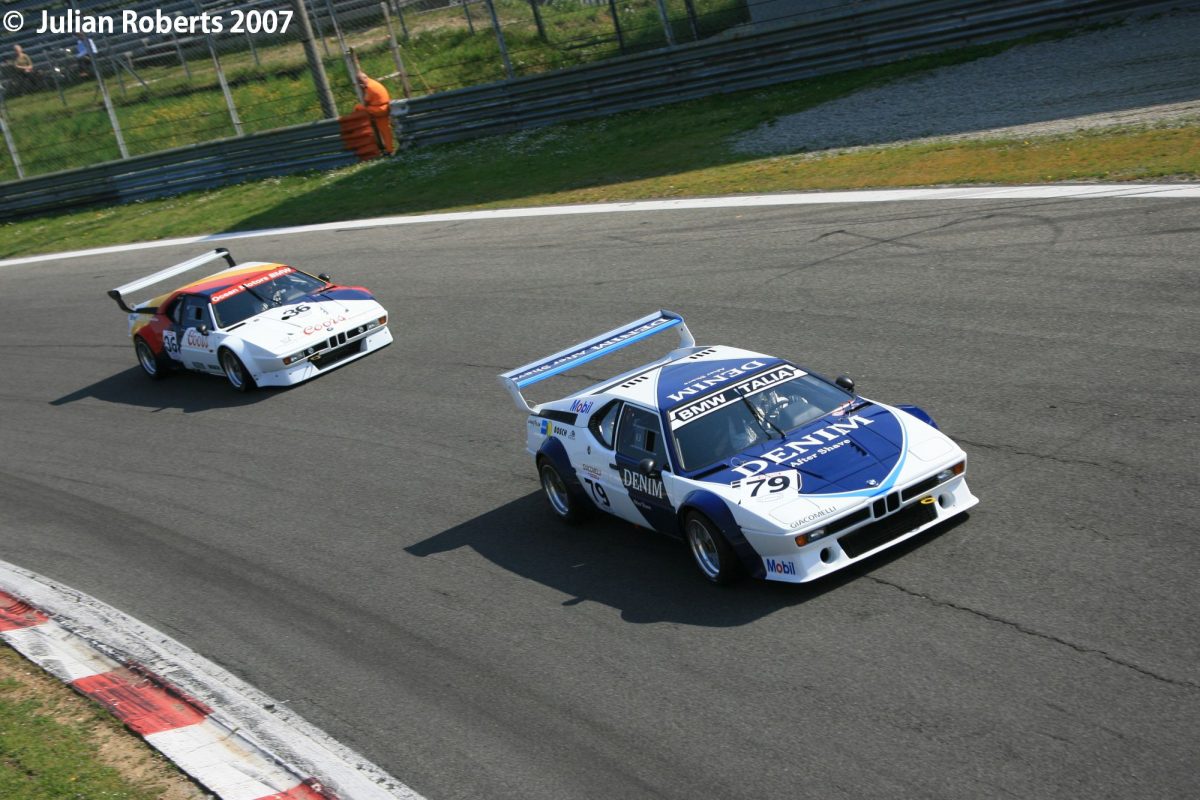 I had in mind the classic image of two Gulf Porsche 917s line astern turning in and wanted to try and recreate it, albeit without a pair of 917s. The best I could manage was a pair of BMW M1s.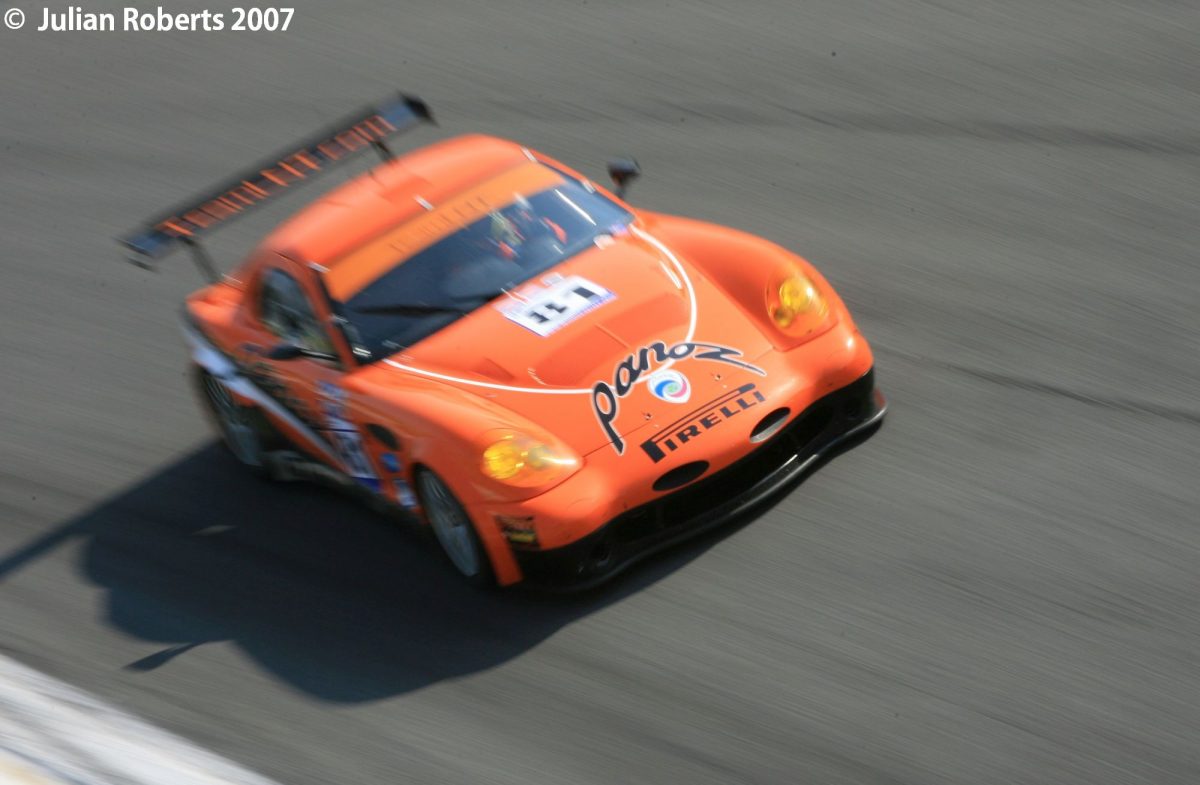 I remained in the box throughout the morning CER and LMS sessions having the time of my life.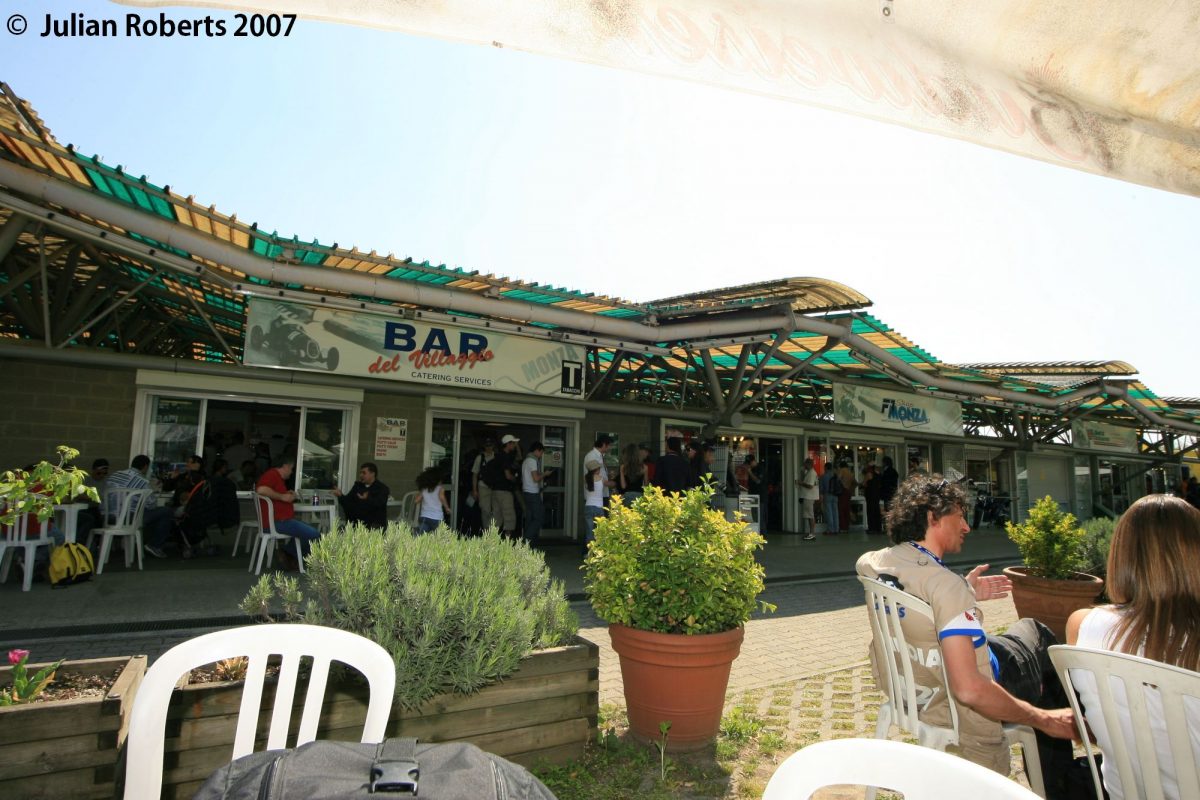 Afterwards I made my way back to the paddock for a quick lunch – not quite Silverstone….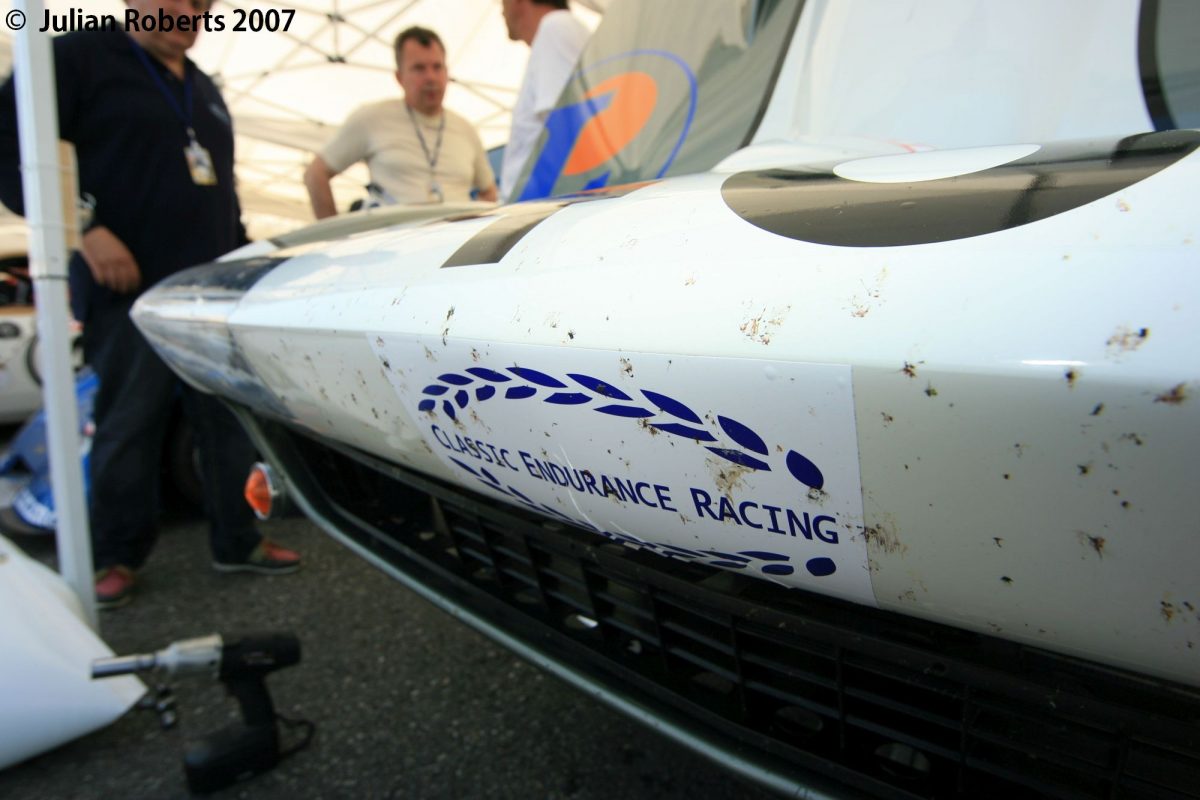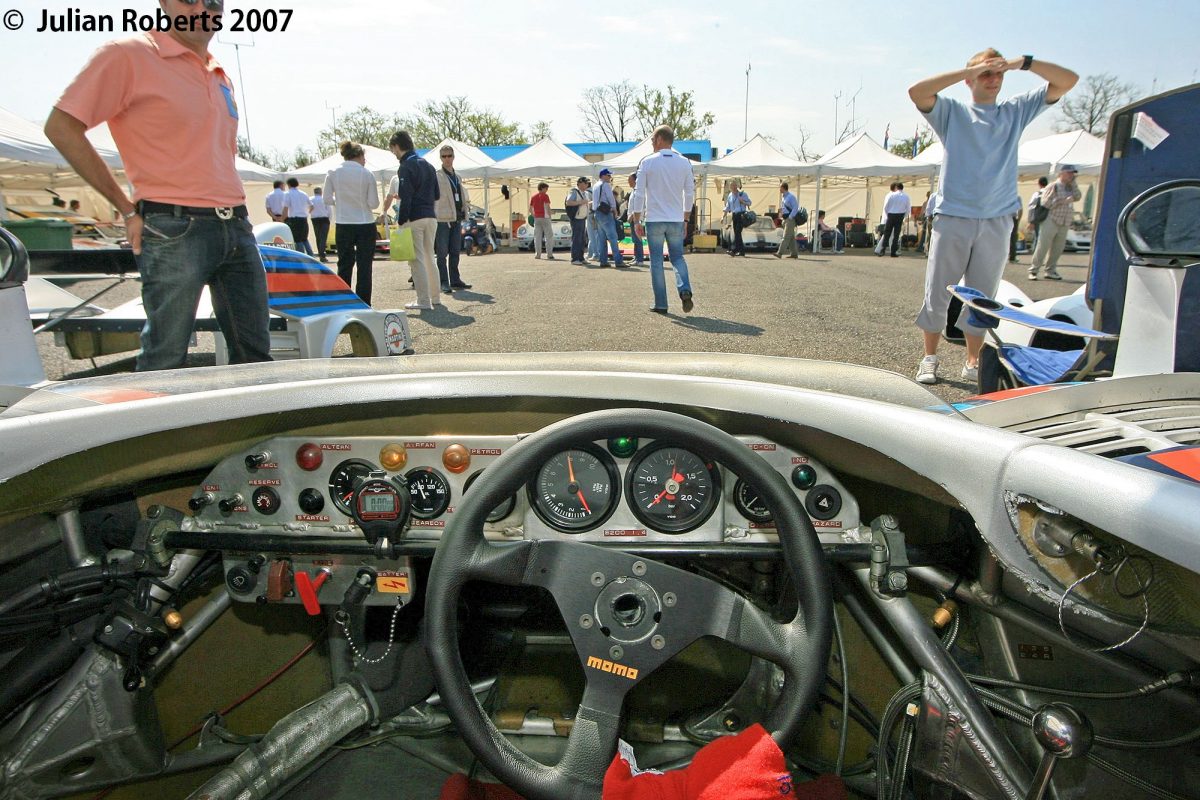 Then I couldn't resist a wander through the CER enclosure and admire, what to me at least, were becoming the stars of the show.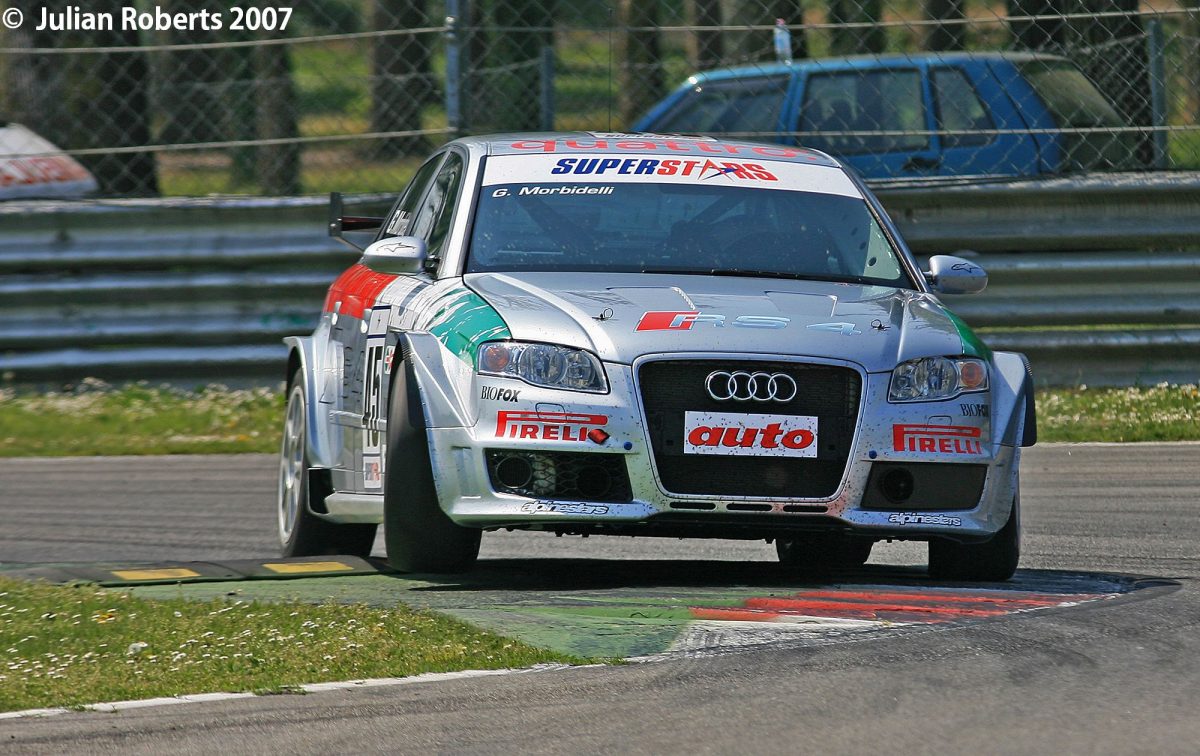 My vantage point for the afternoon was the first chicane; the Variante del Rettifilo. First was a qualifying session for the Campionato Italiano Superstars, the highlight of which was Gianni Morbidelli driving an Audi RS4.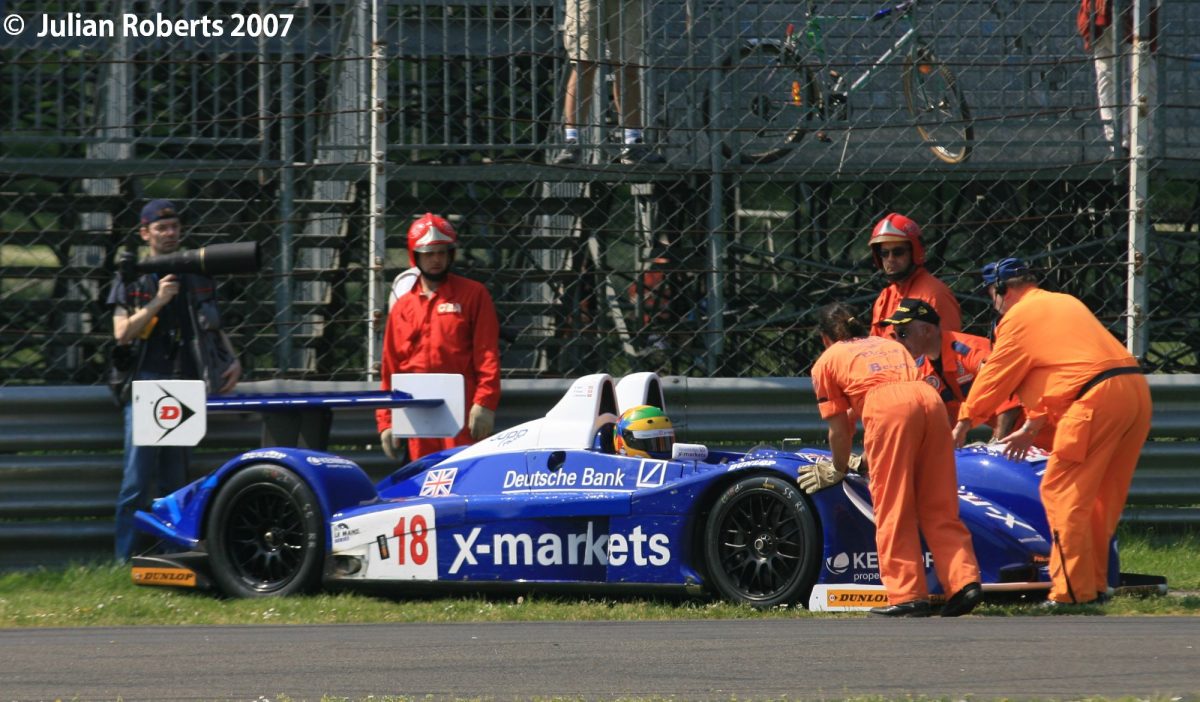 Next up was LMS qualifying. Based on my brief chat with Peter Hall and his wife I was now Rollcentre Racing's number one fan and I was disappointed to see João Barbosa roll to halt in front of me destined to take no further part.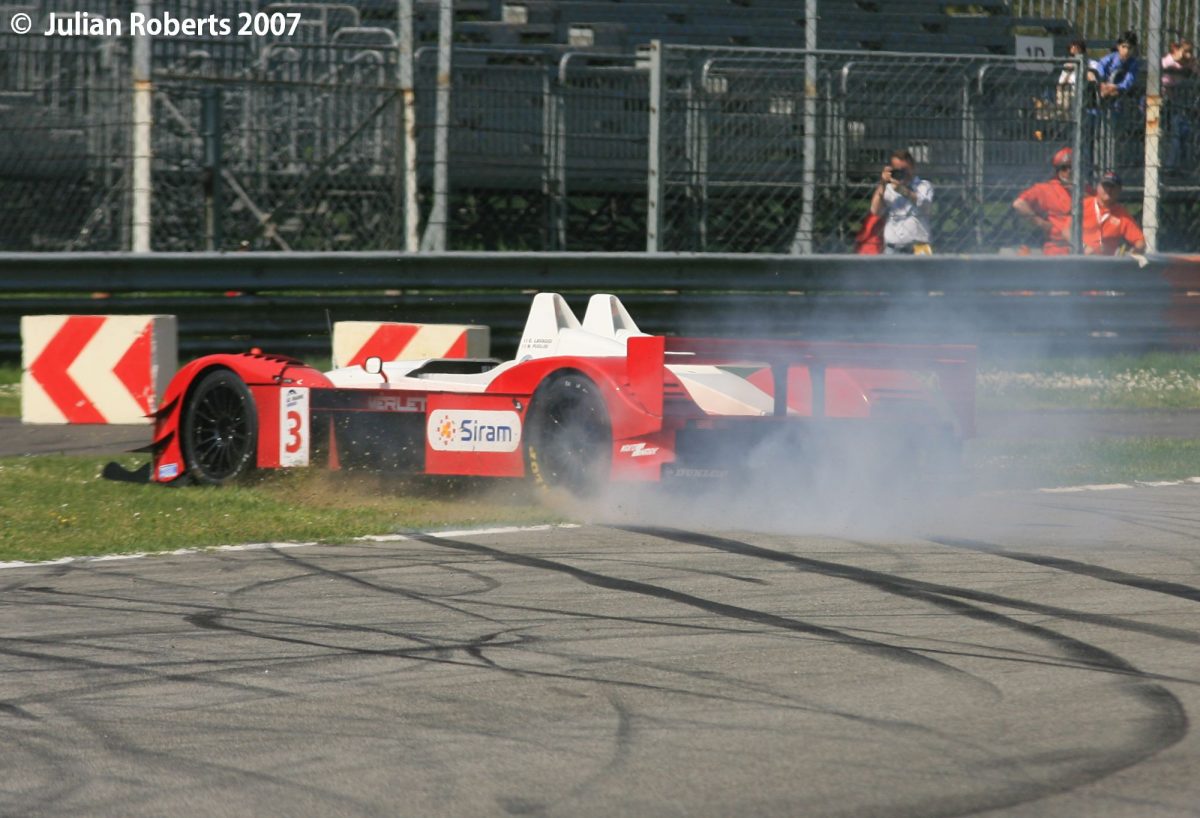 One notable entrant was ex-Pacific & Minardi Formula One driver Gianni Lavaggi, affectionately known as Johnny Carwash. He was sharing the eponymous Lavaggi LS1 with Marcello Puglisi , the LS1 qualified poorly and looked a handful to drive.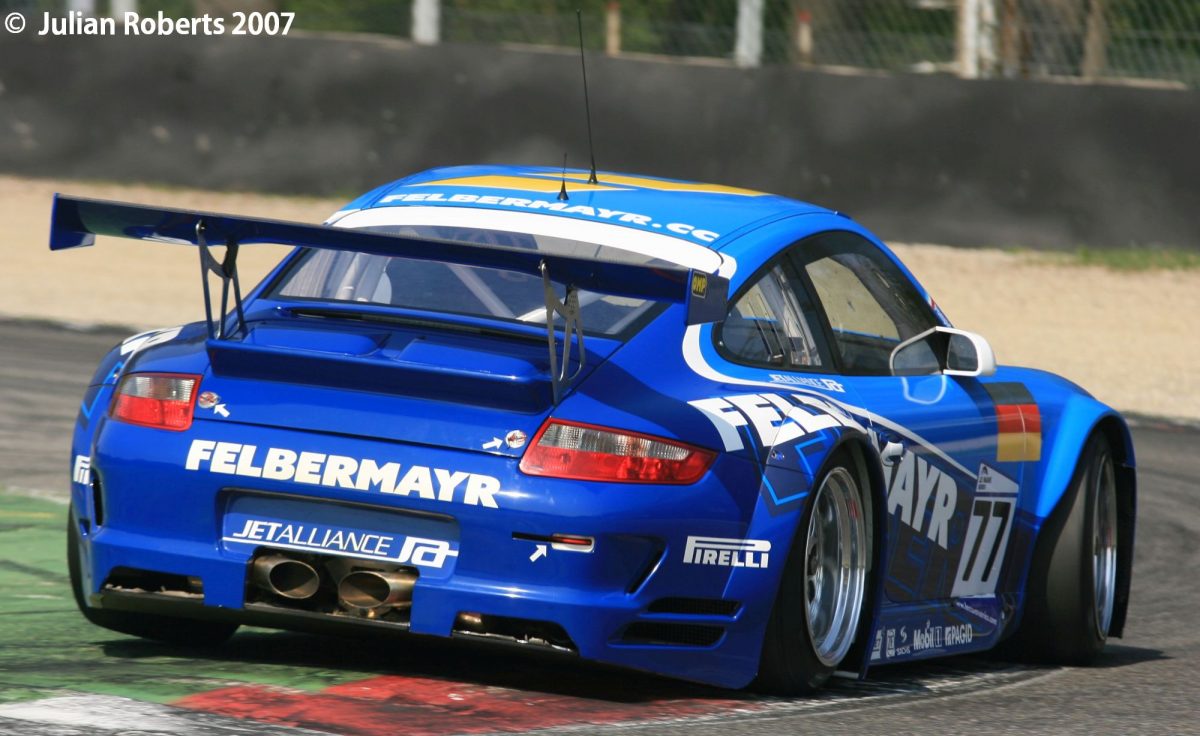 Being a totally unprofessional in every sense of the word, I always select a favourite car which my camera is unfailingly drawn to. This time it was three; the trio of Felbermayr Proton Porsche 997 GT3 RSRs, such a pretty car with a simple but eye-catching paint scheme. It seemed the session was over moments after it began. Predictably the Peugeots were in a class of their own almost two seconds faster than their nearest rival.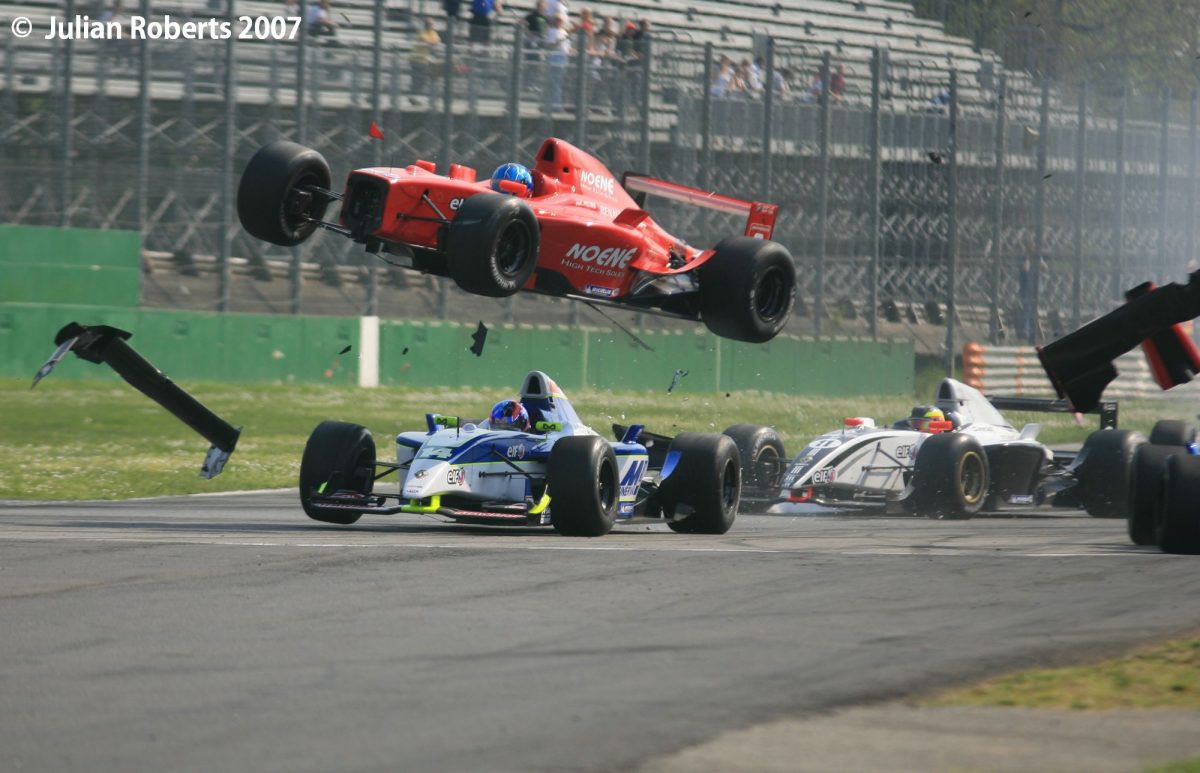 As the LMS  field were being put away for the day there was the first race of the weekend, the opening round of the Formula Renault 3.5 Series. This wasn't a championship I was familiar with and I didn't recognise any of the drivers, but cynically knowing that young chargers and the first chicane at Monza are seldom a good mix, I made my way across the track (oh the access !) to give me a view almost straight down the circuit towards the start. Then I pre-focussed on the braking point and selected 1,000ths of a second. The start was uneventful, but later there was an incident which brought out the Safety Car. At the restart Clivio Piccione lying in about 10th place, misjudged his braking and slammed into the rear of Guillaume Moreau  launching himself skywards like a Eurofighter on reheat. I had focus lock and rammed the shutter button into the body as hard as I could, just following the red plane plane on its wild ride. I fired off 33 frames before the car came to a halt upside down.
Thankfully, with help from the marshals, Piccione was able to clamber out unhurt. Looking back at the entry list, bearing in mind I'd never heard of any of the drivers, I had just watched future Grand Prix drivers Sebastian Vettel and Giedo van der Garde.
After some tracking sweeping and the collection of abandoned cars it was time for me to enjoy the Classic Endurance Series race. As always I was drawn to the Porsches like a moth to a candle, I cannot resist them. There was a 908-4, two fire snorting 935s, four RSRs, three RS, two Group 4 911s and a 906; Porsche heaven.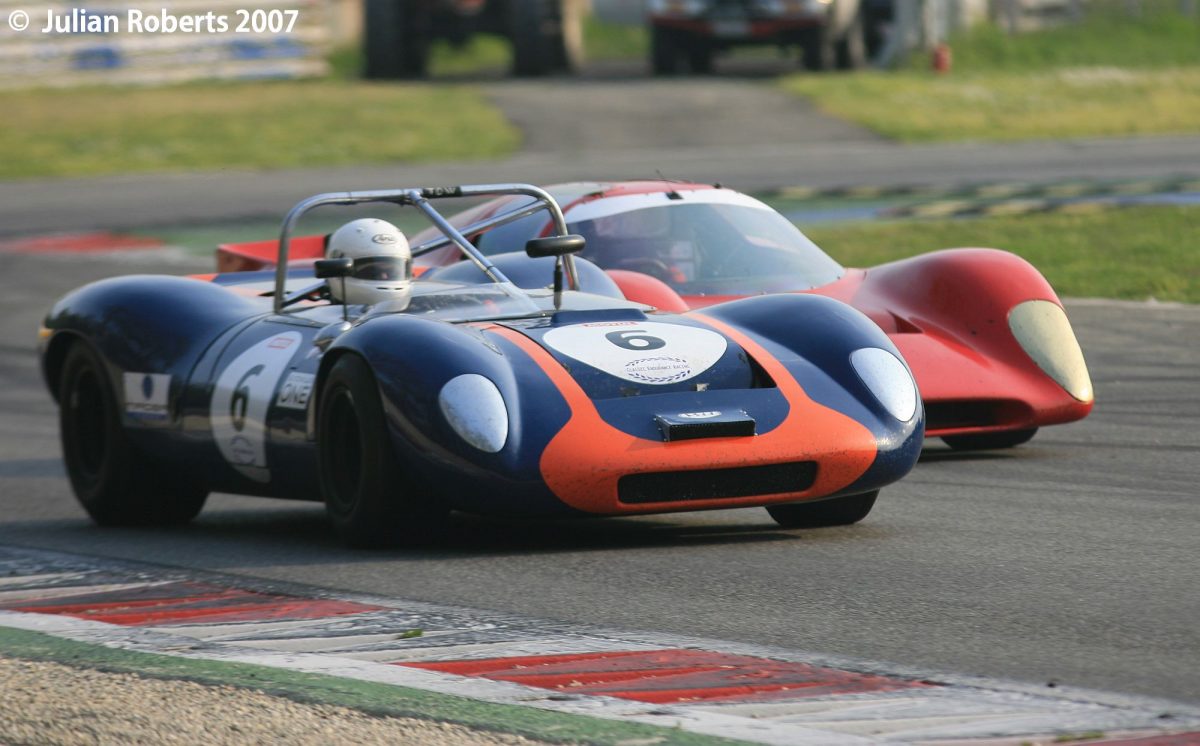 One particularly interesting car was the wooden monocoque design Astra RNR2 FVC designed by Roger Nathan and driven by Stéphane Gutzwiller. Seeking to check the details on the Astra, I reached up and left (I am surrounded by books on three sides in my tiny study) for my copy of Roger Nathan's autobiography "An Adventurous Life". It's pleasing to note the above mentioned Stéphane Gutzwiller was Nathan's co-writer for this project.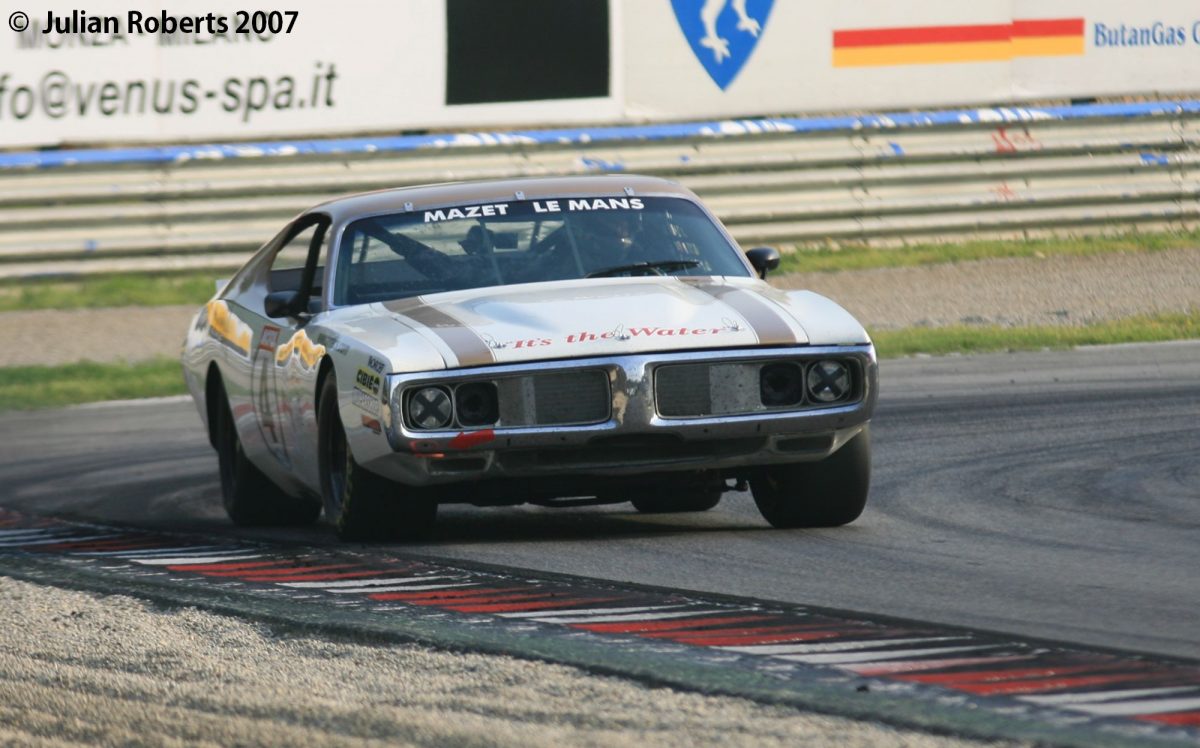 Apart from the Porsches my favourite classic had to be Christophe Schwartz' Dodge Charger, I had never heard a louder race engine, it was magnificent. Starting life as a road car, this was a ground-up recreation of father and son Hershel and Doug McGriff's 1976 Le Mans entry. The ACO were keen to form an alliance with the Daytona 24 Hours and contacted Bill France, the head of NASCAR, inviting some American iron over to La Sarthe. Two IMSA specification Chevrolets, John Greenwood's Corvette and Michael Keyser's Monza made the trip as did two NASCAR stock cars. A Ford Torino and McGriff's four year old Dodge also took up the invitation. At Le Mans it weighed 1,660kgs, had four forward gears, drum brakes and a live rear axle on leaf springs. Oh, and the McGriff's only fitted mirrors following concerns brought to the ACO by the prototype drivers. It wasn't a fairy tale ending. The car was designed to run on high octane fuel not the 80 octane essence available at the circuit and destroyed two engines in practice. The race engine did not even last two laps. This recreation now using decent fuel runs consistently well and, like the original, is a crowd favourite.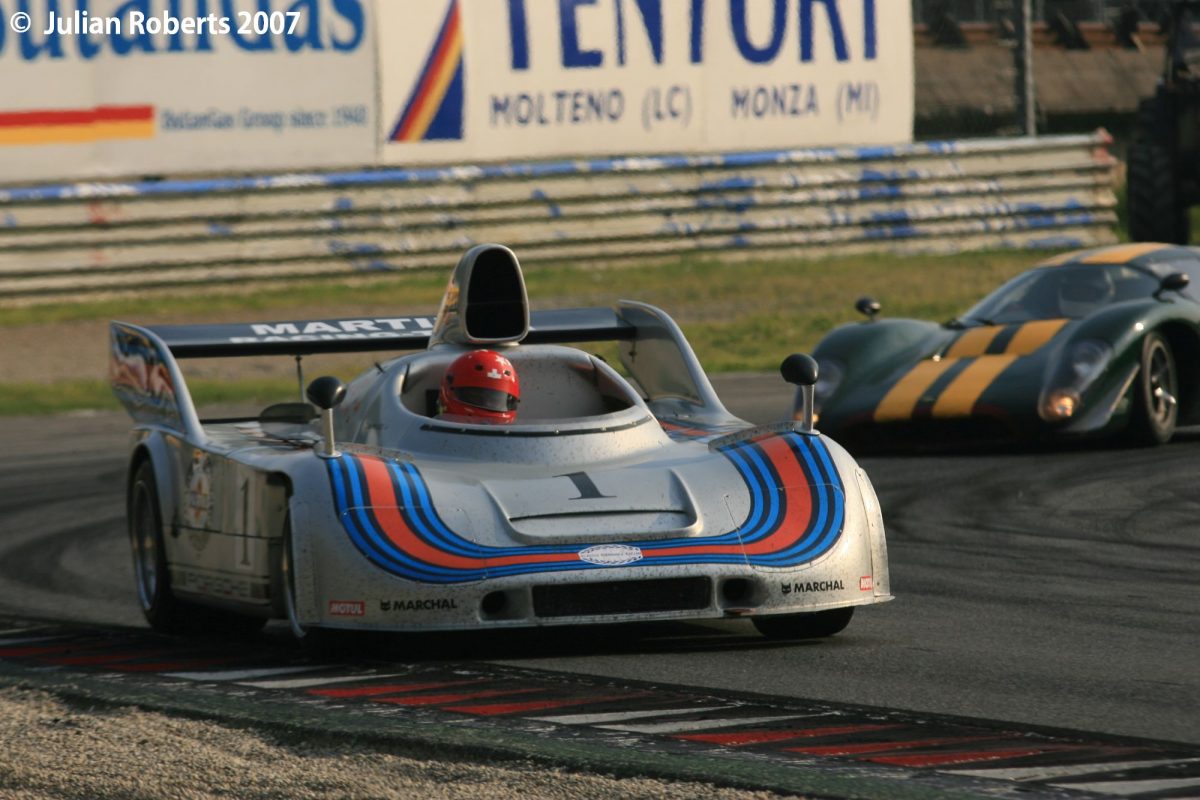 The race lasted an hour and I gleefully fired off another 400 shots!
Sunday dawned, no more preamble, time for the main event. 
Not being blessed with the 'access all areas' photographers vest I had to grab my pitlane shots during the morning pit walkabout.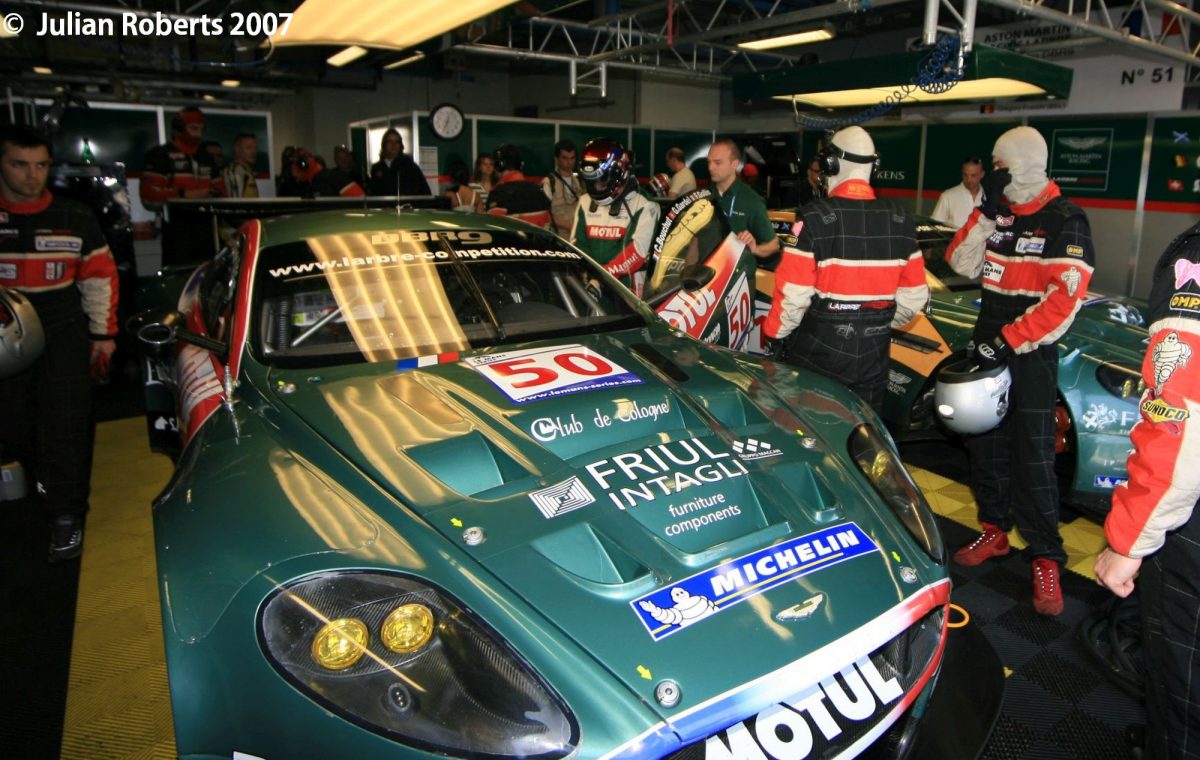 Not to worry, make the best of it, you're at Monza !
My new favourite driver Stuart Hall posed for me looking very 'eff wun' in his graduated shades, behind, in civvies, stands his erstwhile team mate Phil Keen.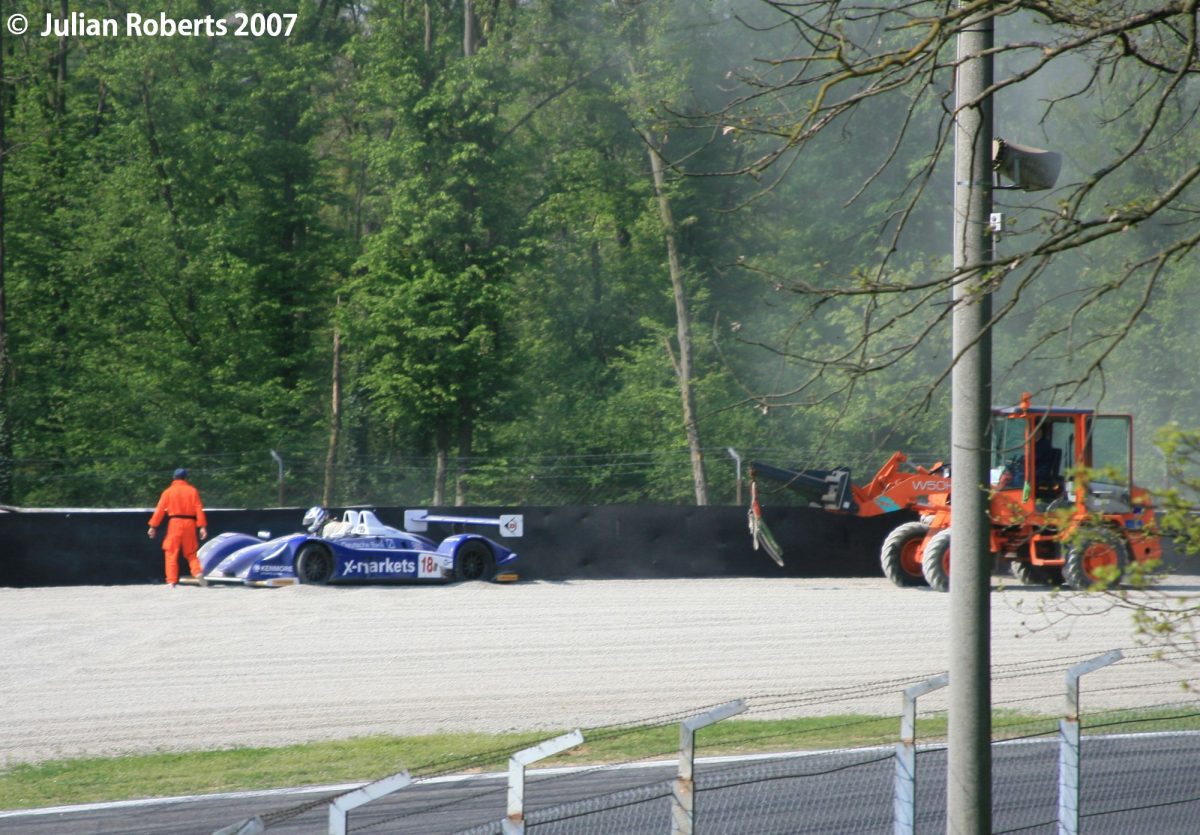 I was told, that Rollcentre boss Martin Short had stood Keen down as he was driving the heavy prototype "like a Formula 3 car". Also beaching it in the Parabolica gravel trap on his first flying lap during Practice, leaving the team unable to set further times in the session, can't have helped.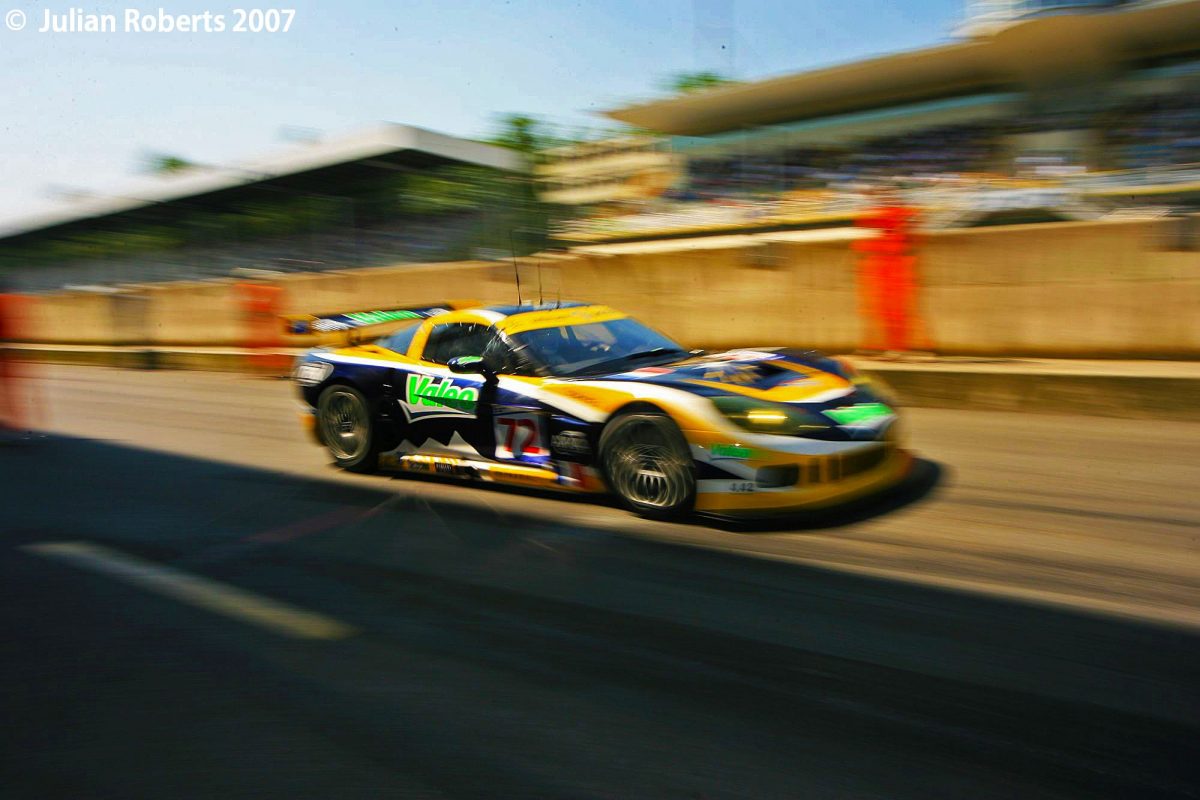 By now the cars were leaving the pits and I needed to get moving if I was to catch the start.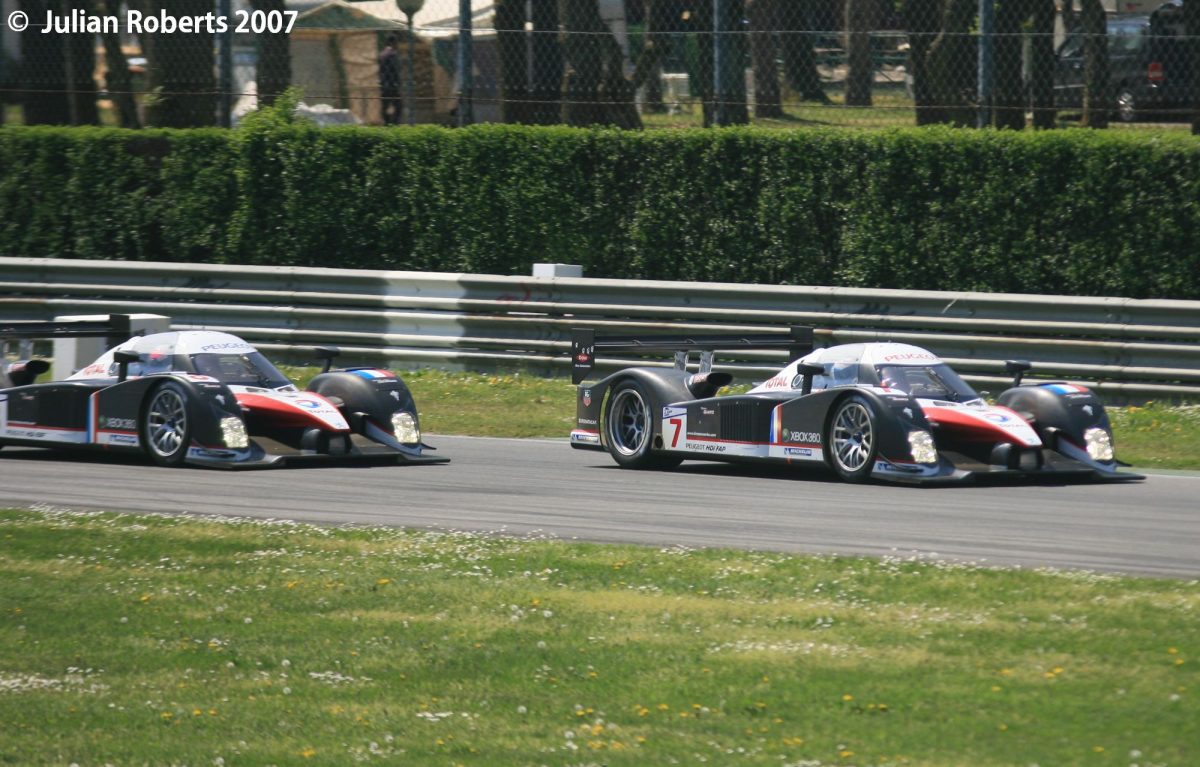 I chose to stand in the raised photographers enclosure overlooking the Variante Alta. This was a mistake. It has a perfect view over the chicane with the cars coming straight towards the camera after the initial turn in.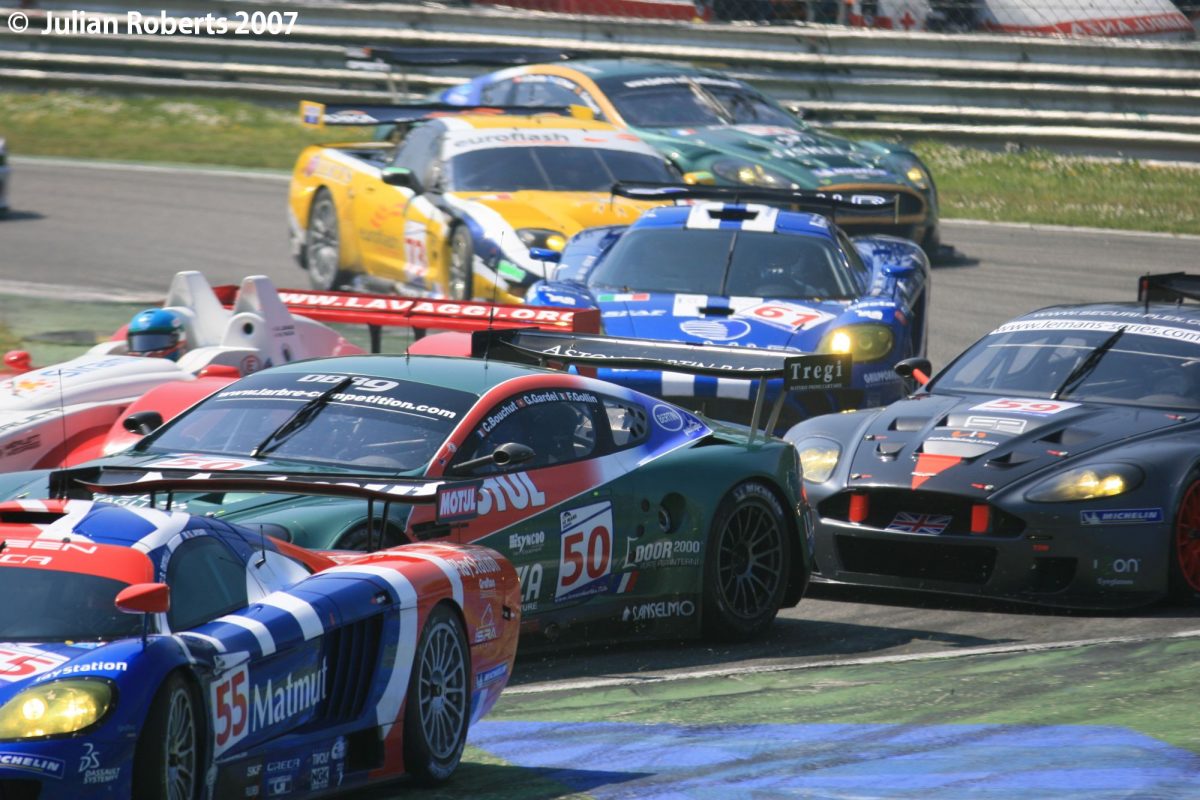 Without thinking I'd selected my 300mm lens and while it was fine for picking out a single car, it was too long to the capture the melee of the opening lap. I shot the 2 Peugeots braking for the chicane, thereafter my images of the start are a colourful collage.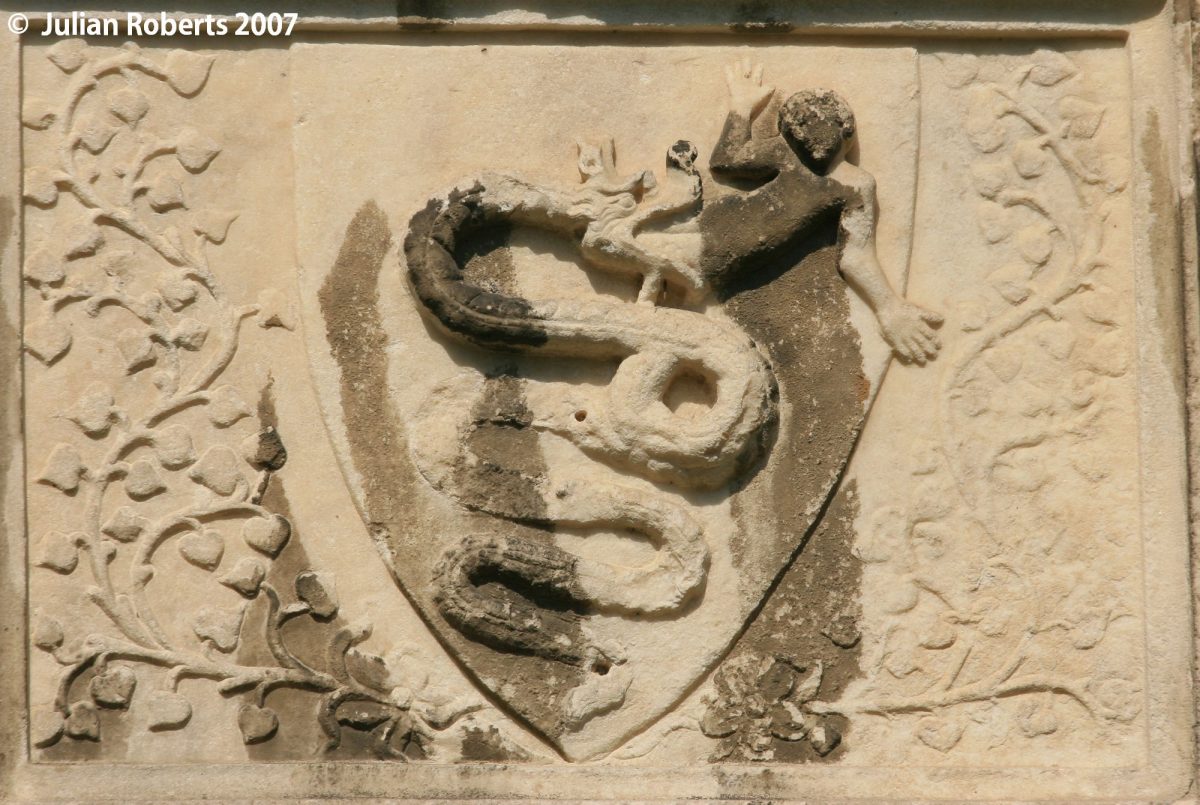 Abandoning my lofty perch I returned to ground level and crossed the infield to the Variante Ascari and began a slow anti-clockwise, lap of the circuit via the Curva del Serraglio, the Lesmos and Variante del Roggia and finally, my favourite spot, the photographers' platform above the Parabolica. On one of the service roads inside the circuit there's a small old quite old looking building which had a familiar moulding of a snake on a shield. Familiar because reversed it is the Alfa Romeo symbol. Following a little research I learn it is called a Biscione and is generally the symbol for Milan and particularly it's the eleventh-century Milanese Visconti family coat of arms. The origin of the serpent devouring the human (some say child) isn't certain and there are a number of theories.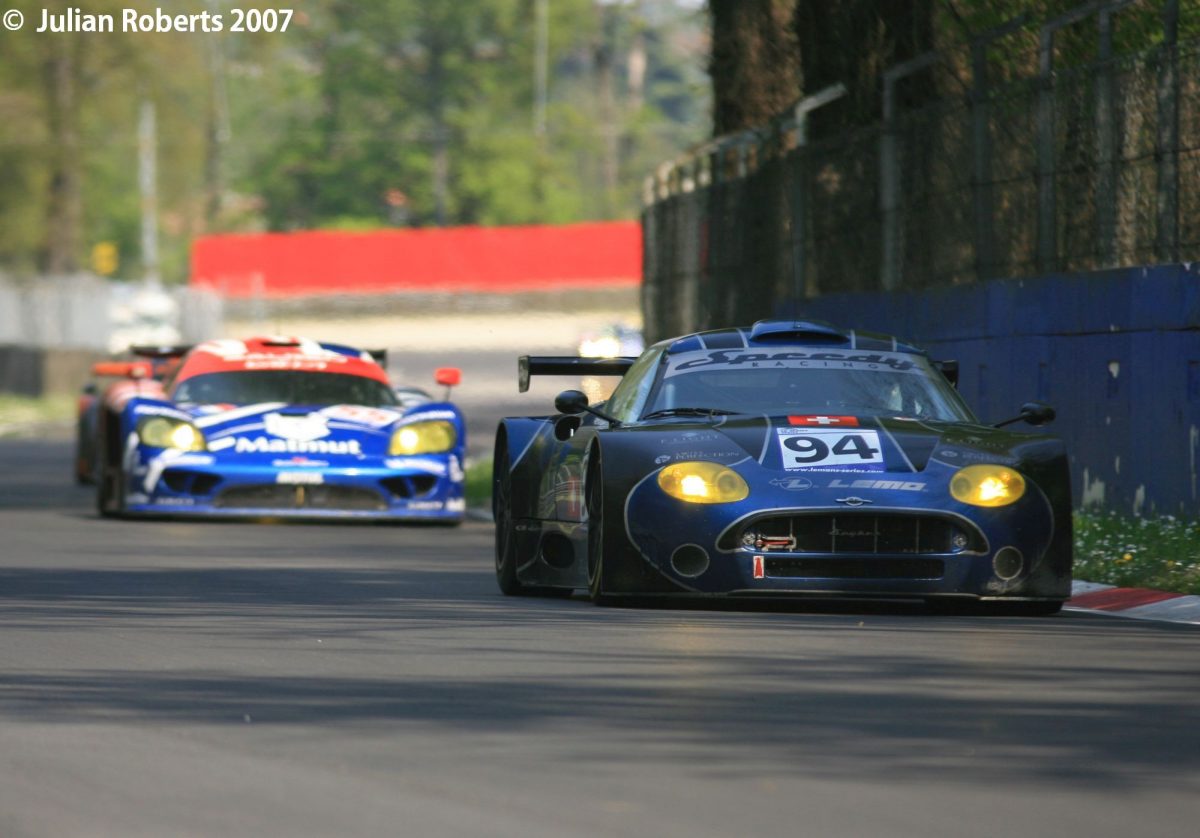 My day was just about perfect.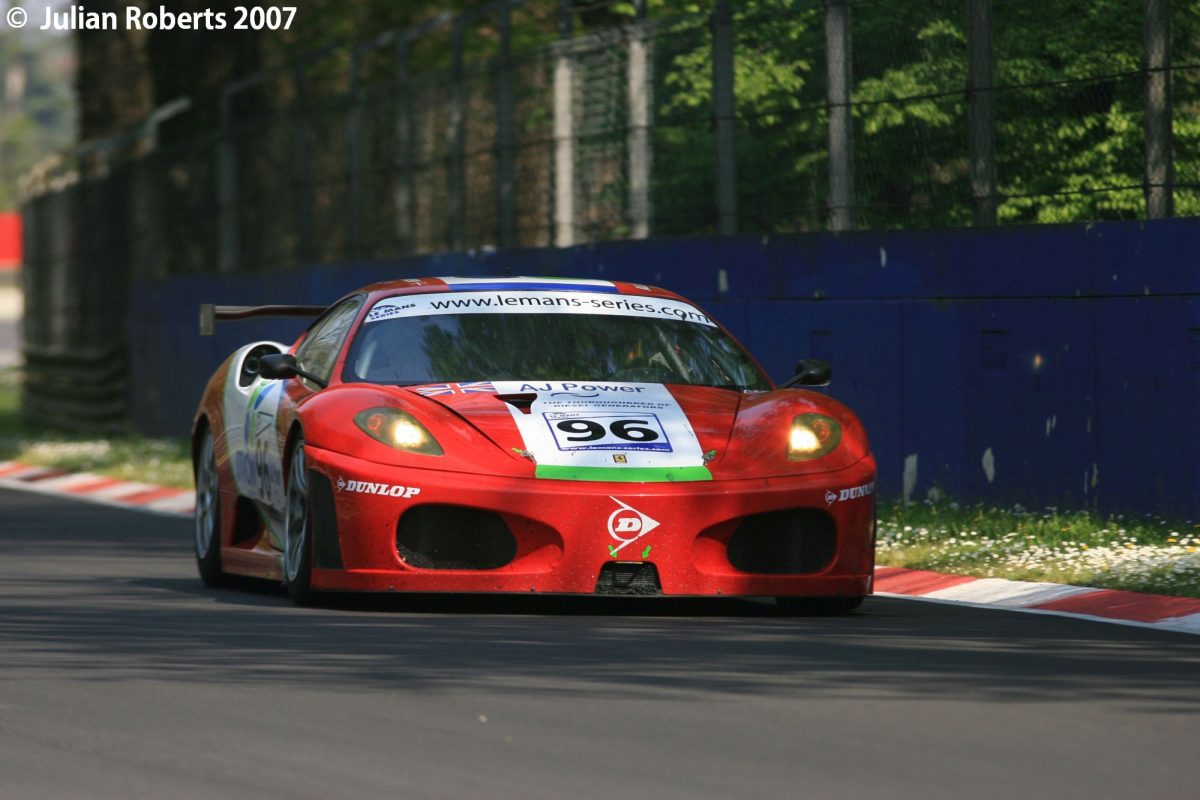 I was in warm autumn sunshine watching THE Monza 1000kms with full trackside access. Pausing at Curva del Serraglio which is the bend between Lesmo Two and the old banking I crouched behind the Armco barrier and had a great view back up the track towards Lesmo Two and then lay down in the access to shoot the cars going away under the bridge.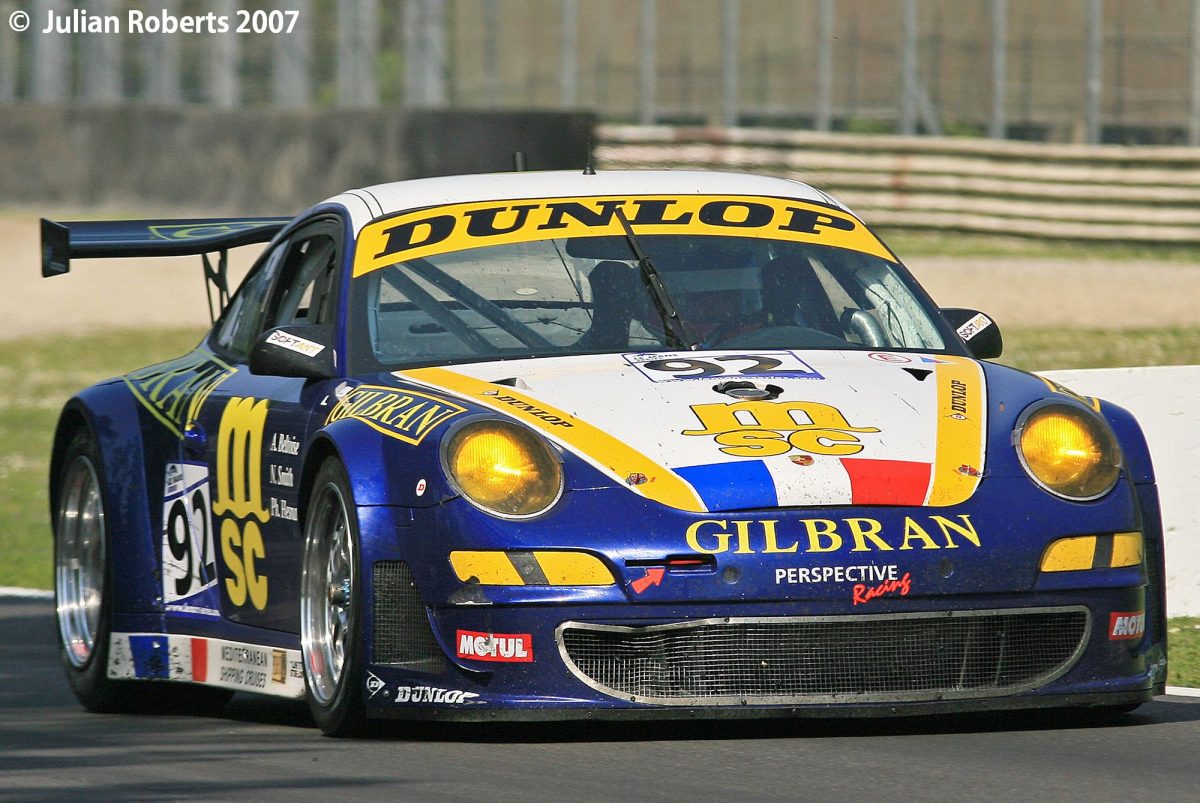 Next was Lesmo Two and I was surprised just how close I was permitted to stand to the tarmac, now the cars weren't just an aural sensation, I could physically feel them too.
I stayed about half an hour switching between my 300mm lens to catch them head on and a wide angle angle lens panning with the cars as they swept through.
Spoiled for choice I made another bucket list tick and walked alongside the track to the Variante del Roggia.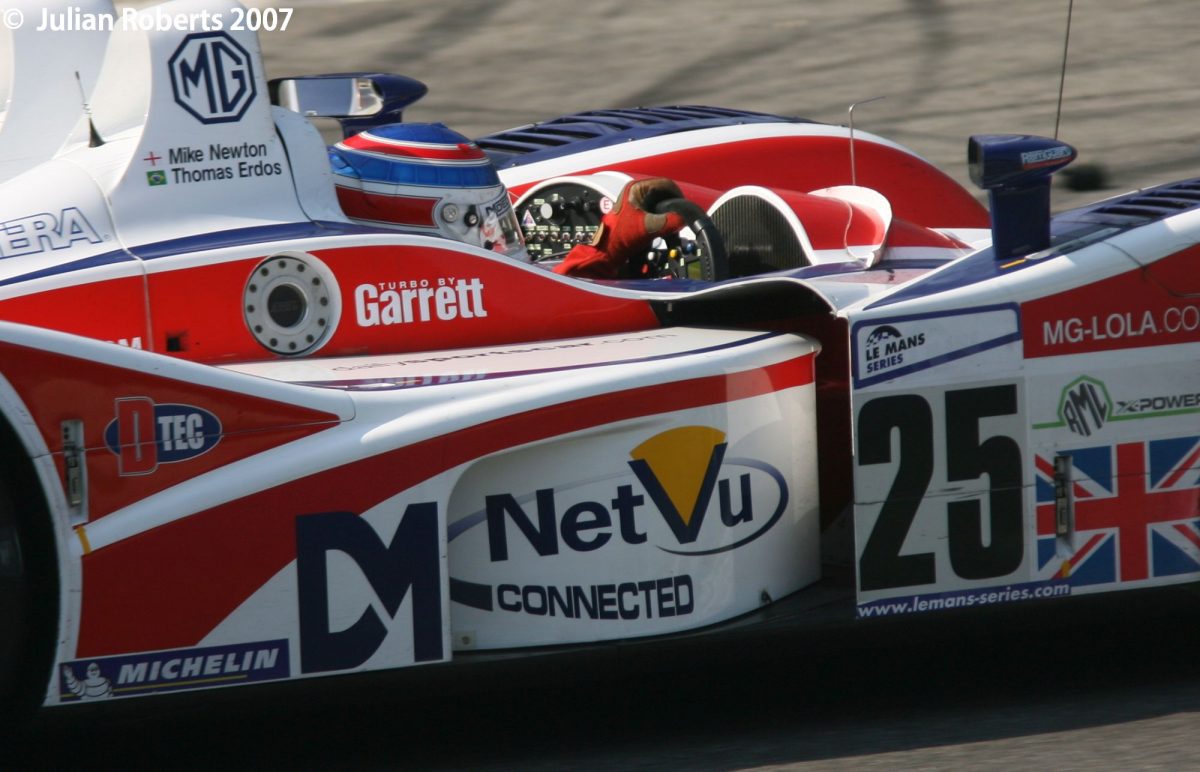 Here the cars come storming into view from the Curve Grande then hard on the brakes for this fast left right left.
Next was the Variante Ascari once more on my way to my favourite perch in the photographers' box at the Parabolica.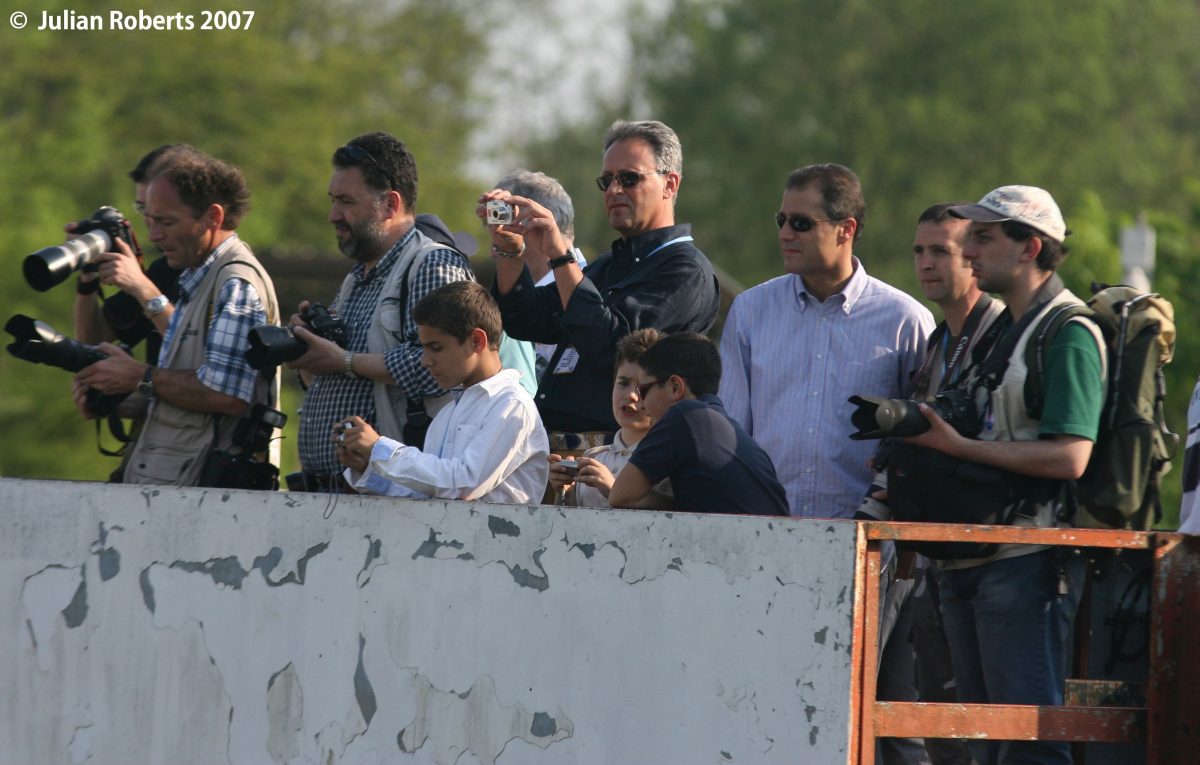 Space was at a premium as the prime spots were occupied by three young boys wielding tiny point and shoot digital cameras.
Elbows out I took up my position and lost myself in overhead photography.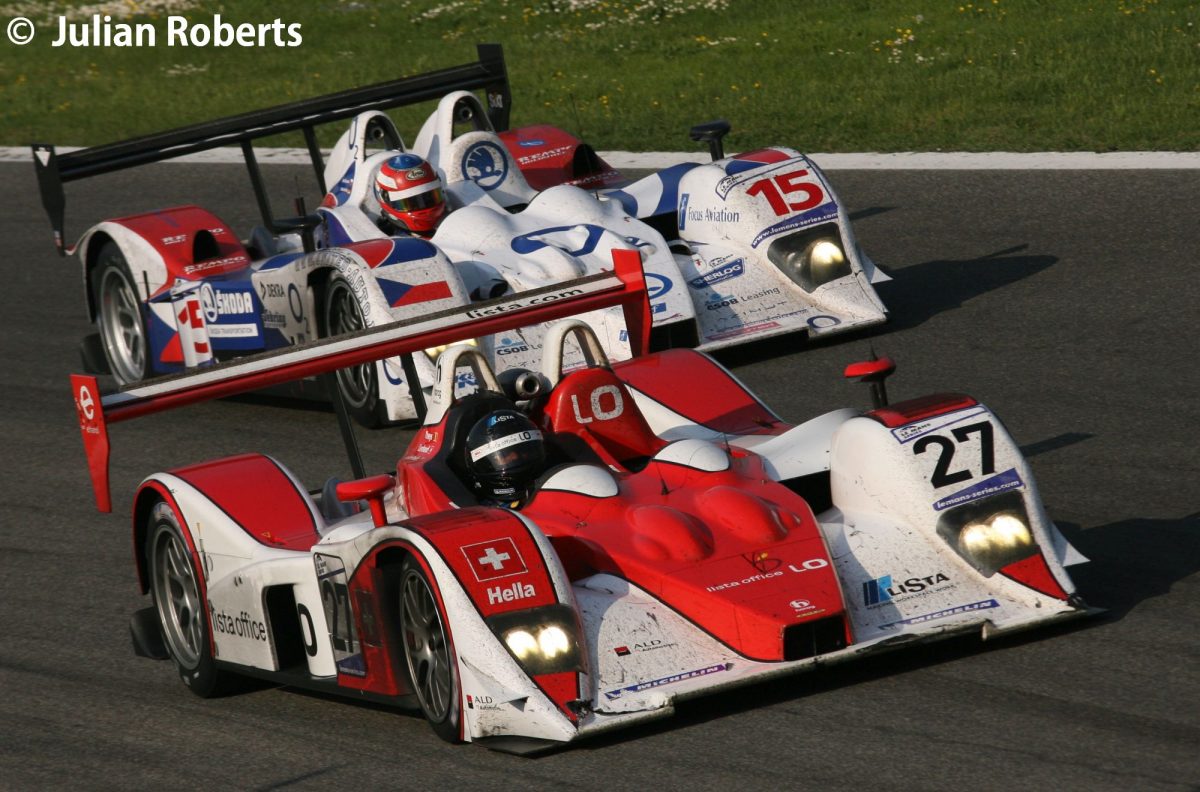 Suddenly it was very quiet. The race had ended, to the surprise of absolutely no one, Peugeot won, though it was first and third for the 908 Diesels.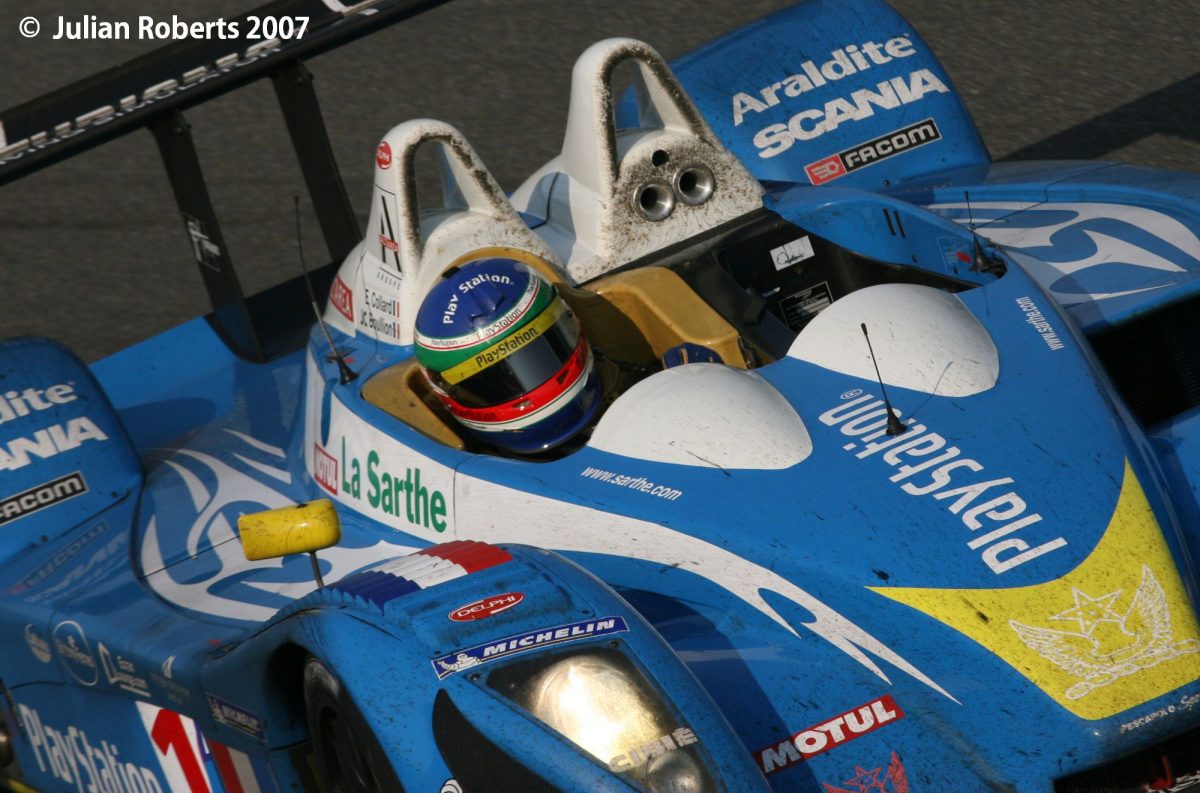 This allowed the Pescarolo Sport team some well-deserved glory grabbing second place, and their second car finished fourth.  Back in the paddock I bumped into Mr & Mrs Hall who were pleased with Stuart's result – starting in dead last he and João Barbosa had climbed through the field to finish in seventh place. Better still they offered me a lift back and we arranged to meet for dinner at the hotel. Sadly being a Sunday, the restaurant was closed, but the receptionist directed us to a local pizzeria where we gorged ourselves on wood fired pizza and cheap red wine talking about motor racing and in particular (at my insistence) his time in the BTCC and his association with Andy Rouse. A fitting end to a terrific weekend.
I'd booked a lunchtime flight home so there was no hurry over breakfast. Taxi to the airport, back to Stansted, an hour's drive home and that was it, back to work and reality tomorrow. Already I was having doubts at my ability to make a living out of this, but I was certainly going to enjoy myself !
Next stop, round two of the FIA GT Championship at Silverstone in May.
Julian Roberts, October 2020