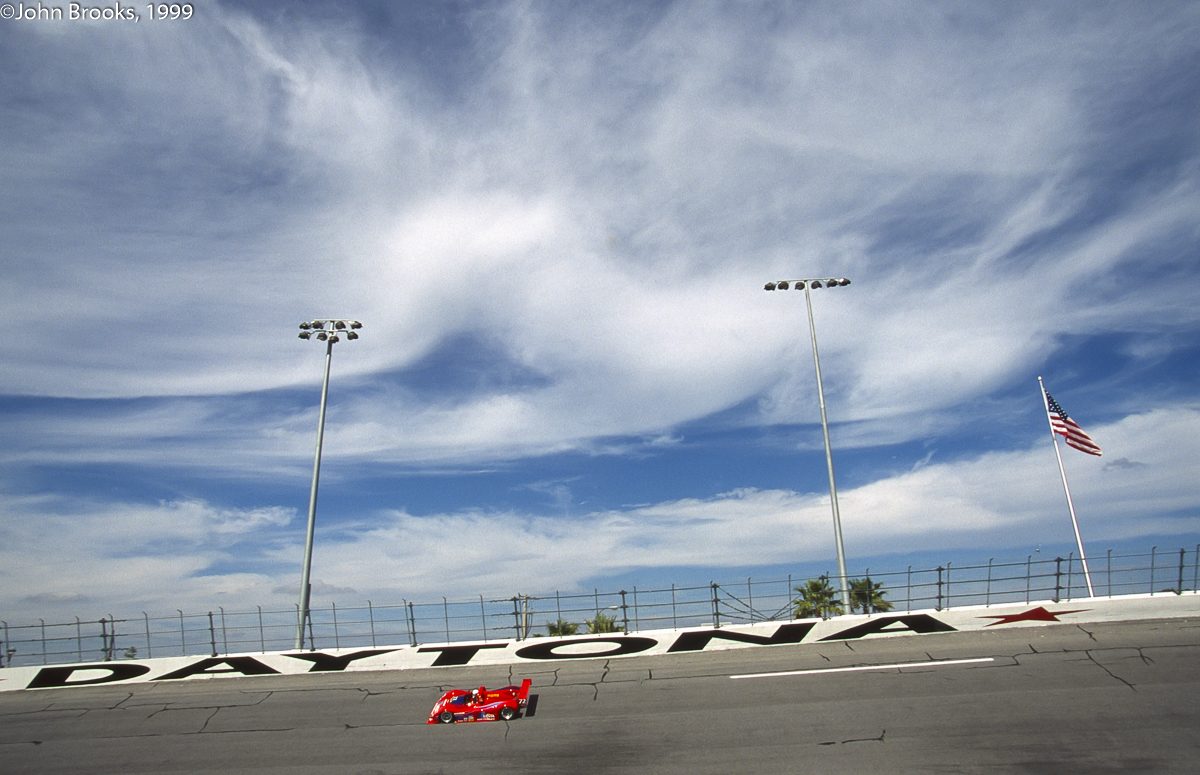 Malcolm Cracknell was one of the pioneers of sports-car racing media on the internet as the World-Wide-Web was known in those innocent times. SportsCarWorld,TotalMotorSport and finally  DailySportsCar  were the introduction for most of us to the concept of paperless information in real  time rather than on a weekly cycle. I joined Crackers on this journey at the start and now as we head  for the winding down laps we spend time looking back as well as forward. 
1999 is the target this time round for the Tardis……….
John Brooks and I are quite proficient at nattering away on the telephone. We call it "living in the past", because we always return to discussing racing in a previous era.
For various reasons, I've been thinking about 1999 recently. Conveniently that's two decades ago, but with the state of my brain, I've inevitably forgotten things that I wish I could remember – so I've had to consult the reference books (and video highlights).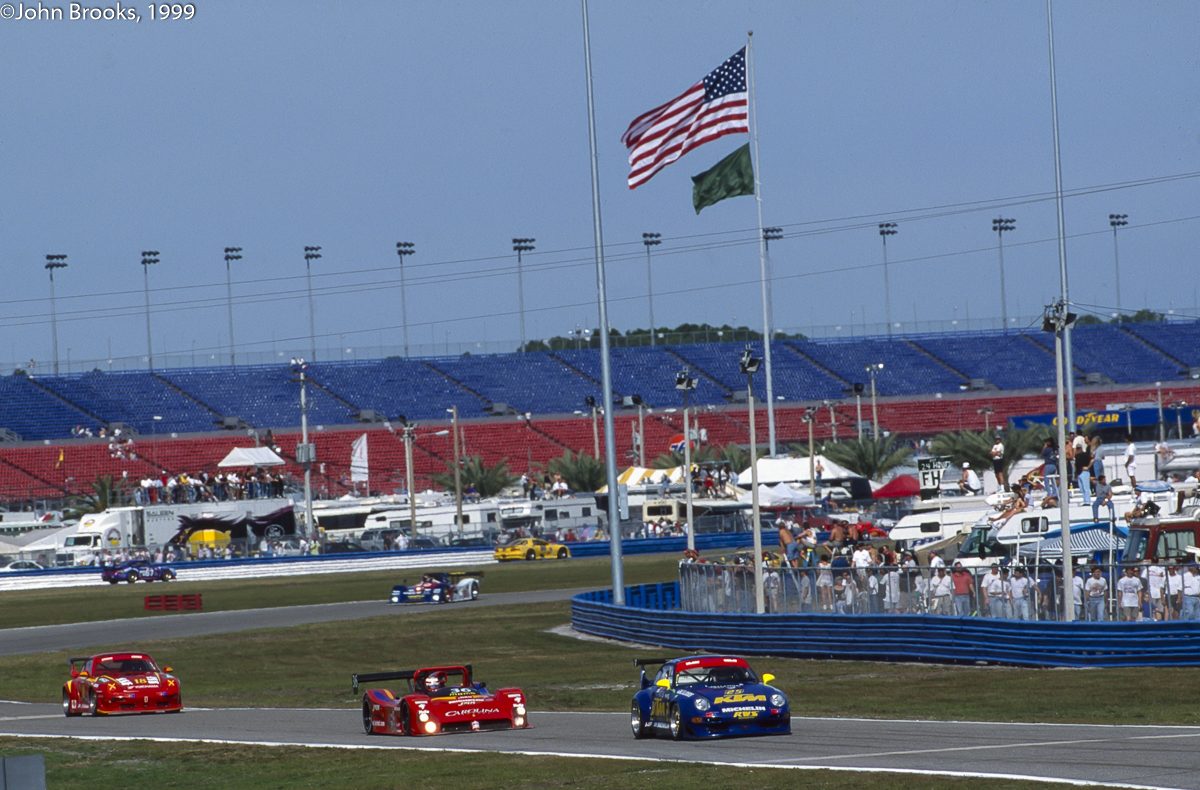 What I do remember is that in late '98, I was planning a trip to the season-opening Rolex 24. Presumably, finances dictated that it was either the Rolex or the Sebring 12 Hours (in early '99). I have no idea why I chose the first of the two endurance classics): perhaps it was simply a desperate desire to escape the British winter for a few days? I'm guessing that I hadn't absorbed how the maiden Petit Le Mans in '98 was going to set the tone for US endurance racing in years to come. Had I had any clue, I would have undoubtedly chosen Sebring.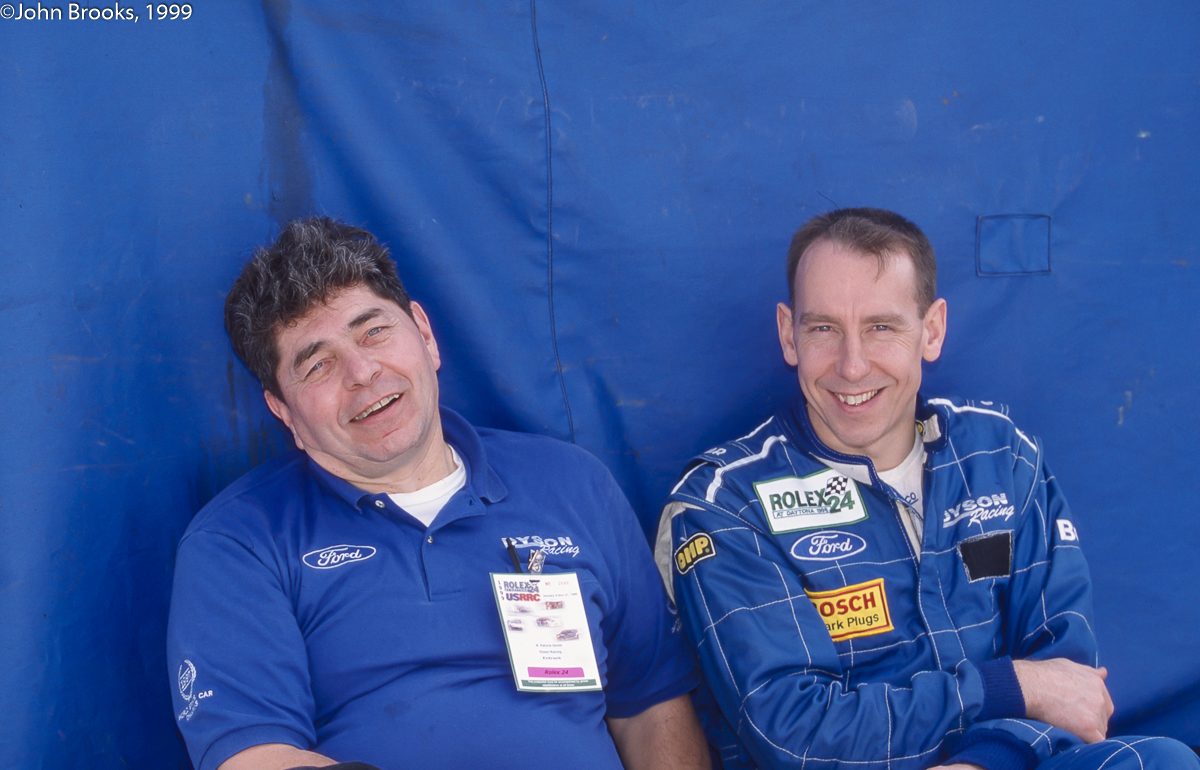 But I certainly didn't regret going to Florida in January. The first person I met after stumbling into the Speedway was Andy Wallace. Oddly, I'd not yet met Andy: our paths simply hadn't crossed. But I was encouraged to find that he knew who I was and that he'd seen the last news item I'd posted, before dashing to Gatwick. That was an image of the new BMW prototype, which would make its debut at… Sebring. Andy and I were both a little perplexed by the BMW's single, pointed roll hoop: the governing body was trying to mandate full width roll hoops, but BMW (and others, subsequently) had presumably found a way round the wording.
I loved Daytona! It was relatively straightforward to cover the race, live and single-handed, on the internet – by dashing to the nearby pit-lane every hour or two to grab a pitstop photograph and, hopefully, a comment from a competitor, then rushing back to the media center, to pick up the threads of the race.
I was delighted when Dyson Racing took the overall win (AWOL, Butch Leitzinger and, appropriately, the way the season would evolve, EF-R) – and also with Brit David Warnock being part of the winning GTS crew in Roock's Porsche. This was the event that saw the debut of the Corvettes, and thanks to a fortuitous bit of timing, I managed to grab 15 minutes with Doug Fehan, before the track opened. He talked me through the technical aspects of the car – and immediately planted a soft spot for the Corvettes in my brain. They weren't race winners yet, and anyway, I always liked to see privateers beat the factory cars, which is just what the Roock Porsche managed.
Years later, James Weaver told me what he thought of the power output of the (restricted) Ford V8s in the Dyson R&Ss. 'You can come past the pits (at Daytona) flat out, take your seat belts off, stand up, turn through 360 degrees, sit down, do your belts up – and still have time to brake for Turn 1', was the essence of his complaint!
170mph+ was nowhere near fast enough for James. He wanted to reach at least 190. My only conversation with James during that Rolex meeting was a snatched "Stu Hayner has binned it (the #16) at the chicane," at some point during the night.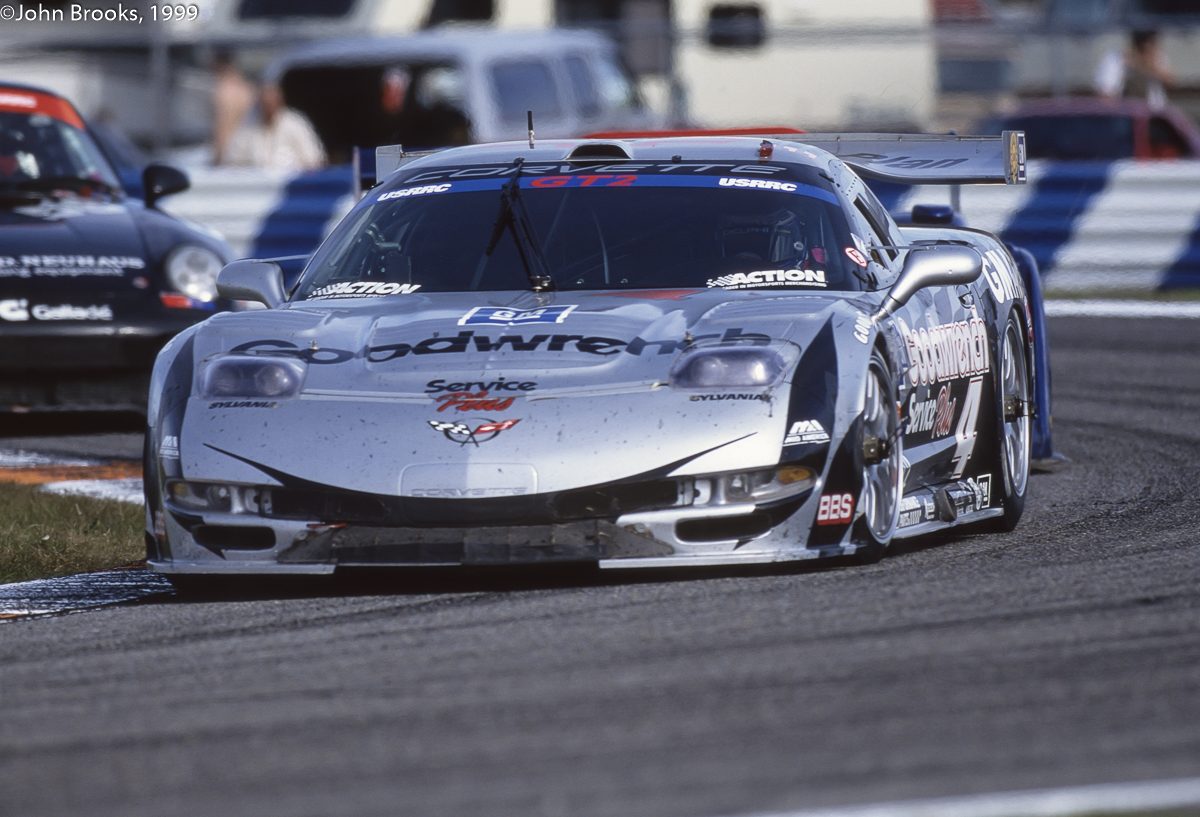 Right, I'm getting near to the point of this piece now: the 1999 ALMS season, and the influence of one (great) man. I'm not about to review the whole '99 season: I'm just going to refer to Sebring, the Road Atlanta sprint race and the finale at Las Vegas.
I think I've already told you that I finally 'discovered' youtube last year: I moved house, had to buy a new TV decoder thing, and really by accident, found that I could watch youtube on the TV (I can't look at a laptop for any length of time, because of my illness). And there on youtube are highlights of all the ALMS races! Brilliant!
Sebring in '99 was clearly an epic event, and I should have been there. A huge crowd, a fantastic entry (58 cars) – including van de Poele / Enge / Saelens in that gorgeous Rafanelli R&S Judd, a car that Eric vdP described somewhere (at the time) as, paraphrasing here, 'the best car I ever drove'.
The admirable Belgian leapt into the lead at the start, and kept the BMWs at bay for 11 laps, before pitting with a misfire (it eventually retired after 185 laps). BMW tried to 'shoot themselves in the foot', which enabled the EF-R / Leitzinger Dyson R&S to stay in touch with the surviving factory entry of Lehto / Kristensen / Muller – which set up a great finale, with Weaver plonked in the R&S to try and chase down TK. He came up short by about 17 seconds at the flag. Great race!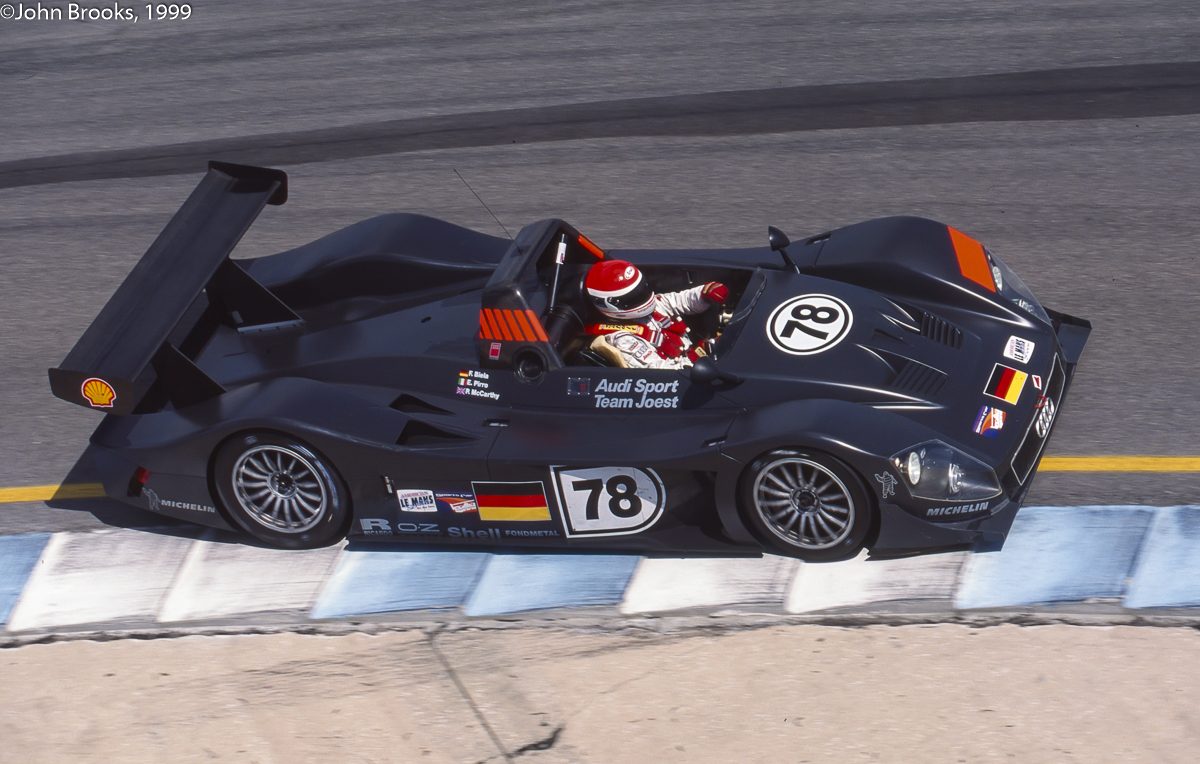 Audi finished third and fifth with their original R8s – and a year later, the ultimate R8 would transform prototype racing. Porsches took the GTS and GT classes – as Corvette Racing continued to develop the C-5Rs.
I've no recollection of how (as it was then) sportscarworld.co.uk covered that Sebring race, but for the Road Atlanta event in April, the site had the benefit of Philip XXXX's reporting skills. Alas, I can't remember Philip's surname, even though we have since been in touch on Facebook. How frustrating! Sorry Philip. But what a classic race you saw that day!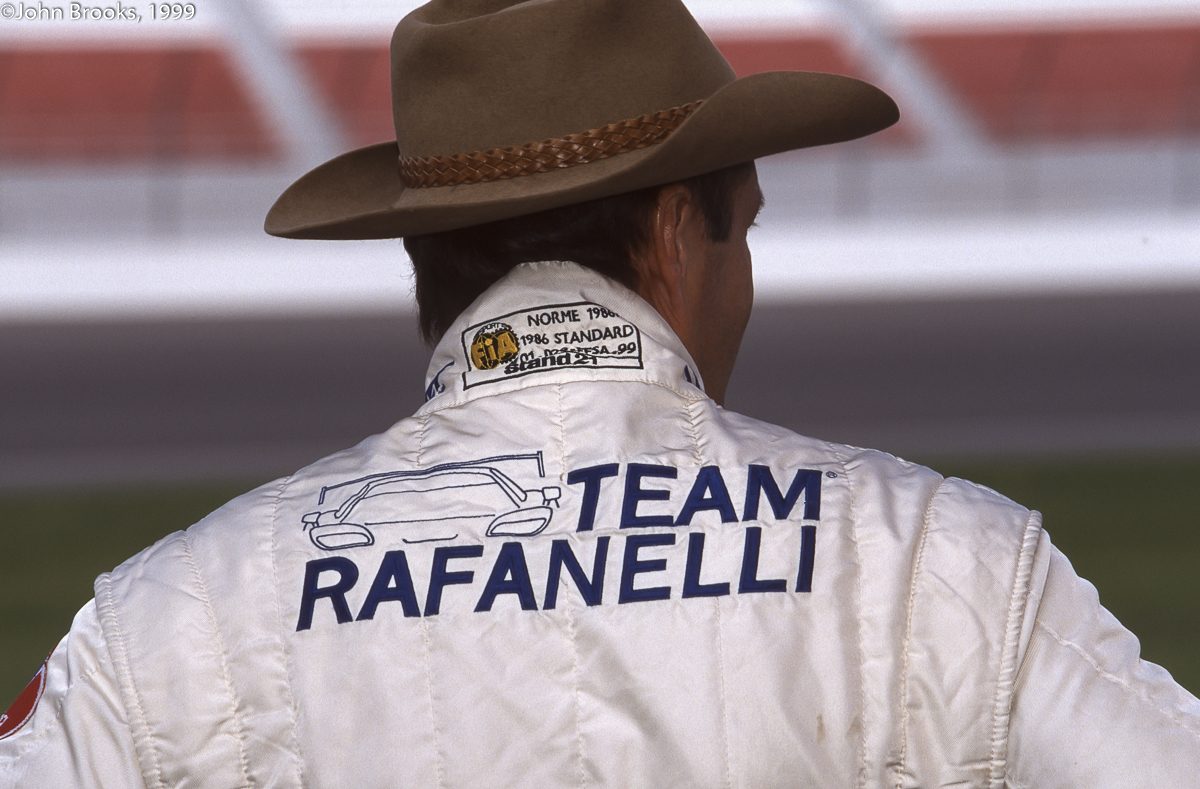 Andy Wallace led from the start for Dyson (the BMWs were absent as they prepared to win Le Mans), but was called in during the first caution period, which turned out to be the wrong move. vdP and David Brabham (this was the debut of the mighty Panoz roadster) started well back, after some kind of 'qualifying times withdrawn' nonsense – and while the Panoz was a handful during its first run ever on full tanks, the Rafanelli entry was going like a dream. vdP picked his way through virtually the whole field and took the lead, which set up a conclusion in which partner Mimmo Schiattarella saw off Didier Theys in the Doran Lista Ferrari, to win by 25 seconds.
The V12 Ferraris seemed handicapped by their restrictors in '99, in ways that the V10 Judd-powered R&S wasn't. The commentators (rather unfairly) suggested that the V10 might fail in that last stint – but it was as simple as an over-filled oil tank blowing out the excess.
I wonder if Dyson Racing ever considered converting their cars to Judd power? Kevin Doran eventually did just that with his 333 Ferrari, creating the famous 'Fudd'.
EF-R / Leitzinger finished third, as their points tally grew steadily, while Don's LMP Roadster S finished a fine fifth on its debut.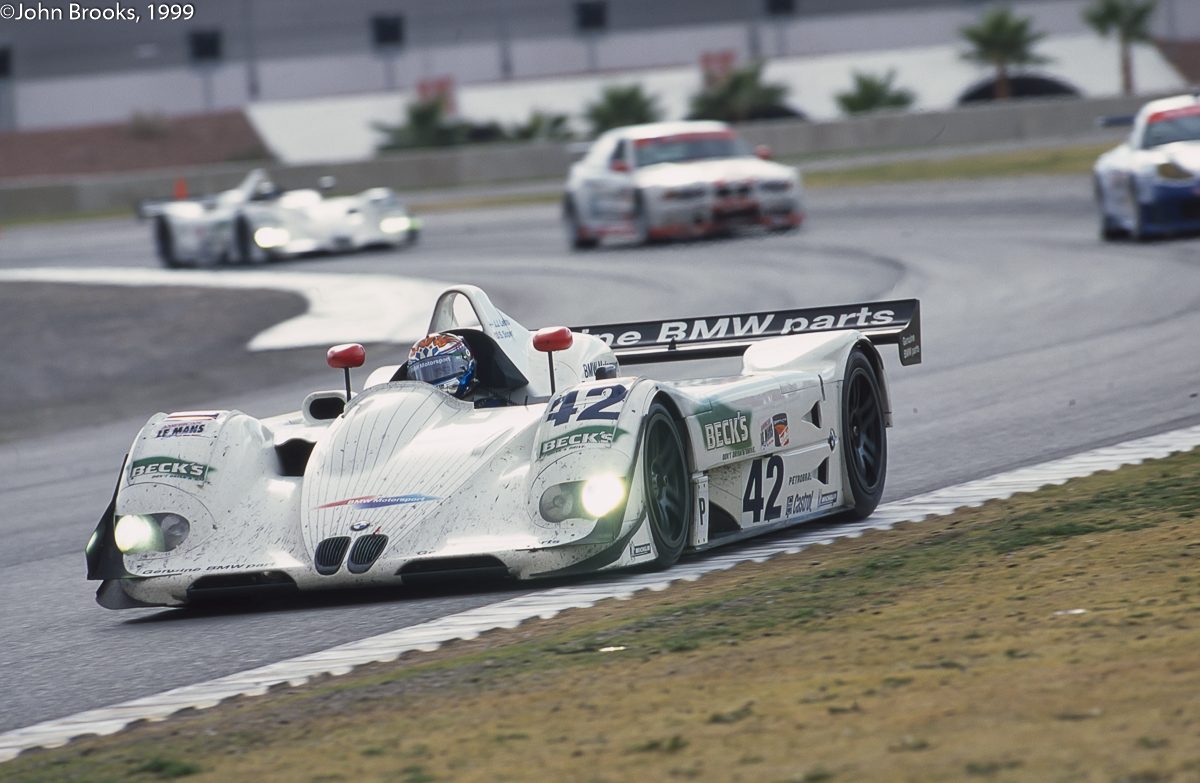 The Schumacher and Snow Porsches had a great race in GTS (the former just winning), while PTG won GT – with none other than Johannes van Overbeek partnering Brian Cunningham. Is Johannes the longest serving driver in the series?
Don's series. That was a sad day, back in September last year, when we learned that Don had passed away. The greatest benefactor that any series has ever had? Did he ever get annoyed if his cars didn't win? To my knowledge, he never did. He genuinely seemed to simply love a great event, his event, attended by huge numbers of fans.
I know how much he loved it when the orange, Lawrence Tomlinson, Panoz Esperante won its class at Le Mans: when his bellowing (prototype) monsters beat the Audis, he was clearly thrilled – but he didn't seem to demand race wins, the way others might.
My Don Panoz story came a few years later, in the spring of 2004.  For the full story, you'll have to wait until my book is launched (I think enough years have elapsed for the tale to be told), but in essence, Don was grateful for a story that I didn't write.  Don and Scott Atherton approached me in the Monza press room (it was the ELMS race), and Don expressed his personal thanks to me.  I was touched!
Incidentally, I'm hoping the book will be launched at Brands Hatch on May 25.  Anyone who reads this is invited to attend – and I'm sure you'll announce it on DDC nearer the time, once it's confirmed.  Thanks in advance for that!
Right, back to 1999. Don's cars took a 1-2 at Mosport (Tom Kjos had taken over reporting duties – and what a great job he did over the years), won again at Portland, lucked into the win at the second Petit Le Mans (that man Wallace joined regulars Brabham and Bernard), lost out at Laguna Seca – and all the while, EF-R had been racking up the points.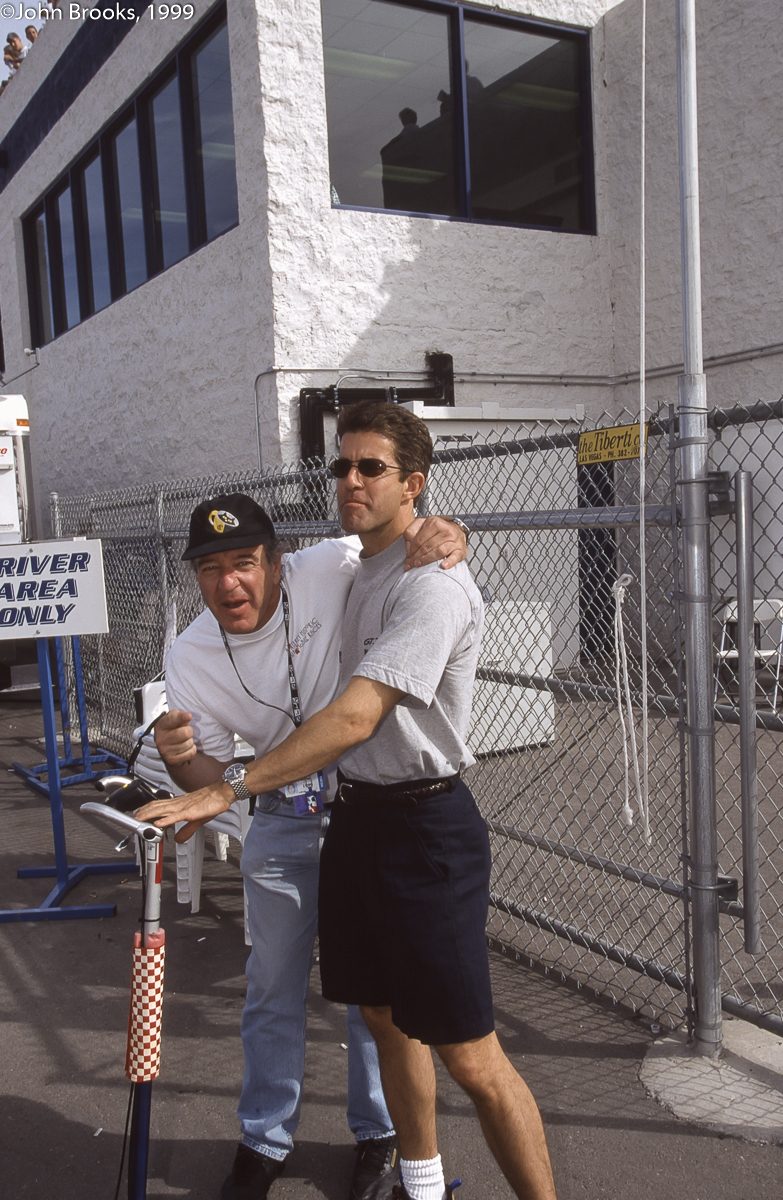 The proposed San Diego race didn't happen, replaced by a fanless Las Vegas – and I was determined to be there. With the help of Brooksie, Kerry Morse and Cort Wagner, the trip was on.
The TV highlights of that race don't match my memories in one, significant respect… Having qualified eighth and ninth, the Dyson entries experienced very different fortunes. AWOL and Butch in #20 were out after just 22 laps with gearbox trouble, but James was EF-R's 'wingman' in #16. In the opening exchanges, my memory is James really going for it – but the highlights on youtube don't really show that. I can still picture the Riley & Scott on a charge, its driver all 'elbows out' as he battled to give Elliott a chance of the title later on. Jean-Marc Gounon was almost as boisterous in the DAMS Lola: it was fantastic entertainment.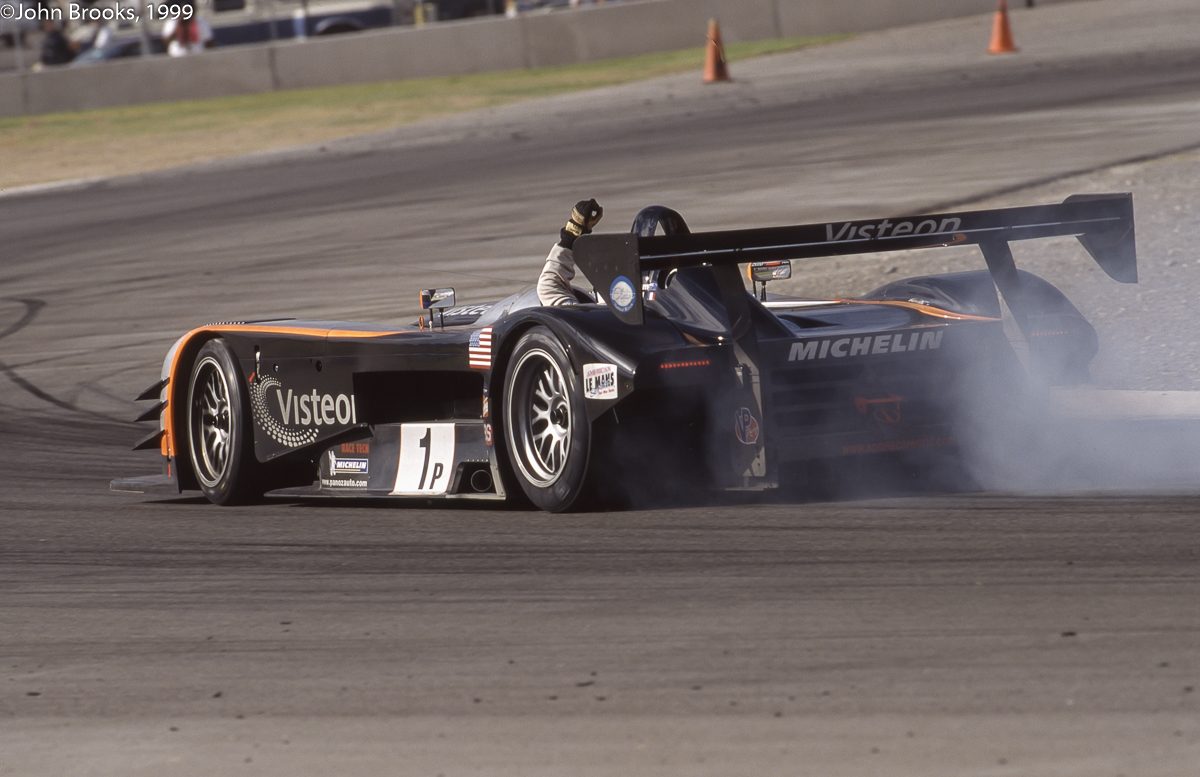 But #16 then suffered with a fuel pressure problem, and it looked as though the Panoz drivers (B & B) would be title winners – until their engine failed with 17 laps left. BMW finished 1-2, but EF-R limped home sixth and he was the drivers' champion.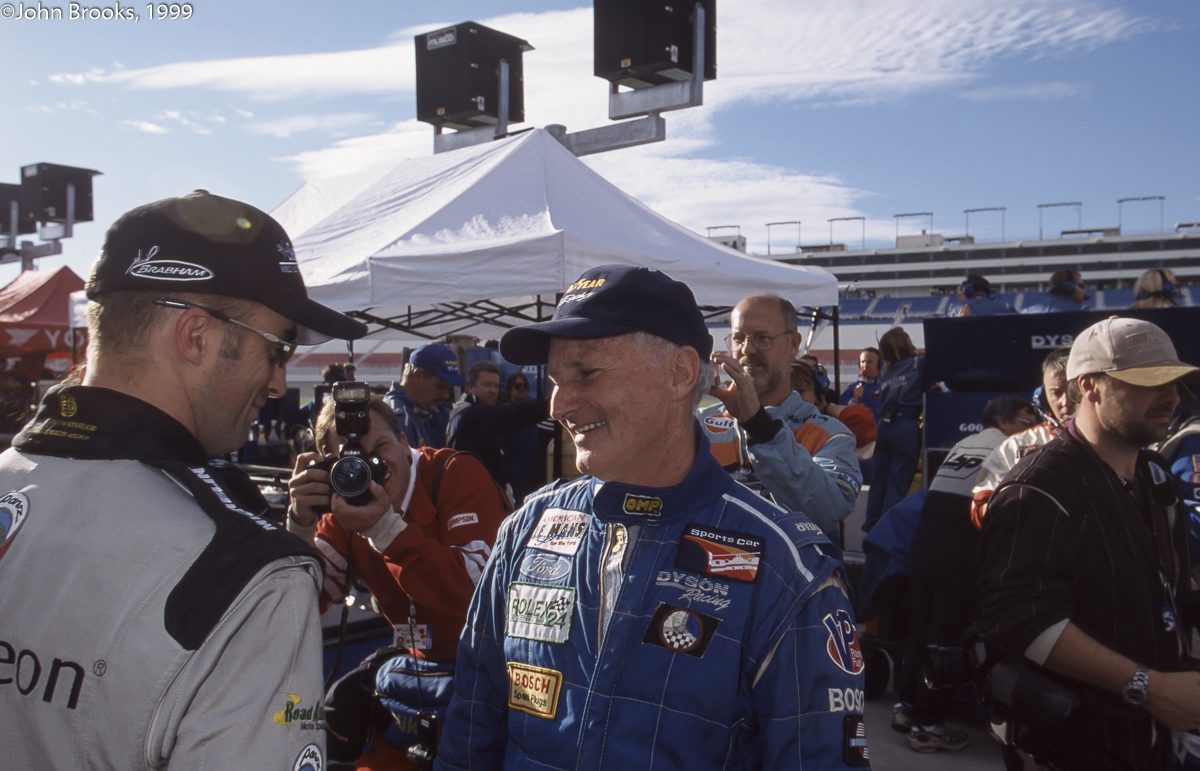 I surprised James Weaver by appearing in the pit-lane wearing his old, '96, BPR Gulf overalls (lent to me by Kerry Morse – I've no idea how he got hold of them).
"You're wearing my overalls!" said an otherwise speechless James.
Oh, the Rafanelli R&S was first retirement, unfortunately, with overheating. Was it the right move to park that car and race a Lola in 2000?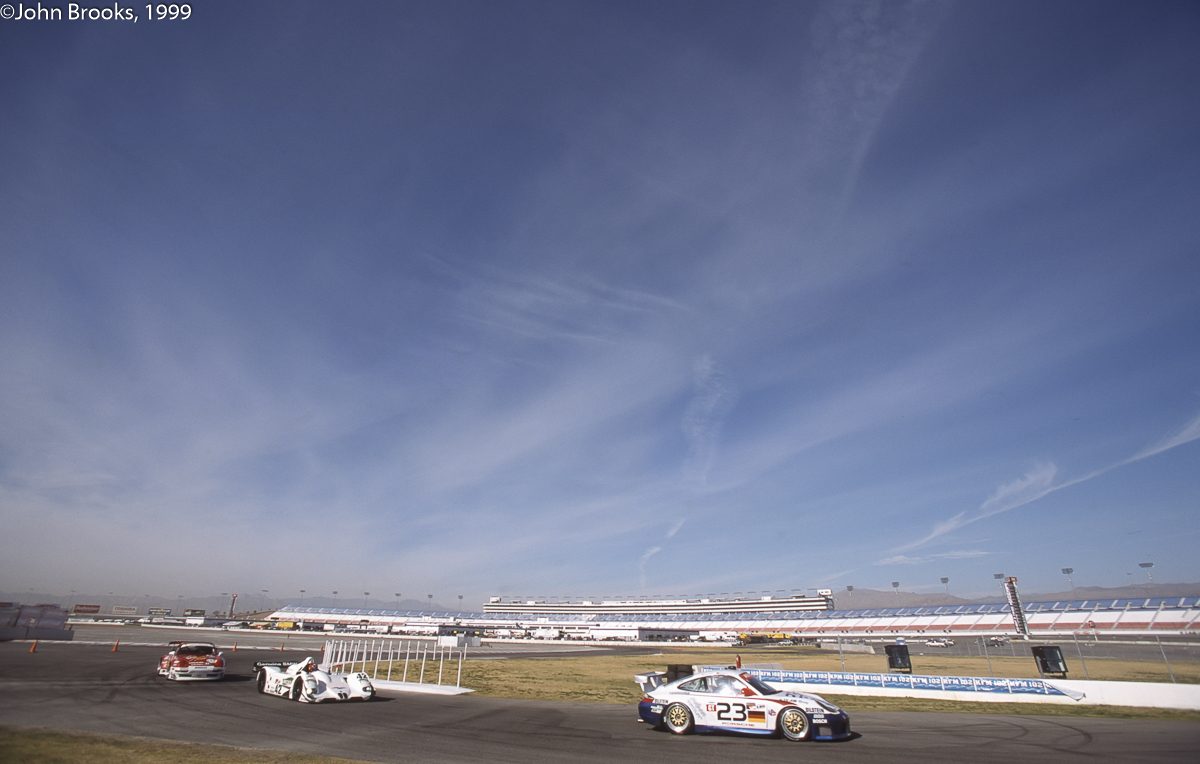 Cort Wagner was the champ in GT, while Olivier Beretta took the honours in GTS, in an ORECA Viper, a car that I haven't mentioned in this tale (Le Mans was the initial priority). Wagner and Muller won their class at Las Vegas, with the red and white Vipers 1-2 in GTS.
My last thought here is connected to youtube, again. Something I've been getting interested in is the whole 9/11 thing. I'm not going to ram my thoughts down your throat – but I would like to suggest that you look up Rebekah Roth, Christopher Bollyn, Barbara Honegger and / or Richard Gage, and listen to some of their views on what really happened in September 2001. The more you find out, the more extraordinary that tale becomes. If you find that lot interesting, you might also consider looking up 'Operation Mockingbird'.
Now, I've got to go and look up my favourite ALMS race on youtube: Laguna Seca in 2005. I think that was the one when John Hindhaugh 'did his nut' when the overall leaders came up to lap the scrapping Corvettes and Aston Martins. Great memories (or just plain "living in the past").
Crackers out.