It is held that the past is a foreign land, once visited, but one that we are destined never to return to. Well, that may be true but sometimes, in special circumstances, we can bring the past to us in the here and now.
It is hard to imagine that Fernando Alonso or Lewis Hamilton will be racing on Italy's roads in late October but some 30 years ago that is what happened. Gilles Villeneuve, Ferrari's Grand Prix star and runner up to Jody Scheckter in the 1979 F1 World Championship took part in the Giro d'Italia that autumn.
The Giro d'Italia was a madhouse event, part rally, part race held on the roads and tracks of Italy from 1973 to 1980.
Italy will be celebrating 150 years of unification  in 2011, so some bright spark had the idea of reviving the Giro to add to the nation's gaiety. How inspired. I am planning  to cover the event when it happens in late October.
So when the organisers of the 2011 event put out a series of photos from the 1979 and 1980 events it seemed a good excuse to run some Group 5 goodness.
Villeneuve's co-drivers on the 1979 event were  Walter Röhrl and Christian Geistdöfer, here enjoying 70's style hospitality.
The star trio finished top of the pile in their Lancia  but were later disqualified, the reason I am informed, is driving on a motorway!
Also disqualified was the other factory Lancia, which finished second on the road.
Here is the Lancia on one of the circuits.
The second car was driven by Riccardo Patrese.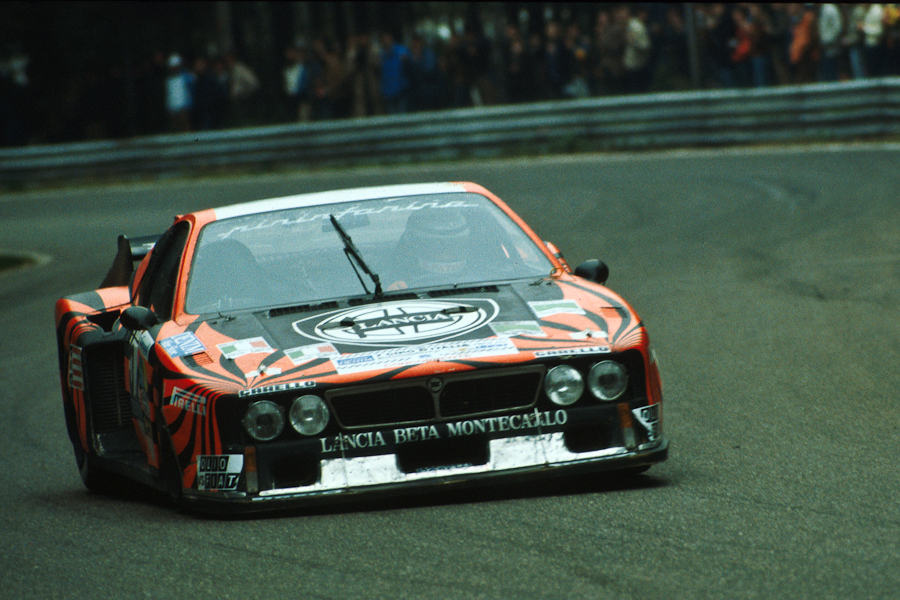 Patrese was driving for Arrows in F1 that year.
His co-drivers were Markku Alén and Ilkka Kivimäki, the reigning World Rally Drivers Champion.
The Lancias were the class of the field.
After the exclusion of the Italian pair, victory fell to that great expat Italian in US Sportscar racing, Giampiero Moretti.
Moretti was accompanied in Italy by Giorgio Schon and Emilio Radaelli (ITA) in his Porsche 935 TT biturbo. He is famous for winning the 1998 Daytona 24 Hours and, of course, was founder of the Momo brand of racing accessories.
The 935 would have been a handful of the roads.
Factory Fiat/Lancia rally driver Attilio Bettega along with Maurizio Perissinot and Enzo De Vito in the Fiat Abarth Ritmo 75 Alitalia.
Another rally star, Guy Frequelin ran in a Renault 5 turbo
F1 star, Vittorio Brambilla, also known as The Monza Gorilla,  raced in an Alfa Romeo Alfetta GTV 2000.
His co-drivers were Mauro Pregliasco and Vittorio Reisoli.
Here the Alfa encounters another 935.
A 70's classic Italian super car, the Lancia Stratos HF, entered by The Jolly Club.
Top Italian rally pair, Tony Carello and Renato Meiohas were joined by Grand Prix aspirant, Andrea De Cesaris, in the Stratos.
That is it for 1979. 1980 will be along some time soon.
John Brooks, September 2011. Photos courtesy of and copyright Giro d'Italia/Photo 4