The events that led to this fine story took place a few years back, when my friends Lizett Bond and Kerry Morse paid a visit to the UK. As usual when Kerry is around things get a little out of focus, nevertheless this tale is worth repeating and New Year's Eve is as good as any time to do so. And it is also an appropriate time to remember those who are no longer here to celebrate a New Year, one such individual was Jim Bamber, the great cartoonist and artist who passed away in the summer. He is greatly missed by his friends.
So to those who persevere with this site, may I wish you and yours a happy and healthy 2015. 
John Brooks, December 2014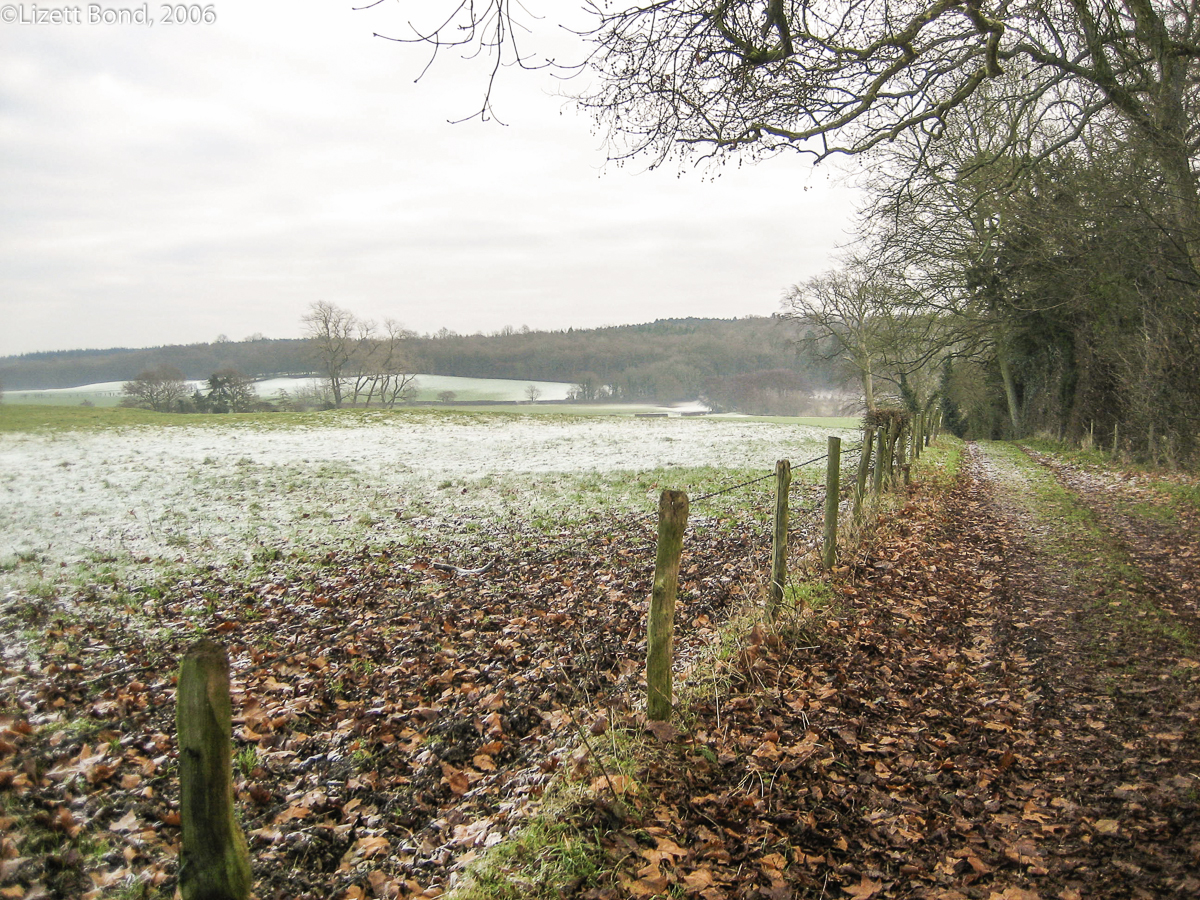 Think of Jane Austen country. What comes to mind? Landed gentry, leisurely strolls through verdant pastures, sheep, cattle and, of course, the horses? Yet, might there be horses of another type hidden in those peaceful, green hills? Sense tells us this is prime horse country, what if sensibilities were interrupted by the roar of something that travels on four "legs" of a different kind?
I love horses. I cut my teeth on "National Velvet". One of my favorite daydreams consisted of riding The Pie across a pasture, wind whipping my short hair. In this daytime fantasy, Mi coached from the fence line.
Imagine how I jumped when the opportunity arose to actually spend some time in the English countryside. When I discovered that the village of Bentley, my destination, was in Jane Austen territory, I adjusted, trading in Mi and The Pie for Colonel Brandon, Mr. Willoughby, and romance.
Jane Austen country, so steeped in history, was soon to provide some modern surprises, and the contrast between historical and modern would prove pretty striking.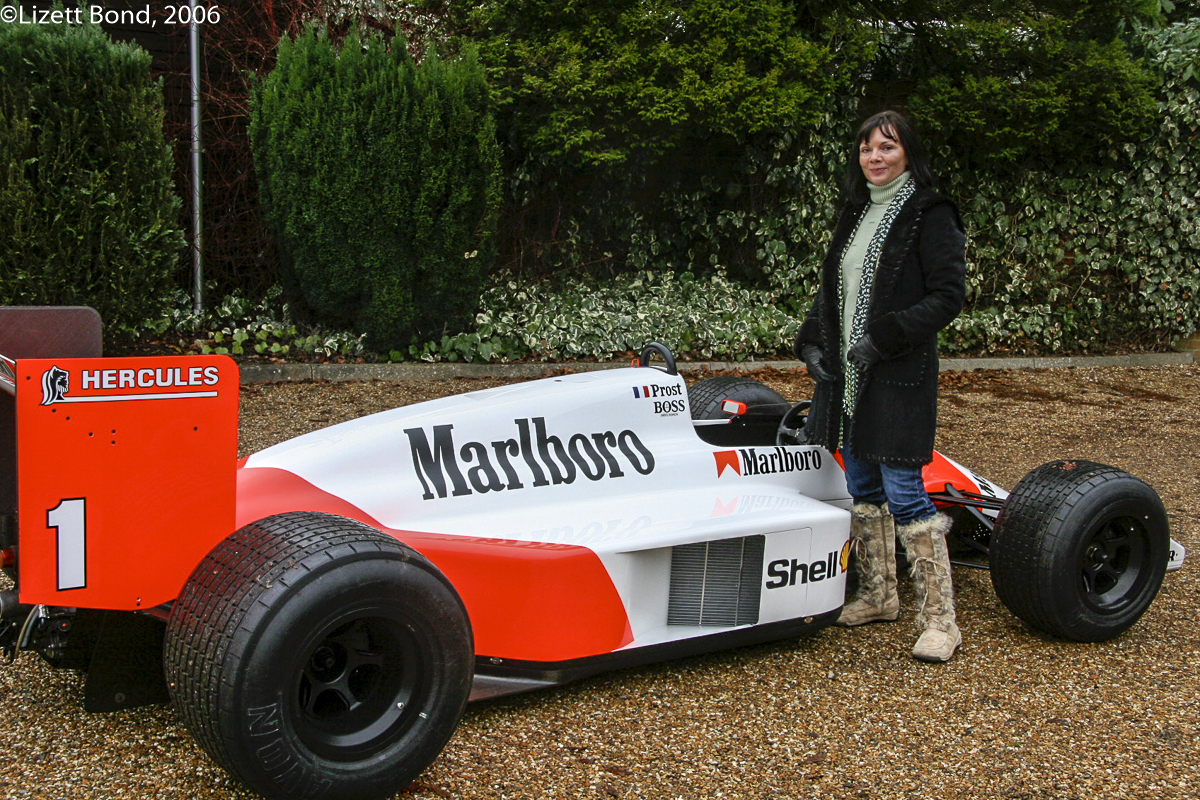 There were several reasons to be in Jane's neck of the woods.  First, the MP4/3 McLaren.  A Formula One racecar with historical significance and modern interest, I would have the privilege of observing the shakedown of this fine steed at the famous Donington Park racetrack.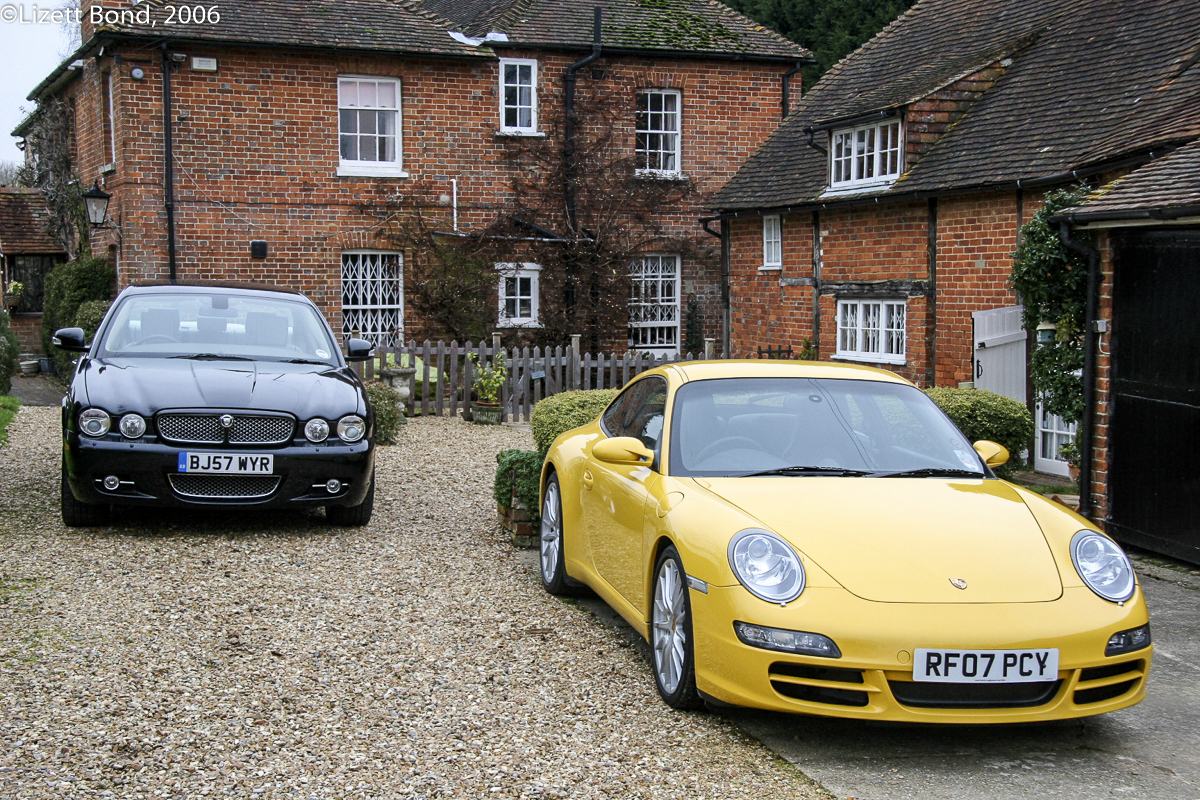 The second was to spend time with a Jaguar XJ and a bright yellow Porsche 997 Carrera. These fine carriages, provided by the manufacturers, awaited our arrival at Heathrow Airport after a flight from Los Angeles on Virgin Atlantic.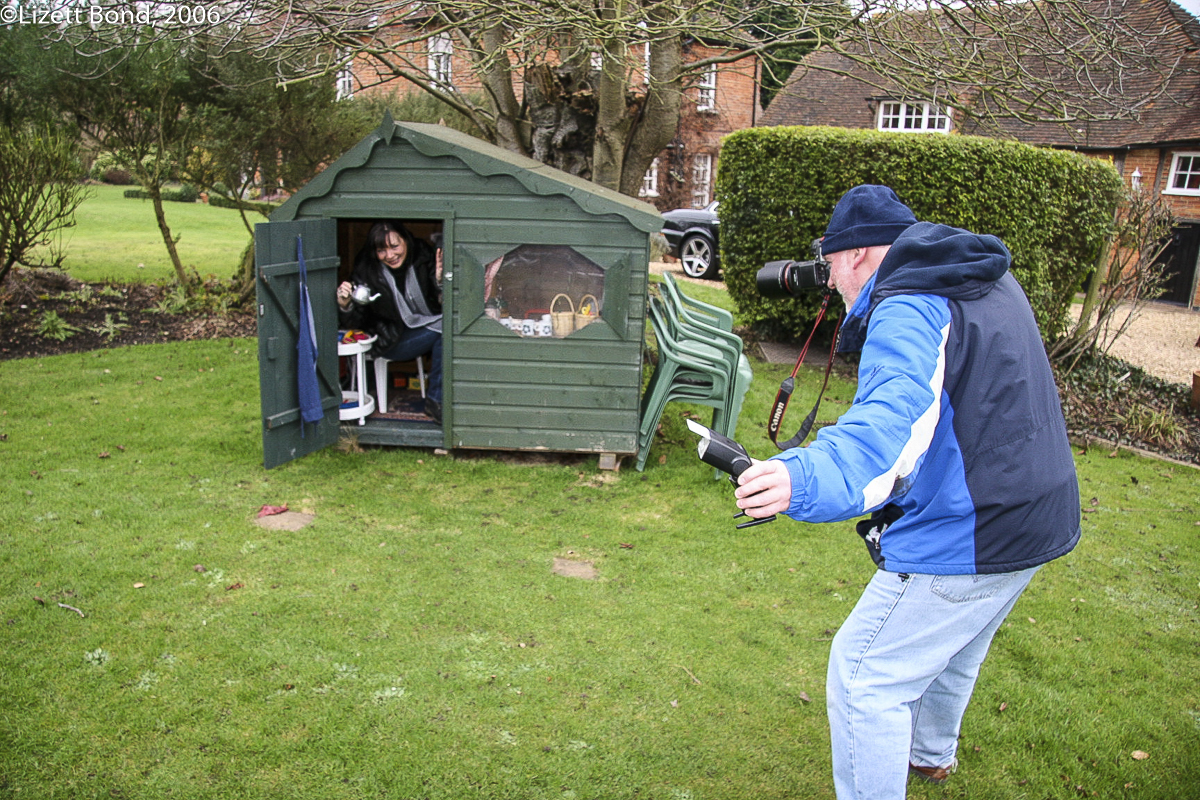 Our destination was the Bentley Mill Inn. Cars aside, during my visit I wanted to meld into the community and meet the locals. I wanted to belong, if only for a short time.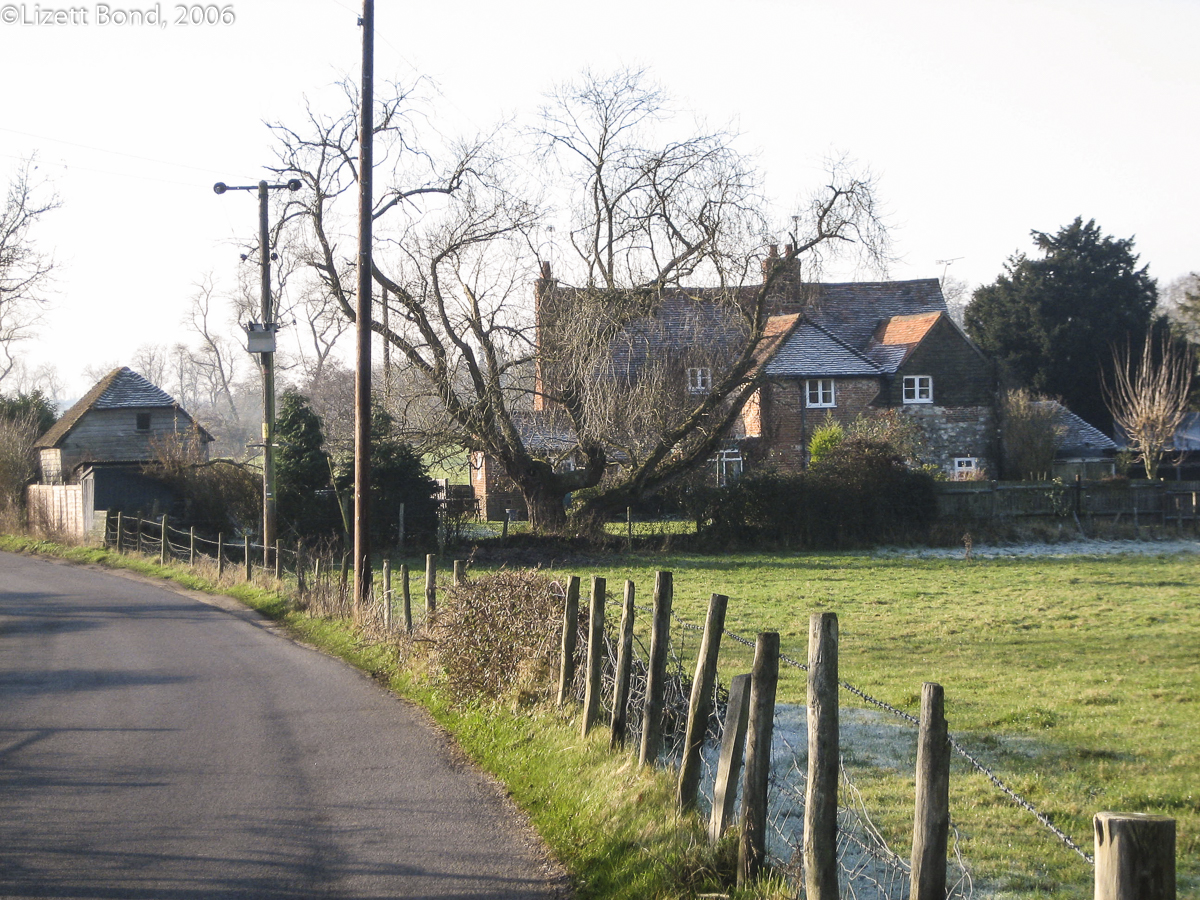 It was dark as we rolled into the outskirts of Bentley, and after an unplanned tour of the small village, we found our lodgings.  Ann and David Hallett, proprietors of the converted mill, proved the quintessential English hosts. A cross between English country gentleperson farmers and extremely cultured, worldly travelers, we were welcomed into their home.  In spite of the comfort and quaint ambience of this establishment, there was an air of quiet refinement, as one would expect. A paper mill, originally built in 1640, the Bentley Mill sits virtually atop The River Wey.
And there were more delights to follow. A short walk from the Mill sits the Bull Inn. The classic English Pub, right down to the fireplace, the locals and the atmosphere, The Bull Inn serves breakfast, bar snacks, drinks and dinner.  Oh, heaven!  If I wanted to experience another world firsthand, I'd found it. Or as Ms Austen would say, "one half of the world cannot understand the pleasures of the other". The regulars at the Bull Inn are right out of a PBS Masterpiece Theatre production.  Sandy, an occasional bartender at the Bull, is the perfect character to stand behind said bar, a lot of fun, and "Sex In the City" has nothing on her. One would expect an old curmudgeon, but instead, the owner of this establishment is an ultra modern sophisticate, driving a Porsche and vacationing in Vail, Colorado.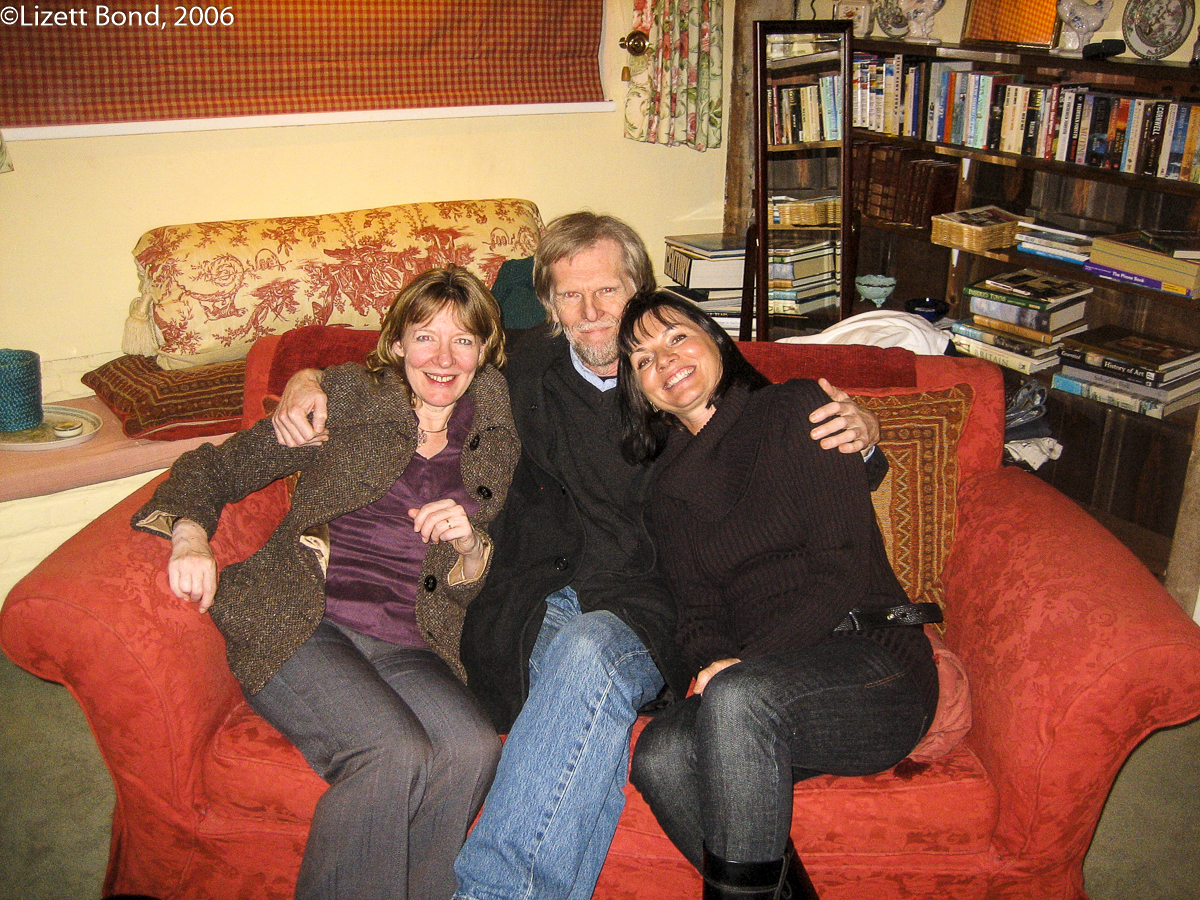 Feeling as if this was now my local, dinner at the Bull became a nightly ritual. One special evening at the Bull was topped off by dinner with renowned race cartoonist and artist, Jim Bamber and his wife Sally.
How could one resist the urge for further exploration? In order to access the hamlet of Bentley from the Mill Inn, one has two choices; get in a car and trek the A31 or, the best to any traveler, stroll right out the front door, turn right on the narrowest country road ever and hit the footpaths through the pastures.  Bentley was meant for ambling and the juxtaposition of historical cottages and new mansions was marked as I sauntered along.  The imagination is well exercised with a pasture promenade and, like Jane Austen, I preferred "taking a turn in the shrubbery".  I fancied an encounter with Miss Steele as I traveled the footpaths to the little village of Bentley.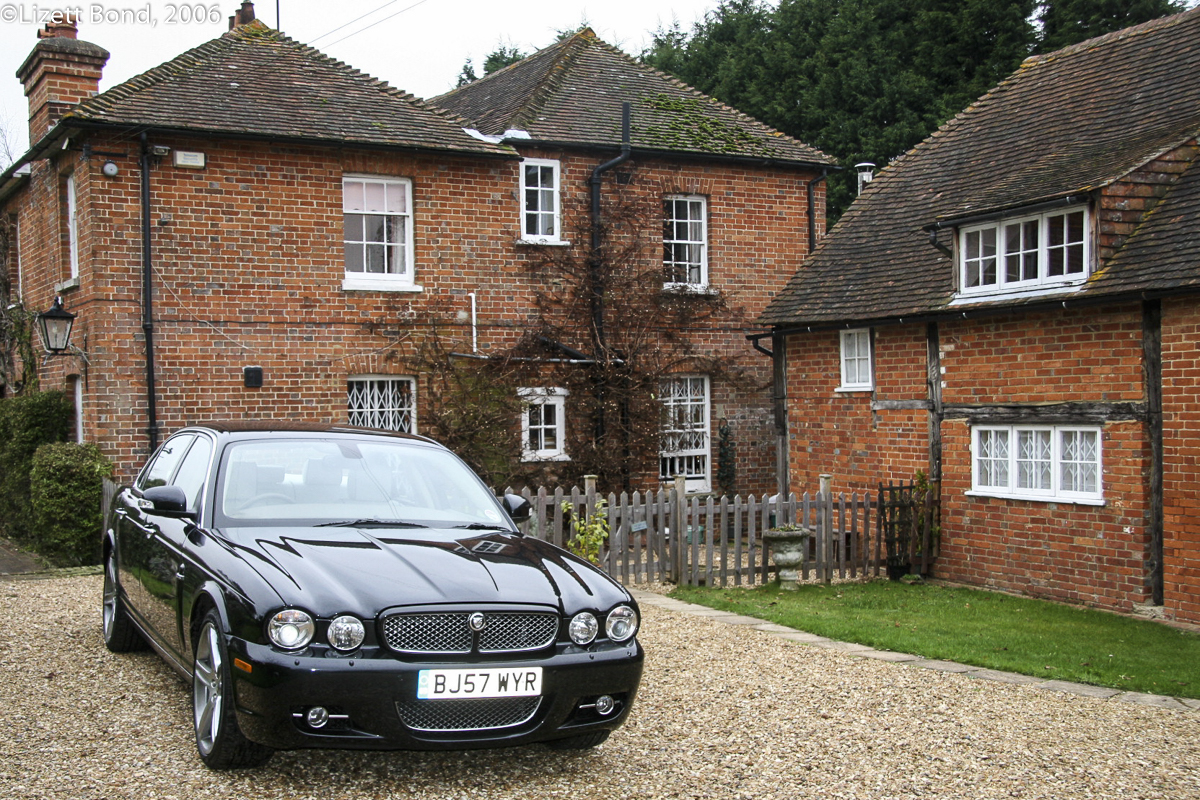 Another day trip included a visit to Austen's home in Chawton, where she resided for the last eight years of her life and penned some of her best works.  The house is now a museum.
An excursion to the city of Winchester also provided some timeless contrasts. Being December, the weather was quite chilly and rather dreary, but a Christmas Market at Winchester Cathedral, along with street musicians and the aroma of assorted treats, set the mood. I was transported to another century. Walking into Winchester Cathedral, I was struck by the presence of the humanity who had trod these floors before me.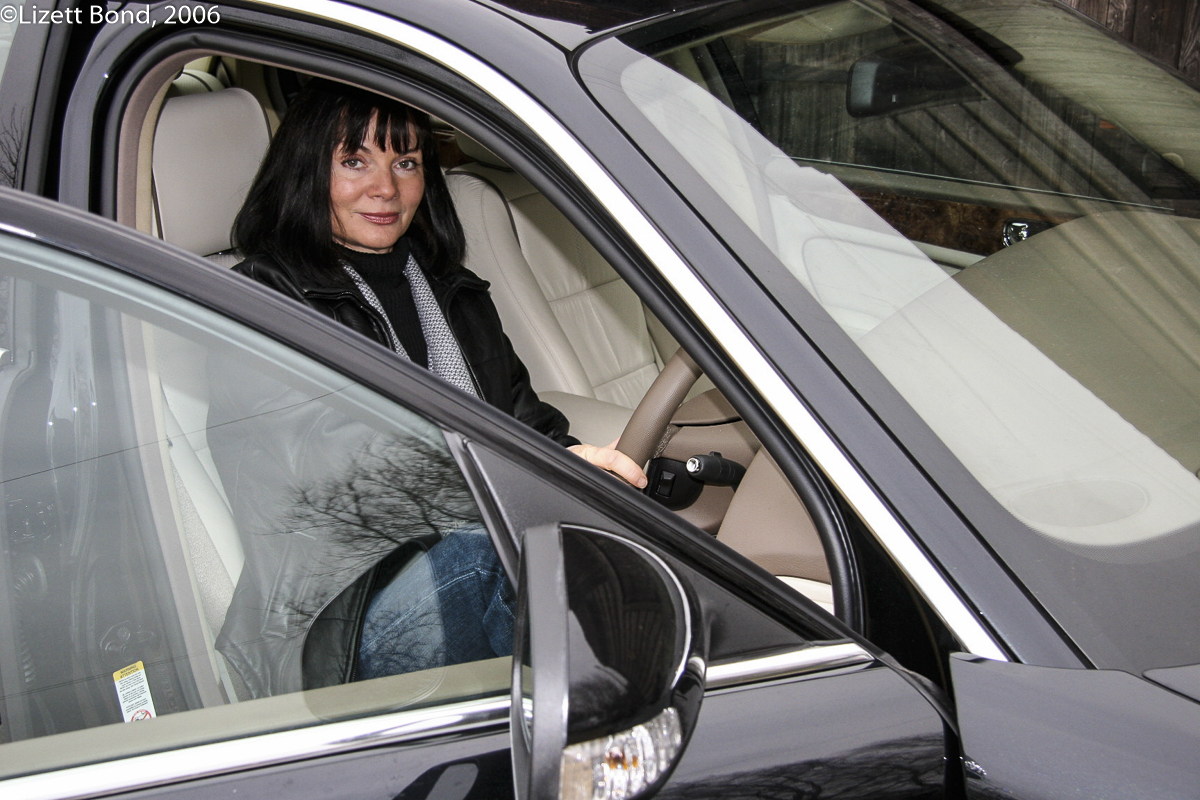 However, leaving Winchester in the comparative safety and luxury of a new Jaguar XJ jolted me back to modern times.
However, speaking of centuries past, The Bishops of Winchester inhabited Farnham Castle in the village of Farnham, for over 900 years. Bentley is just a stones throw from Farnham.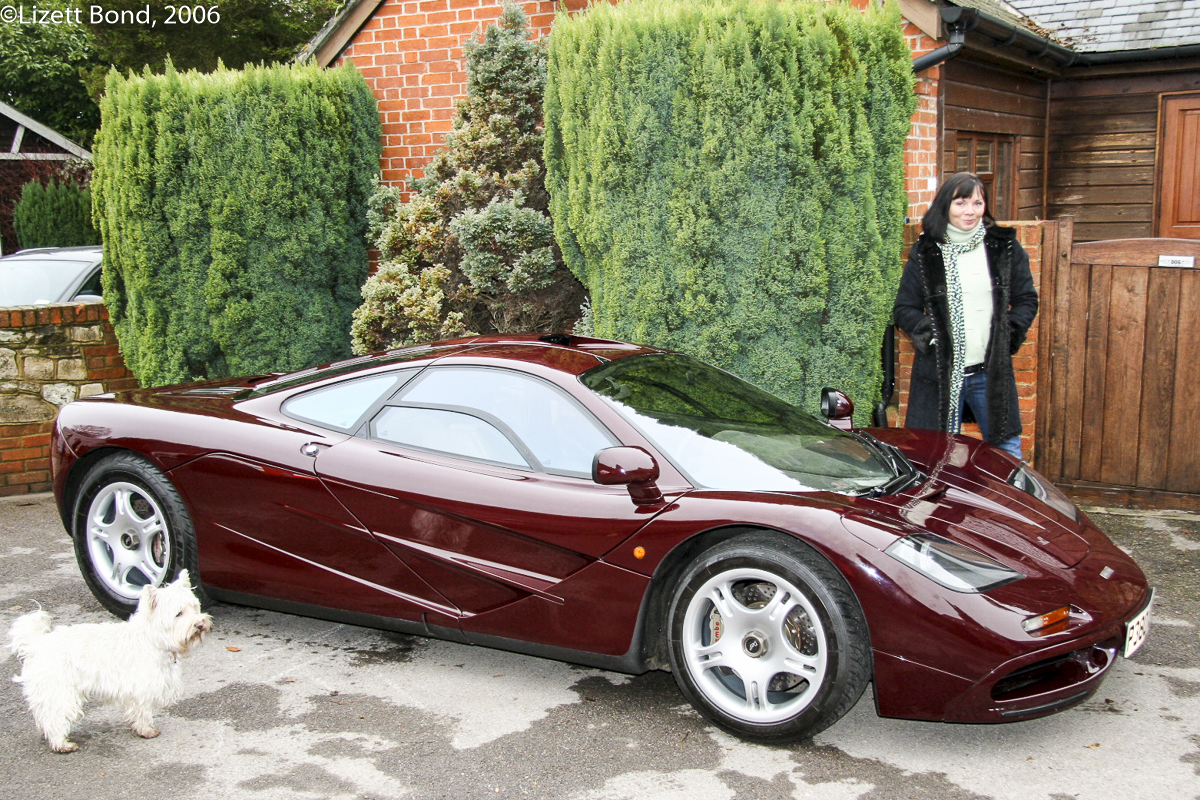 Since my countryside reverie was about to be interrupted, combined with, or attached to, a trip to Farnham, I began to wonder just what this little escapade would bring to the table.  How could it possibly compete with Bentley, and Ann of the Mill, or Sandy of the Bull Inn, of sheep in the pasture, or ancient bibles, and, well, all of it? But seriously, as the purpose of the trip was car stuff, what could complete this trip more than a visit to the "shop" of a major historic racecar player?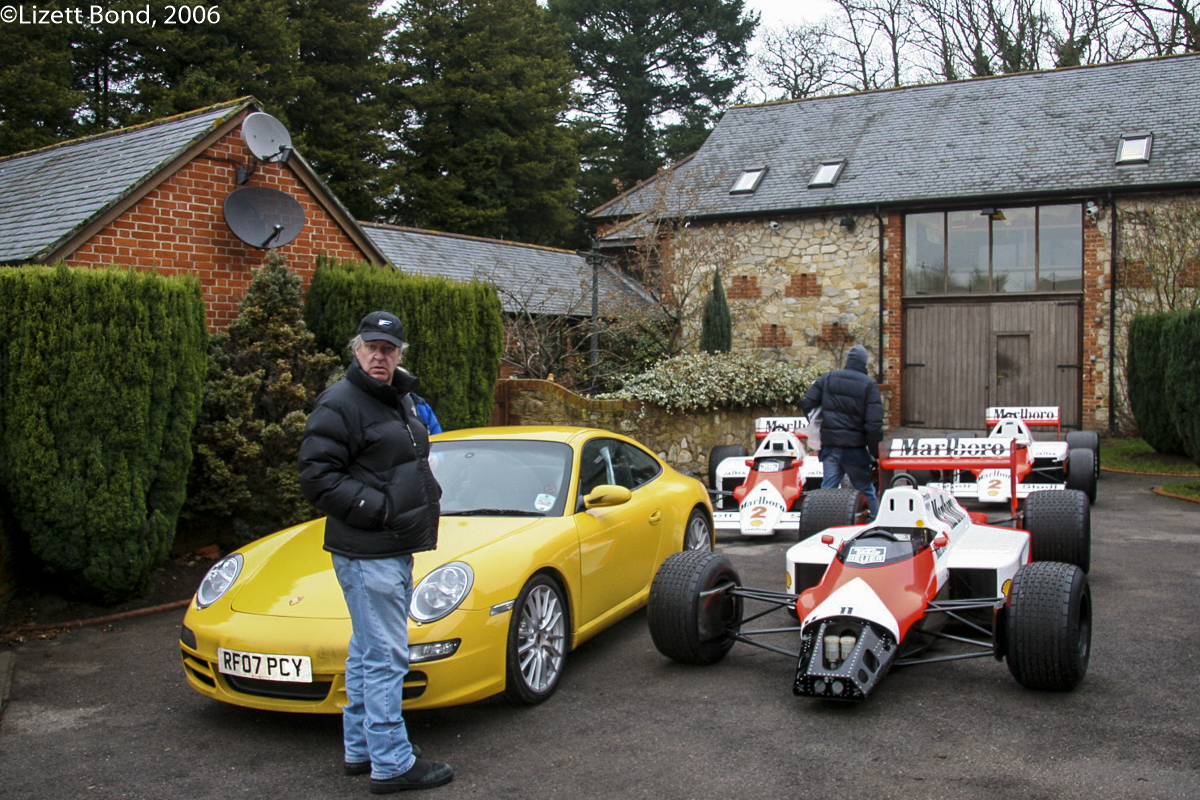 Once there, the contrast took my breath away.  Obviously a horse and cattle operation in times past, the fantastic barn had been restored to its original splendor. What was behind those wooden doors?  How about a fantastic collection of vintage racecars.  Vintage, in Jane Austen country, is a relative term.  What constitutes a vintage car?  Well, cars are a relatively new creation and Ms. Austen would not have known them, so we are modern/historical in a relative sense.  Our prejudices are just challenged. But I digress.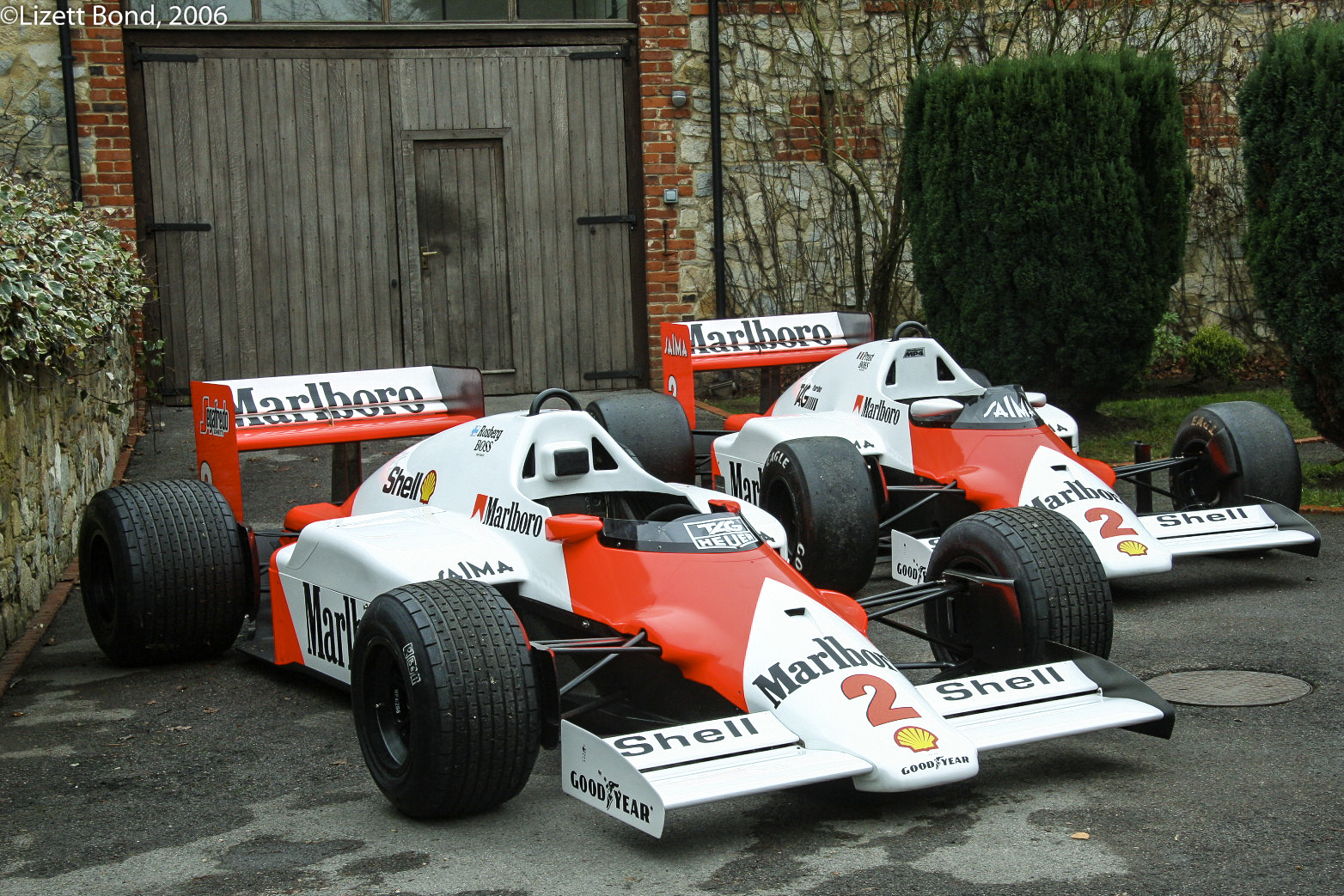 The purpose of the visit is a photo shoot. And not just any old vintage racecar either; a McLaren MP4 Porsche powered F1 rolling stock. To record the event, eminent racecar photographer John Brooks is on hand, with all his paraphernalia, along with racecar historian Kerry Morse.  Their goal, to photograph the McLaren, in the mist, in the cold, in the historic setting, to express the essense of the car and the people who influence racing.
But, wait, there's more! Did I want a ride in an F1 GTR McLaren?  The ex Ray Bellm 1996 F1 GTR still in Gulf Oil colors?  Of course!  Did I realize what I was getting into?  Of course not!  This fabulous looking McLaren rolled out of the shop, still wearing those championship Gulf colors of blue and orange. It was, well, romantic and loud and full of horsepower. It was Colonel Brandon and I was in Jane's countryside. It was The Pie and a steeplechase. I wanted to cut my hair short and pretend!  Did I turn down the ride? Of course not.
I pried myself around the roll cage and into a tiny racing seat located to the left of the driver, as the McLaren is a center steer. Strapped into a seat that allowed for NO movement, I decided my safety was in the hands of my driver.  "These cars are built for catastrophe," I told myself, and, "Hey, this guy knows what he is doing". I plastered a quivering smile on my face and we were off. Nothing compares to a drive through the English countryside in a McLaren "street legal" racecar with a proficient driver.  Behind us, yet another McLaren F1 followed, this example being of the production type. Bringing up the rear came Brooks and Morse, in the yellow Porsche 997, trying their best to keep up with the McLaren duo.
I could scarcely turn my head, partly out of fear, and partly out of, well, the inability to turn my head in such tight seating.  Feeling a bit like Plato's workers in the Allegory of the Cave, I was aware only of what was going on directly to the front of me.  Conversation with my intrepid driver was impossible.  He couldn't hear my silent screams, and his reassurances would fall on deaf ears. Not that he seemed to feel any need to comfort me.  I could see, in my peripheral vision, people staring at the ride. I focused on the road ahead, foot mashing an imaginary brake pedal.  Seriously though, is there anything cooler than traversing speed bumps, in front of a school full of teenaged students, in an extremely rare and fast car?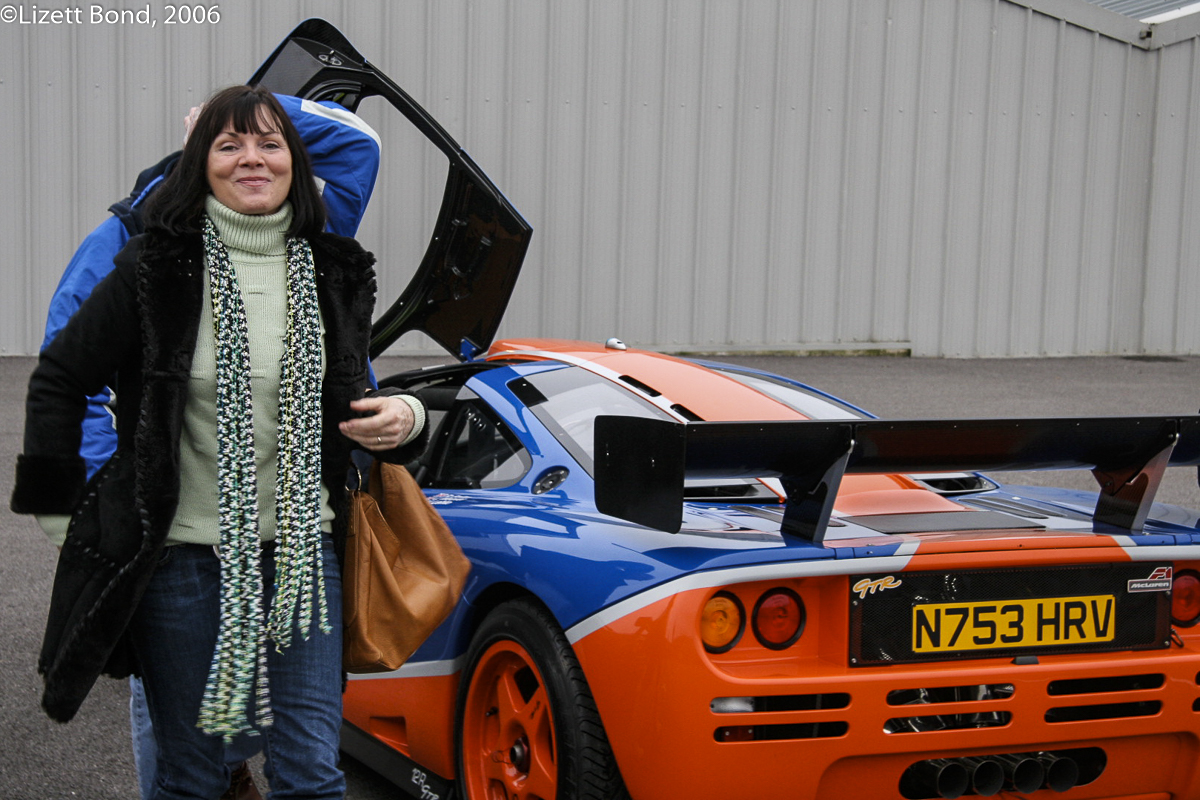 As we sped into the countryside, cows, horses and sheep grazed quietly in a pastoral setting, not even raising their heads at the roar of the McLaren. I was able to see these creatures, sort of…they went by so fast!  I felt as if the cows were tigers about to be churned into butter.  Finally, we pulled into what appeared to be an upscale dairy.  Upscale, indeed. We'd arrived at a warehouse chock full of historic racecars.  Let's see, historic racecars in a modern warehouse in the middle of land that makes me think that all creatures are truly great and small.   Old, new, old…wow, forget Mi and Colonel Brandon, even Mr. Darcy…bring me Mr. Firth, bring me Mr. Rickman!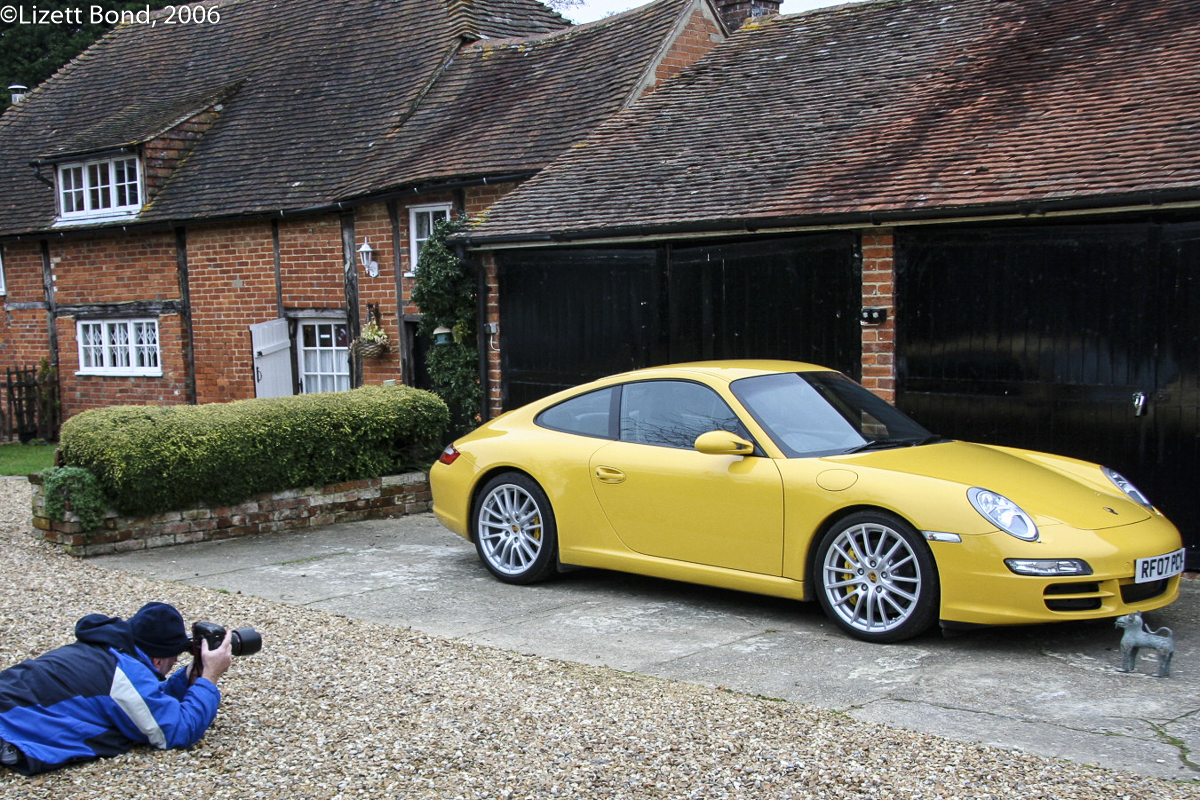 Eventually, I had to come back to reality, to my own half of the world.  I had to say goodbye to Ann and David of the Mill, Sandy of The Bull Inn and to Brooksie….the 'other half' of SportsCarPros.  A confession; the countryside, the Jag, and the sightseeing took precedence over Donington. While the intrepid crew of SportsCarPros was shooting away at the track, I was tooling around in that beautiful black Jag or in my own black riding boots, which doubled as walking boots.  After all, as Jane once wrote, "Why not seize the pleasure at once, how often is happiness destroyed by preparation, foolish preparation?"
Lizett Bond, December 2006