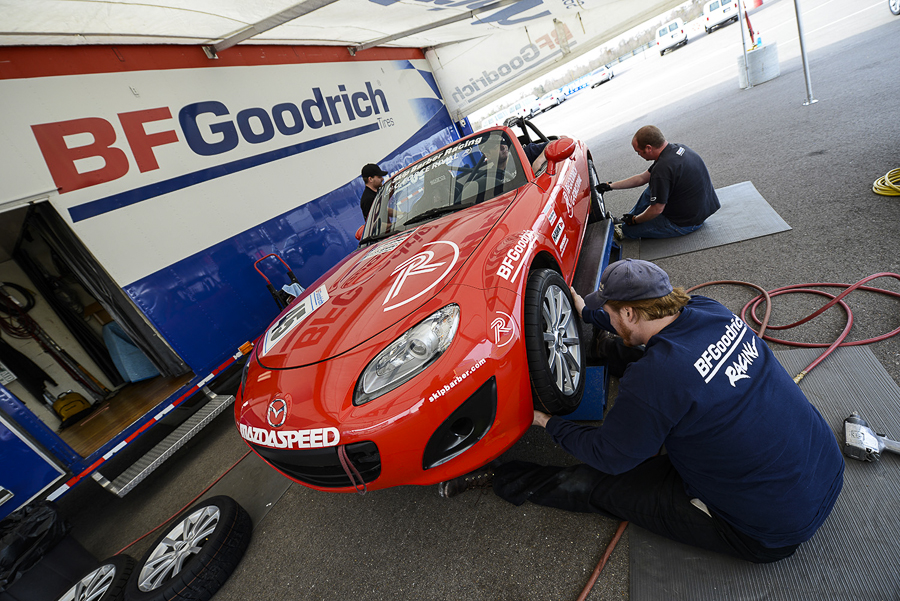 Today we welcome a new name to the DDC family, far more elegant than the usual correspondents we have but that's not much of a compliment when I look in the mirror. Lizett Bond has been the acceptable face of the automotive media for ages, recently she went tire testing at the invitation of BF Goodrich and she kindly shares her experiences with us. I sincerely hope that she will become a regular contributor to this site, welcome Liz!
Tire testing. I've observed it, even written about it. But when the invite arrived in my inbox to actually participate in the BFGoodrich media launch of a new tire, taking place in New Orleans? To say I approached this one with a mix of trepidation and excitement is understatement. I was filled with a sudden urge of uncertainty. Turns out, I didn't need to be.
BF Goodrich knows their stuff. The Charlotte, North Carolina, based tire company also understands how to extend some good old Southern hospitality and the recent media launch of the g-Force Rival in the Big Easy led to the pleasant discovery that BFG is just as savvy when it comes to passing a good time and throwing in a little lagniappe.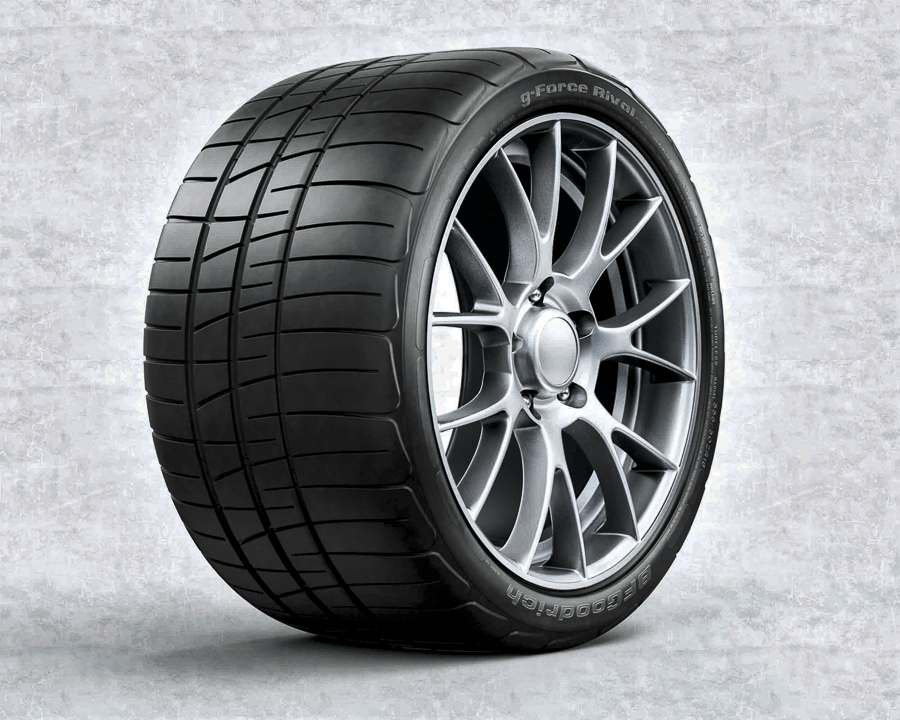 The g-Force Rival Extreme Performance Summer tire, the newest offering from the tire maker, demonstrates a continual quest to improve and add to the brand. This latest addition, the Rival, is a sort of hybrid, falling in between the street oriented g-Force Comp-2 and the g-Force R1, a serious, DOT (Department of Transportation) approved, competition racing tire. The Rival is eligible for those racing series requiring UTQG (Uniform Tire Quality Grading) ratings of 140 or higher, while still suitable for street use. Meaning weekend enthusiasts can drive to the track, race and head home with their trophy, all on the same rubber. In theory at least, perhaps not in practicality as it always looks more professional to bolt on a hot set of tires at a venue.
So, what more appropriate venue to debut a tire with this pedigree than a new racetrack? The NOLA Motorsport Park is located in Avondale, Louisiana, just 20 minutes from downtown New Orleans French Quarter. The public friendly track opened in 2011 as a full-featured events facility that includes two international standard racetracks, an eight-acre autocross pad and a world class kart facility.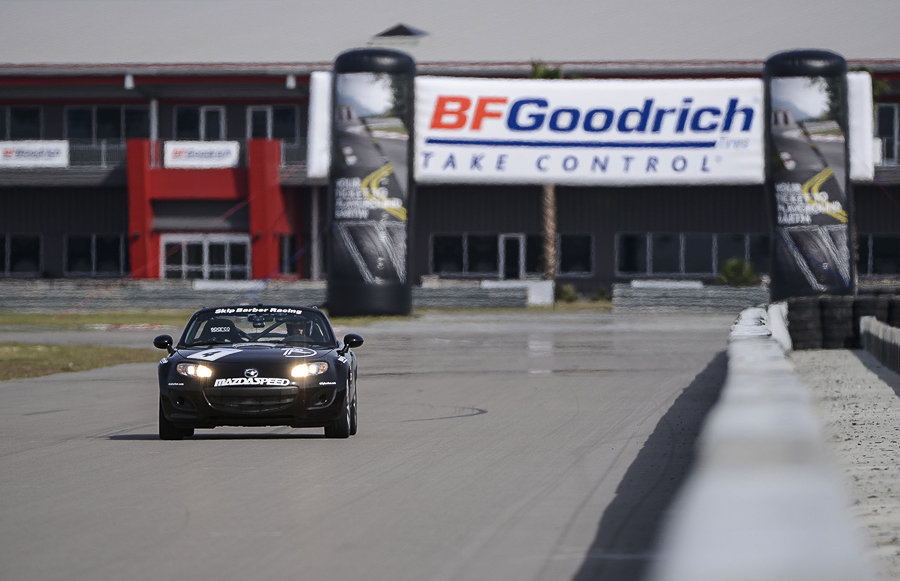 On the track, it is a given that tires play an integral role in performance and offer a significant impact on lap times. While many enthusiasts consider braking, power upgrades or suspension to be the more crucial upgrade improvements when it comes to enhancing a car's overall performance, the 'shoes' worn must factor into the competitive equation. In any segment of this market, a new tire has to transcend "good enough" and outshine competitors and the Rival g-Force was developed as a "two-fer", with the ability to turn heads on the street and lower lap times at the track with its extreme grip.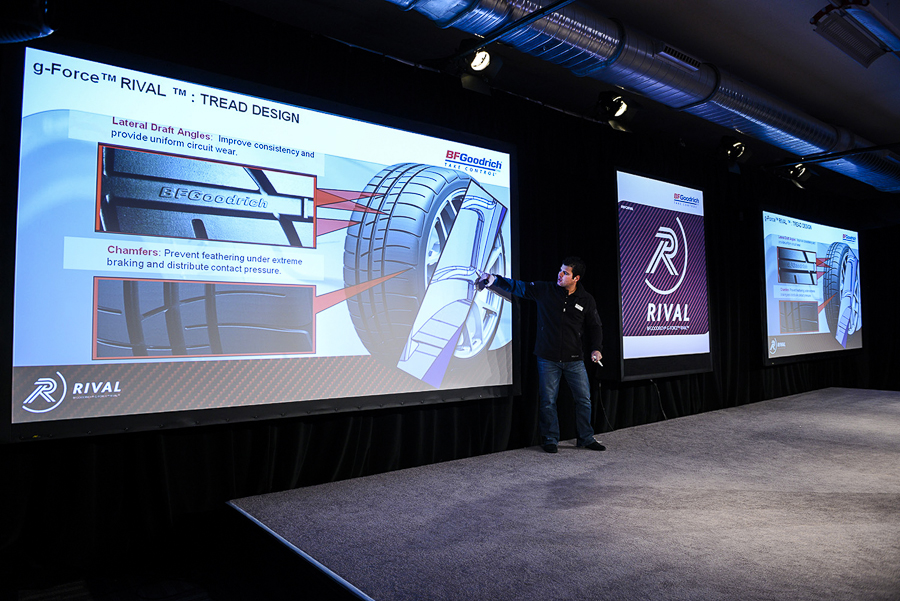 Before heading out to the track, these talking points were relayed to us, the "legal info" according to the manufacturer, as follows:
The Rival is designed for predictability, track level abuse and highlight features, according to the manufacturer,  include:
BF Goodrich's Performance Racing Core with a reinforced internal structure reduces sidewall flex for instant steering response.
The tire is designed to stick and the Asymmetric tread with large, solid tread blocks on the outside shoulder to optimize cornering grip.
Extreme Tread Edge (ETE) raises the limit as the design brings tread compound farther down the shoulder for increased grip in hard cornering and predictable feedback.
The Equal Tension Containment System (ETCS) ensures optimum contact patch shape at speed. Silica-infused competition compound delivers better grip from start to finish.
The Rival will initially launch in 15 sizes with rim dimensions from 15-20 inches and 205-355 section width.
Laissez les bon temps roulet!
Technically correct, classroom talking points aside, we were in New Orleans to run a comparison test that included a little "fais do do" with a mix of courses, vehicles and tires.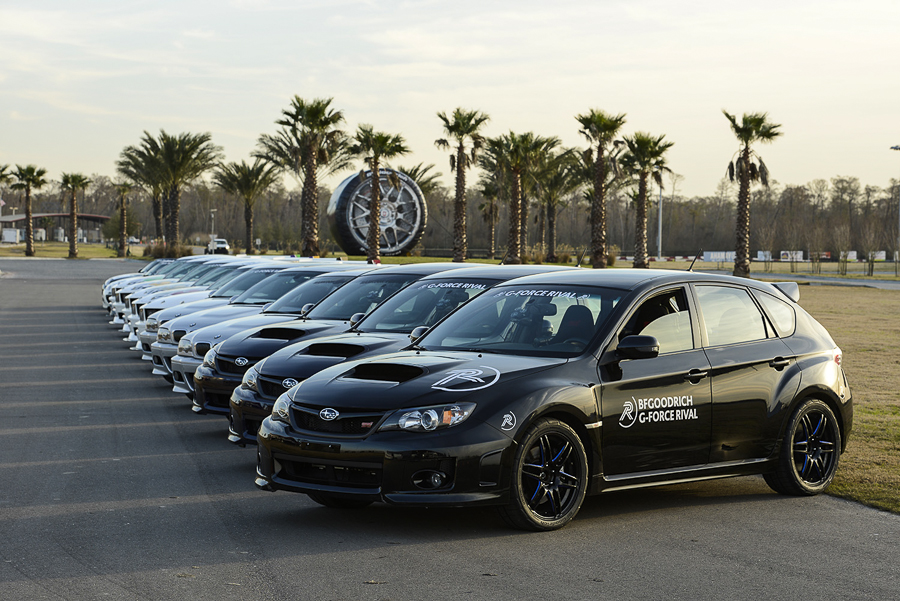 Shuttling into the NOLA complex, an impressive line up of chariots awaited outside of the media center. Inside, sustenance, including the requisite beignets, insured high energy for a long day. After a short orientation, including a PowerPoint with plenty of tech/spec tire information, drivers were divided into groups and we fanned out to four different driving stations, each with its own task. I was nervous, having never really done any serious track driving and not being much of a speed demon to begin with. I can, however, drive a manual transmission, my saving grace.
First up for our group, the Long Course Autocross, where we would be driving BMWE46 M3's, some equipped with Hankook Ventus R-S3 for comparison to those sporting the Rivals.  My nerves calmed a bit when I realized I'd have an instructor riding shotgun.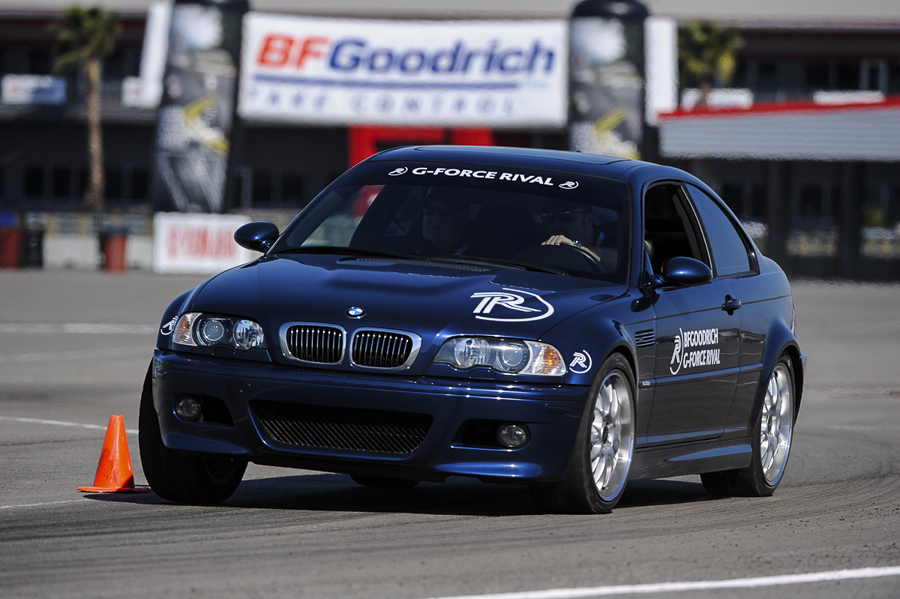 Focusing so intently on the course, I worried that I would not be able to tell the difference between the two tires. But I could. The first attempt around the course consisted of two laps on the Rivals, then two on the Hankook and back to the Rivals. By round three, the familiarity with the course allowed for a little more attention to contrasts. The Hankooks felt softer in the turn with a slower response time, not as tight in the corners as the Rival. Even with my lack of experience, I could tell the difference and felt the Rival won, hands down.  Feeling a bit cockier after my final lap, I climbed in the passenger seat for a couple of true hot laps with an instructor and humbled down a peg or two. It was also with great relief that I discovered the basket of peppermints strategically placed nearby. Pockets full of mints and great envy for constitutions that do not succumb to motion sickness, I was ready for our next station.
In spite of a little queasiness, I was gaining confidence and ready to take on the next task as I crawled behind the wheel of a Mustang FR500 racer for a few hot (or in my case "warm") laps on the full NOLA circuit. For comparison, half of the Mustangs wore g-Force Rivals with Falken RT-614K's installed on the other half. We completed two hot laps on the Rivals followed by two on the Falkens and then back to the Rivals. Being a 'newbie' to this type of track time, I certainly didn't even approach the limits, but I could feel the difference between the two tires, with the Rival holding on to the track. I just felt more confident coming into each turn, and going around corners with the Rivals, they felt more stable, like I would not be leaving the track anytime soon.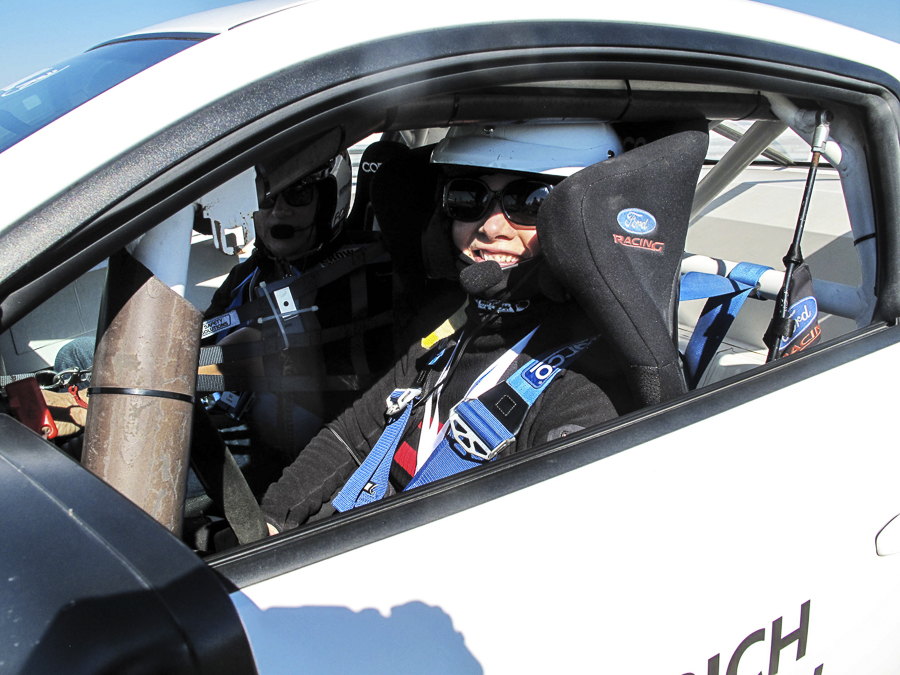 Gaining familiarity with the 2.8 mile track helped as each lap instilled a little more confidence. Again, thanks to BFG for the fabulous instructors at each driving station. One of those coaches, Bill Follmer, yes, of that family, took the first lap with me, and with outward calm, placed my hand wordlessly on the steering wheel, each time I placed it by habit on the shifter. I think his real fear might have been a sudden burst of confidence on my part, and the possibility of being rocketed into the Florida Keys. He did make mention of the fact that he wasn't sure which track we were on. But each lap came a little bit easier as the new Rival BFG's inspired confidence that I would be staying on the NOLA track. Could I feel the difference? Absolutely, I felt I could push to my own limited limits with an unexpected assurance.
Time for a peppermint snack.
After a break for lunch, and a little fresh air to calm the stomach it was time for phase three…..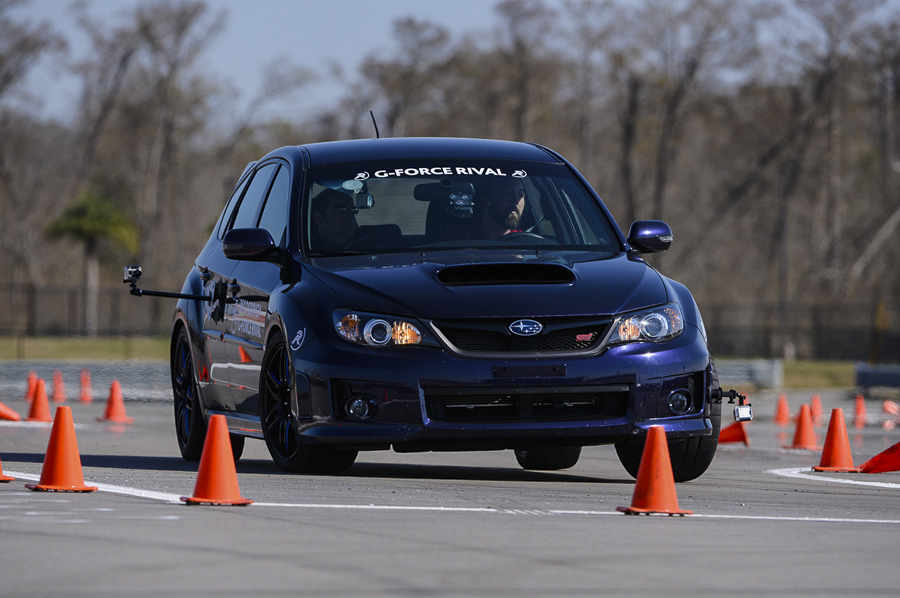 Next up, the Autocross featured Subaru WRX STI's that bore no resemblance to the Subaru Outback I once owned. We were to compare the Rivals to Hankook Ventus R-S3 and Toyo Proxes R1R. We made two runs on the Rivals, and then two on the Toyo R1R and then two on the Hankook RS3, followed by a final lap on the Rival.  Again, the difference in handling was noticeable, even to one with limited experience in driving an autocourse, with crisp turns that held to the line inspiring much more boldness to push to a higher limit. At the end of our runs, all three cars were lined up to compare tread wear, with the Rival distinctly showing more tread and less wear than the competition. For some drivers, this attribute may not seem essential, but as a consumer, I found this to be of great interest and crucial when considering a tire purchase.
And those weren't jus' flyin' horses, cher…..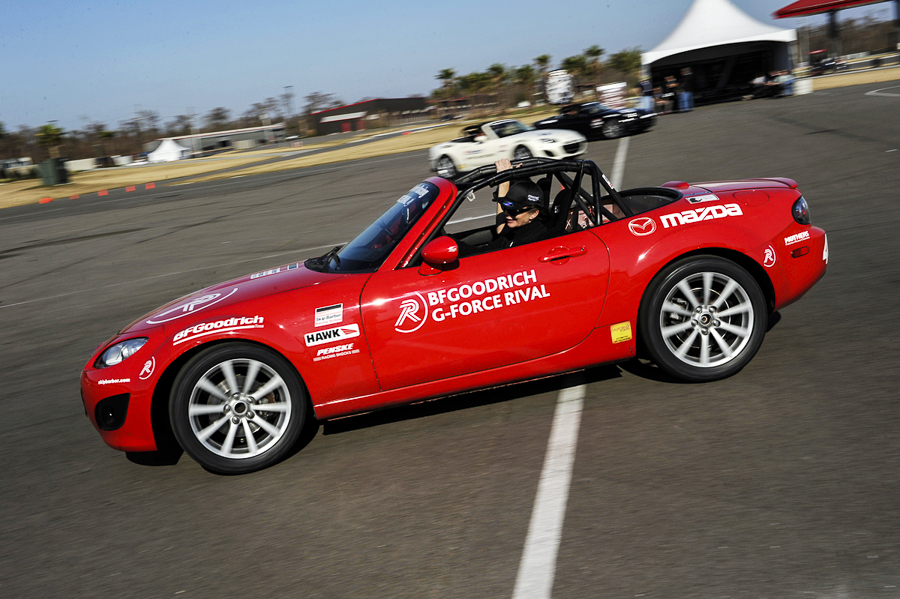 Departing the Autocross, we headed to the Skid Pad and Mazda MX5 Cup cars, all equipped with BF Goodrich examples, the g-Force Sport Comp-2, g-Force Rival and serious g-force R1-S. At this point in the day, even striped pink candy couldn't save me and I seriously considered skipping this station. I'm glad I didn't.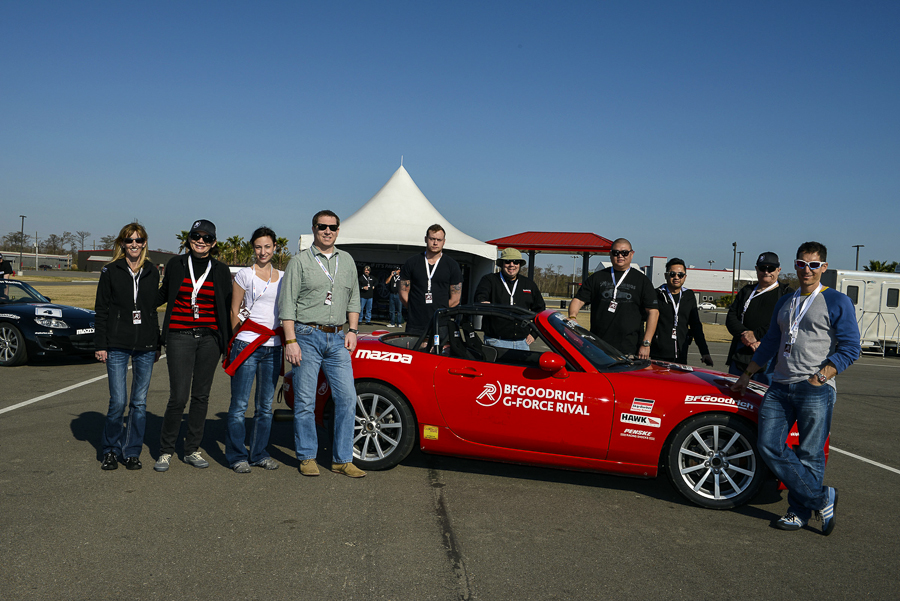 My intrepid instructor pushed me to my own limits as he measured g-force on a car mounted iPad. Our goal; To feel the "break away" point of each tire.  First up, the g-Force Comp 2 tires, followed by the Rivals and finally the R-1's. Reaching the point of hearing that coveted skidding sound, my own personal best was not depositing my peppermint on his shoes. All the tires held well, I could feel the progression with the Rival very close to the R1 in grip.
So, an A+ to BFG for patient instructors, a mix of tires and cars and for the opportunity to really compare. The Rivals inspire confidence, a huge plus being the ability to get a racer to and from the track. From a vanity perspective, I thought the tires were a more attractive design than the others. I didn't hear anyone else discuss that, but I liked their look on a car better than the others.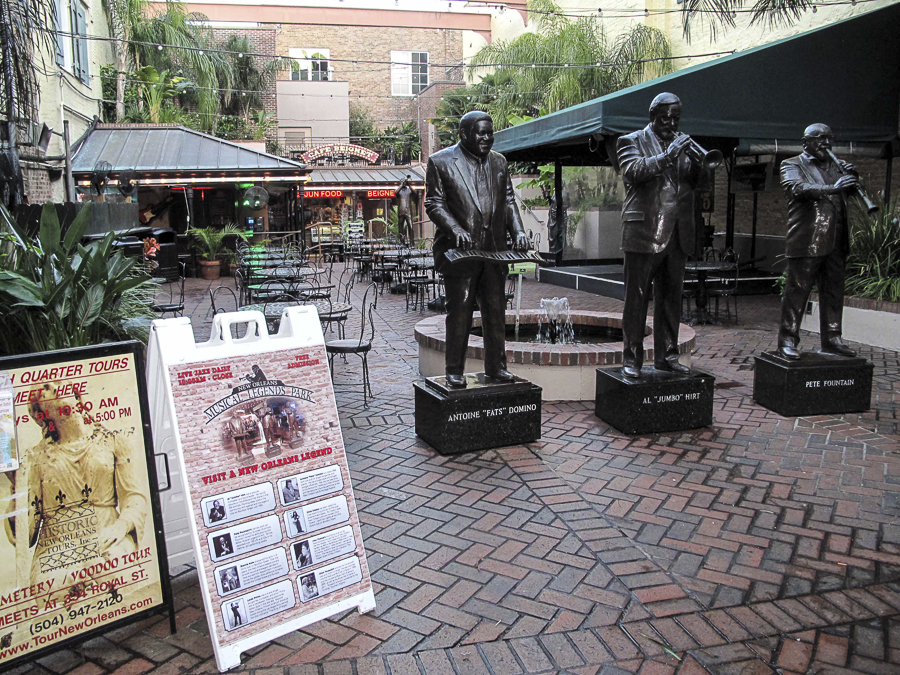 And as if all that wasn't lagniappe enough? How about a welcome party and dinner at Arnaud's French 75 Restaurant on Bourbon Street and a soft bed in a Ritzy hotel. The well coordinated event ran smoothly, without any noticeable glitches. And the peppermints at every station were greatly appreciated.
Topping off an educational 24 hours was the opportunity to meet up in the bar during a layover in Houston's Hobby airport, for a quick libation with several of my new driving instructor friends from the track.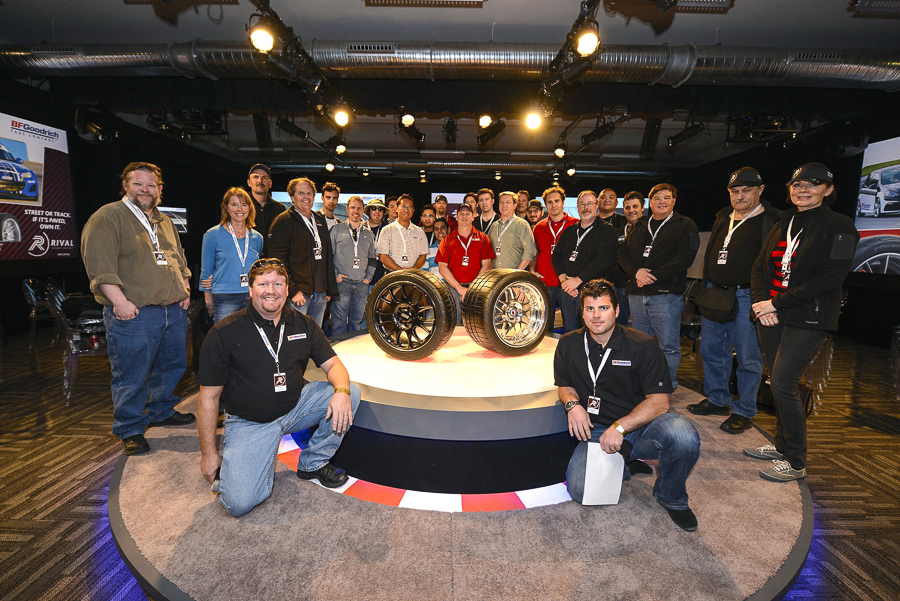 Just one of the boys and better than peppermint…..
Lizett Bond, February 2013