It is rare that a racing driver is the subject of a press release from a major manufacturer, to have two of the giants writing about you is almost unprecedented. However perhaps in Hans Herrmann's case it is less surprising. He hits 85 today, so Happy Birthday, Hans.
I had the pleasure of meeting Hans back in 2010 at Sebring where he triumphed in the 12 Hours some 50 years before. Somewhere in the confusion that is my office is an interview with the great man, most of the recording was drowned out by a crappy Trans-Am race that was unfolding outside so my masterpiece makes little sense, lesson one learned.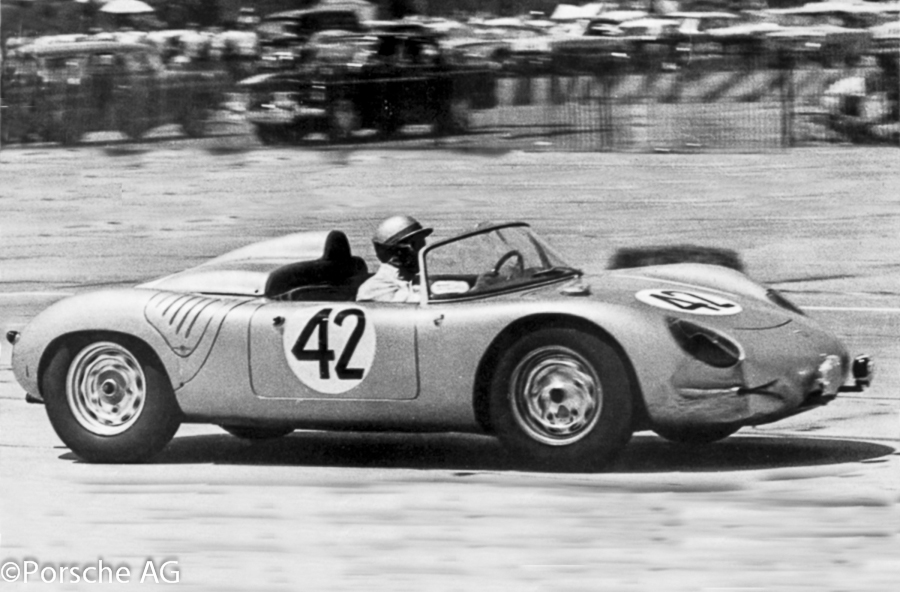 His career was an extensive one with spells at Porsche, Mercedes-Benz, Arbarth, Maserati and Borgward. His crowning achievement was winning the Le Mans 24 Hours in 1970 with Richard Attwood in a Porsche 917. He could also point to having competed at long gone events like the Mille Miglia, Targa Florio and Carrera Panamericana. It is said that you are judged by the company you keep, so you could think yourself just slightly special if among your team mates you could list Juan Manuel Fangio and Stirling Moss. I could go on and on, there were many others.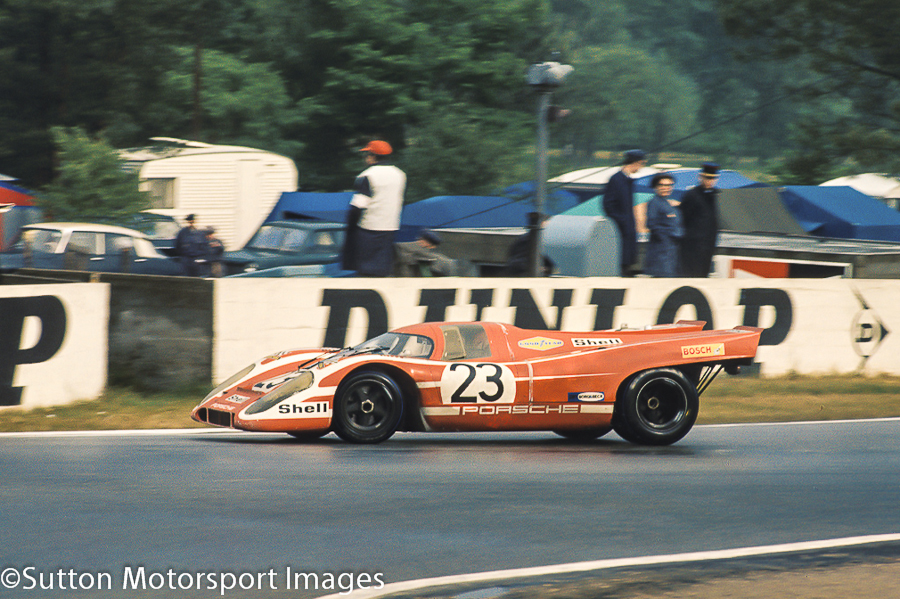 But I will have to make do with the releases from Porsche and Mercedes-Benz and some evocative photos. Once again Happy Birthday Hans.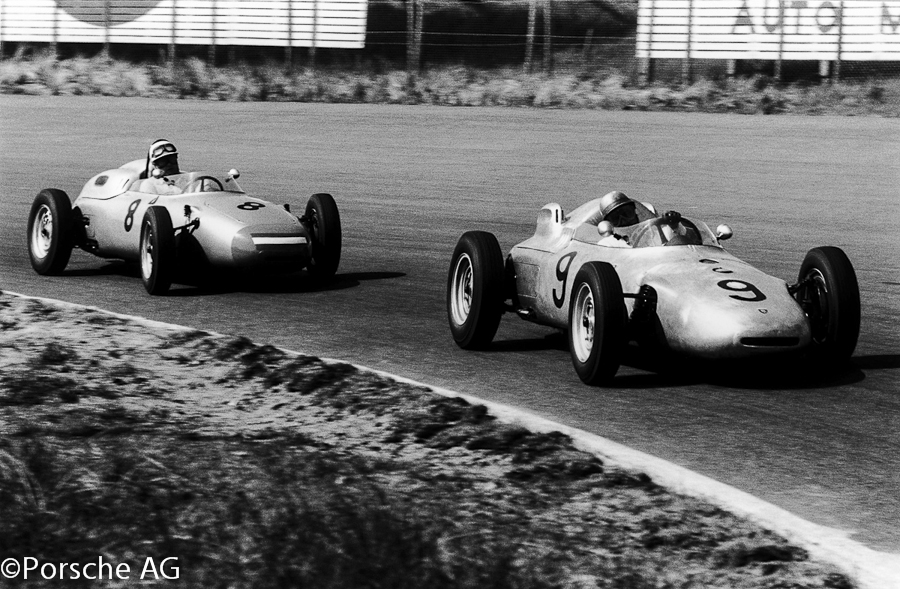 Porsche congratulates Hans Herrmann
Stuttgart. Hans Herrmann, one of the most successful and best known works racing drivers at Dr. Ing. h.c. F. Porsche AG, will celebrate his 85th birthday on 23 February 2013. Born in Stuttgart in 1928, this long-distance specialist was considered one of the most successful and dependable racing drivers of his era. His motorsports career lasted from 1952 to 1970, during which Hans Herrmann won over 80 overall and class victories.
Hans Herrmann started his racing career in early 1952, piloting a privately-owned Porsche 356 1500 in mountain races, rallies, and endurance races. A year later he and Richard von Frankenberg took overall fifth place in the Lyon-Charbonnieres rally. Porsche racing chief Huschke von Hanstein thereupon hired him for the Porsche Works team. Herrmann drove the 550 Spyder at the 1953 24 Hours of Le Mans, and together with Helmut Glöckler came in first in the 1.5 litre displacement category right off the bat.
In 1953, at the age of 26 Herrmann won the title of German Sportscar Champion and got the attention of legendary Mercedes-Benz racing chief Alfred Neubauer, who hired him for his works team. Hans Herrmann piloted the Mercedes W 196 Silver Arrow in the premier category of motorsports, teaming with top drivers like Juan Manuel Fangio and Karl Kling. Parallel to that, in 1954 he continued to drive for Porsche in the smaller displacement categories. In the 550 Spyder he won widely noted class victories in the Mille Miglia and Carrera Panamericana.
When Daimler-Benz pulled out of racing in 1955, Herrmann went on to drive Formula 1 races for Maserati and BRM, as well as other races as a Borgward works driver. In 1957 he became European Vice "Bergmeister" – Mountan Champion – before returning to the Porsche works team in 1959. Together with Joakim Bonnier, in 1960 Herrmann took the overall victory at the Targa Florio in a Porsche 718 RS60 Spyder, and the Formula 2 championship in a Porsche 718/2. He also won the 12 Hours of Sebring with Olivier Gendebien. In 1963 he left Porsche KG and joined Carlo Abarth's racing team.
In 1966 Herrmann returned to the Porsche works team, not only driving in all the major long-distance races and European Mountain Championship races, but also doing countless test drives in Weissach. With pilots Hans Herrmann, Jo Siffert, Vic Elford and Rolf Stommelen, in 1969 the team took the World Sports Prototype Championship for the first time. In 1970, at his eleventh Le Mans race Herrmann capped off his career with a bang, winning the first overall victory for Zuffenhausen in a Porsche 917 KH. He took this motorsports achievement as a suitable time to retire from active racing, after 42 years on the track. Since then Hans Herrmann has lived with his wife Magdalena near Stuttgart, successfully operating his company "Hans Herrmann Autotechnik." As a pilot of historic racecars, he also takes part in many vintage car events for the Porsche Museum.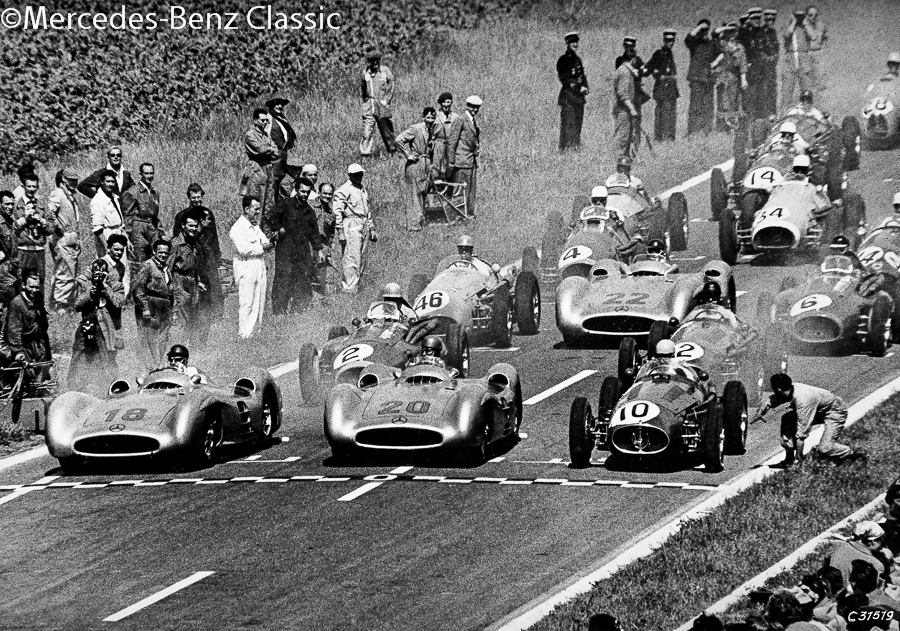 Hans Herrmann celebrates 85th birthday
Legendary racing driver Hans Herrmann celebrates his 85th birthday on 23 February 2013. Born in Stuttgart, Herrmann gained international recognition during his time as a works driver for Mercedes-Benz in the years 1954 and 1955. The cars he drove for the brand back then were the post-war "Silver Arrows", the W 196 R Grand Prix racing car and the 300 SLR (W 196 S) racing sports car.
These days Hans Herrmann is regularly to be found behind the wheel of historical Mercedes-Benz competition vehicles, as a guest at any one of a variety of classic events, where he is able to convey to visitors the fascination of an important period in motor racing. "Our congratulations to our brand ambassador Hans Herrmann, who has been a good friend of Mercedes-Benz for almost 60 years now," commented Michael Bock, Head of Mercedes-Benz Classic, expressing his thanks to Herrmann for his contribution to keeping the brand's heritage alive.
The legendary Alfred Neubauer, Head of the Mercedes-Benz racing department in the 1930s and again in the 1950s, discovered Herrmann as an up-and-coming talent and brought him into the works team, alongside Juan Manuel Fangio and Karl Kling, for Mercedes-Benz's re-entry to Grand Prix racing after the Second World War. For the 1955 season, the team was then joined by Stirling Moss.
In the very first race of the new Silver Arrows at the French Grand Prix of 1954 in Reims, Herrmann drove the fastest lap time, 2:32.9 minutes – corresponding to an average speed of 195.463 km/h. Over the course of the season he took two Grand Prix podium places, in the 1954 Swiss Grand Prix and the 1954 Avus race, in each case coming 3rd. In 1955, Herrmann was seriously injured in an accident during practice in Monaco and was no longer able to start during that season.
Even after his Grand Prix racing career with Mercedes-Benz had come to an end, "Lucky Hans", as his friends know him, retained close links with the brand. In 1961, for example, he entered the "Gran Premio Argentina" road race in a Mercedes-Benz 220 SE (W 111), finishing in 2nd place behind Walter Schock, also in a 220 SE, to deliver a double victory.
After training originally as a pastry chef, Hans Herrmann began his career in motor racing in the Hessen Winter Rally of 1952 in a private Porsche 356. That same year he took a class win in the "Deutschlandfahrt" (Tour of Germany). In both 1953 and 1954, Herrmann then took class victory for Porsche in the legendary 1000-mile "Mille Miglia" race in Italy.
Through his participation in Formula 1 as well as Formula 2 Grand Prix races, sports car races and rallies, Stuttgart-born Herrmann proved himself to be an exceptionally versatile motor racing driver. Apart from the cars he drove for Mercedes-Benz, he competed above all in Porsche racing and sports cars. He also took the wheel at various times for B.R.M., Cooper, Maserati and Veritas.
Hermann achieved his greatest successes in sports car endurance racing. Among his wins were overall victories in the Targa Florio (1960), the 24 Hours of Daytona (1968), and the 24 Hours of Le Mans (1970). In honour of the grand total of eight Targa Florio races in which he had driven, Hans Herrmann was presented with a special award by the Sicilian town of Collesano in October 2012. "Noblesse oblige": the one-time works driver arrived at the award ceremony in a Mercedes-Benz 300 SLR.
After capping his success in motor racing with the Le Mans victory of 1970, Herrmann withdrew from active motor racing that same year, at the height of his career. From then on he would devote himself above all to his automotive accessories business. But our "birthday boy" has retained close links with the world of motor sport to this day – above all as a brand ambassador for Mercedes-Benz Classic.