John Elwin crossed The English Channel bound for Goodwood and the 74th Members Meeting, though it was not all plain sailing though as his observations show………Simon Hildrew is on his usual top form with cameras in hand.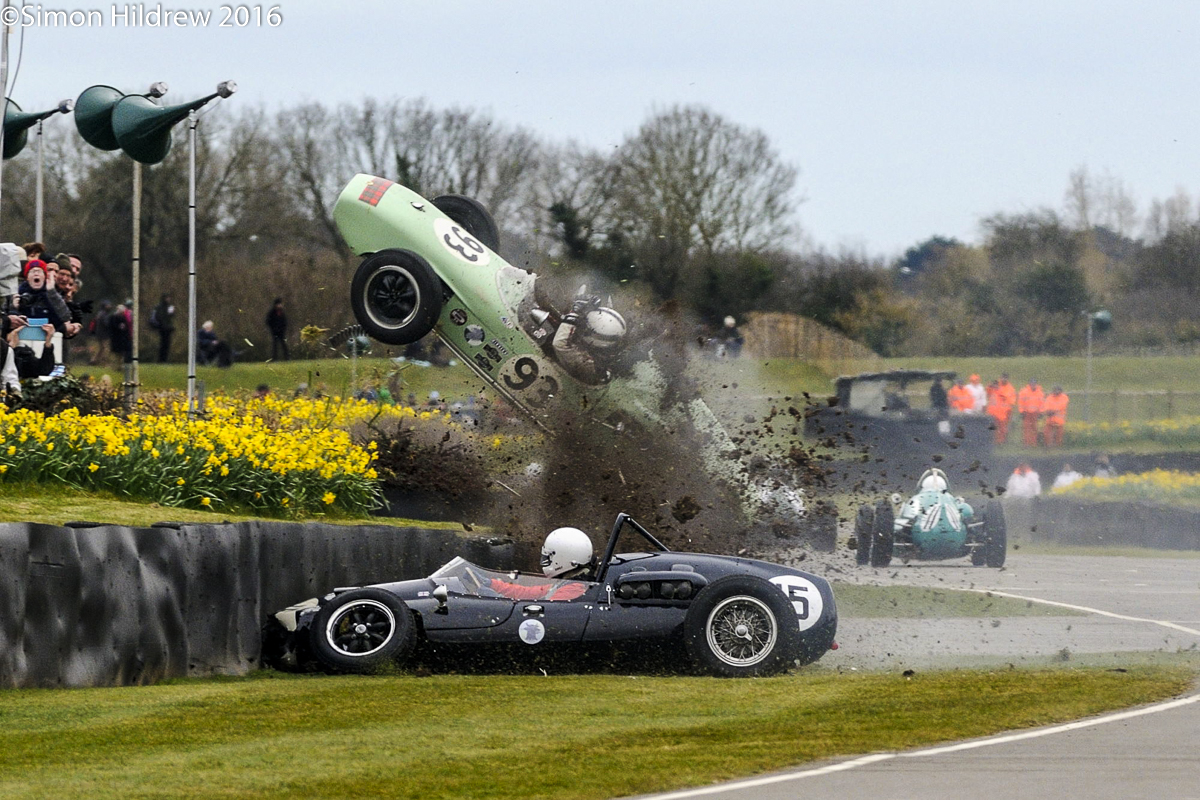 To the wider world the 2016 Goodwood  74th Members Meeting will be remembered for a couple of spectacular, if freakish, accidents which received widespread coverage but for those who took the trouble to go to the track on what was a bitterly cold weekend, it will long be recalled for some thrilling racing.
In particular the rarely seen Edwardians, the thundering machines warming the hearts of an appreciative crowd. Demonstrations of three disparate groups of relatively modern racers were well received, but are they really necessary?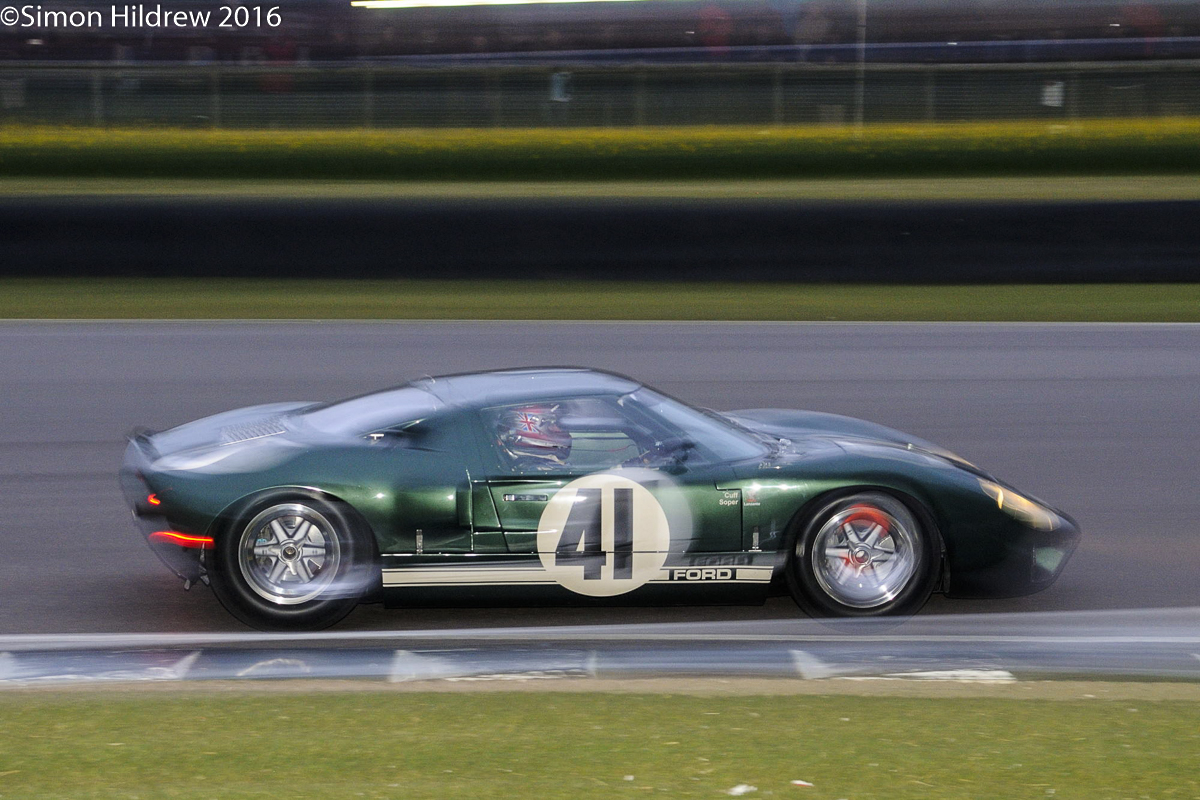 A highlight of the event was the Alan Mann Memorial race, celebrating the 50th anniversary of Ford's famous Le Mans victory with an all-GT40 grid – some of which were even original cars! With much of the initial development work having been done at Goodwood, they provided an excellent spectacle as they raced into the dusk on Saturday evening. As a result of a litany of mechanical failures and incidents hitting others Steve Soper/David Cuff emerged as worthy winners.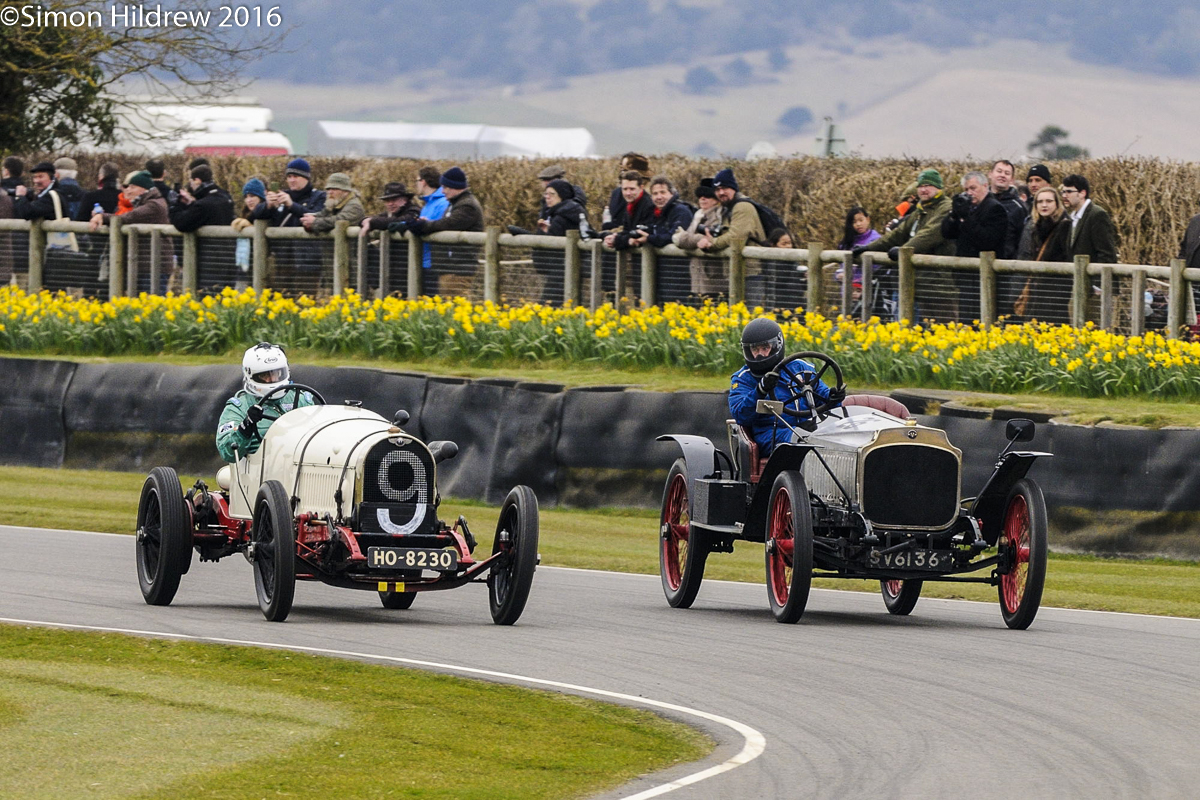 For sheer spectacle though, the GT40's had to give best to the amazing array of machinery that appeared for the SF Edge Trophy race for Edwardian cars. These leviathans, many of them aero-engined, are rarely seen racing and the spectators were spellbound by a fantastic three-way battle for the lead as Duncan Pittaway's relatively small GN-Curtiss emerged victorious, ahead of 23 year-old Argentinian Mathias Sielicki's Delage V12 and Julian Majzub's Sunbeam Indianapolis.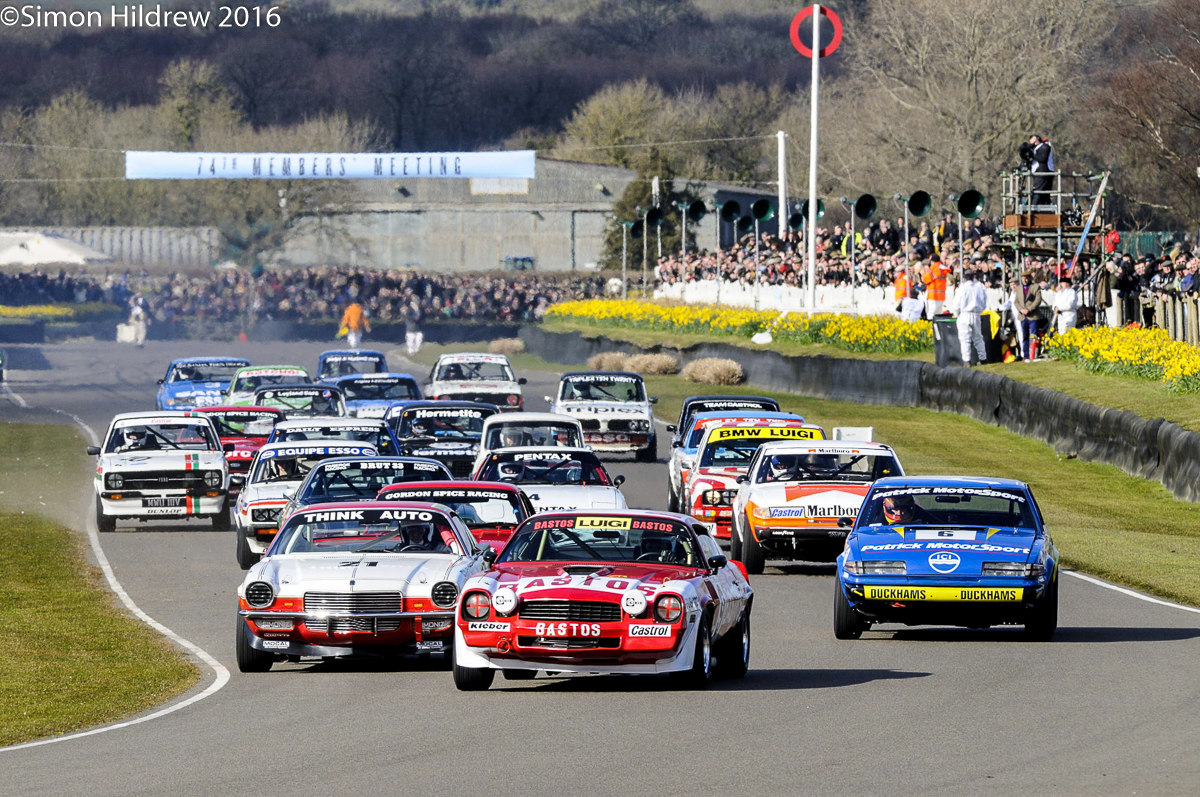 The Gerry Marshall Trophy Group 1 Touring Car Race was actually two races, with Chris Ward (Rover SD1) winning Saturday's 15-minute race from John Young's Ford Capri and Nigel Garrett's Chevrolet Camaro. Sunday's 45-minute two-driver race saw father and son Grahame and Oliver Bryant driver to victory with Ward, co-driven by reigning BTCC champion Gordon Shedden in second place. Young, sharing with Steve Soper was third. Soper's good fortune ran out in the Whitmore Cup race, retiring his Lotus Cortina to leave a slightly disappointed(!) Richard Meaden as runaway victor in another Cortina. Apparently Soper was the rapid journalist's hero and he was looking forward to a battle.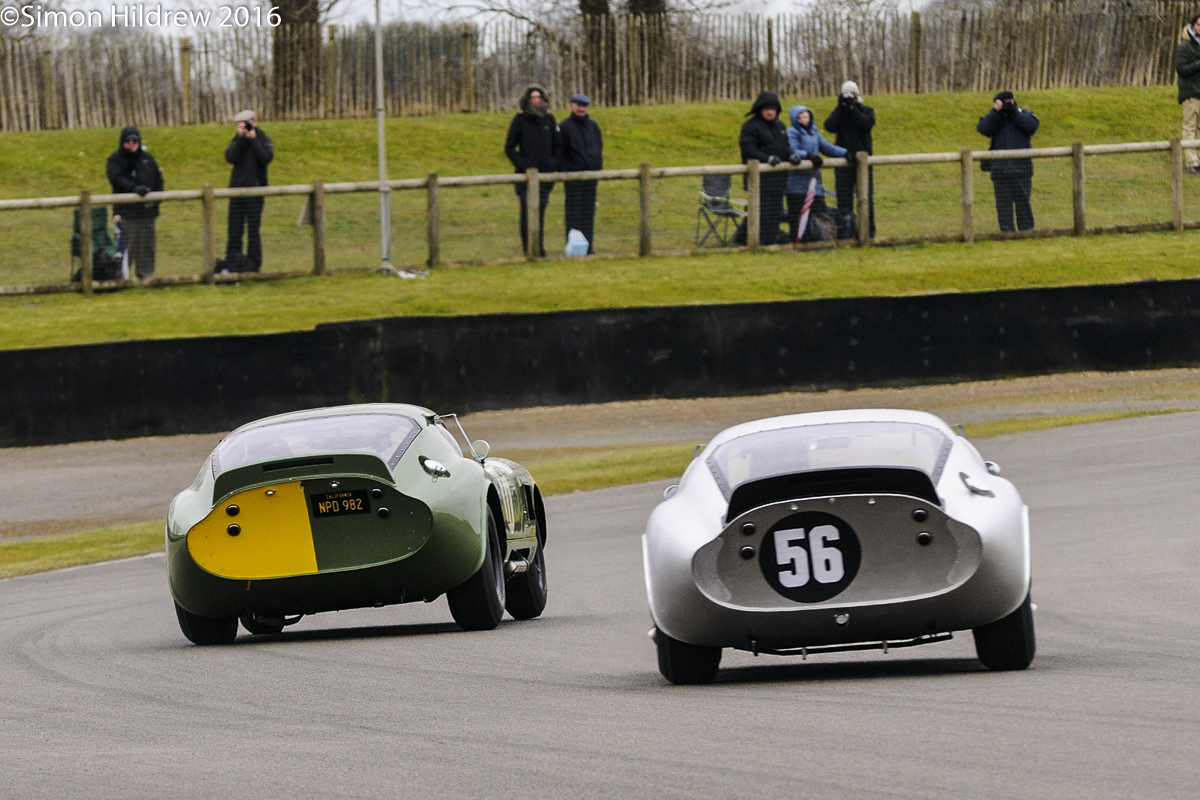 The Graham Hill Trophy GT race was ended under full-course yellows after Karsten Le Blanc crashed his Cobra heavily but the race for the lead had become a battle between a pair of Cobra Daytona Coupe's, James Cottingham beating Andrew Smith to the flag by half a second.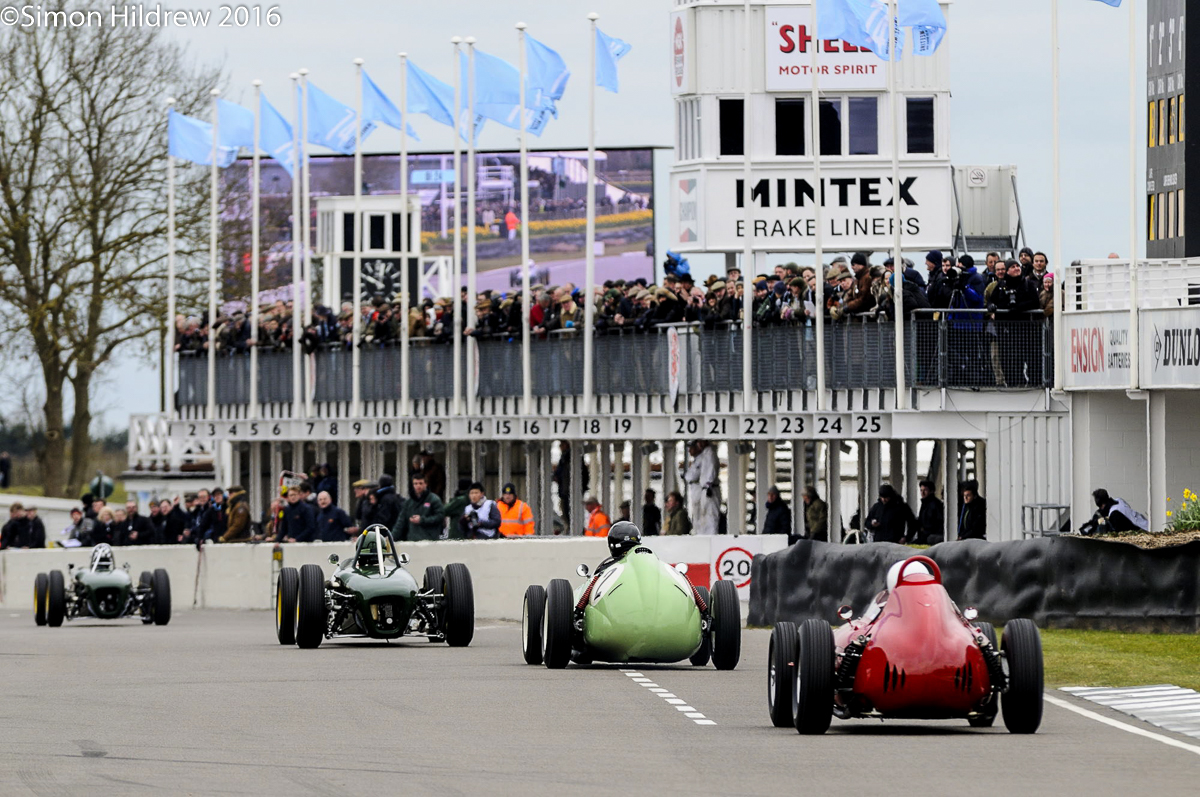 The Brooks Trophy race was fittingly won by Barry Cannell's Cooper-Climax T51, an ex Brooks car! The race was marred by the potentially nasty accident that befell Stephen Bond. His Lotus 18 clipped a spinning Cooper exiting the chicane and was launched into the air, clearing the fencing and ending up hanging over the spectator tunnel, which fortunately was empty at the time, Bond suffering injuries to his shoulder.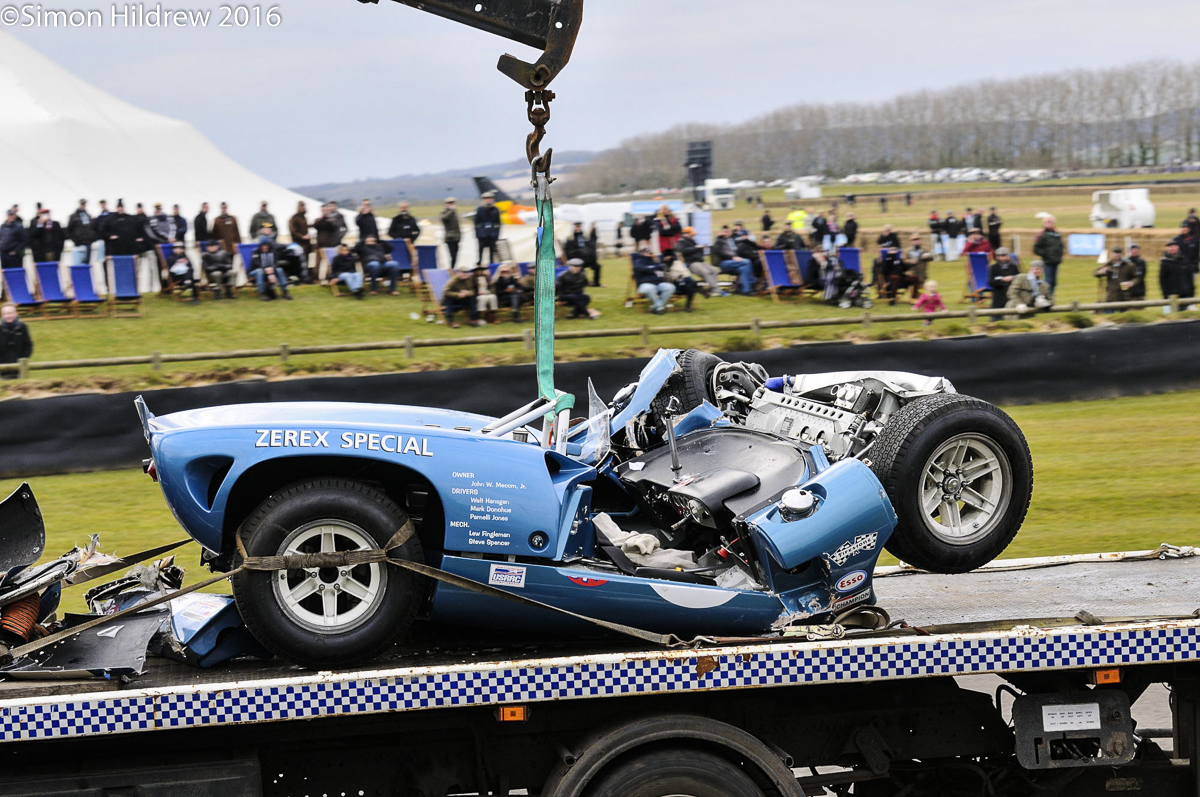 The Derek Bell Cup went to Andrew Hibberd (Brabham BT8) who was a comfortable winner once last years' victor James King was forced into retirement. The Bruce McLaren Trophy was red-flagged after just two laps and not re-started following a serious accident. A body panel flew off Marc Devis's Lola T70, hitting Michiel Smits, causing him to heavily crash his T70. There were serious concerns for his safety and he was eventually taken to hospital where he was found to have damaged vertabrae. Thankfully he is well on the road to recovery back home in Holland and has vowed to return next year. The brief race was awarded to Nick Padmore in yet another T70.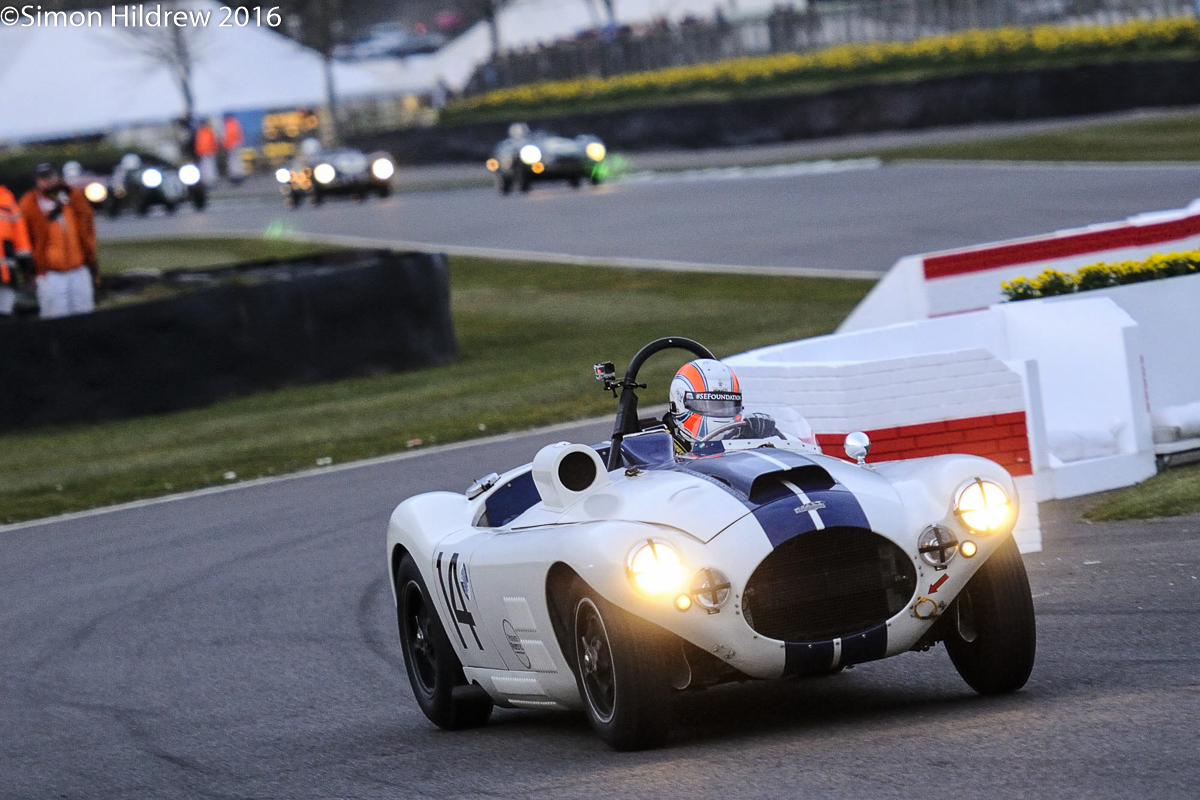 Lengthy repairs were required to the tyre wall, with the result that the remaining races were reduced to just ten minutes in duration. Will Nuthall (Cooper-Bristol T23) won the Parnell Cup whilst Sam Hancock simply stormed off into the distance in the replica Cunningham C4R to claim the Peter Collins Trophy some 26 seconds clear of Steve Boultbee Brooks' Aston Martin DB3S – and that after just ten minutes of racing!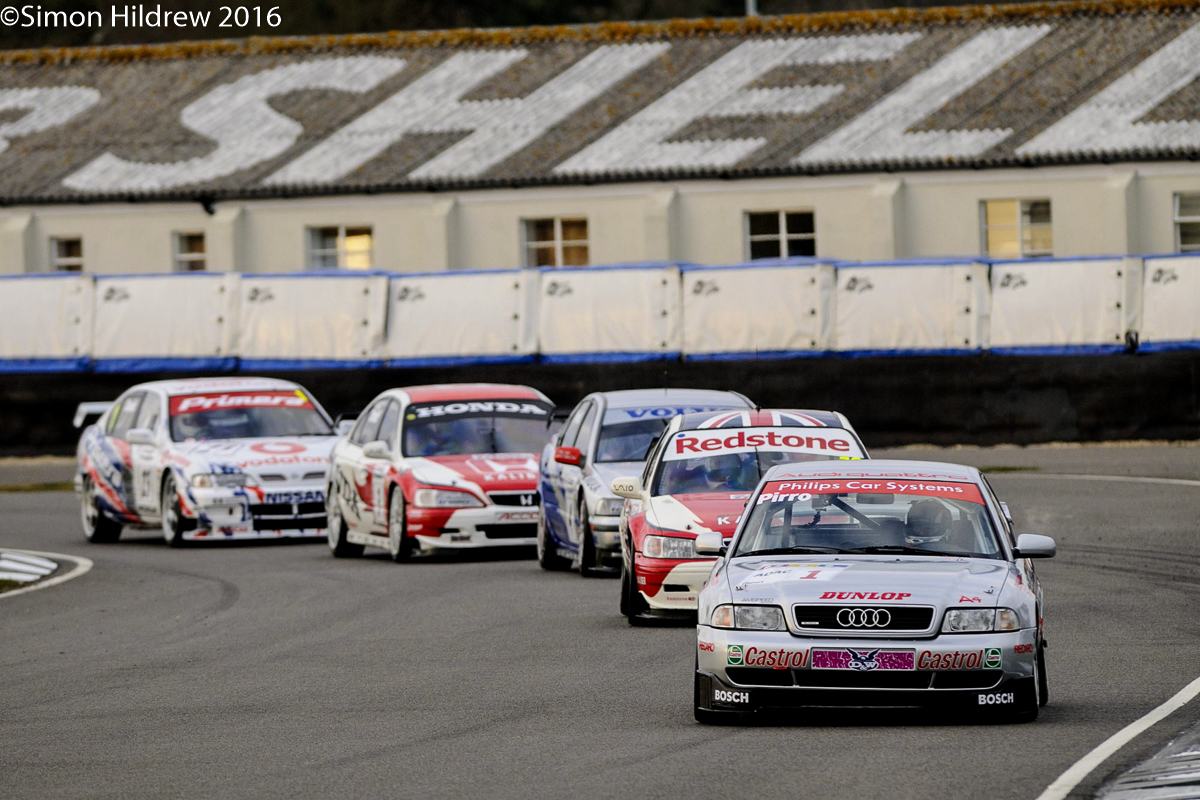 As has become de rigeur at Goodwood, three high speed demonstrations entertained the crowds between races. The first was for Super Touring cars, the class celebrating its 25th anniversary this year. A colourful array of machinery including Alfa Romeo, Audi, Ford, Honda, Nissan, Peugeot, Renault, Vauxhall and Volvo took to the track, all in original liveries. What's more some were re-united with their original drivers, including former champions John Cleland, Andy Rouse and James Thompson, whilst the ever-enthusiastic Emanuele Pirro was back behind the wheel of the Audi A4 with which he began his long career with the manufacturer driving in Germany's STW series in 1997. He was proud of the fact he was wearing his original overalls too!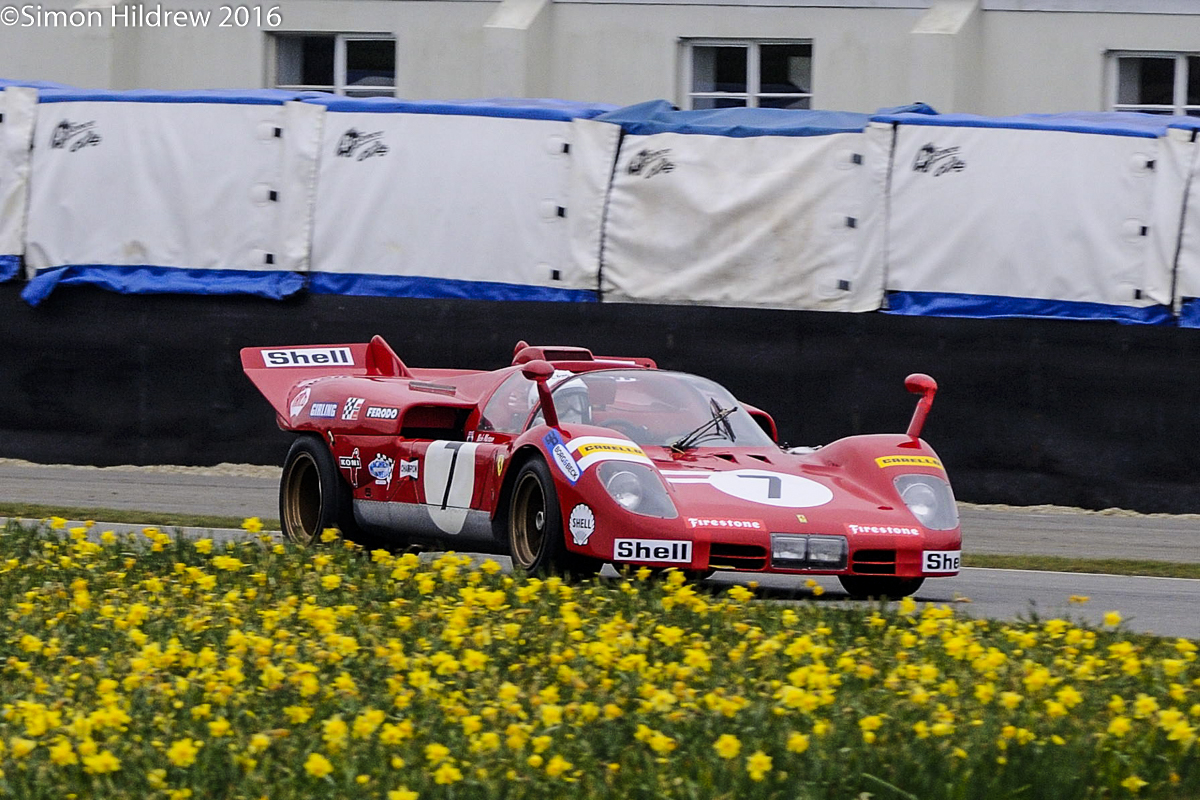 A Group 5 Sports car demonstration saw a mind-blowing array of Porsche 917's, Ferrari 512's and Lola T70 Mk3B's blasting their way round the circuit. Adding to the occasion, former Le Mans winners Richard Attwood and Derek Bell took part in Porsche Salzburg and Gulf-liveried 917's respectively.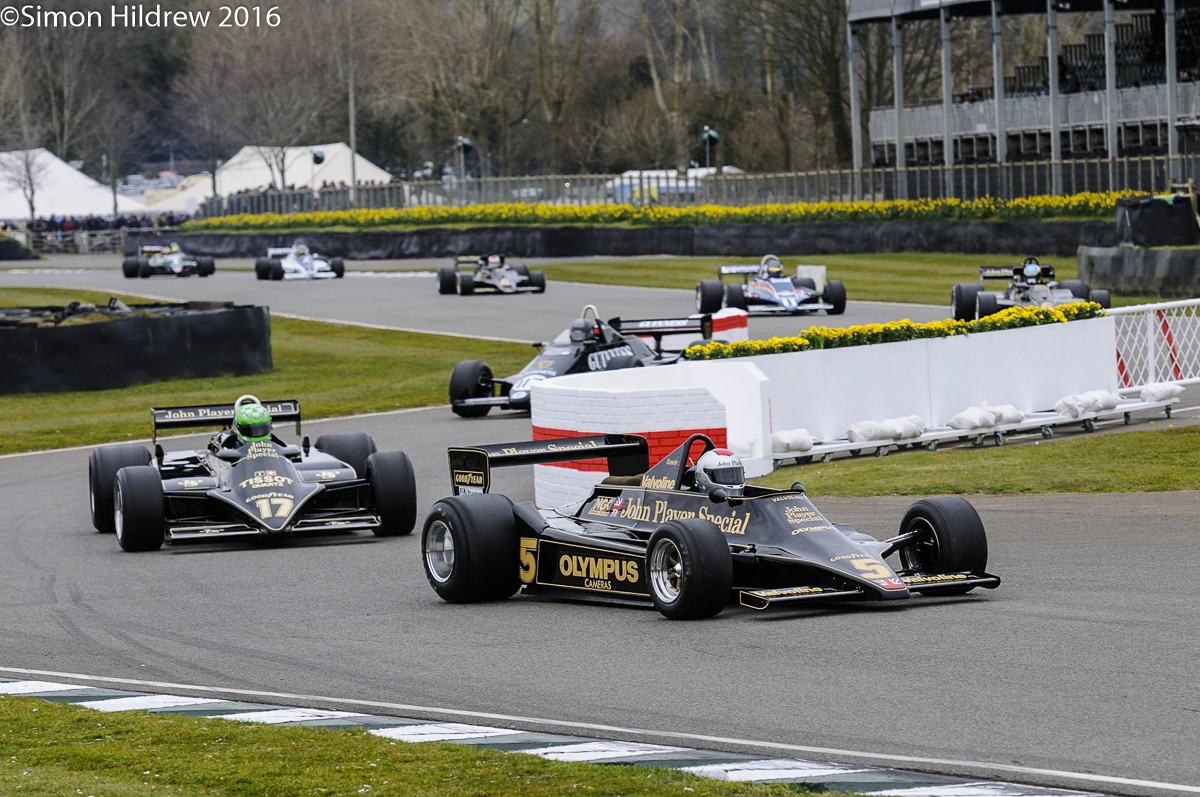 The F1 period being celebrated was the ground effect era; since this was also the Cosworth DFV era there was no shortage of cars. Since Lotus was effectively responsible for bringing both into F1so it was perhaps fitting that the marque dominated the display, Classic Team Lotus alone bringing six cars, including examples of Types 78 and 79. Clive Chapman himself got behind the wheel of the 88B, whilst Indianapolis 500 winner and avowed Lotus fan Dario Franchitti got his first taste of DFV power by driving the twin-chassis 88. He loved it!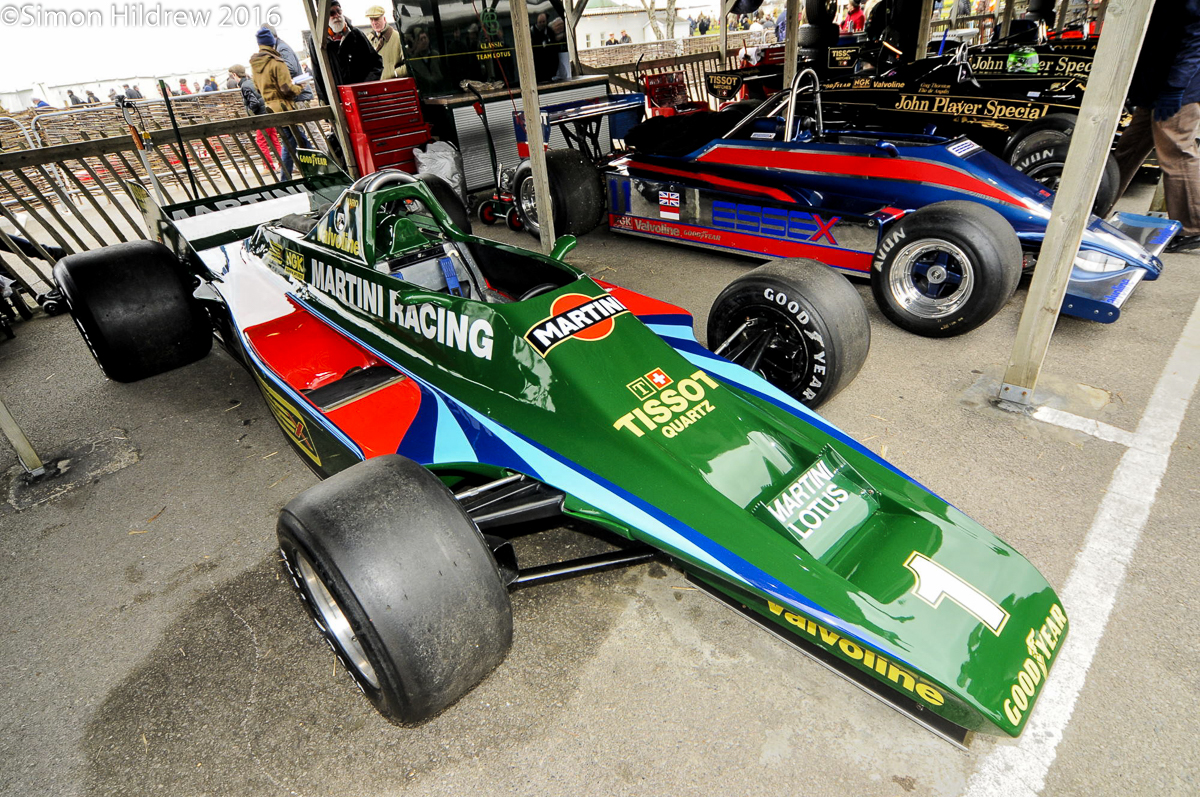 Inevitably questions have been raised once again about the safety of Goodwood in the modern era, but neither accident on the day could be attributed to the circuit. Good fortune played a part in Bond's accident however. Had it happened at the much busier Revival Meeting the odds of spectators being in the Tunnel would have been higher, leading to a greater chance of injuries or worse. The accident involving the Lola T70's raises different questions not entirely related to that particular incident.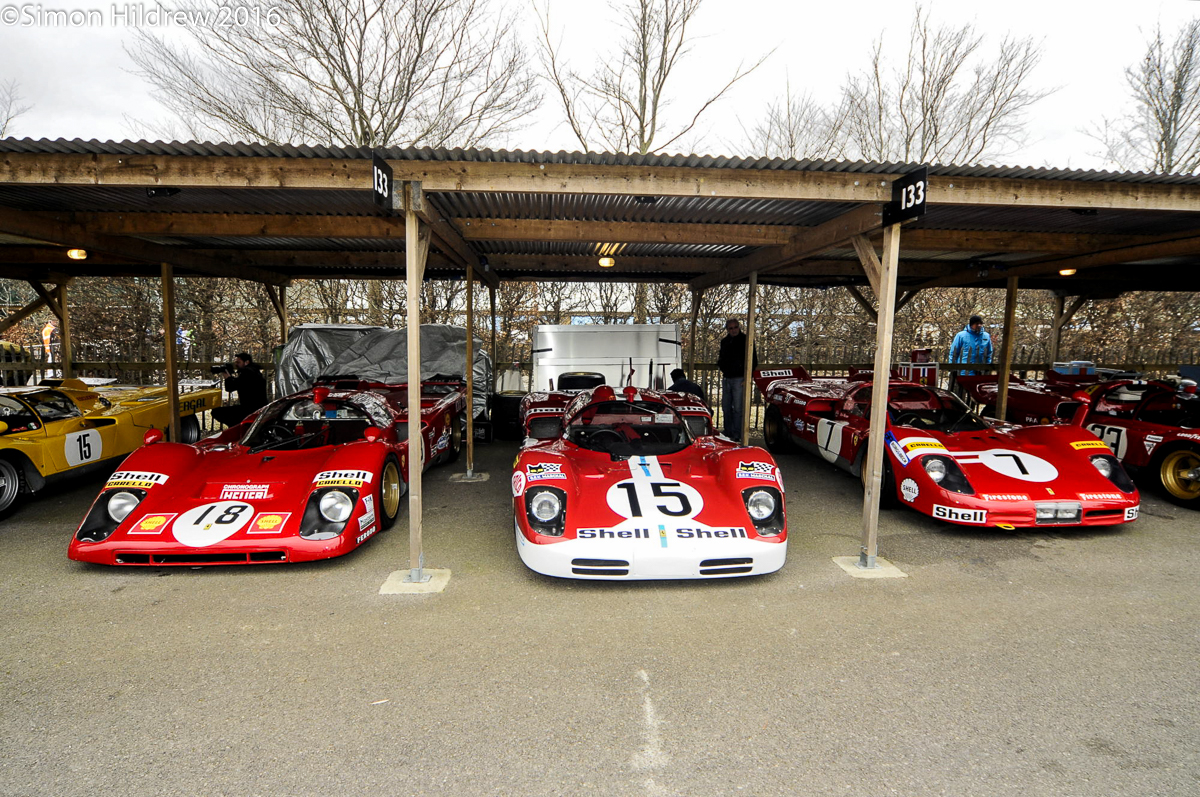 The reason the circuit was closed in 1966 was that cars of this type were simply becoming too fast for the venue. Fifty years on, the circuit remains much as it was in 1966, but these 'historic' cars have received continuous development, and at the same time whilst the current drivers are mostly competent they are not on a par with the likes of John Surtees or Graham Hill who raced them in period. Perhaps it is the competitors that should be under scrutiny rather than the circuit?
John Elwin, May 2016