Ten Years After…………..
Looking at the commemorative stickers displayed on the Audis at the Le Mans Test Day prodded me to recall that ten years have flown by since the dreadful news came through of Michele Alboreto's fatal accident while testing at Lausitzring.
Michele had been a familiar name to me during his single seater career, back then I did follow Formula One. Of course his exploits in the Martini Lancia team coincided with my first trackside passes, which is where some of this material comes from. He raced the exotic Italian prototypes from 1980 to 1983, ending up somewhat frustrated by the reliability issues that plagued the elegant Lancia LC2/83.
So he turned his back on that aspect of the sport and concentrated on F1. His record, 194 Grand Prix starts for seven teams, the last win by an Italian in a Ferrari and just failing to beat Alain Prost to the World Championship in 1985, give an indication of the talent that Michele brought to the job in hand.
After his retirement from Grand Prix circus Michele spent a short time racing in IRL but eventually he came back to sportscars, racing the Joest WRC at Le Mans in 1996 and 1997. The second year saw him take victory with newcomer, Tom Kristensen and former F1 Ferrari Team mate, Stefan Johansson.
In 1998 Porsche AG recruited him to spearhead the LMP aspect of their 50th Birthday Le Mans challenge but the "improvements" to the double winner did not work out.
In 1999 Alboreto was recruited by Audi as part of their new endurance sportscar programme, which really kicked into gear in 2000 when the Audi R8 appeared at Sebring. Michele got back on the top step of the podium at the 2000 Petit Le Mans, taking the R8 to a win with Dindo Capello and Allan McNish. He enjoyed his final triumph, at the Sebring 12 Hours the following year, once again in an R8, with Dindo and also Laurent Aiello.
A month later came a tyre failure while testing straight line speed, the Audi vaulted the Armco, killing the popular Italian instantly.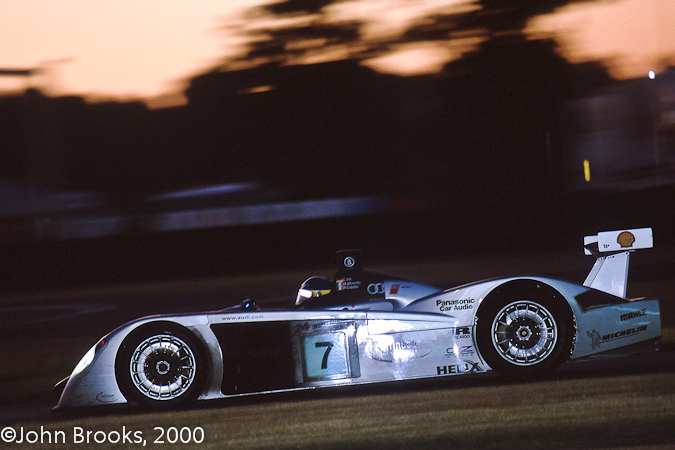 I had not known Michele when he raced in the Lancias, low life like me did not speak to Grand Prix drivers. However I did get to meet him in when he drove for Audi and I recall one evening in particular. For some reason back then the ALMS held a number of races at Rovals, road courses fashioned inside the banked oval tracks that were the stomping ground for NASCAR and IRL. It was one of many attempts to take sportscar racing to previously uncharted territory, the results are almost always the same. The last of these 'events' was held in the first week of March 2001 at Texas Motor Speedway. The Australian Grand Prix was also running that evening (time zones are a wonderful thing), so we all got in our rental cars and drove 20 miles (all journeys in Dallas are 20 miles or more) to a sports bar where the Grand Prix was being televised.
I had just acquired my first digital camera; it was powerful Juju back then, the ability to see your work instantaneously, no waiting for the film processors to do their work. Instant gratification, how 21st Century?
I was sitting with Dindo and Michele watching another dull Schumacher/Ferrari procession when I piped up.
"Dindo, did you damage the car today, during Qualifying?"
"What do you mean, damage?" said the completely innocent Italian, butter would not melt.
"When you hit the chicane and scattered the poles"
"No, that was not me"
"Well, how do you explain this?"
I flicked the back of the camera to show cart wheeling poles from the chicane that Dindo had driven over. It was a magic show, that Michele had been keenly observing as Dindo squirmed, his mistake now public.
Michele seized the moment, grabbed the camera and got all the Audi crew to see the evidence of his friend's indiscretion. I recall it cost Dindo a round of drinks. From that point on Michele and I got on like a house on fire.
Six weeks later and he was gone.
Rest in Peace, Michele. 1956 to 2001.