The editor of DailySportsCar, Graham Goodwin, commissioned me last month to write a tribute to the late Soames Langton. With his kind permission I now publish the piece on my own blog.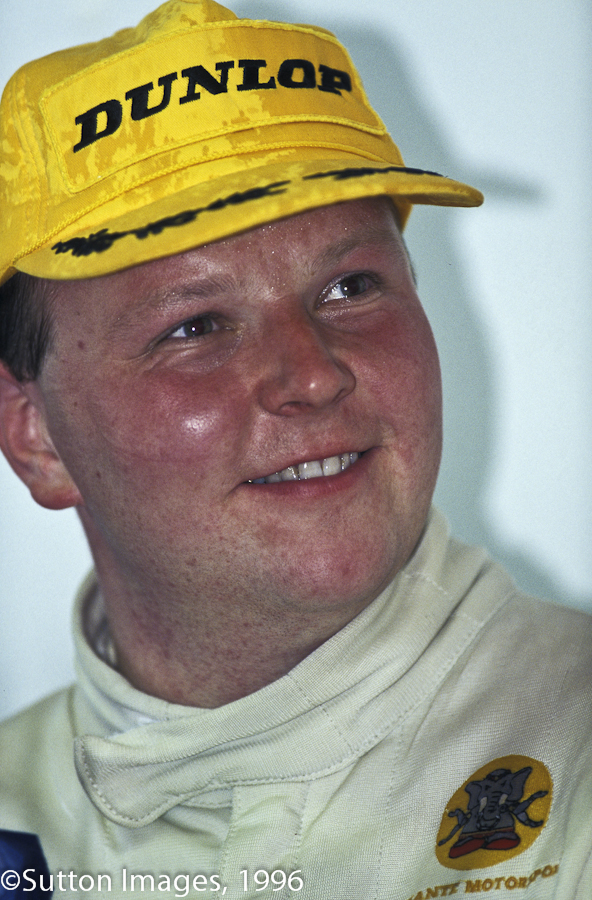 The editor rang me last week to let me know that word had reached him of the death of Soames Langton. He asked me to put a few words on paper to mark the passing of this unfortunate young man, as I had known him back in the day.
Those of you with good memories will recall Soames as being a very handy racer during in the mid-90s, starting with Historics, and then graduating to the International GT scene. Those with very good memories will recall that Soames was grievously injured in the 1996 BPR race at Nogaro. He never recovered from that accident, now he never will.
Motorsport and car culture was certainly in his genes as his father, Stephen, was a highly respected vintage car dealer and also a historic racer. Tragically he was killed at Brands Hatch during the historic support race to the 1985 British Grand Prix. Soames took on his father's business and was very successful in his own right.
I first met Soames while following the BPR Series in 1995. He was a larger than life character, but underneath the leg pulling there was a serious and talented racing driver. Soames drove the Paul Lanzante run Porsche 911 GT2 with car owner, Paul Burdell, and German Wido Rössler, naturally I gravitated towards this friendly and well run outfit. Their first appearance at Monza ended in retirement but thereafter things went well with class finishes of 5th at Jarama and then 3rd  at the Nürburgring.
That year the Lanzante team were contracted by McLaren to run a car at the Le Mans 24 Hours and they had a dream result, winning the race outright. Soames pitched in and helped the team, if one looks at the video that McLaren released afterwards to celebrate their success, the final scene fades out with Soames spraying the Champagne in the garage……….
There were further successes for Lanzante and regular points finishes, the best result was 2nd in class and 6th place overall in the Silverstone 4 Hours.
In 1996 Soames continued his BPR association with Lanzante and Burdell, with 1989 Le Mans winner, Stanley Dickens joining the pair. The Lanzante team put together a very good set of results in the first half with a pair of class 2nd places at Monza and Nürburgring, with an incredible 4th overall at the attritional Italian event.
1996 saw Soames race at Le Mans for the first time in the Steve O'Rourke EMKA Porsche. It was the time of the ACO accepting an over subscribed entry (and entry fees), letting the aspiring competitors slug it out during a weekend in April. Soames turned in a sparkling performance to qualify the car for the race with a time of 4:10.689. This was considerably quicker than either of his music business co-drivers, Steve O'Rourke and Guy Holmes could have managed.
Qualifying for the race was something of a high water mark for Soames in 1996. Fast forward to June and during the Wednesday Practice/Qualifying he overcooked his entry to the Porsche curves and stuck the 911 in the wall. With their usual efficiency the marshals extracted Soames from the bent car and give him the once over, before releasing him into my custody for the ride back to the pits. He was quite apprehensive about facing Team Principal and car owner, Steve O'Rourke, who was fearsome figure when angered. Like all privateer team owners he did not tolerate his hired gun trashing the car and he would be upset about the damage to his precious Porsche. Soames recalled an episode, years back, when he had borrowed his father's Jaguar without permission, in an effort to impress a young lady, then stuck it in a ditch during icy conditions. He remembered that conversation did not go well and suspected that his looming encounter with Steve would have similar unpleasant consequences.
During the ride back to the paddock I helpfully suggested that he remind Steve of his contribution to the cause with his Pre-Qualifying efforts but it was not considered a good strategy, likely to cause a bigger conflagration than was already about to happen. Discussions with Steve went as expected but then the team got their heads down, repaired the damage and rolled the Porsche onto the grid for Saturday's race. Soames started the race, completed two stints and handed over to Le Patron. Twenty minutes later the engine let go and the EMKA Porsche became the second official retirement of the event.
Back with Lanzante the season went downhill. While researching this piece I found a "blog" that I had written for the internet back that year. It summarises the situation as well as I could manage now.
If any illustration was needed of the great highs and terrible lows that involvement in motorsport will inflict on you, the Lanzante Team will serve as a good example.
Last year as a private team (with help from the factory) they triumphed at Le Mans. Since Suzuka at the end of August it has all been downhill. Soames Langton wrote off the car in practice at Brands, then a struggle with engine maladies at Spa appeared to end with a podium finish, till they were disqualified for Paul Burdell not doing the required time behind the wheel.
Following that disappointment, Burdell, for personal reasons, decided that he did not want to go ahead with the plans to run two Lotus Esprits in GT2 guise next year, leaving the team scratching around for an alternative. Then came the accident at Nogaro last week with Soames still in a coma. Those of you waiting to read on your ceefax of Damon's triumph in Japan (hopefully) will also get a message (page 366) that Soames is out of his coma and on the way to full recovery, at least that's what will happen if there is any justice in this world.
Next it is off to China if there is still a series.
Damon Hill did win the F1 title that year, which seemed important at the time, it could be explained by his main opposition coming from Michael Schumacher and Jacques Villeneuve, enough said. There was no justice for Soames though.
The hospitals in France and the UK, including one run by Professor Sid Watkins, did an amazing job in keeping Soames alive during the months following his accident. We all hoped for the best and felt that he would make a recovery, especially having endured so much. However once out of his coma it was clear that was not going to be the outcome. Once again I am reminded of what I wrote at the time.
I went to see Soames in hospital with Shaun Redmayne………a harrowing experience for us…………..how much worse for him………..he appeared to understand who we were and what was been said and the pictures that were shown to him…………I had the impression that he was trapped behind a wall.
Though I did not fully understand his condition at the time, I had stumbled on the correct diagnosis. Soames was suffering from Locked In Syndrome which Google defines as "a condition in which a patient is aware and awake but cannot move or communicate verbally due to complete paralysis of nearly all voluntary muscles in the body except for the eyes."
This condition lasted for the rest of his life. Mercifully his suffering, and that of his devoted family, is at an end, and he, and they, can have peace and respite. Those of us who lost him as a friend some 14 years ago will recall a genuinely good guy, who did not deserve his awful fate. Life and Motorsport can be cruel some times.
Soames, Old Boy, Rest in Peace.
John Brooks, April 2011
Those interested will find a Facebook page dedicated to Soames' memory.
http://www.facebook.com/pages/Soames-Langton/109991705753679
Soames' team mate, Paul Burdell, has contacted me through an intermediary with the following comment. I am grateful for his clarification.
The only point missing, was Soames and I (after consultation with Selina my wife) had decided that rather than a full season we were going to do the "fun" events  (Le Mans, Suzuka, Daytona, Monza etc.) because it, racing, was becoming too serious and I had a business to run.. It's after the fact, obviously, but we had already agreed that we'd stay together for 1997.