The Special Correspondent has been spending some time down at Brooklands since finishing his Spa 24 Hours' history. As is his wont, he regularly finds cars that are rare and/or interesting and the recent VSCC Driving Tests event was no exception to this rule. He shares this discovery with us below.
John Brooks, February 2015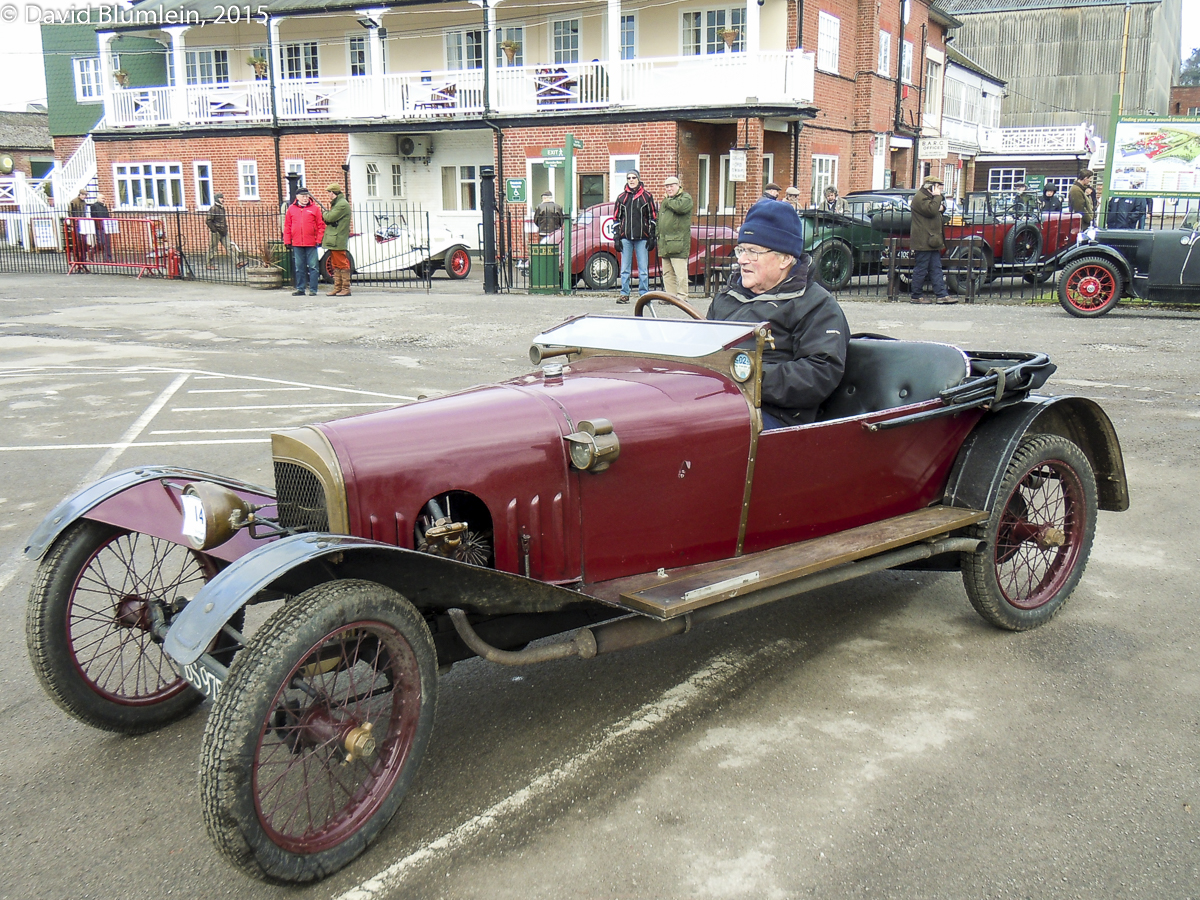 The Société des Moteurs Salmson made aero engines during the First World War as well as magnetos and other components; they also made some of their own aeroplanes. With the cessation of war contracts they diversified into car production and initially they made G.N. cyclecars under licence at Billancourt in Paris. This is a Salmson-G.N., recognisable by its brass radiator and steel body. Salmson- G.N.s were used after the war by the Paris police.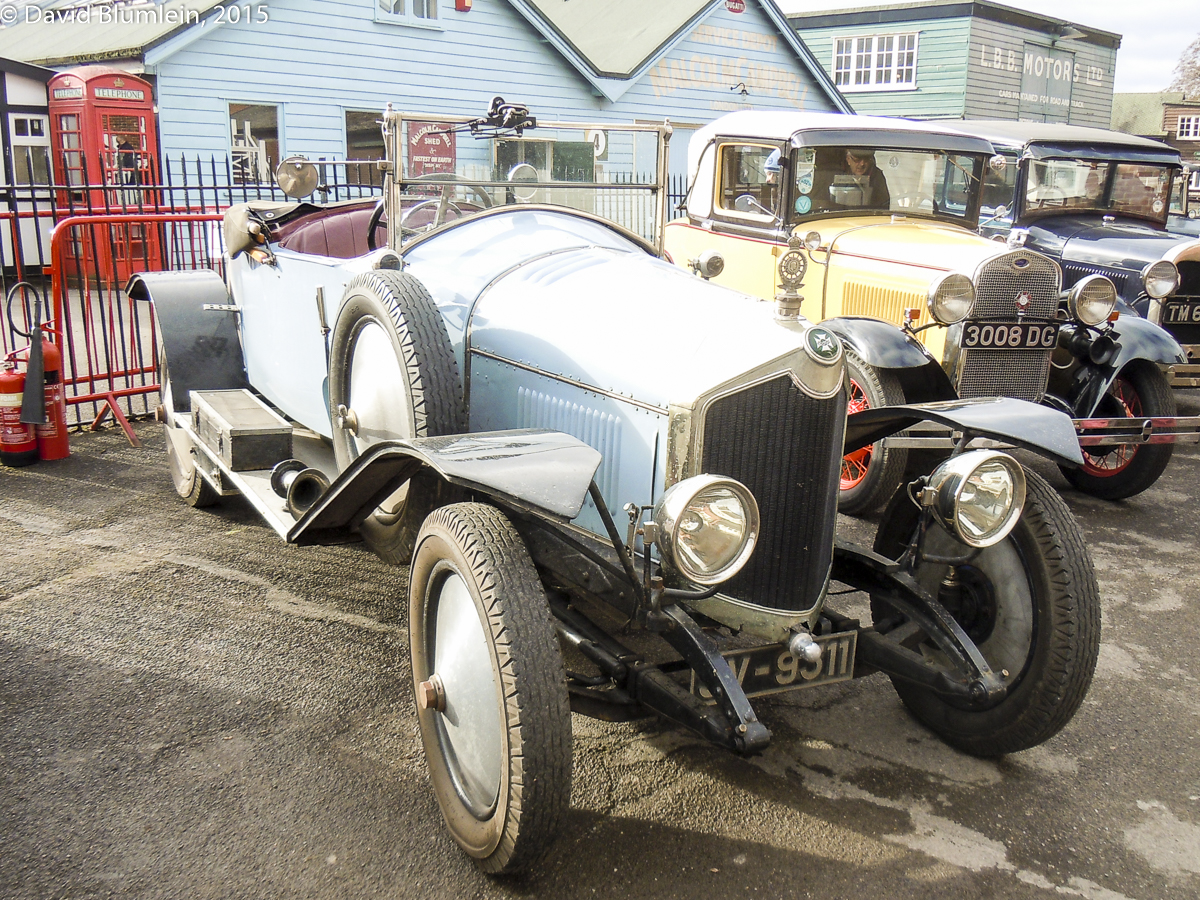 This 1923 Crossley 19/6 tourer is powered by a 4-cylinder side-valve 3.6-litre engine. It has no front brakes and a 4-speed gearbox with the traditional right-hand change.
Crossley was a very versatile company, making engines, commercial vehicles and buses at their Gorton, Manchester plant and is remembered especially for its 25 h.p. RFC/RAF staff car which became standard equipment during the First World War.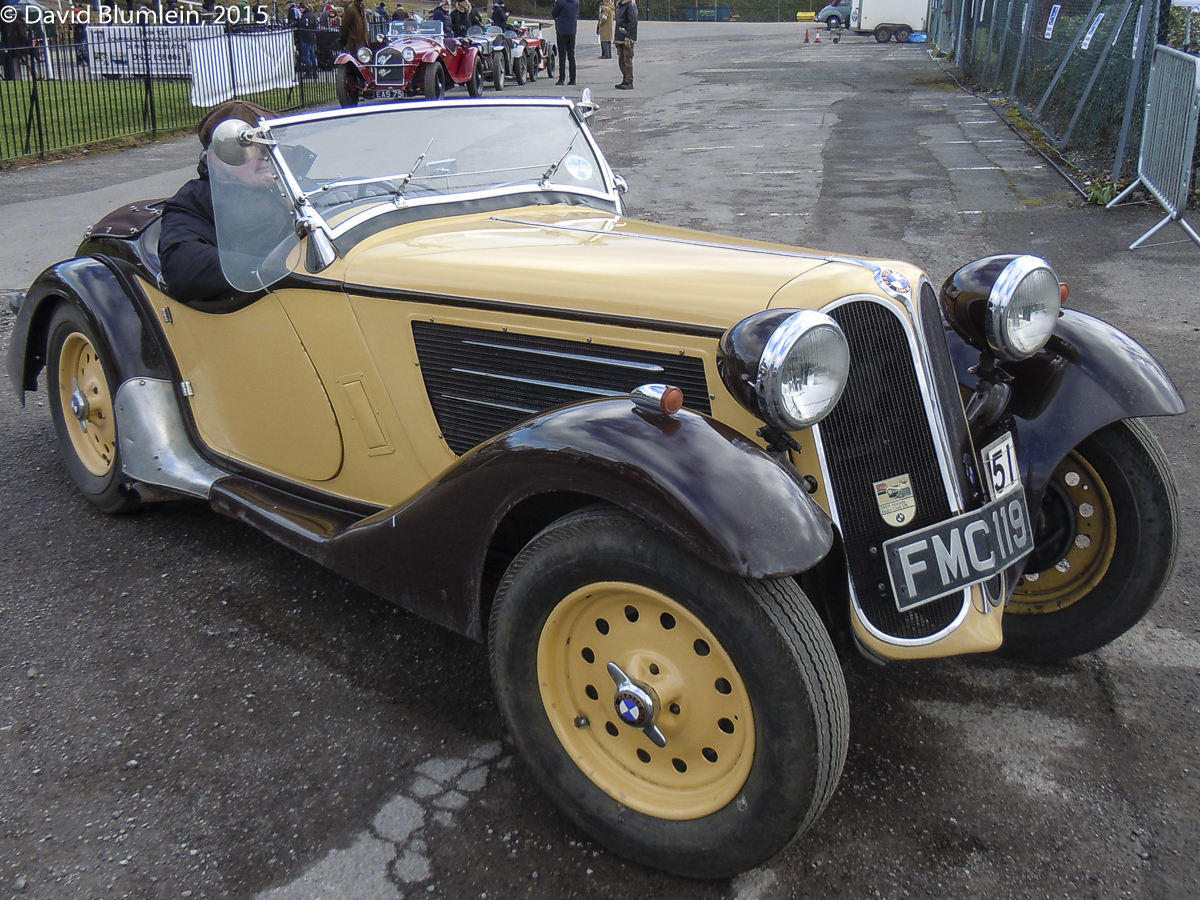 This Frazer-Nash BMW 319/55  was first delivered in February 1937. It is back at Brooklands after 78 years, having taken part with Don Aldington at the wheel in the 1937 JCC Brooklands Rally. It has a 6-cylinder o.h.v. engine.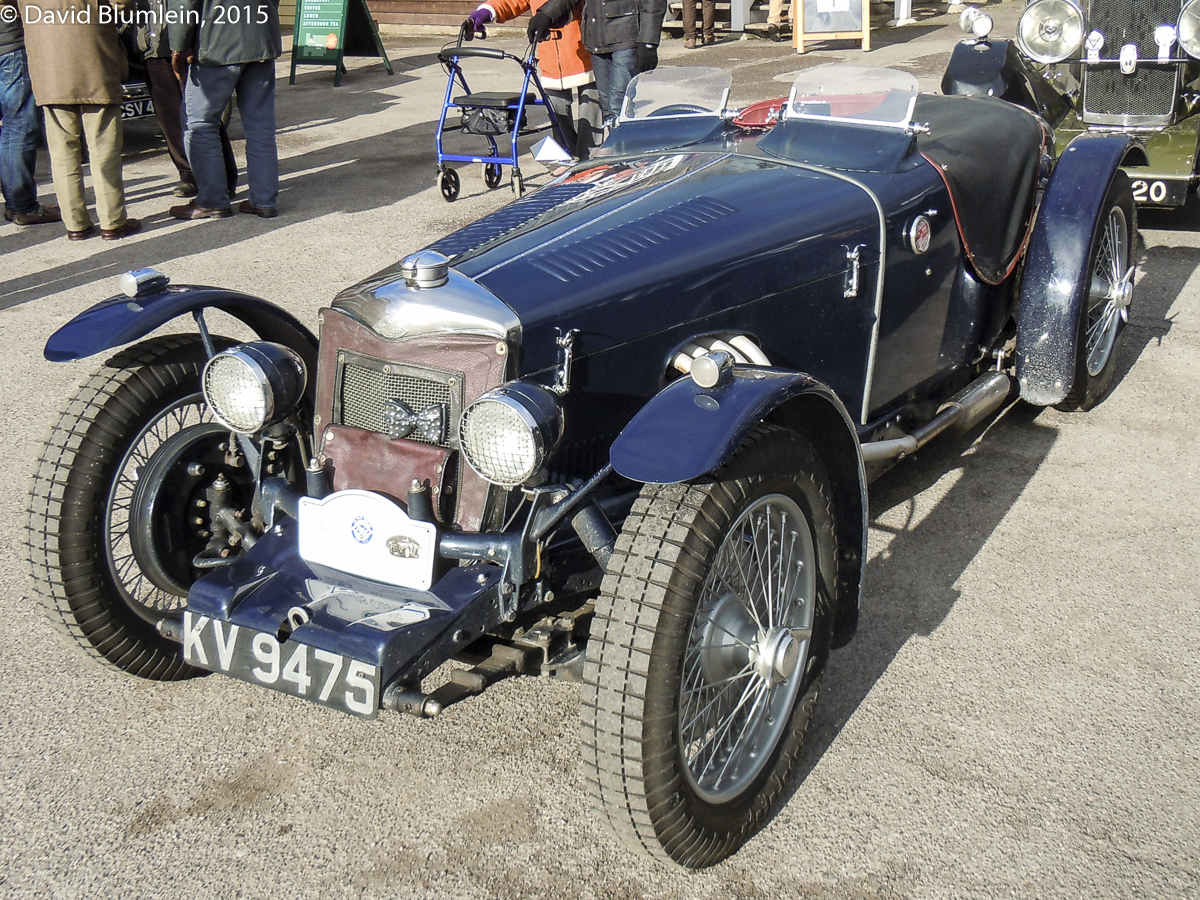 Rileys were at the peak of their powers in competitions in the Thirties and the factory entered no less than six cars for the 1934 Le Mans 24 Hour race. They were driven down by road from Coventry, calling in at Brooklands for some preparatory laps on their way to France. This Riley Imp, one of two specially prepared Imps for the race, was driven by Jean Trevoux and René Carrière but lost two laps early on in the pits for repairs to the tail following a spin at Mulsanne. This left it 44th and last but it recovered to 12th and 3rd in class. The car made up for this later that year by winning its class in the Tourist Trophy on the Ards circuit.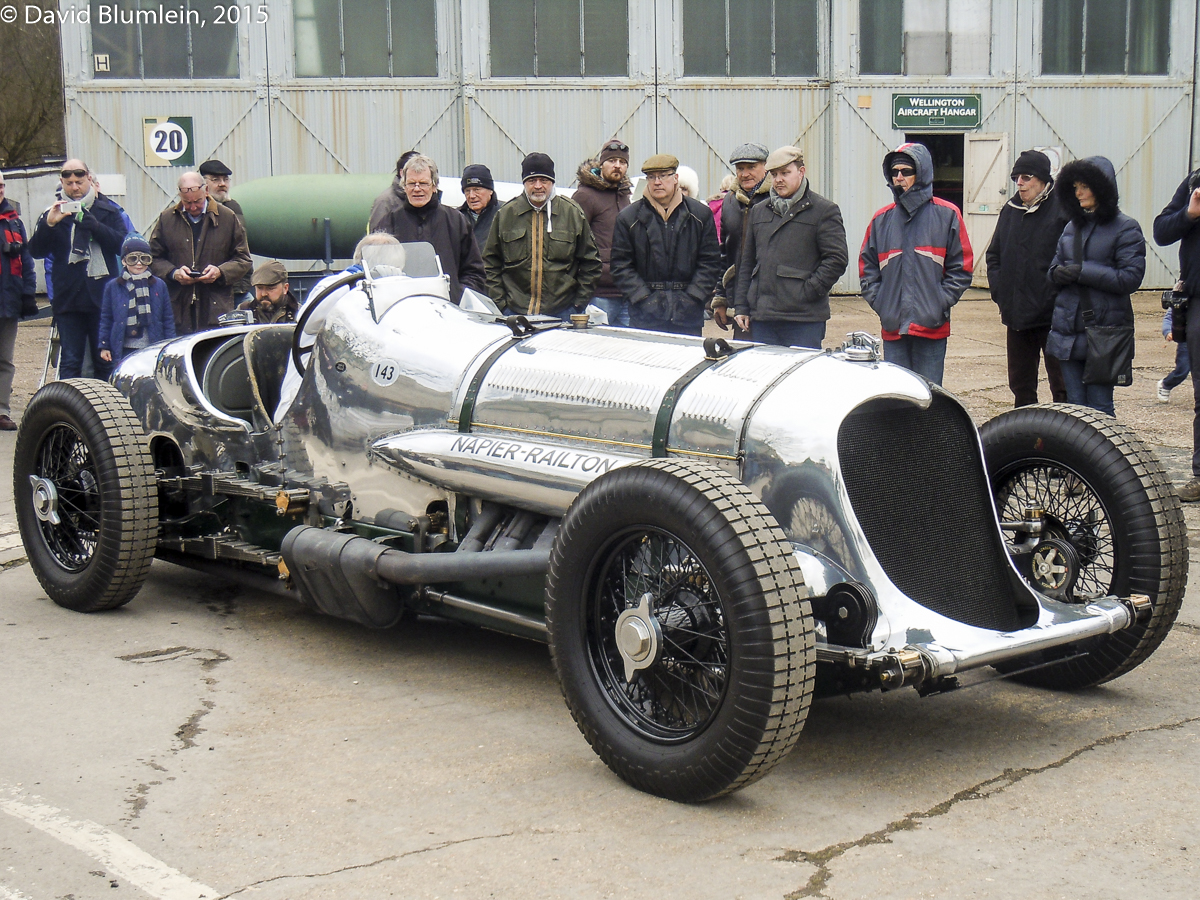 Here is the famous Napier-Railton, a brute of a car! Commissioned by John Cobb with a view to tackling the World 24 Hour record, it was designed by Reid Railton and built by Thomson and Taylor at Brooklands. Gurney Nutting supplied the bodywork and Napier the 502 h.p. version of the First World War "Lion" W-12 aero engine with cylinders in three banks of four, giving it a capacity of 23,970 c.c.
The car won its début race in the 1933 August Bank Holiday Brooklands meeting but then went to Montlhéry to try for the 24 Hour record but tyre failures spoilt this. Back there again in 1934 but the very competent Riley driver, Freddie Dixon, crashed it. So it was over to Bonneville Salt Flats in America in 1935 and here the car took the record at 137.40 mph driven by Cobb, Charlie Dodson and Tim Rose-Richards. This success was repeated a year later when Cobb, Hindmarsh, Brackenbury and Rose-Richards pushed the record for 24 hours up to 150.6 mph.
After the war ownership of the car eventually came to the Hon. Patrick Lindsay who raced it at Silverstone in the 1960 Martini Trophy meeting, coming third behind two E.R.A.s. It now resides with loving care in the Brooklands Museum.
An example of a rare "chain-gang" Frazer-Nash. This is a 1932 "Exeter" model of which only 5 or 6 were made and named after the London-Exeter Trial – Frazer-Nash cars scored twelve Premier awards in the 1931 event. It has the usual Meadows engine but the bodywork is by Corsica.
TAILPIECE
Here is an offside view of the brute's engine!
David Blumlein, February 2015