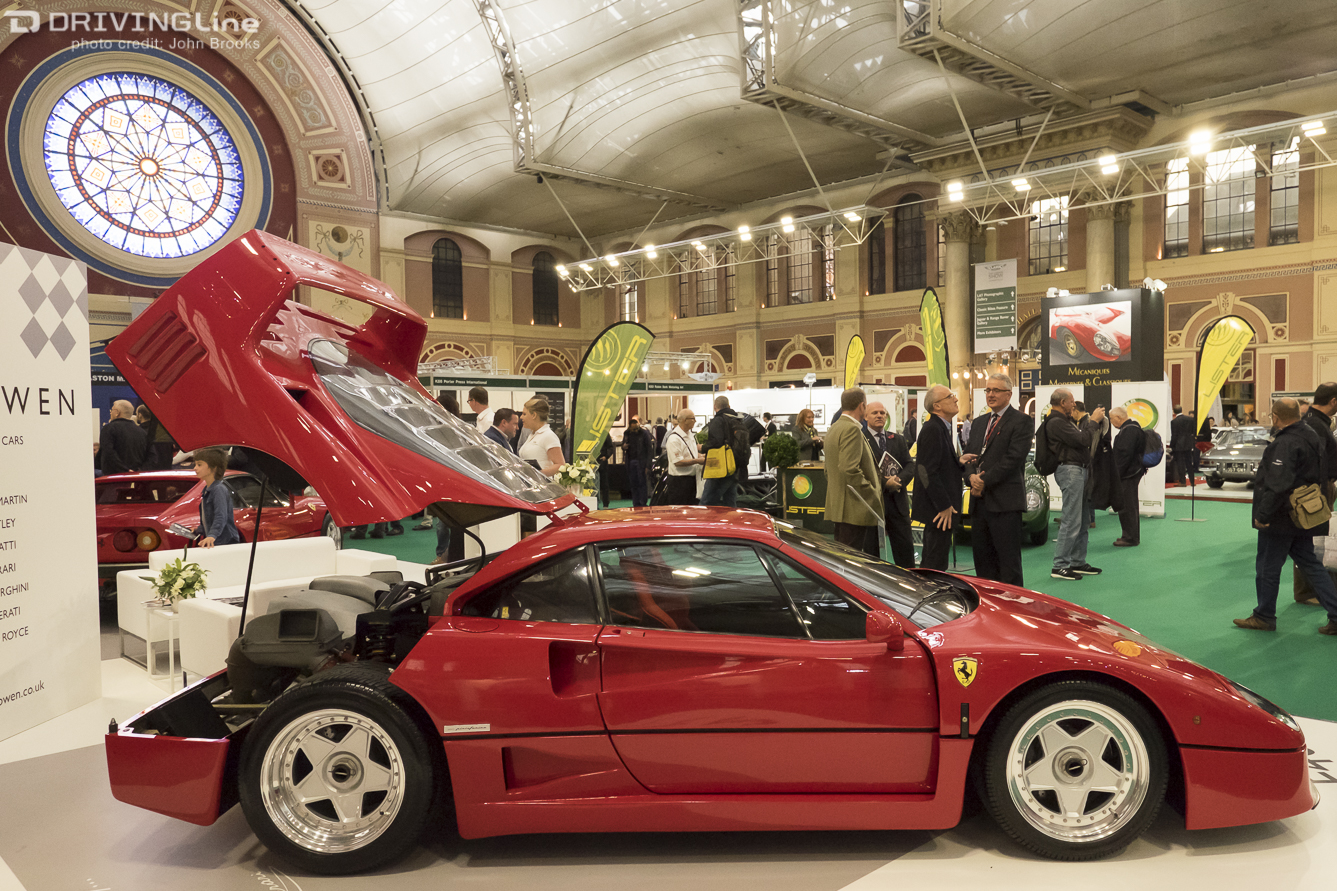 Until recently there were no car shows, classic or contemporary, in Central London, now we have three. I looked at the London Classic Car Show, held in Docklands early in the year.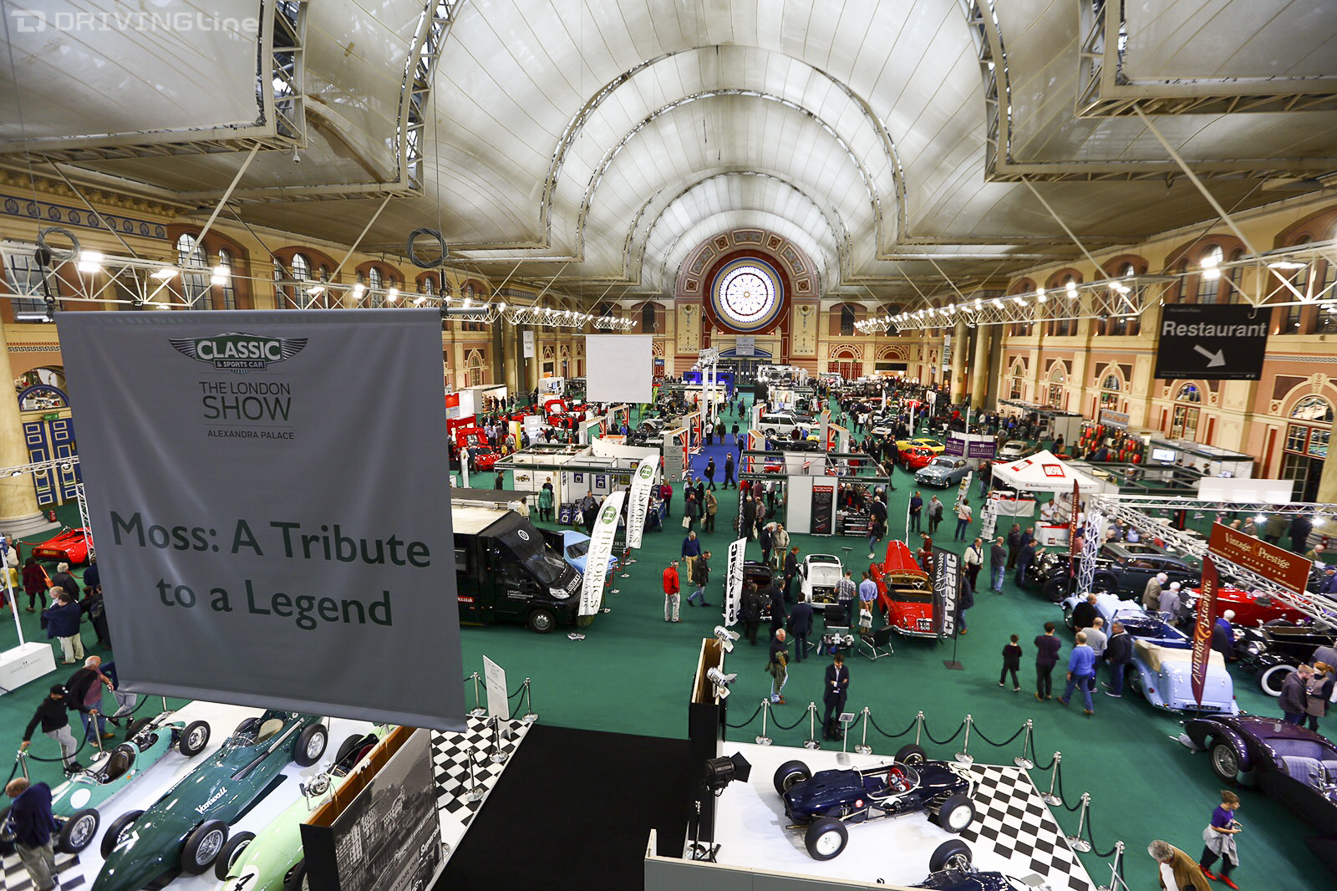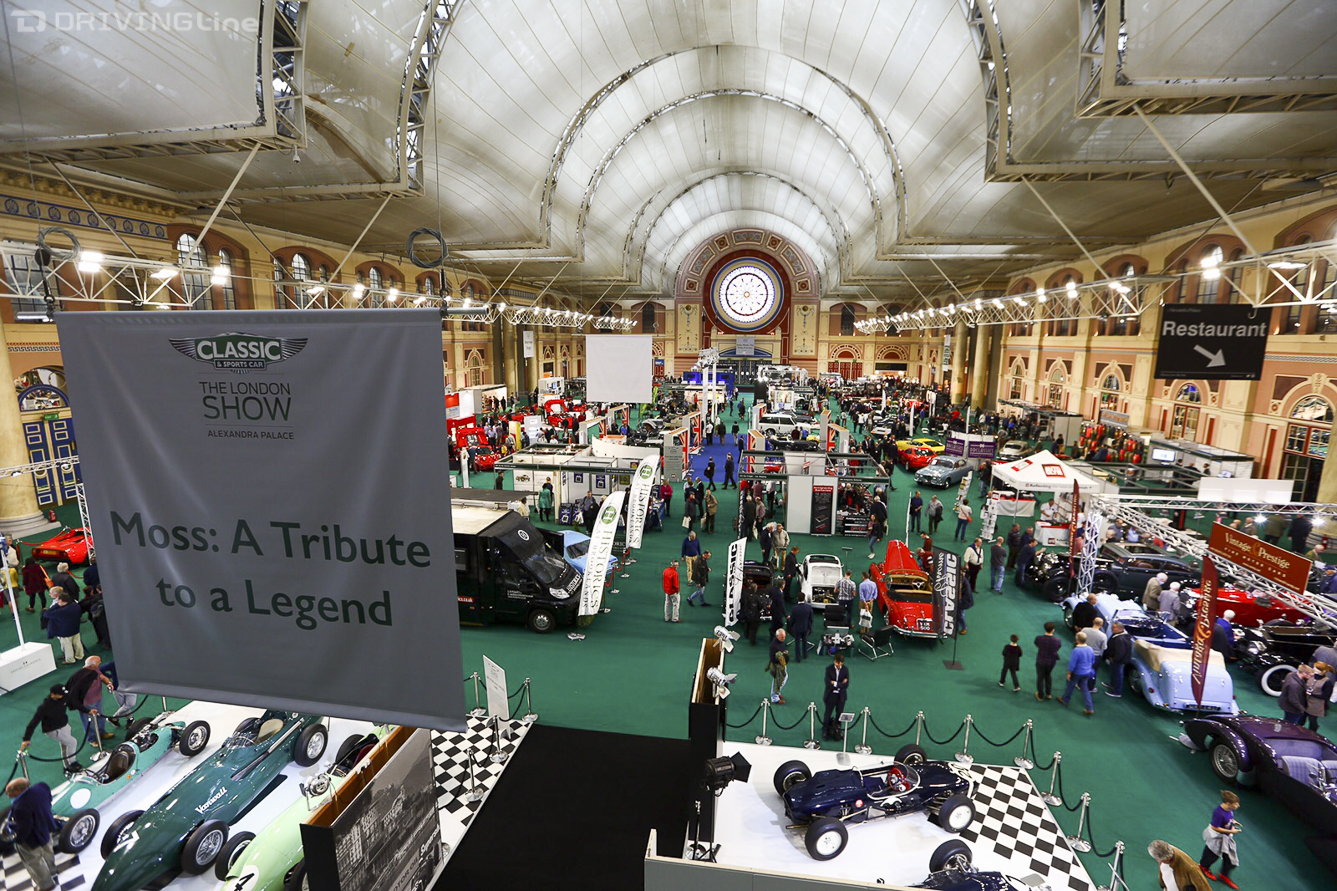 This weekend North London's Alexandra Palace, one time home to the BBC, was the venue for The London Show from Classic & Sports Car magazine. Classic car shows tend to fall into one of three categories, those aimed at the car clubs, those supported by current manufacturers displaying their proud heritage and those aimed at the flourishing classic car market. This show was firmly in the later category.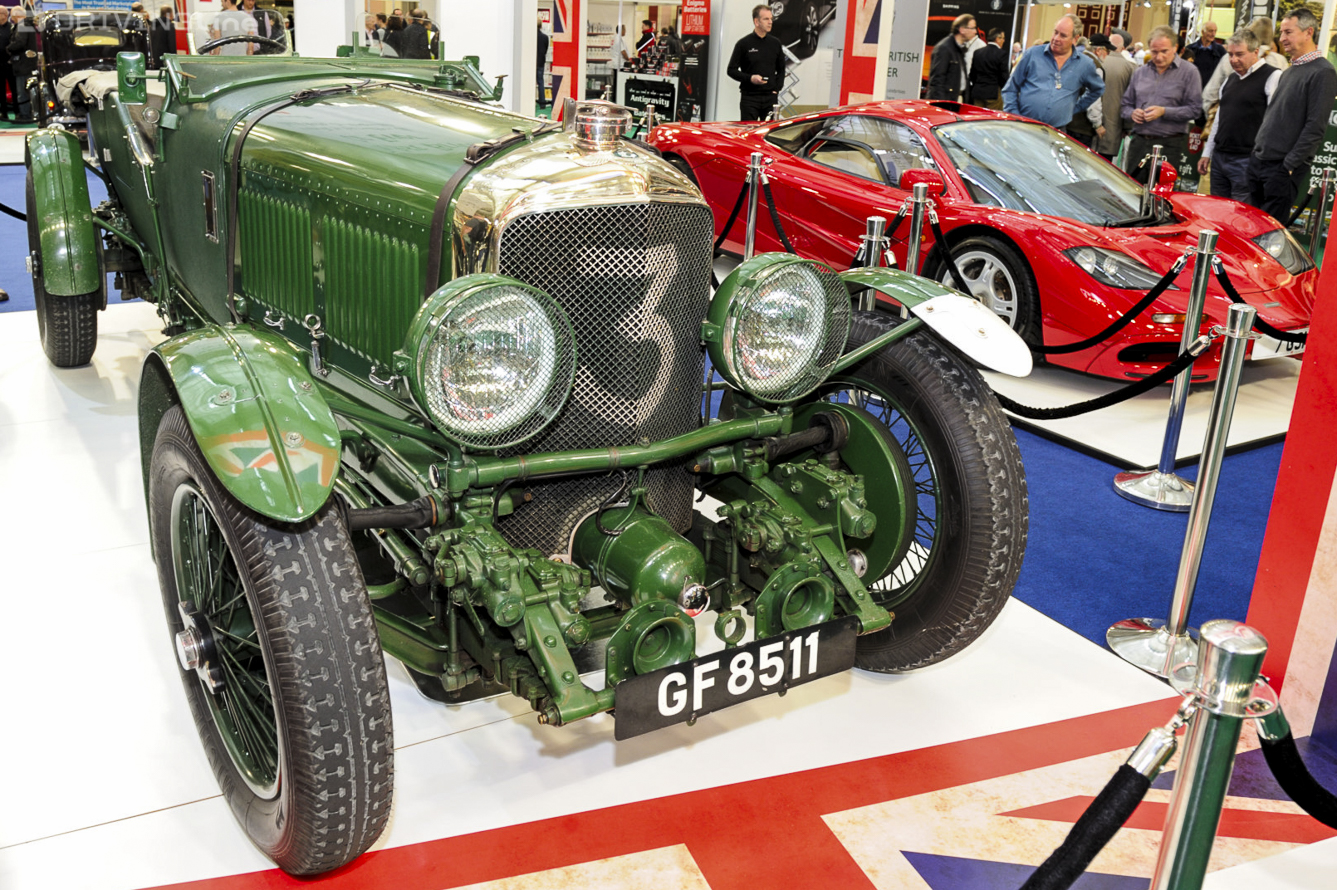 There were a number of feature stands and exhibits but the focus was definitely dealer driven. Given the lively, some would say over-heated, state of the classic car market that is hardly a surprise. London has more than its fair share of the wealthy and many of them are car guys and gals, so it makes sense to bring the market to them rather than try and entice them out of London to view and possibly purchase.
The centrepiece of the themes adopted by the organisers was 'Best of British'. A jury of 100 experts, celebrities and owners, the automotive version of The Great and The Good, argued with each other till just ten cars were left for the readers of C&SC to vote for. The list was made up of the Jaguar E-type, Mini Cooper 'S', Austin Seven, Ford GT40, Rolls-Royce Silver Ghost, Jaguar XKSS, Lotus Seven, McLaren F1, Bentley Speed Six and the Range Rover.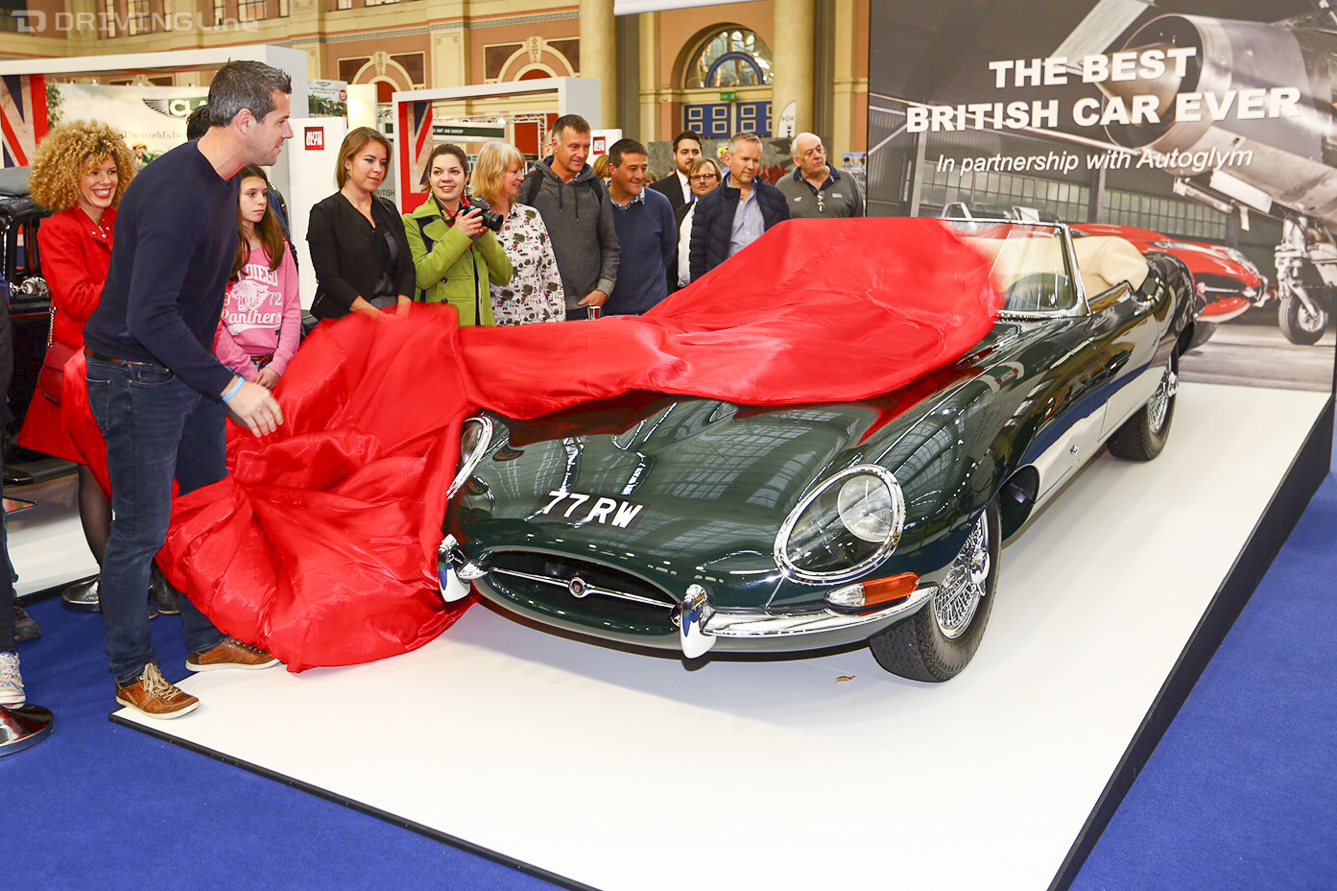 When the votes were counted the slightly surprising winner was the E-type, here being unveiled by a TV personality who I had never heard of. The E-type is great car, but better than a McLaren?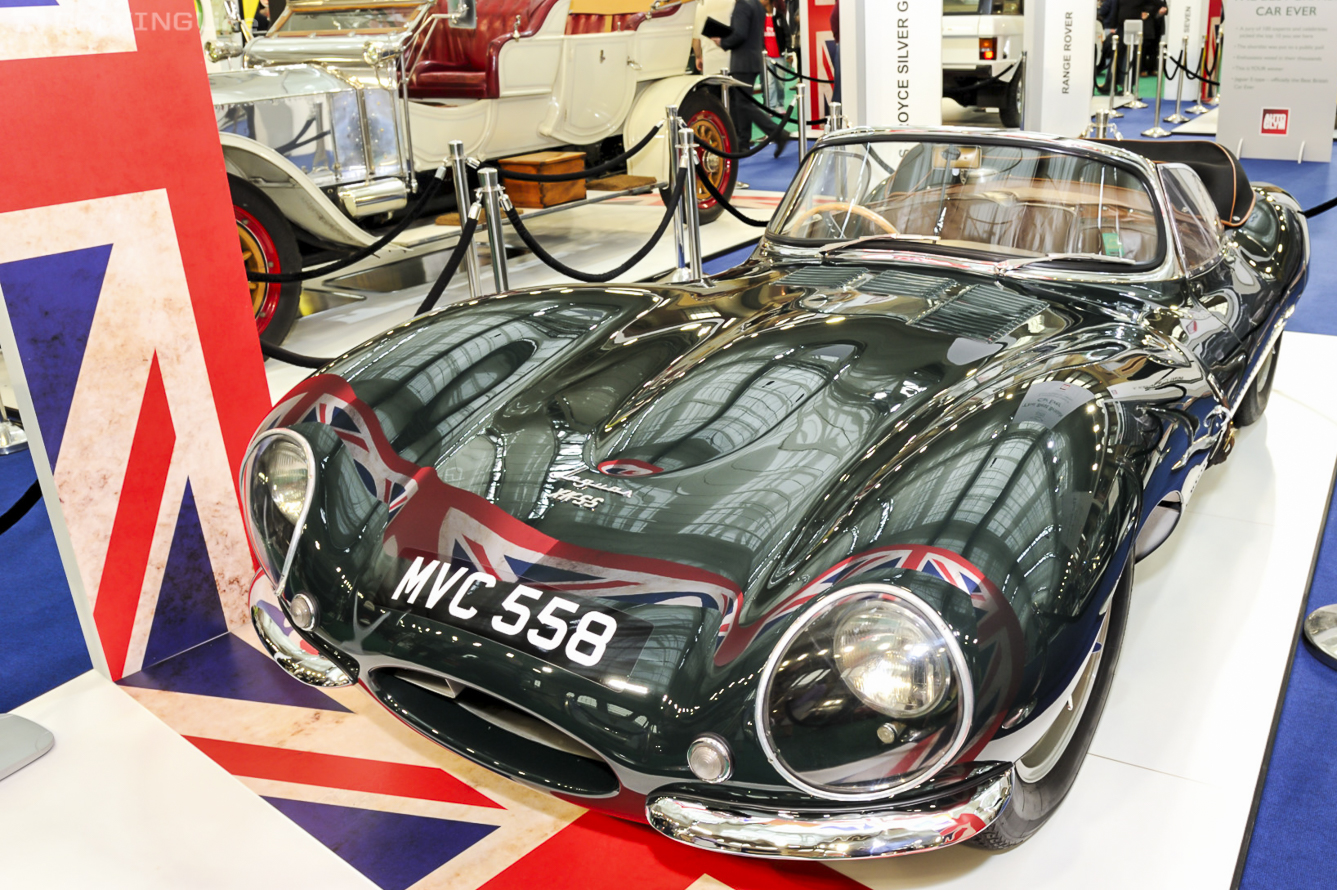 I certainly would not rank it above the Jaguar XKSS, which in the mid-'50s was Jaguar's solution as to what to do with all the D-type racers that had been built but did not sell. Convert them for road use with a windscreen and bumpers (fenders) plus a few other creature comforts was the solution. There were 25 examples originally planned but nine were destroyed in fire at the Browns Lane Jaguar factory.
This car was the last XKSS to be built before the flames consumed the others. Steve McQueen owned one and when they come up at auction they fetch stratospheric prices, north of $20 million, not bad for a car that had no takers back in the day.
I would put a Bentley Speed Six in front of the E-type, '60s cool or not. In 1929 Ettore Bugatti attended the 24 Hours of Le Mans witnessing Bentley taking the top four places and is alleged to have observed "Mr. Bentley is a very clever man to make his lorries go so fast."  This statement has passed into legend, Bugatti denied the remark and wrote to WO Bentley to apologise if any offence had been taken.
A year later and the above Speed Six finished second in the 1930 edition of the French Classic driven by Frank Clement and Richard Watney.  It would be nearly 70 years before a factory Bentley would once again race at La Sarthe.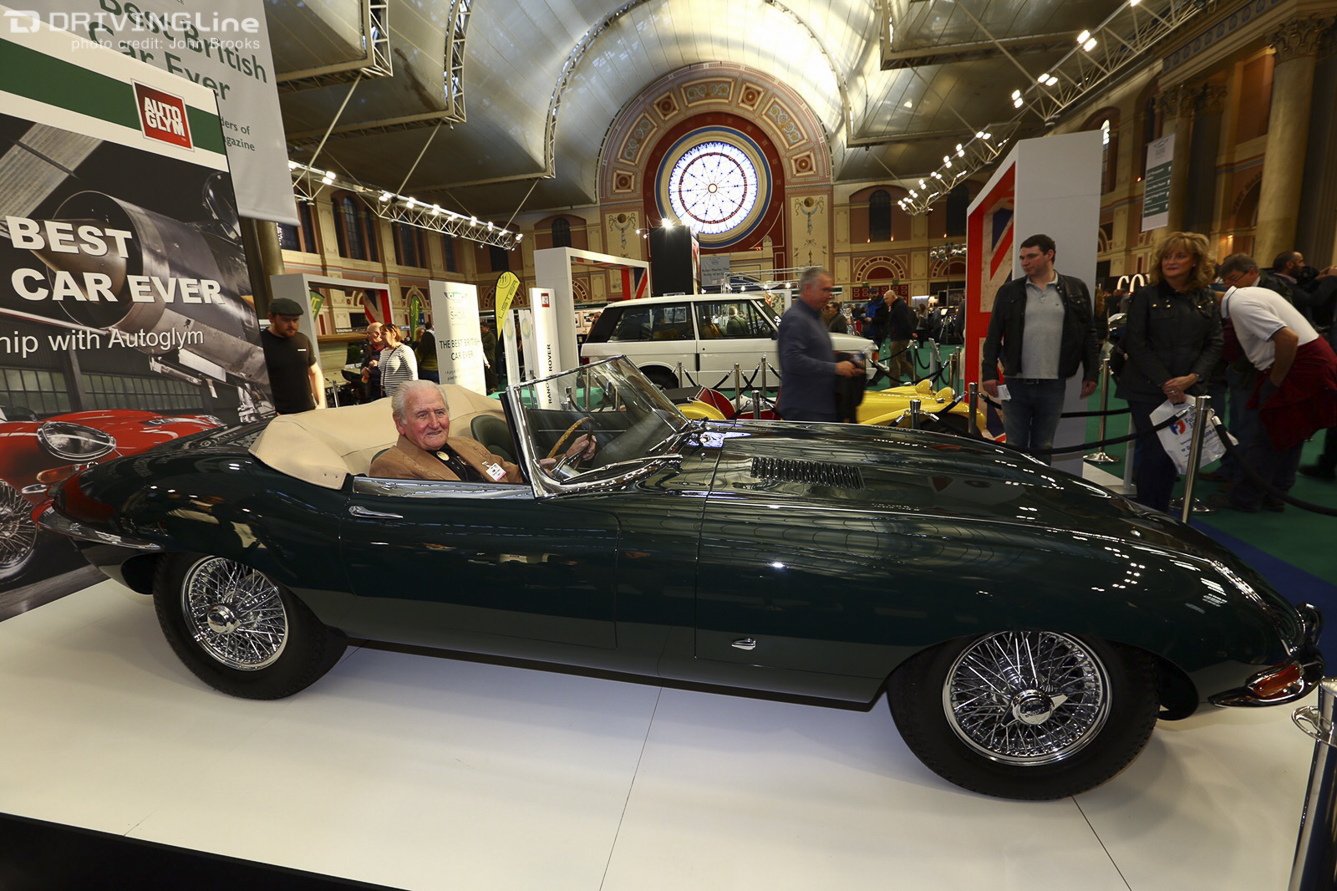 I did not recognise the TV presenter, a consequence no doubt of rarely watching the box, I did see a number of genuine automotive heroes. Given that I have written about Jaguars above it was most fortuitous to see Norman Dewis at "Ally Pally". Looking very sprightly at 95 years young, Dewis was chief test and development driver at Jaguar Cars from 1952 through to 1985, a truly important figure in post-War British motoring.
Another British motorsport icon was to be found discussing his career in Formula One with an appreciative audience. It was, of course, Ross Brawn. Brawn is a member of a very select group, people who have won F1 World Championships with a car bearing their own name, a feat he achieved in 2009, with Brawn GP winning the Constructors and Drivers Championships. Prior to that he was a major part in Michael Schumacher's career, first as Technical Director at Benetton (two Drivers World Championships and one Constructors) then the same role at Ferrari (five Drivers and six Constructors). After one season he sold Brawn to Mercedes-Benz whose team has dominated the past two seasons in Grand Prix racing. Brawn retired at the end of 2013 and is widely credited for putting in place the structure that has allowed Mercedes-Benz to enjoy so much success.
One friendly face keeping the crowds entertained was the designer Peter Stevens. He discussed his involvement with McLaren F1 project and his time at Lotus and Jaguar. Fortunately he did not mention this episode that I brought you a while back.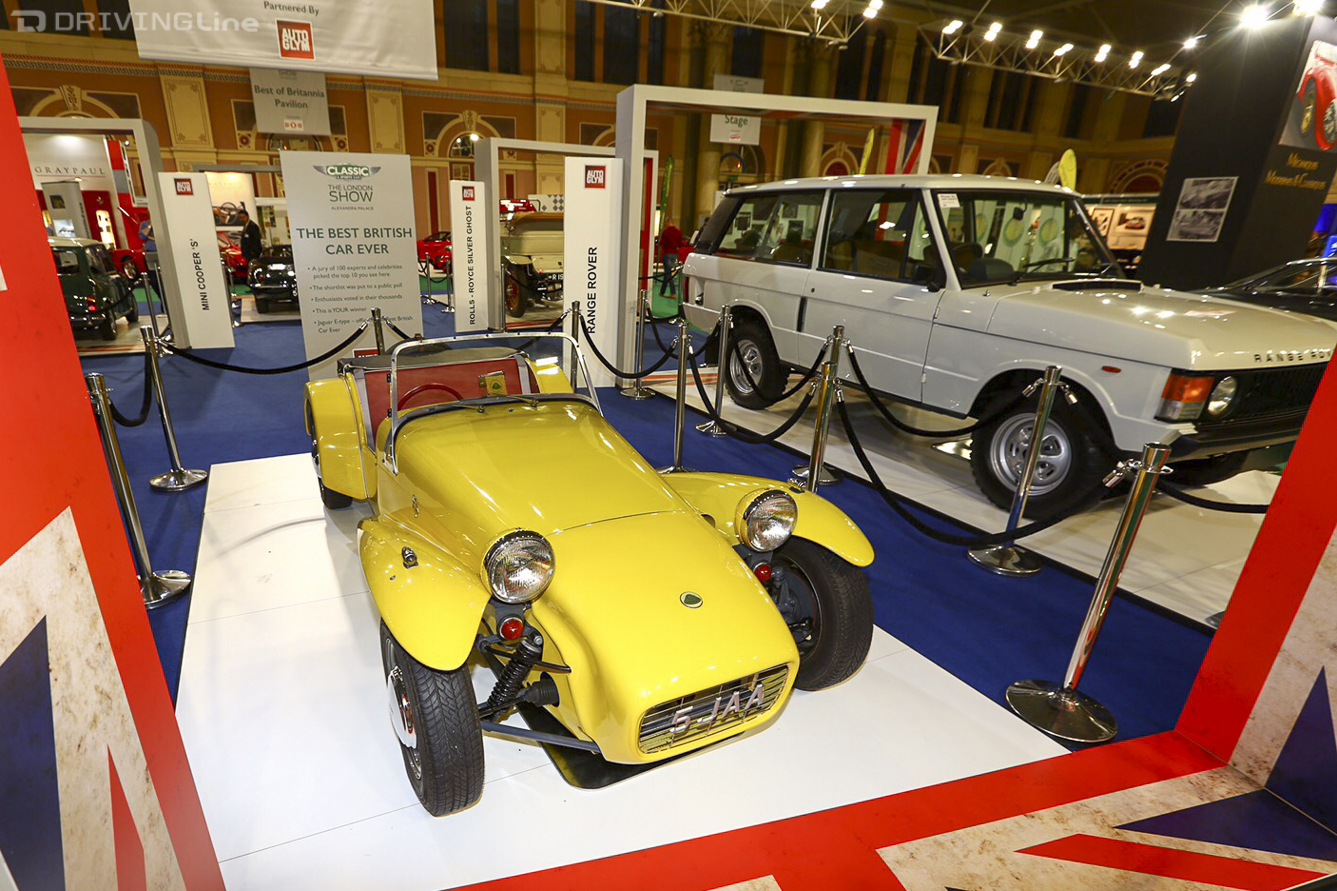 Peter has been a visiting professor of automobile design at several colleges and his views on design and style are always worth listening to. He gave his take on the greatest British Car question.
Austin Seven – "The first low cost 'proper car', it could seat four people, was economical and reliable, looked perfectly proportioned and had a fine little engine and gearbox. It also became a successful racecar and was the basis for my next choice, the Lotus 7."
Lotus Seven – "Minimalist, lightweight, enormous fun, economical, easy to work on and great value for money; the perfect sports car. I remember cycling across to Lotus' original showrooms in Hornsey to beg a brochure from a young Colin Chapman and then building a balsa wood model so I could have my own '7'."
Range Rover – "While Jeep in America had first offered a more comfortable family-focused version of the famous four wheel drive off-road vehicle, Land Rover took the concept further and, in doing so, started a marketing trend that every manufacturer has had to follow."
McLaren F1 – "Still a delight for me to see because it will always remind me of the great little team of guys who worked together on the car; it was very hard and concentrated work but we had a lot of fun together and produced something that we are all still very proud of."
Bentley Speed Six – "Wonderful two-time Le Mans winning car, less flashy than the 'Blower' 4½s, a properly impressive race winning road-car. All the French jokes about fast lorries can't undermine the fact that is a great machine."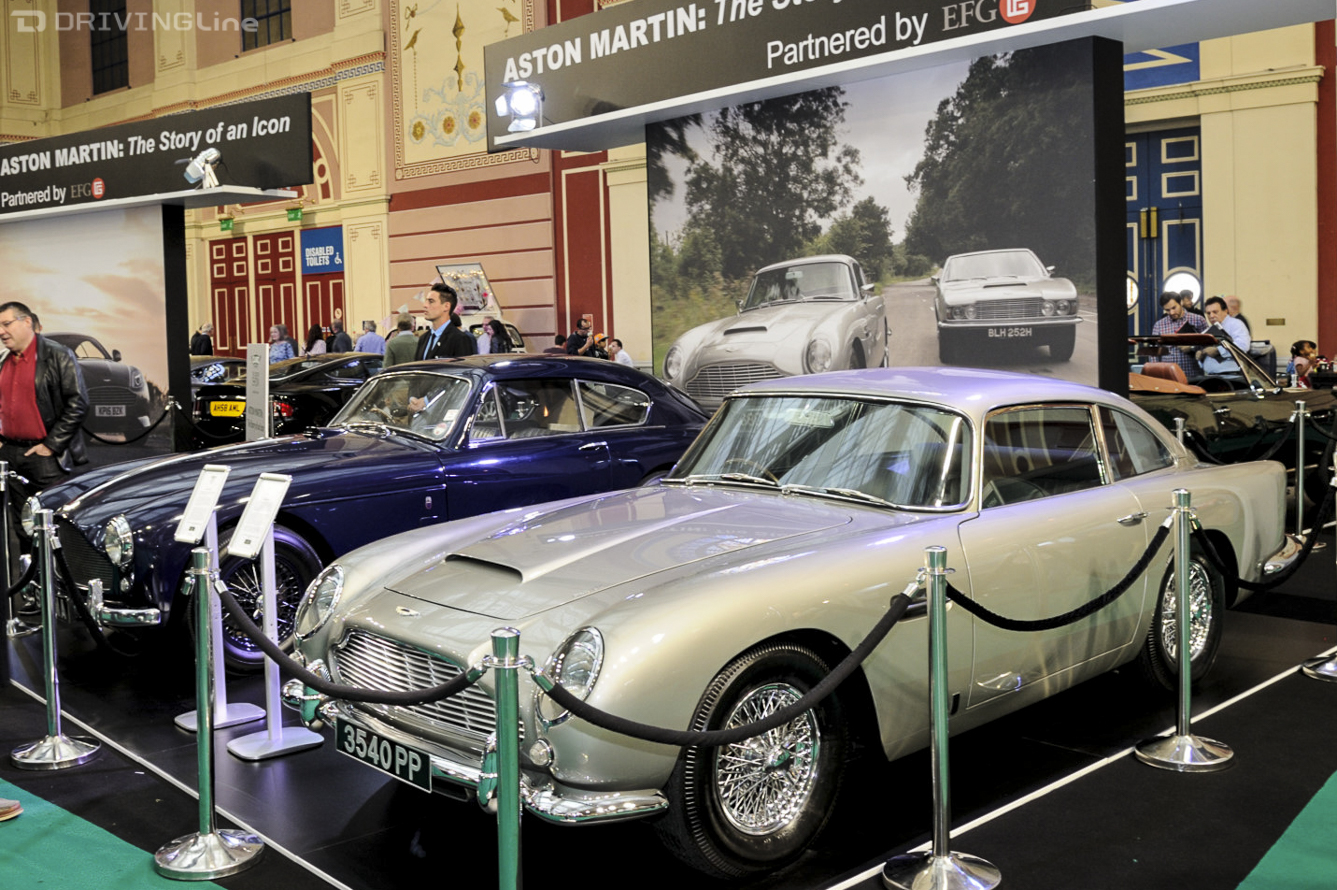 Back amongst the cars on display there was a stand honouring Aston Martin with models from the company's history, right back to the earliest days.
Indeed there was one piece of furniture also paying homage to Aston Martin on display that ticked all the boxes, right down the registration number, being one of the three featured in 'Goldfinger'  on James Bond's Aston Martin DB5. JamJarJunkies was the intriguingly named provider of this and other motoring-themed artifacts.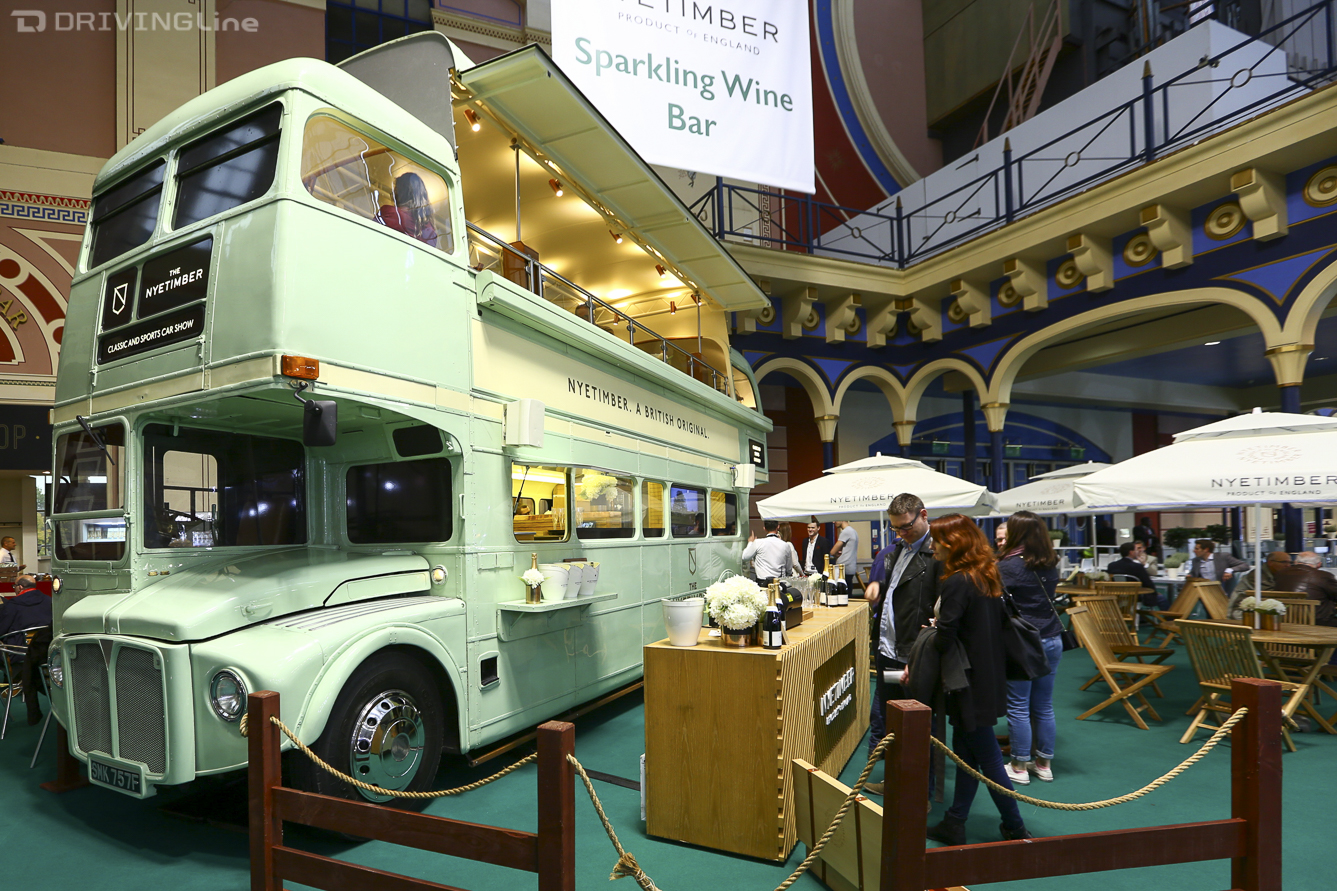 Nyetimber Wines brought along a Routemaster to act a movable sparkling wine bar……..all very civilised.
Sir Stirling Moss, one of the greatest drivers of all time, was saluted with a tidy exhibition of some of his former race cars, it was an extension of the 'Best of British' theme. #7 on the left is a piece of motor sport history being the Ferguson P99. This single-seater was the first four-wheel drive Formula One car and the last front-engined Grand Prix car to win a race, Stirling Moss (who else?) taking the honours in the 1961 Oulton Park International Gold Cup.
The Lotus 18 was also campaigned by Moss in 1960, the final year of the 2½ litre formula. With this Coventry Climax-powered car he won the 1960 Monaco Grand Prix, the first victory for Lotus in the World Championship.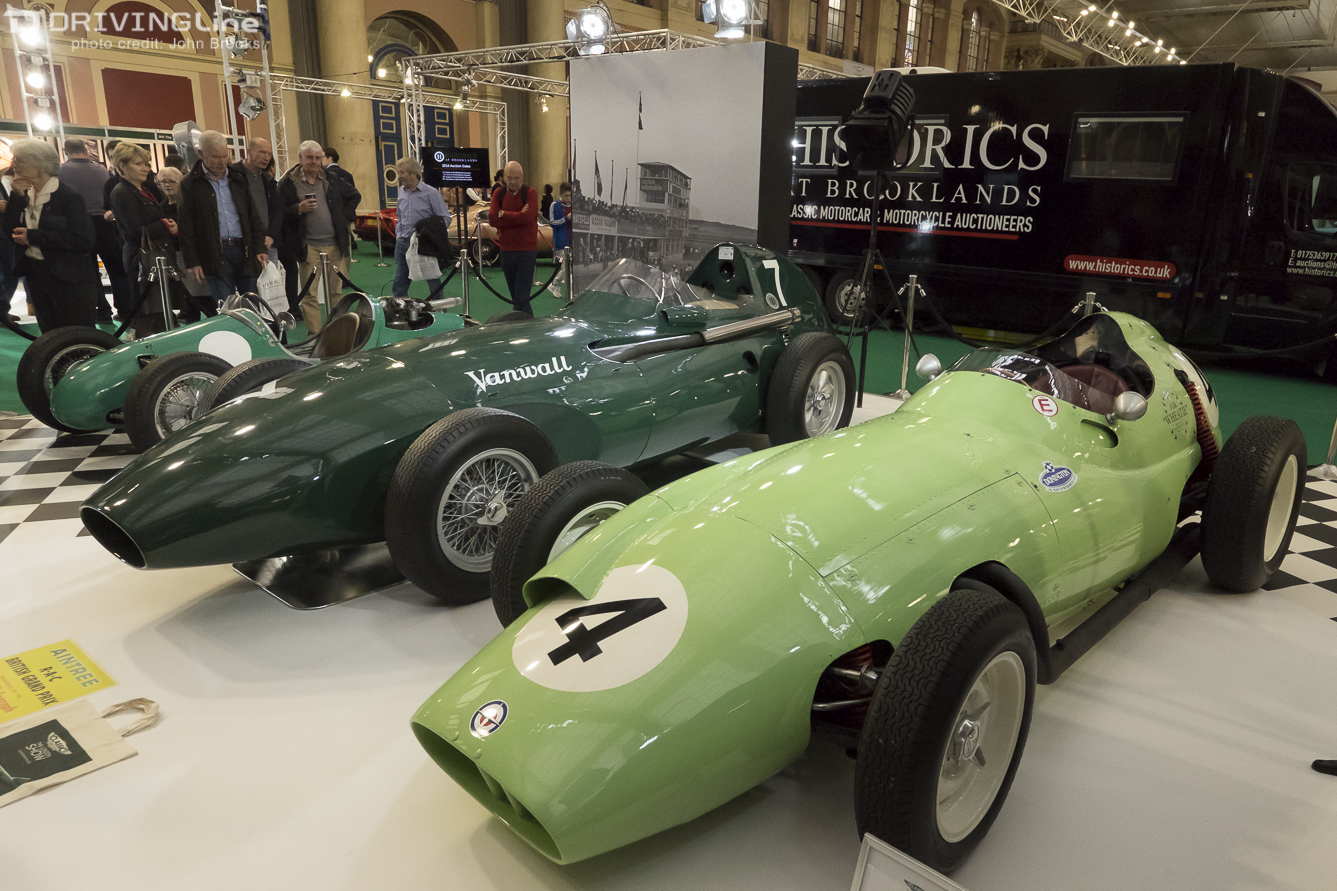 Further back in his career Moss drove the BRM P25 a couple of times in 1959 without a win. The Vanwall VW5 was much more successful taking Moss to six Grand Prix victories in '57 and '58, Tony Brooks scored three further wins and, as a result, Vanwall won the first World Constructors Championship.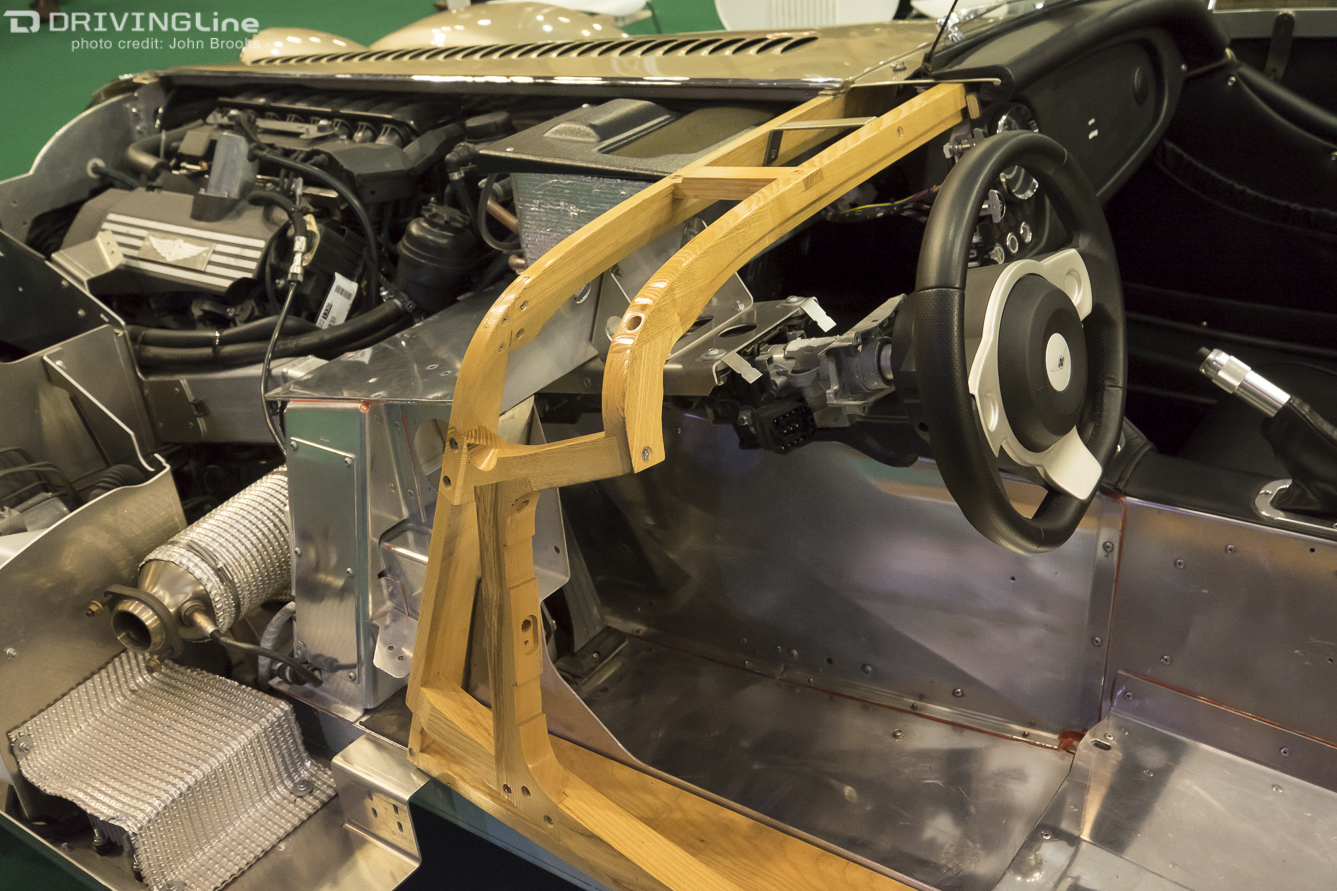 Morgan were present with an illuminating cut away to illustrate the three major elements used to produce this most traditional of sports cars, ash, aluminium and leather, a fantastic fusion of craft, art and performance.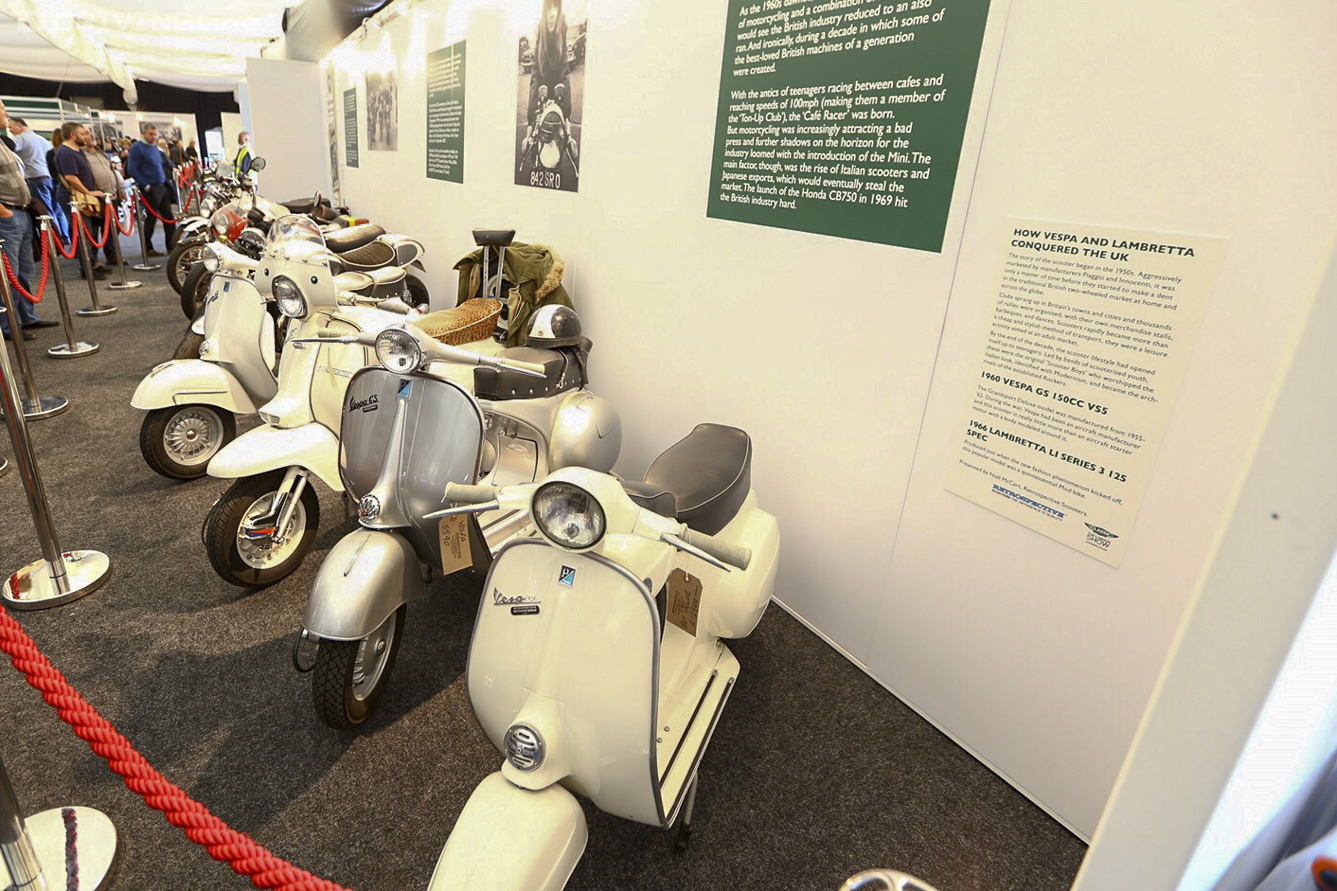 The two wheel fraternity were given their own space, these scooters have for the past half century been a very popular answer to the question of personal transportation in urban Europe.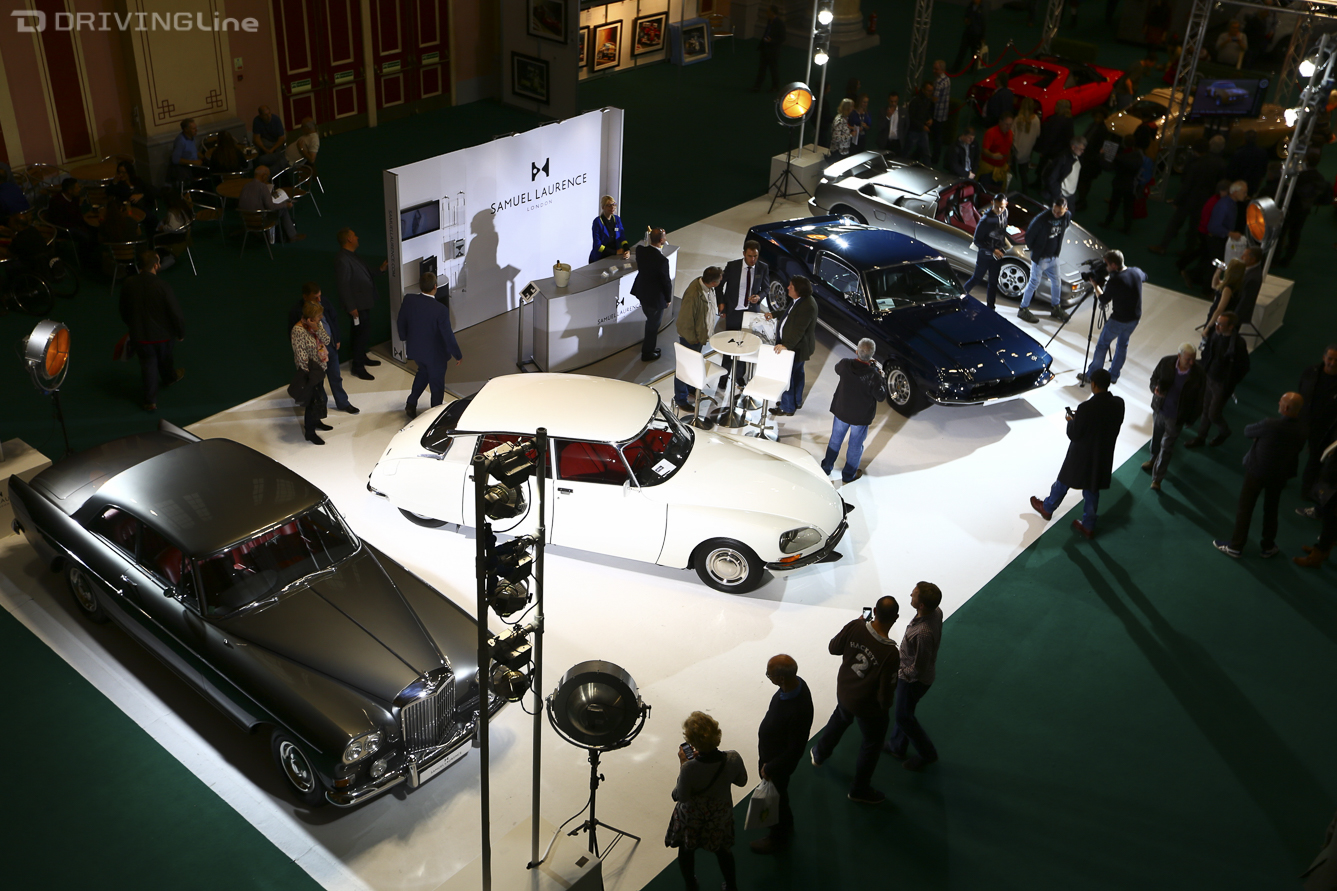 The success of the show was hard to judge on Friday, I suspect that the crowds will have flocked into Ally Pally over Saturday and Sunday. The real answer will be revealed when the dealers add up their ledgers and see which side they have emerged on.
John Brooks, February 2016
Photography Copyright and Courtesy of Simon Hildrew and the Author. Additional material courtesy of the organisers.