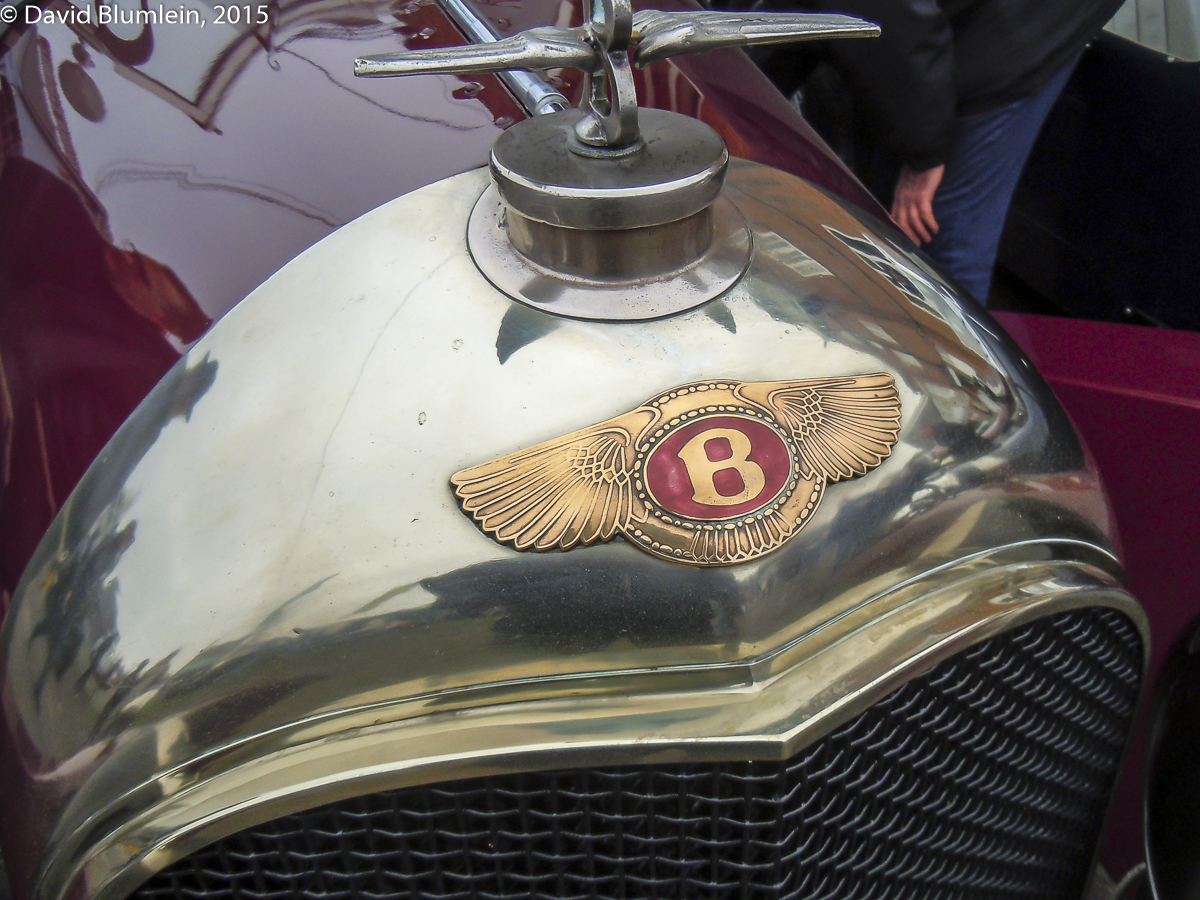 The gathering at Brooklands on New Year's Day grows ever bigger – over 1,100 cars turned up within its sacred borders! The weather stayed dry this year and amidst the rows of tedious MGBs, MX-5s etc., there were, as usual, some real gems for the true enthusiast to enjoy: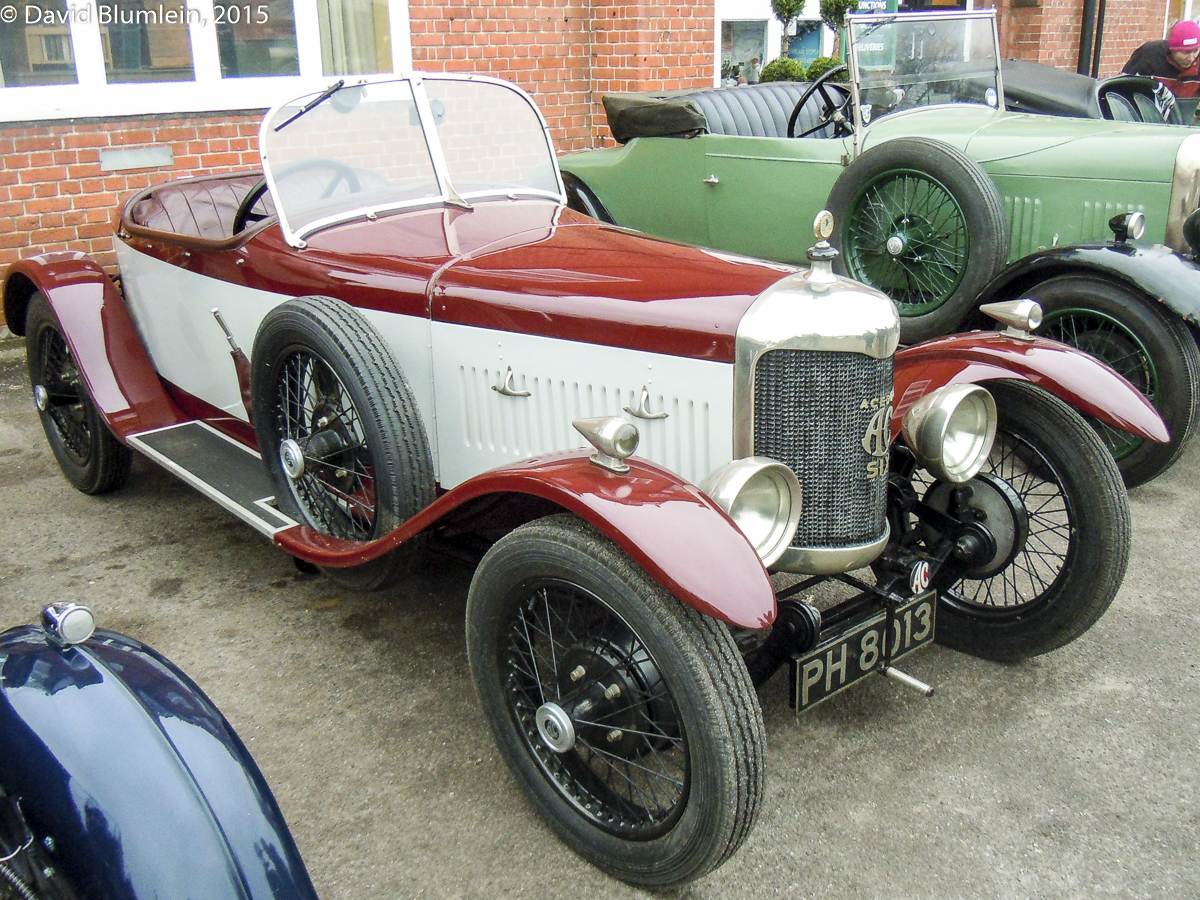 A.C. cars were very active on the Brooklands track during the Twenties, scoring many successes and setting many speed records. It was, however, John Weller's superb overhead camshaft 6-cylinder engine which forged A.C.'s reputation, this unit staying in production for some forty years. Here we see one of the final expressions of the vintage 2-litre A.C. Sixes before the Hurlocks took over the company in 1930, ushering in a new era.


The M.G. 18/80 was introduced at the Olympia Show in 1928 but so was the first M.G. Midget. And it was the Midget line that would go on to create a future for M.G. The 18/80 was the first to use the traditional M.G. radiator and was a dignified model with many Morris mechanicals beneath the surface including a 6-cylinder overhead camshaft engine. The big M.G. came in Mark Ι and Mark ΙΙ forms and there were even five Mark ΙΙΙs, the Tigresse model. One of these, in Cecil Kimber's favourite cream and brown colours, tackled the 1930 Brooklands Double Twelve race but it was soon clear that the heavy car was no opposition to the Aston Martin and Alfa Romeos. It mercifully faded early on, not with the advertised carburettor problems, but with run bearings. And that spelt the end of the 18/80 as a serious competition car – it was all Midgets from then on.


One certainly does not expect to see a Borgward 2400 at Brooklands! This is thought to be the only one in the country. Carl Borgward introduced this bigger model in 1952 to compete with the Mercedes 220 and Opel Kapitan. It had a 2337 c.c. 6-cylinder engine with hemispherical combustion chambers giving 80 b.h.p. and came with either a 3-speed box or the Hansamatic transmission which was to cause serious problems. Originally the car, a full 6-seater, had a sloping back but a fully booted version was introduced in March 1953. Sales were small with only 1132 made of which 356 were the second series with a 2240 c.c. 100 b.h.p. engine. The model was withdrawn in 1958.

One of these cars took a fine 3rd in the over 2-litre class of the 1953 Italian Sestrière Rally driven by Count Von der Mϋhle and former Mercedes-Benz Grand Prix team driver Hans Hugo Hartmann who was to take charge of Borgward's competition department.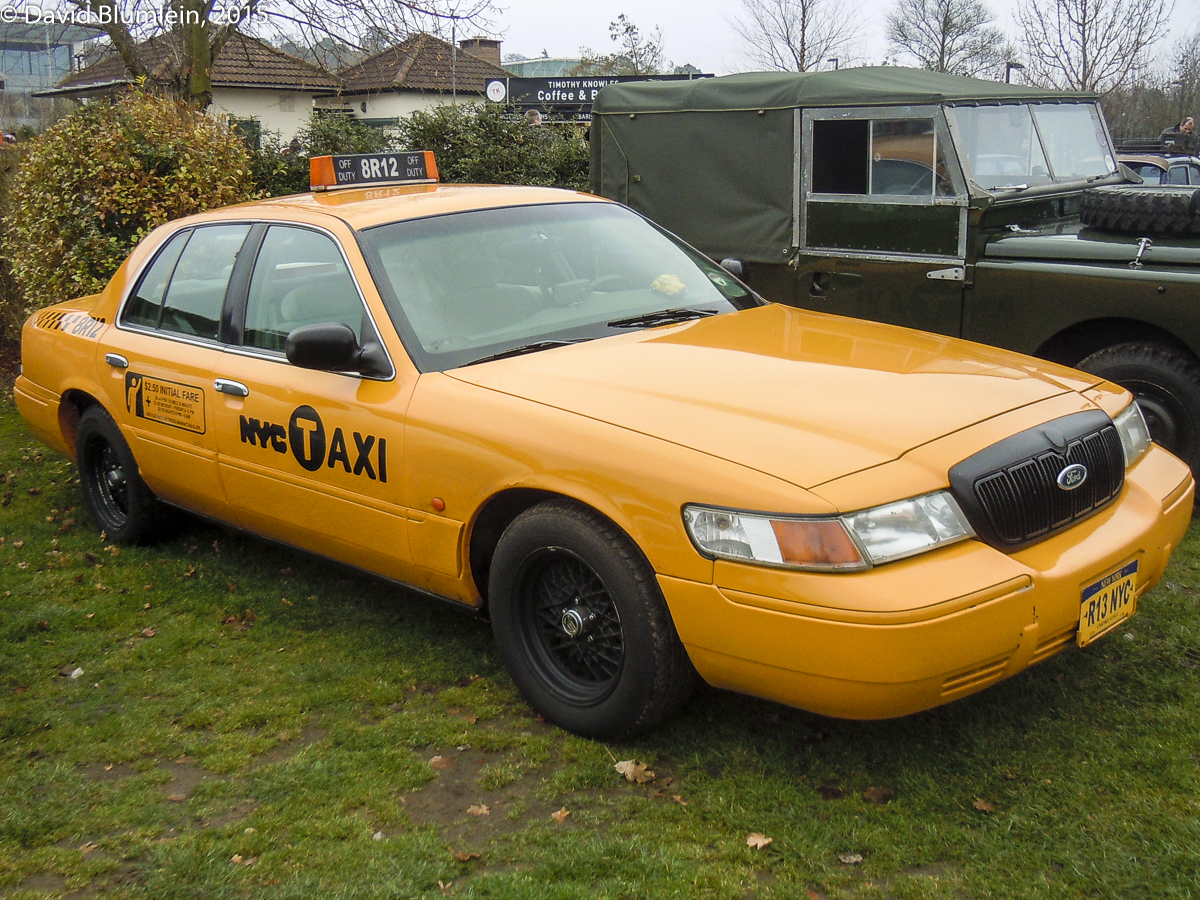 And one also does not expect to find a New York taxi at Brooklands! This is one of the ubiquitous Ford Crown Victorias, for years the staple diet of the yellow cab fleets. It was an old-fashioned body-on-frame design. In 1992 it was given a 4.6-litre overhead camshaft V8 and in 2003 it had an all-new frame with re-designed front suspension and rack and pinion steering. The last one made came off the line at St Thomas, Ontario, Canada in September 2011.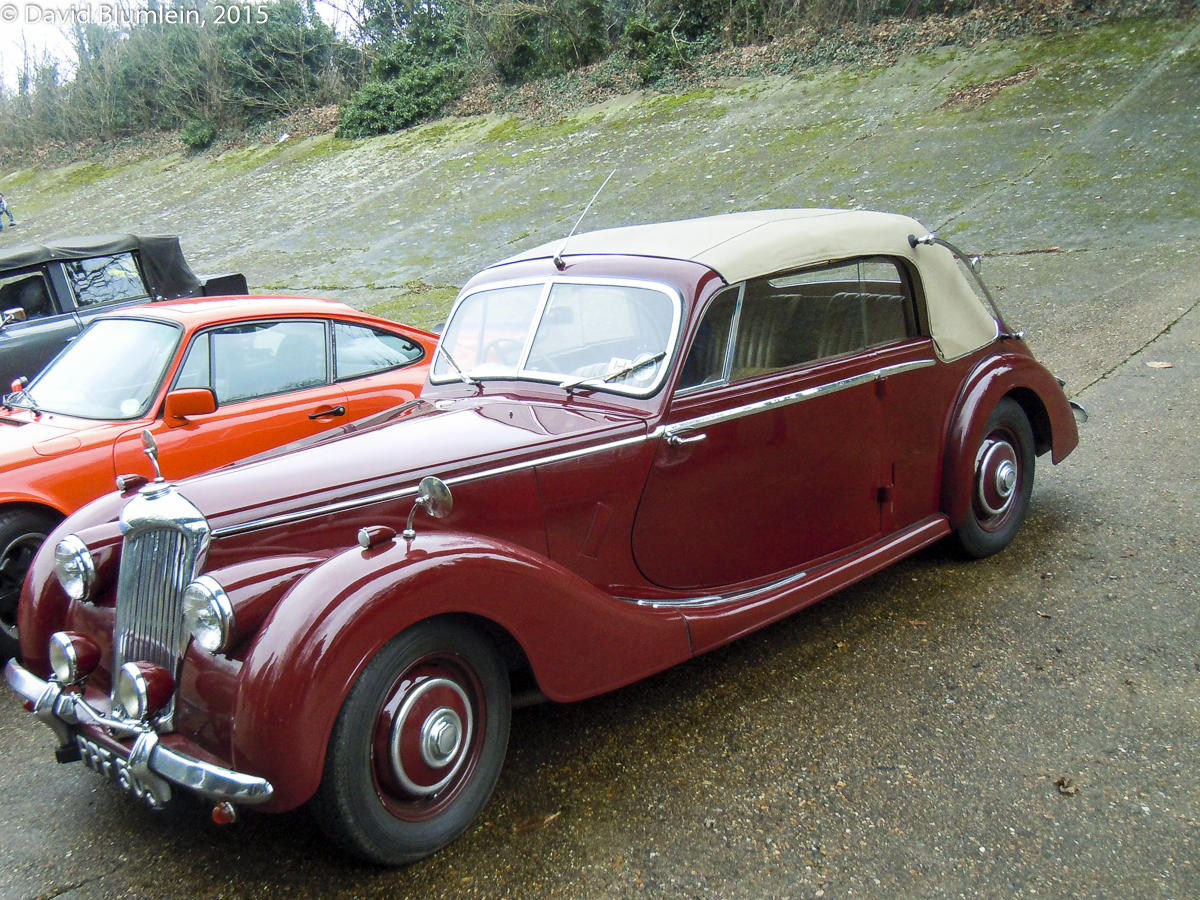 A Riley once more on the Members' Banking! Rileys were among the most competitive cars at Brooklands in the Thirties; this one wasn't born then but the RM series carried on in many ways the company's fine tradition in the early post-war years. They offered either a 1.5 or 2.5-litre version of the splendid high-cam 4-cylinder engines and boasted torsion bar independent front suspension unashamedly cribbed from Citroën's Traction Avant.


During the Fifties Dick Jacobs was a familiar participant in British motor sport, invariably involved with M.G. cars for which his Mill Garage in Essex were dealers. He purchased this YB 1.25-litre M.G. saloon to enter for the 1952 Silverstone Production Car Race where its chief opposition came from Jowett Javelins especially that of Bert Hadley. In the race Jacobs managed to tuck in behind Stirling Moss in the big Mark VΙΙ Jaguar while being lapped and this slip-streaming brought the M.G. nearer Hadley whose Javelin then started to emit steam – thus Jacobs managed to win the class. In 1953 he did it again and in 1954 he won the class for the third time! This car is therefore special in M.G. racing history but soon was put back to family duties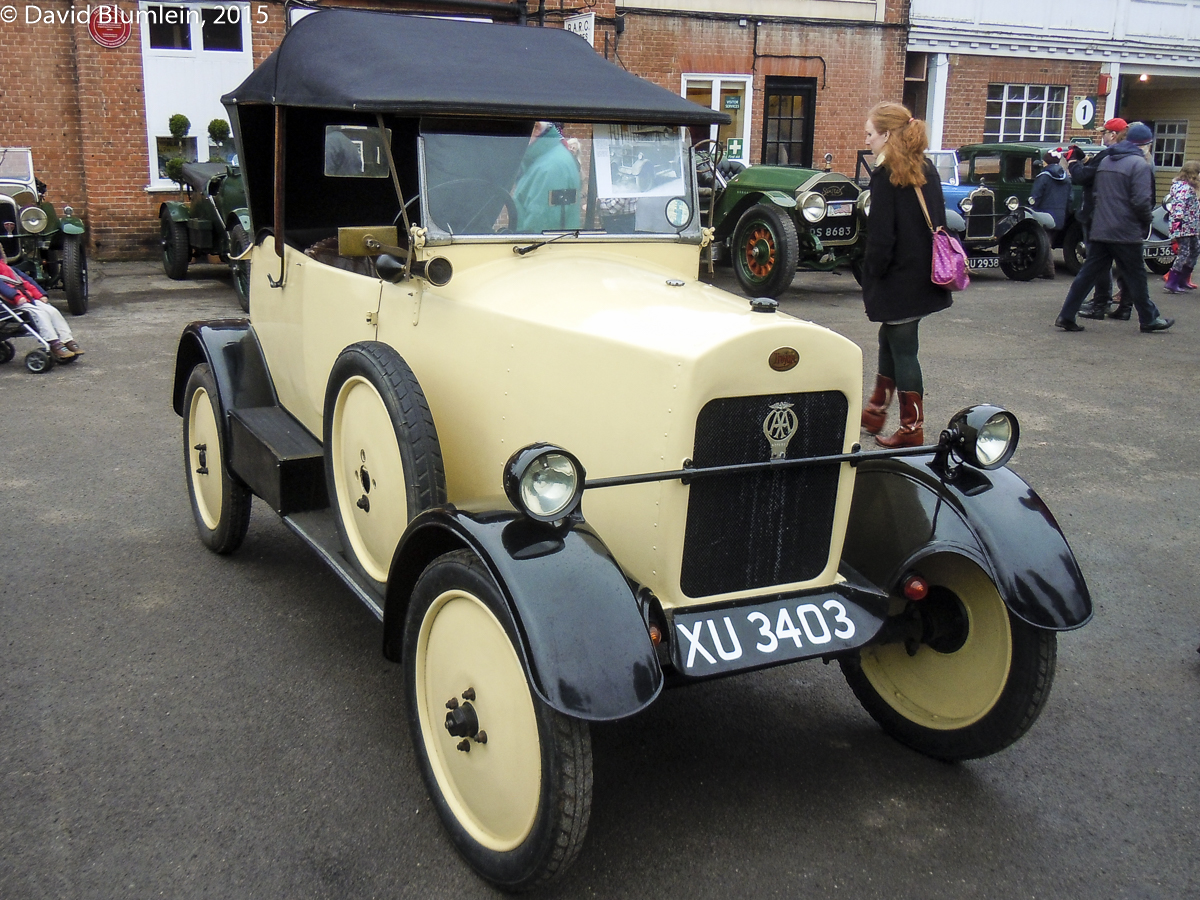 To understand the weird Trojan it is necessary to appreciate some of the ideals of its designer Leslie Hayward Hounsfield. He had strong views about the place of the car in society and believed that speed was a bad thing for all concerned. He also disliked the idea of a car indicating social status, believing that style and fashion should have no place.
No danger of his contrivance conveying status! This odd machine has an under-floor engine, a twin-cylinder (with two pistons per cylinder) two stroke which drove through an epicyclic transmission with a big flywheel. The output was 11 b.h.p. at 1,200 rpm with exceptional low-end torque. He originally planned to have no bonnet, Lanchester-wise, but was advised that no one would buy a car without a bonnet, even though it was empty!

But they did buy them, some 25,000, and these were made for Trojan under licence by Leyland Motors from 1922-29 in their Kingston-on-Thames factory where Sopwith planes had formerly been made. And a Trojan stood alongside the big new Leyland Eight on the company's stand at the 1922 Motor Show. Which of the two was most successful?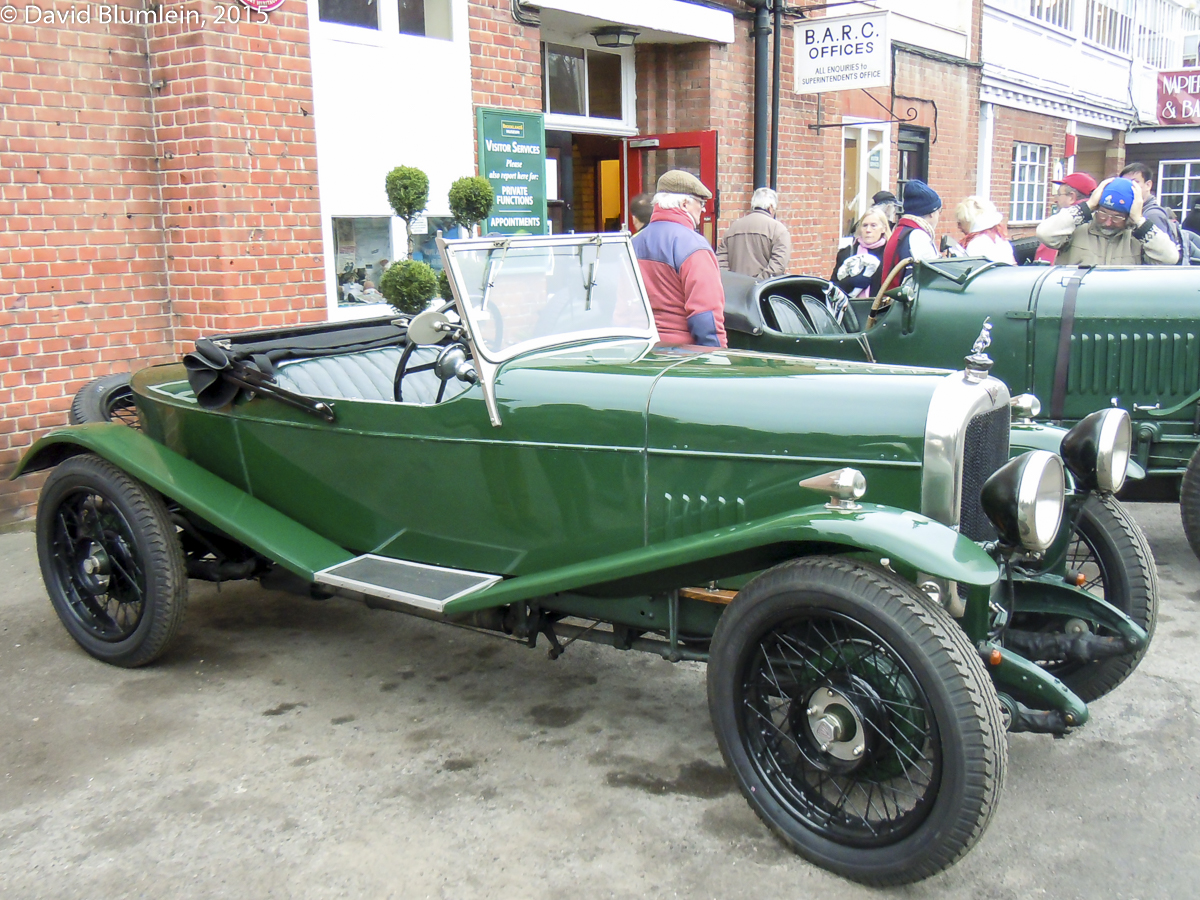 The Alvis 12/50 was an ever present part of the Brooklands vintage racing scene. C.M. Harvey used a special racing version to win the JCC 200-mile race in 1923 whereas the normal production car scored notable victories at the track including best on handicap at the 1927 Essex Six Hour race and winning outright the JCC 4 Hour Sporting Car Race that same year.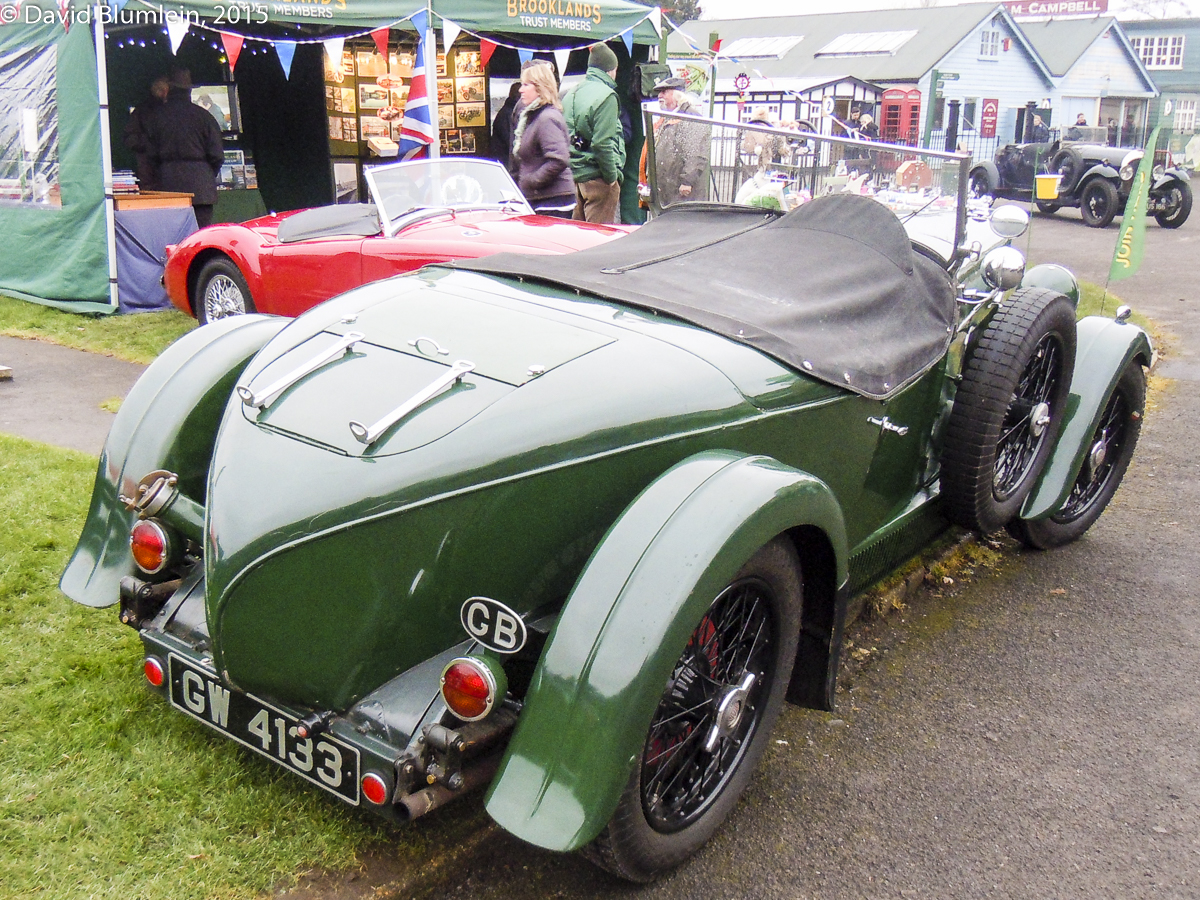 Here is a superb example with the duck-back tail treatment; the other is the beetle-back version.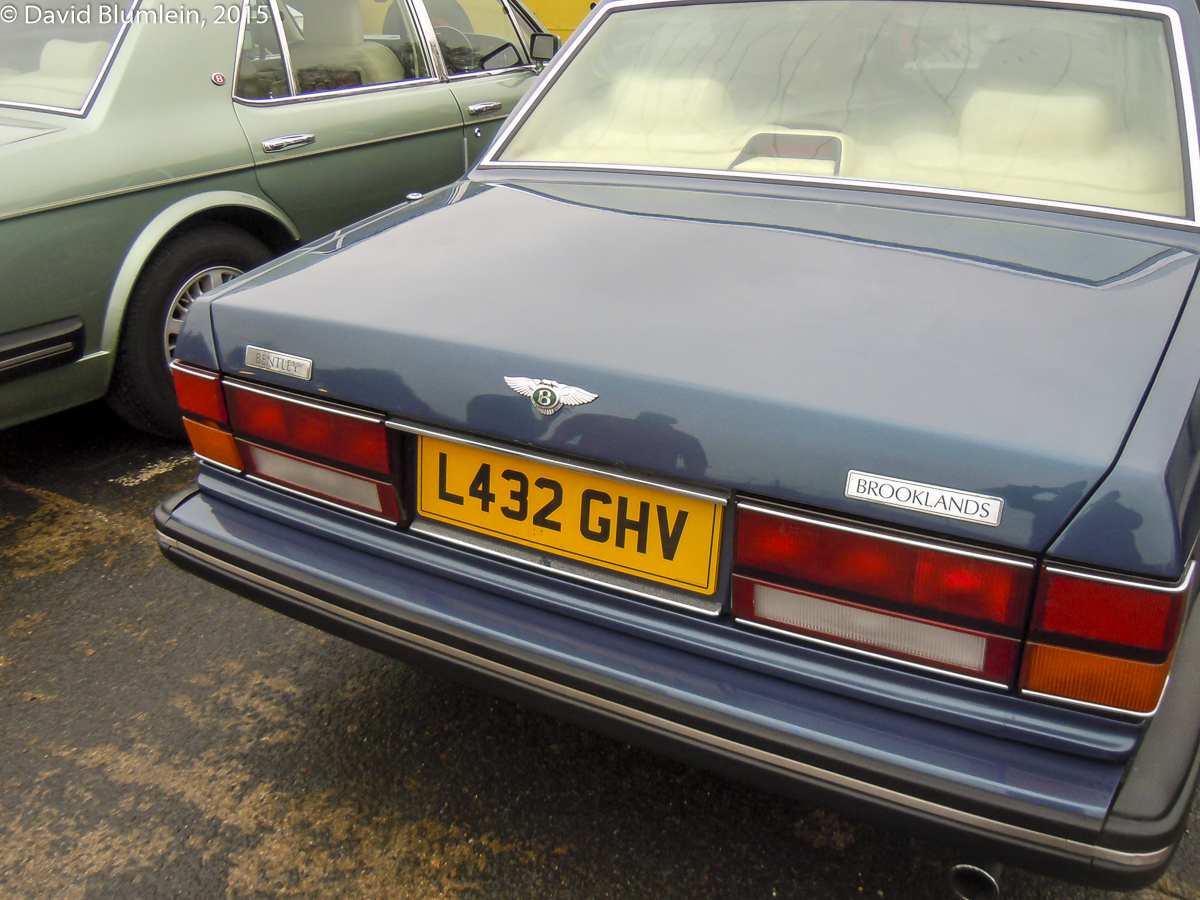 It is indeed appropriate to see a Bentley Brooklands at Brooklands! Bentley produced two distinct models: a full-size luxury saloon replacing the Mulsanne (1992-1998) as shown here, and a fixed head version of the Azure, first seen at Geneva in 2007.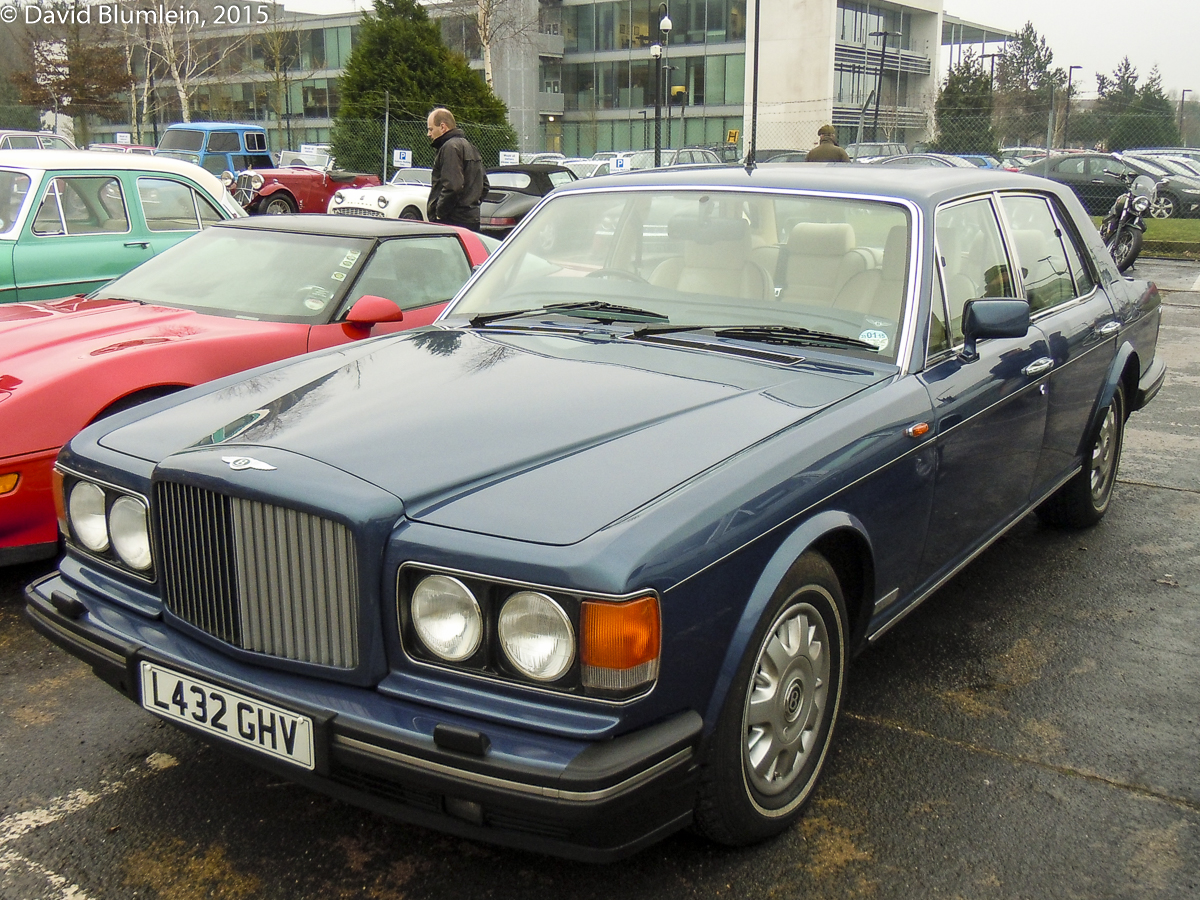 Just 550 of these were built up to 2011.
TAILPIECE

How can anyone suggest that Jaguar' current F-type is prettier than this XK 120 Coupé?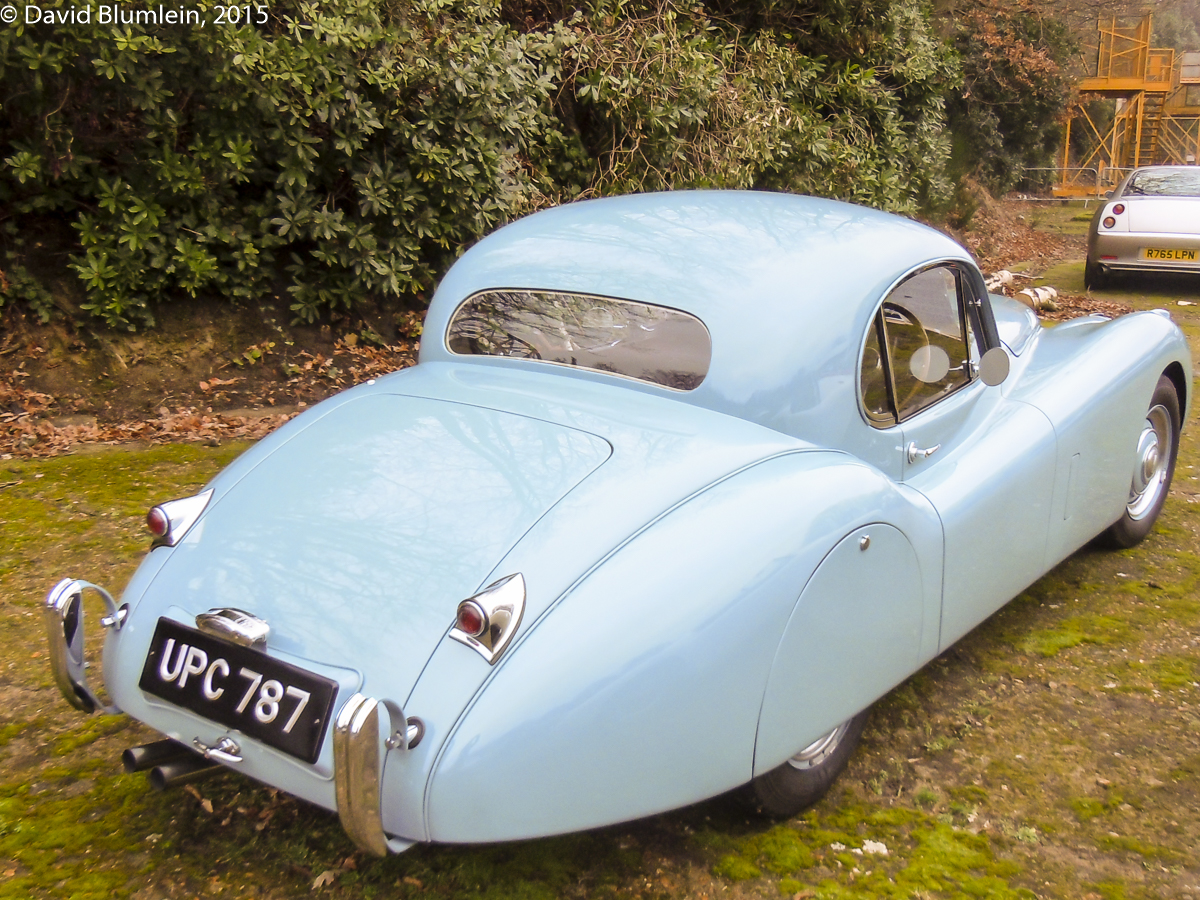 David Blumlein, January 2015