Last week I caught up with our Special Correspondent in Belgium and he gave me the good news that he had finished his reflections on this year's Goodwood Festival of Speed. So for the enlightenment of us all here is his copy and images.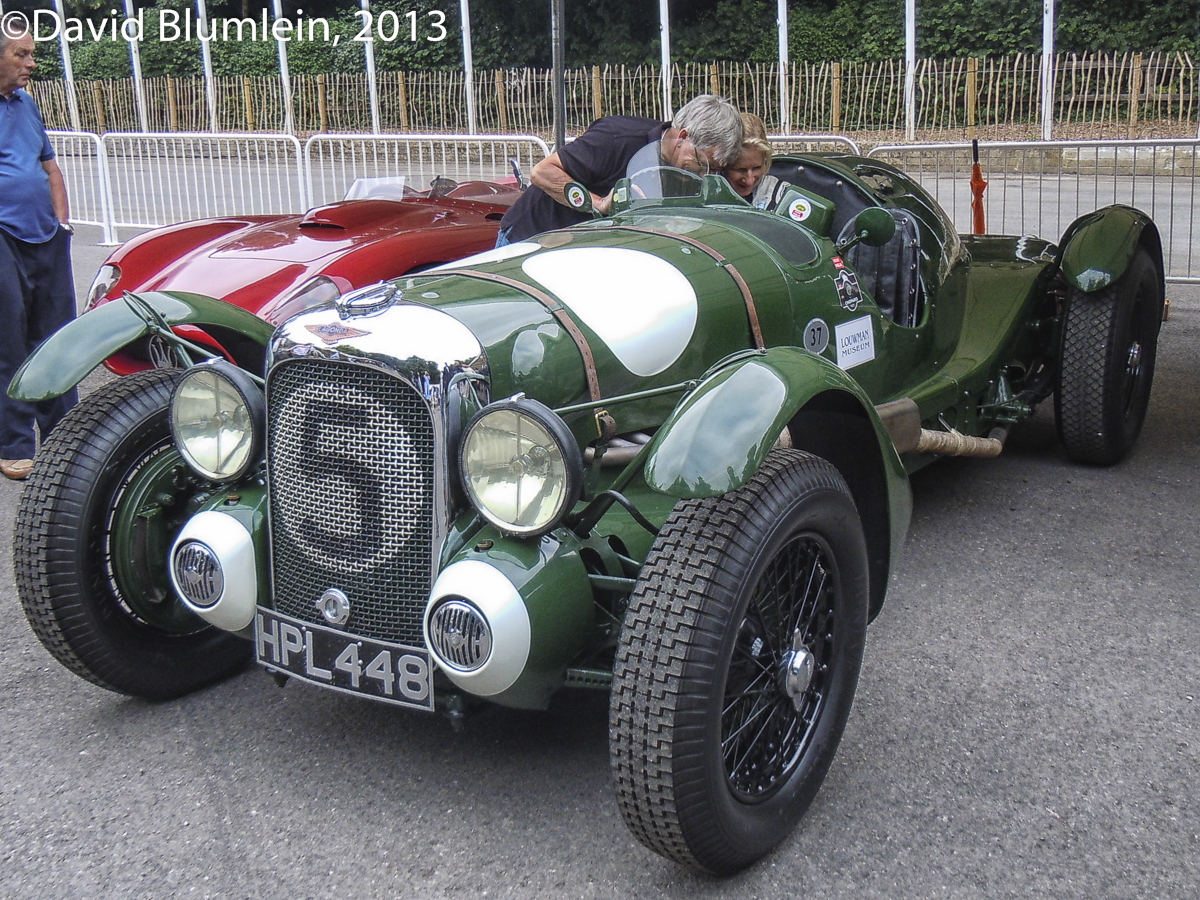 A visit to the Cathedral Paddock at half past seven on the Friday morning is always well rewarded. Here we have the surviving 1939 V-12 Le Mans Lagonda, the work of W.O. Bentley and his team.
The two cars entered came 3rd and 4th, following obediently the speeds set by the master – he wanted to ensure reliability and to go all out for a win in 1940; but that of course never came. The two cars had their final outing in the very last Brooklands meeting in August 1939 before the war clouds moved in. A win in a handicap race for this car crowned their short career before a V-1 hit the garage where they were stored, doing considerable damage. This car represents the works car which took third place at Le Mans in the hands of Arthur Dobson and Charles Brackenbury.
Beware! – some replicas have been made but this is the only genuine survivor!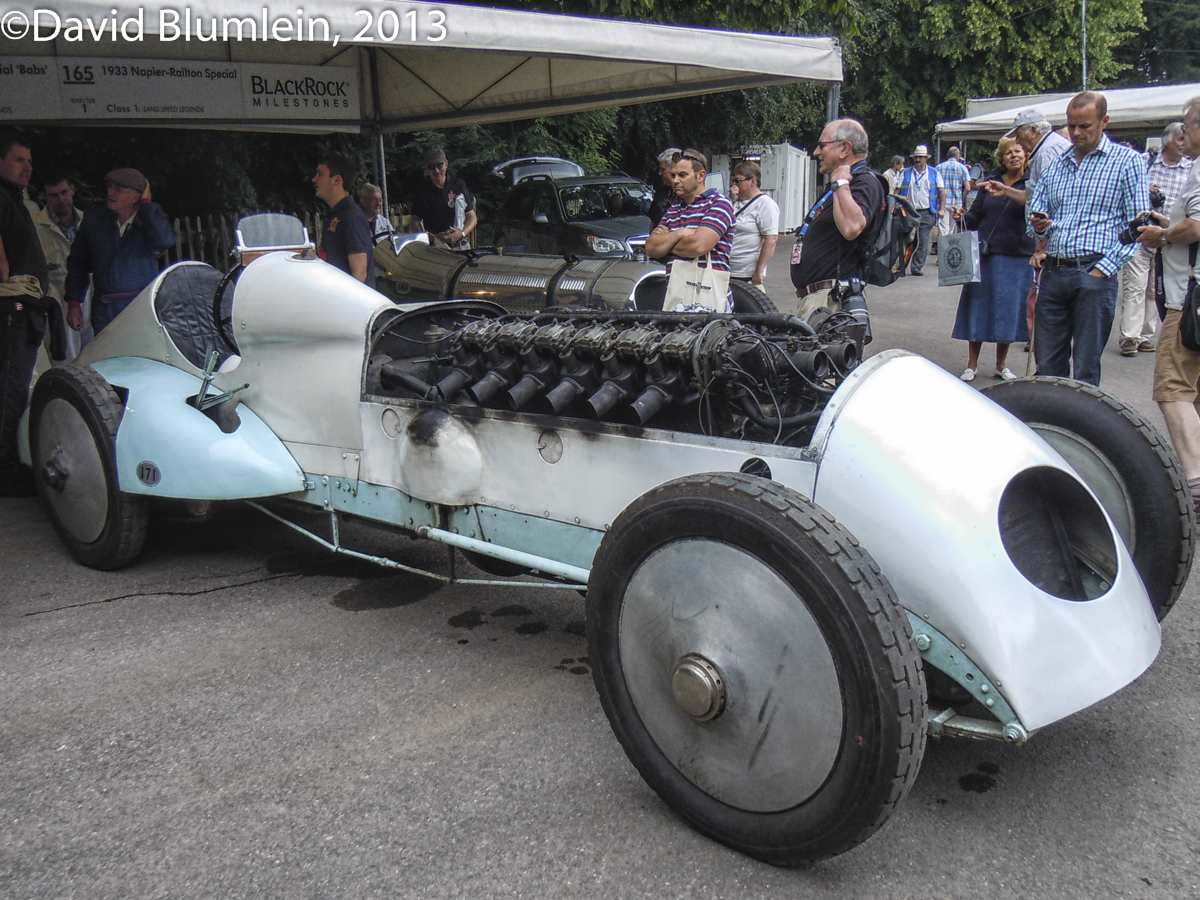 Anyone still somnolent at that time of the morning soon had their condition violently shaken by the shattering bombardment of noise from 12 short-stub flame-spitting exhausts of the 26.9-litre V-12 Liberty engine of Babs being warmed up – wonderful! Babs of course is the real restored car which that engineering genius Parry Thomas had developed from the Higham Special which he had obtained from the estate of Count Zborowski who had been killed at Monza in a works Mercédès in 1924. Thomas worked on the car for a year or so, re-naming it Babs, and in 1926 he set new World Land Speed records in April of 169 and 171 m.p.h. on the Pendine Sands in South Wales.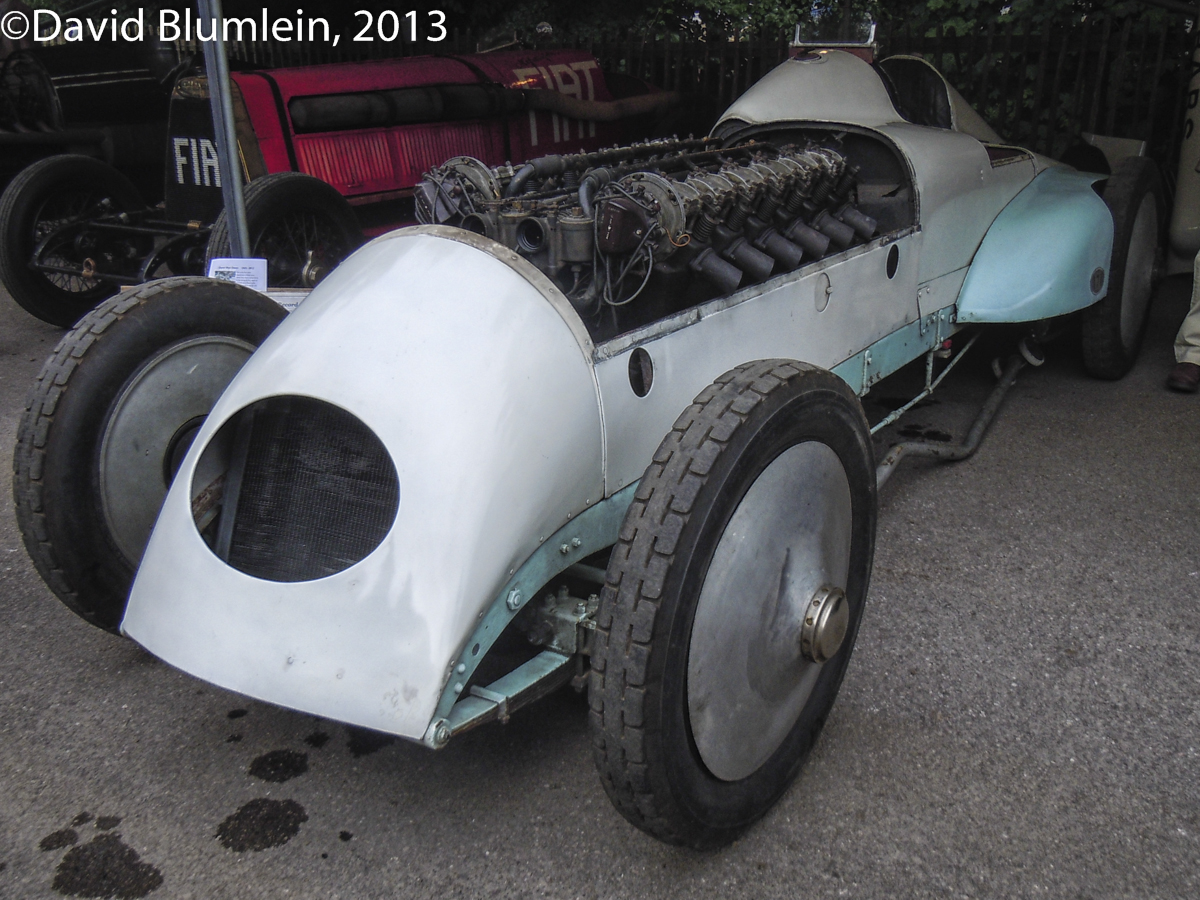 The car underwent further modifications prior to Thomas returning to Pendine in April 1927 to try to beat Campbell's record of 174 m.p.h. set in February in Bluebird. Alas, he crashed fatally and the damaged car was buried forthwith in the sand. It was that enthusiast Owen Wyn Owen who obtained permission to dig up the remains and to restore the car to its original final state as we see here.
Speculation has for a long time suggested that the driving chain came off to cause the head injuries from which Thomas died but this is now discounted – the covers were intact – and it is thought that he lost his life when the car turned over on top of him.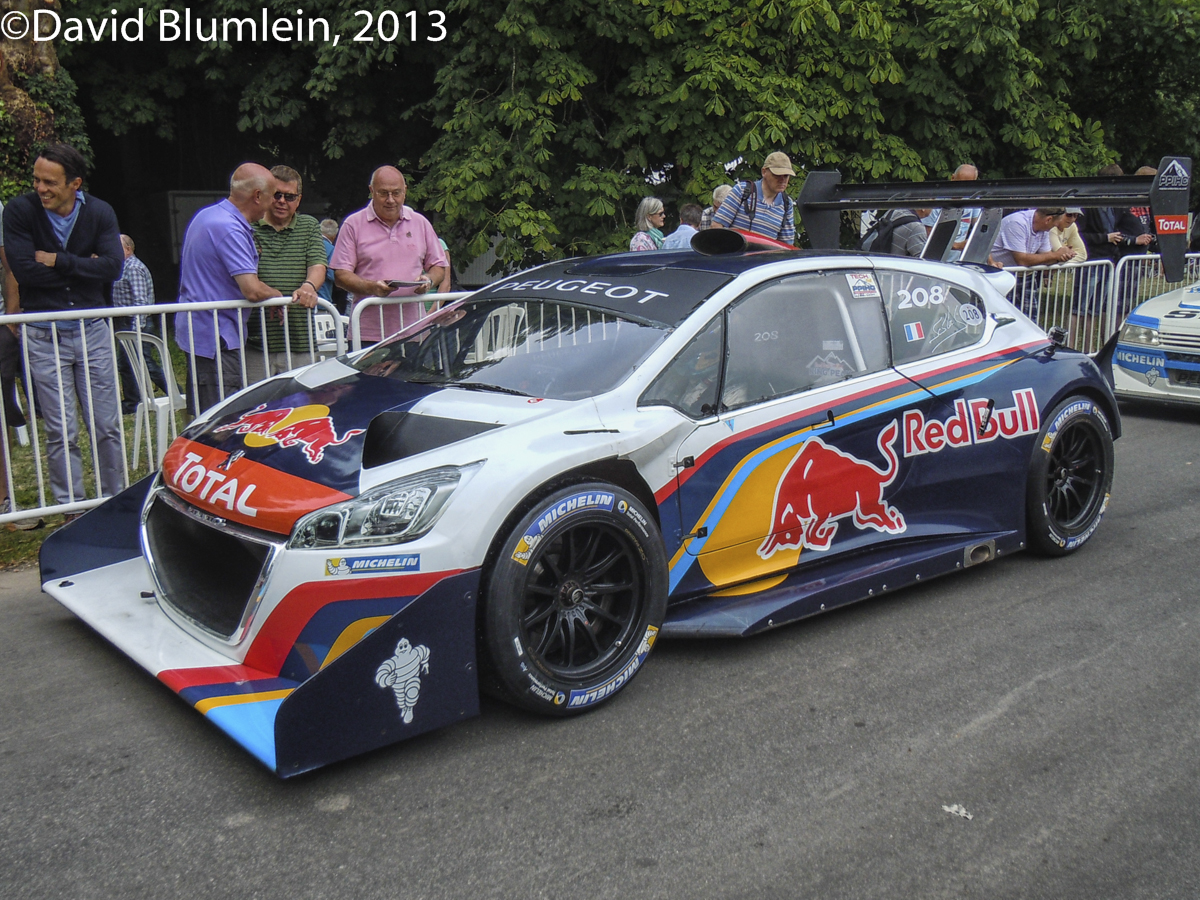 More record breaking – the Peugeot 208 T16 with which Sebastien Loeb lowered the record at the Pikes Peak Hill Climb by 90 seconds! This one–off machine puts out 875 b.h.p. via the four wheels and set a time of 8 mins 13.878 seconds on the 12.42 mile drive up through the 156 corners of this incredible venue in Colorado.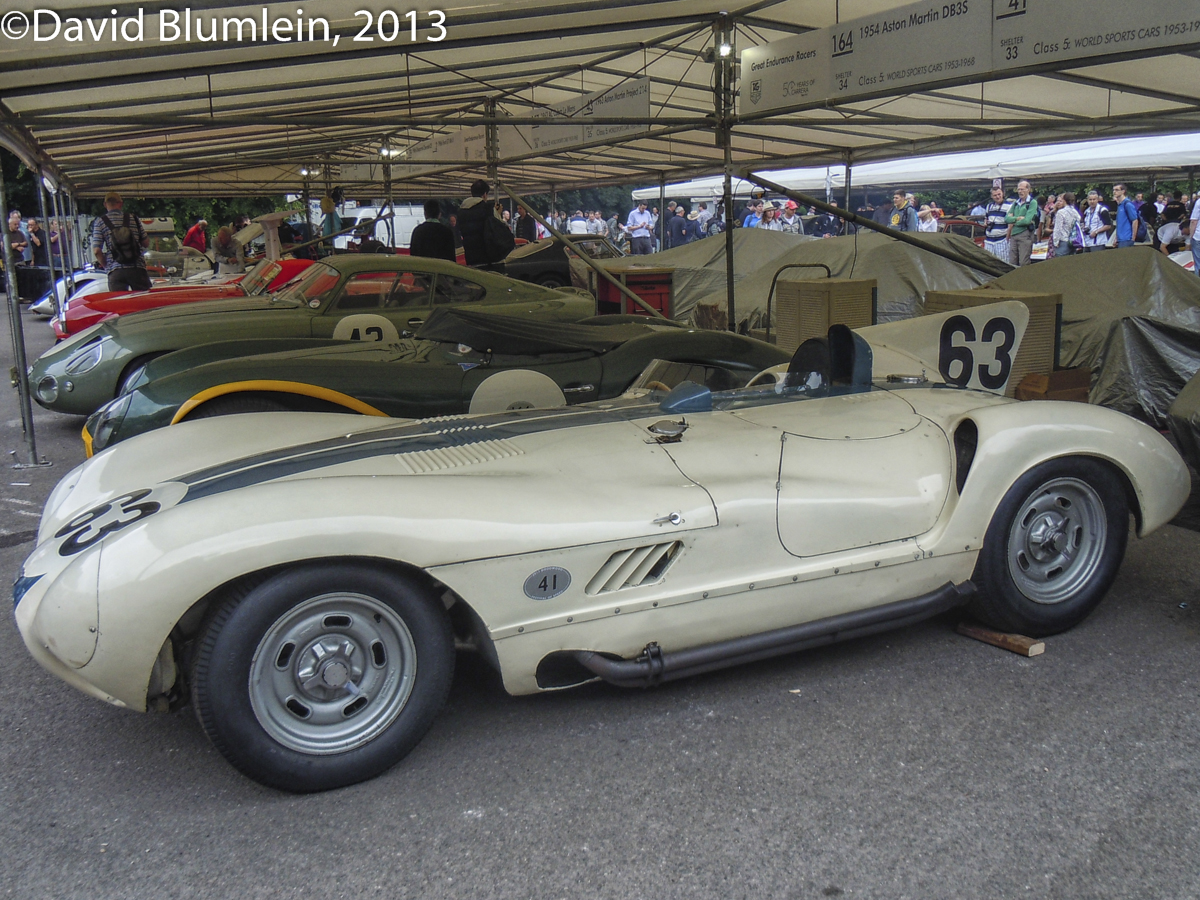 It is not often that the sole Cunningham C-6R escapes from its captivity at the magnificent Collier Collection in Florida. This attractive car, however, ranks as a failure. It is the last of the line of cars which Briggs Cunningham built to conquer Le Mans, a goal he never achieved to his great disappointment. It appeared for the 1955 season and differed from its V-8 predecessors in having an Offenhauser 4-cylinder engine more usually associated with Indianapolis than sports car racing. This unit was mounted inclined at 12˚ to the left and was de-stroked to 2942 c.c. The car first raced unpainted at the Sebring 12 Hours but had to retire when the flywheel exploded. By Le Mans it had acquired a fin and traditional American colours of white with a blue stripe. But the engine was not suited to the fuel supplied and its drivers Briggs Cunningham and Sherwood Johnston had to retire. The car raced again a few months later at Elkhart Lane where the Offenhauser failed once more. As Cunningham was by this time becoming involved with racing Jaguars, the C-6R finished its career with a Jaguar engine.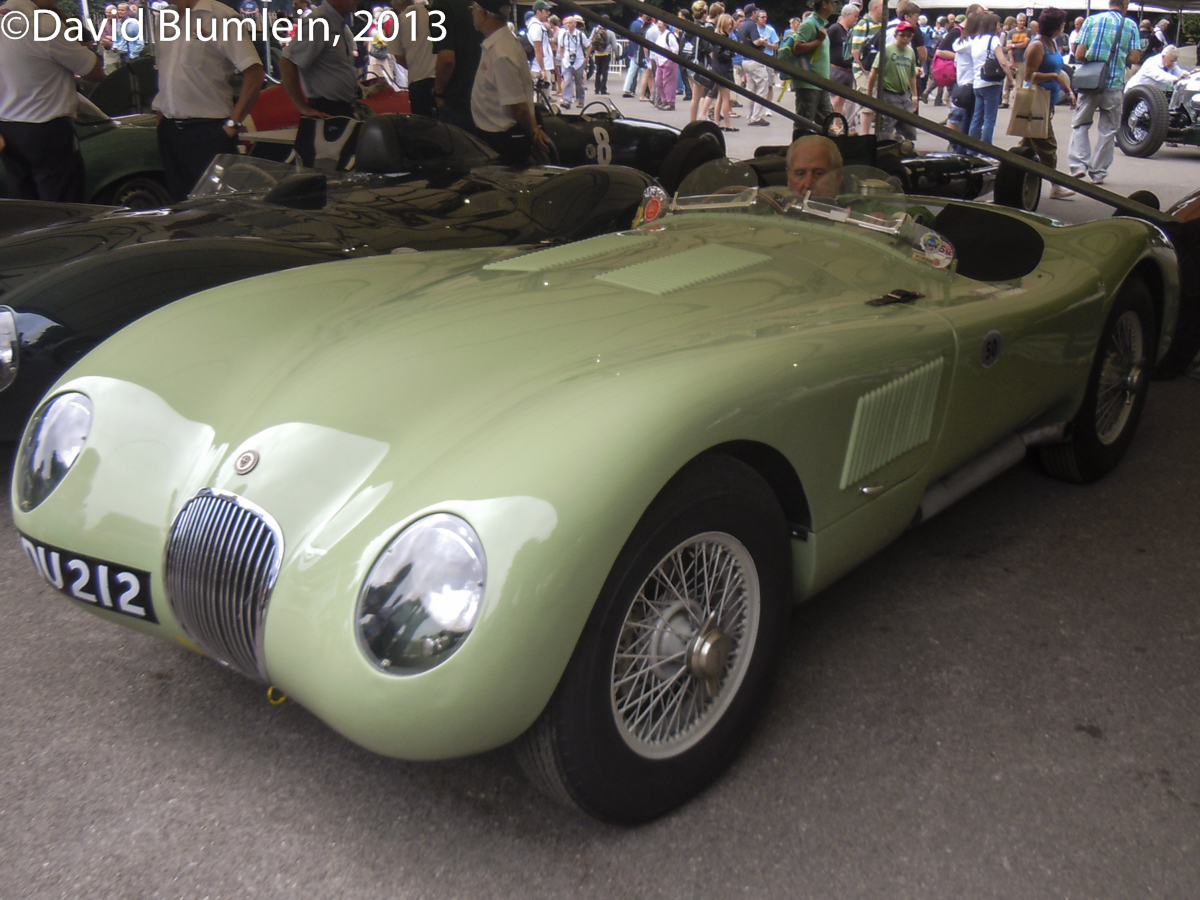 This is Jaguar C-Type chassis 005 and it has a special place in history. In 1952 Stirling Moss drove it to victory in the Reims Sports Car Race, thus making it the first car to win an international sports car race using disc brakes. Sitting at the wheel here is Norman Dewis who was Jaguar's long-serving test and development driver. In fact, so precious was he to Jaguar that Sir William Lyons forbade him to race. In 1955, however, the boss relented twice: in that year's Le Mans, Dewis shared the third long-nosed works D-type with Don Beauman who eventually put the car irretrievably into the sand when lying fourth. Then in the Goodwood 9-hour race Dewis drove Jack Broadhead's D-type with Bob Berry into a respectable fifth place.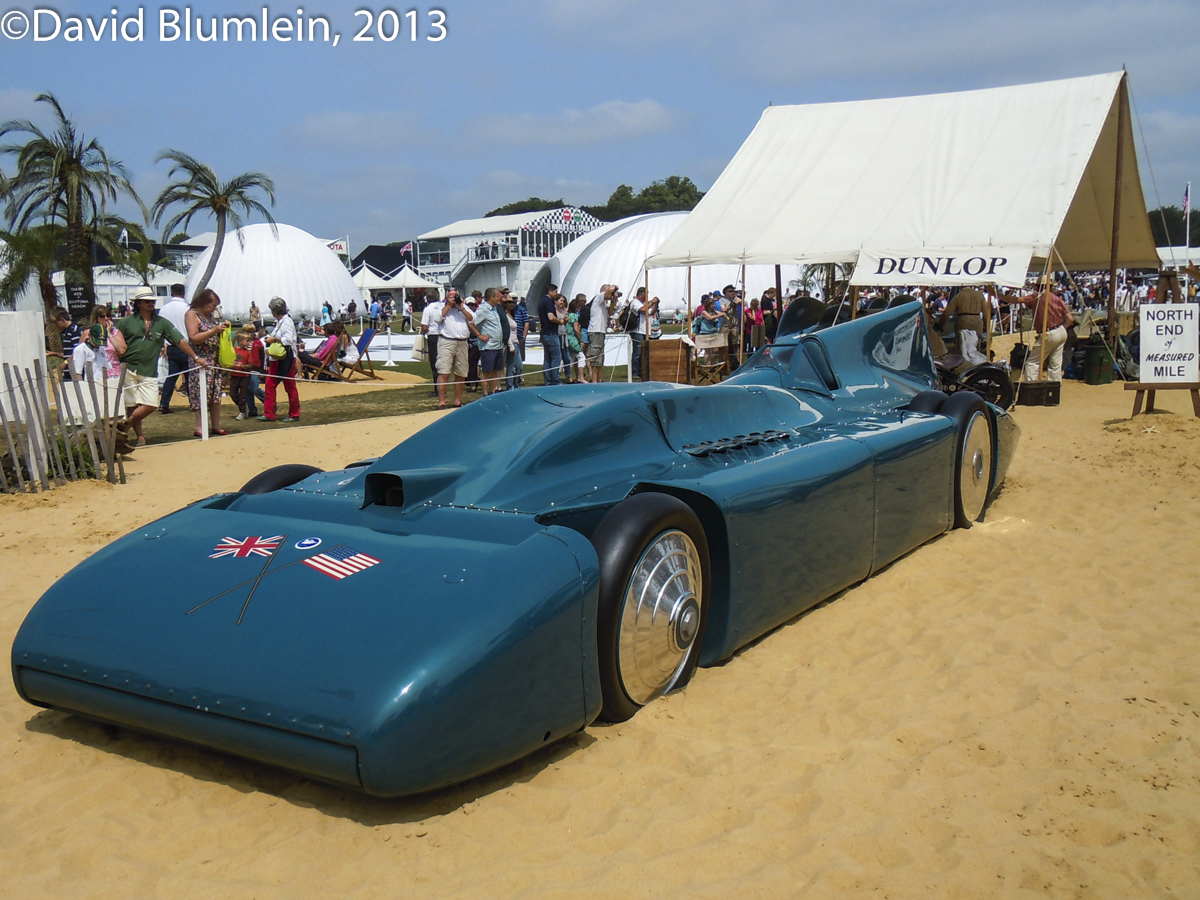 Over from the Daytona Speedway Museum was the final version of Sir Malcolm Campbell's Land Speed Record car Bluebird. After a break in 1934 from record-breaking which gave Reid Railton time to come up with this all-enveloping body, Bluebird returned to Daytona in March 1935 when this 5-ton machine, complete with twin rear wheels and air-brakes and powered by a 36.5-litre supercharged Rolls-Royce R engine, took the record at 276 m.p.h. However, Daytona Beach was becoming increasingly unsuitable for these higher speeds and Campbell opted to try the salt flats at Bonneville in Utah – by September he had become the first man to drive a car at over 300 m.p.h., 301.129 m.p.h. in fact. Campbell had achieved what he wanted and retired from the arena.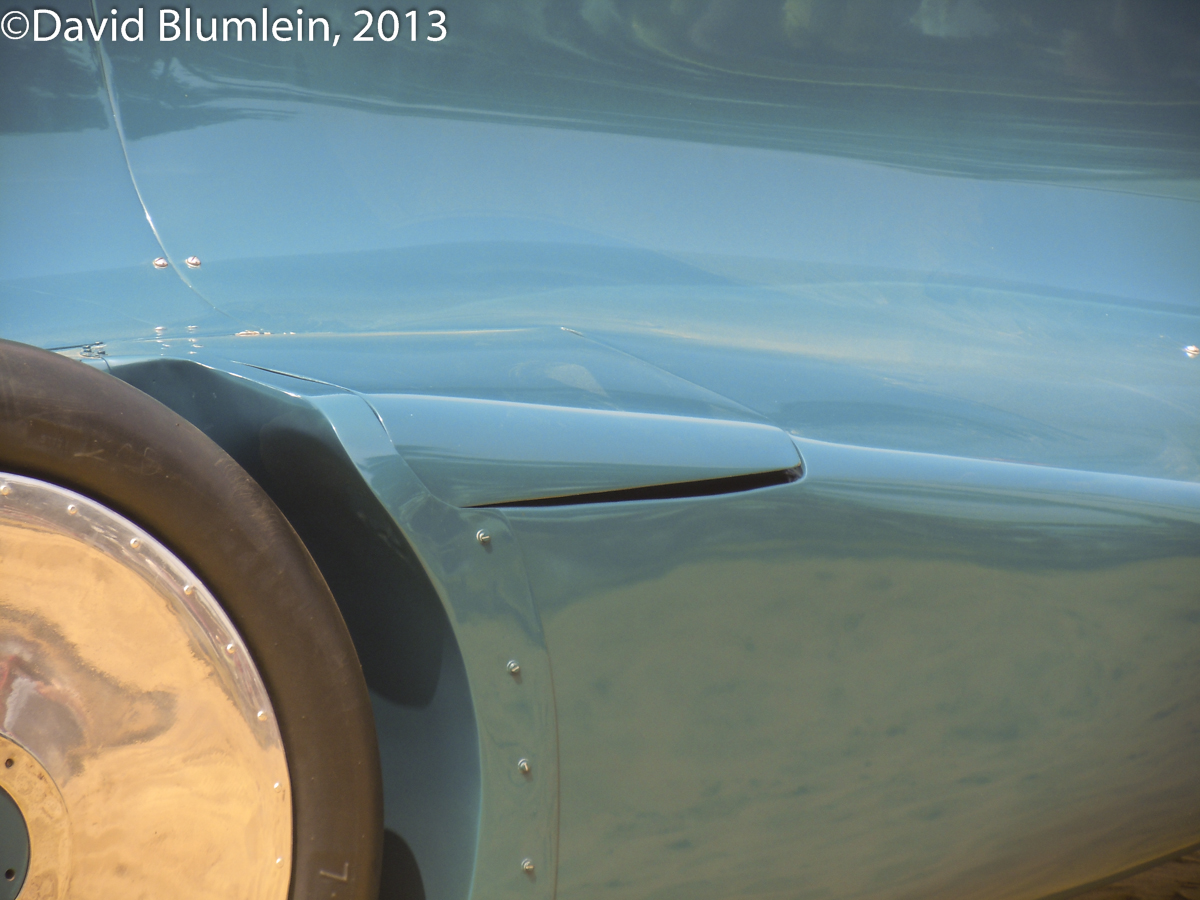 One of Bluebird's air-brakes.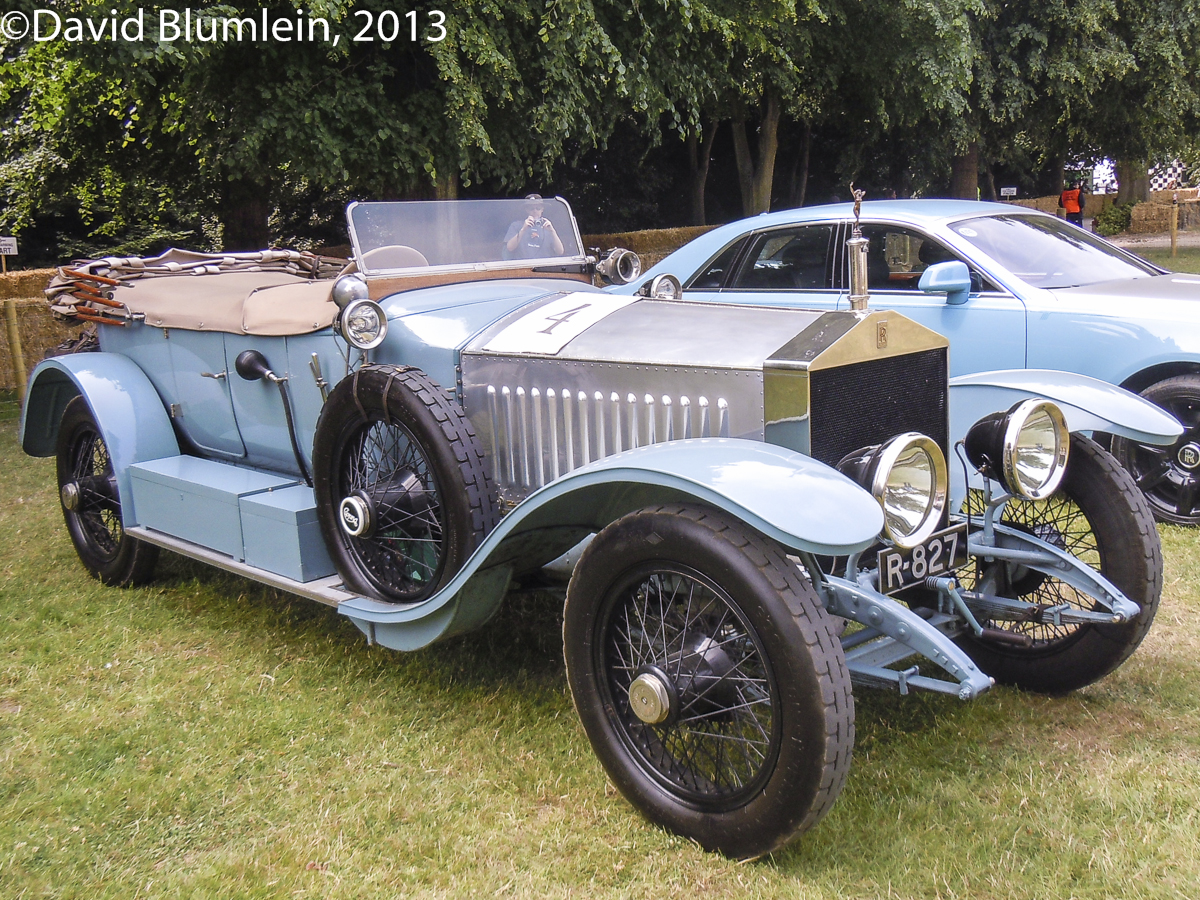 Tucked away from the general crowds on the southern fringes of Goodwood were two Rolls-Royces, unlabelled and without any apparent supervision. One was the 1913 Silver Ghost Alpine Eagle which James Radley used in support of the three works cars which brought success to the Derby marque in the Austrian Alpine Trial that year. Rolls-Royce had entered the cars to redeem their reputation after Mr Radley had driven his private Silver Ghost in the 1912 event and had failed to climb the Katschberg Pass because its 3-speed gearbox lacked a sufficiently low ratio. Needless to say, the 1913 cars had 4-speed boxes and other modifications: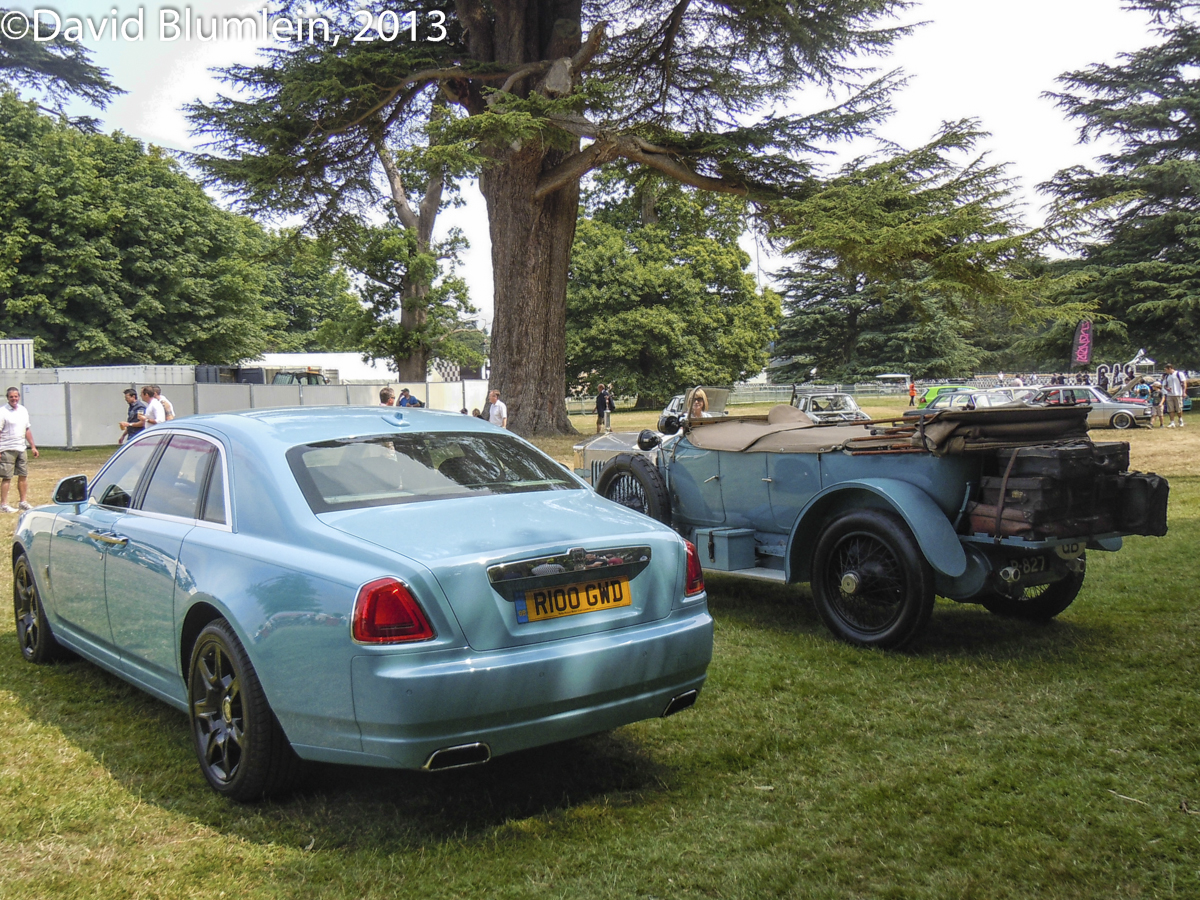 To recall their ultimate success, Rolls-Royce introduced the special edition "Alpine Trial Centenary Collection" version of the current Ghost model painted a pale blue and here can be seen the two cars from the rear.
David Blumlein, August 2013