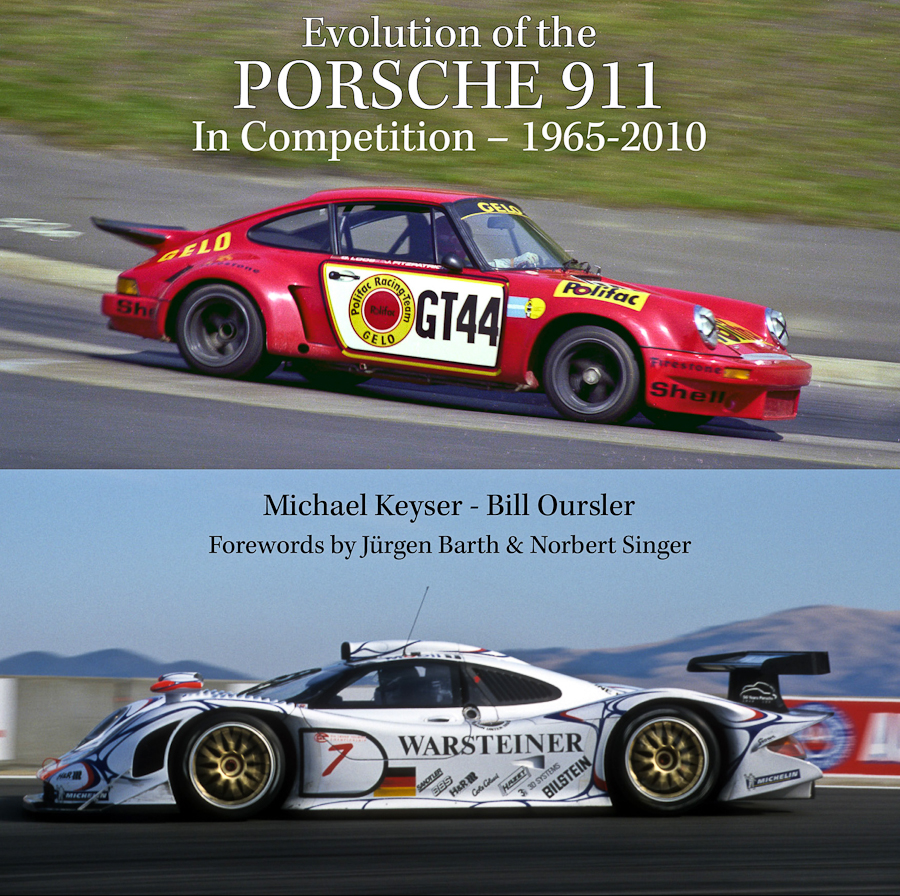 OK, before we get started I have a financial interest in this book. Showing rare taste and perspicacity the authors of this fine tome bought (and paid for!) some images from me. Of course the really good stuff comes from elsewhere but I am very pleased to be part of this book.
So my interests disclosed, I can now talk about this new volume. OK, the first question is do we need another Porsche history, another 911 book? Surprisingly the answer after reading this book is yes.
The authors, Michael Keyser and Bill Oursler (who also contributes on DDC) are Porsche experts of long standing. Michael raced a 911 with great success during the 70's including a win at the Sebring 12 Hours. To most of the sportscar fans these days he is best known for his book "A French Kiss With Death", the definitive story of Steve McQueen and his film "Le Mans".
Bill Oursler is, well he is Bill. Anyone who has been receiving end one of his long phone calls knows about the passion, deep knowledge and understanding of all things Porsche. I doubt if he can even recall the number of books, let alone articles that he written over the past 40 years.
As to the subject matter, the competition history of the Porsche 911 in all its mutations and evolutions give a very broad canvas on which to paint a compelling picture.
The first thing that strikes you when you pick up the book is the quality of the production that oouzes out. The engraved slip case is typical of the high standards of reproduction that match the quality of the content.
The Forewords are written by two figures who have been central to the story of the 911 in competition, Jürgen Barth and Norbert Singer. This is supplemented by the story of Michael and his relationship with the Porsche 911, from 1966 to the present day.
The content follows on in a chronological order. I especially enjoyed the sections dealing with the early years. The opening double page spread showing Eberhard Mahle completely sideways on the Rossfield Hillclimb back in 1966 makes you imagine that you can hear the throttle, full on, no lifting. Another favourite is the chapter on the customer developments of the 935, which grew more radical with the evolutions of the "Moby Dick" concept.
The 959 programme is also covered with the various developments both on and off road as are the GT1 projects.
The final chapters look at the recent 911 GT3-R Hybrid and another of my favourite pieces, 911 In Posters that are extremely evocative.
So if you are a 911 nut, this book is for you. Well written, well illustrated and well produced it has a place on any Porsche bookshelf.
Only 2,250 copies have been printed, so get your order in soon.
John Brooks, October 2011