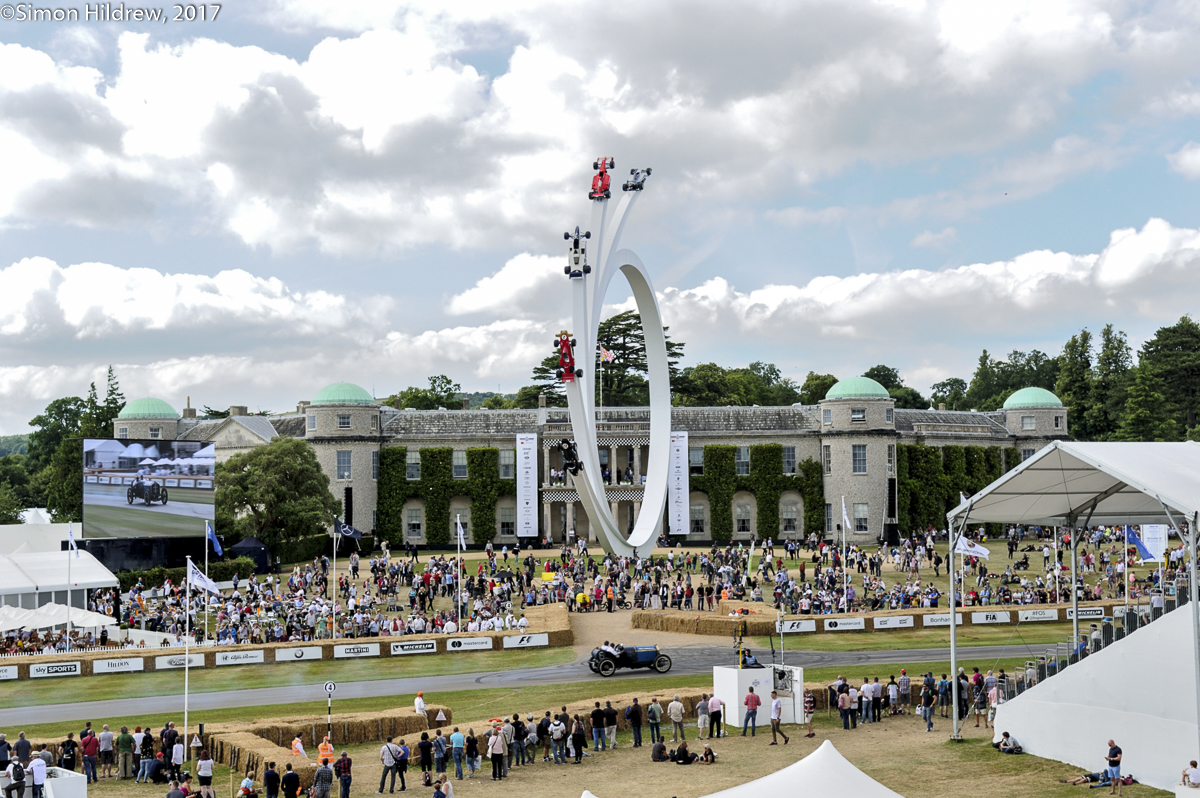 Can it really be 25 years ago that Lord March first introduced the Festival of Speed? These days it is part of what used to be known as 'The Season', a must attend for all of those who take pleasure in the automobile. Our man,  John Elwin, was in attendance at the very beginning, so who is more qualified to bring us a report of the delights to be found on the Hill in 2017?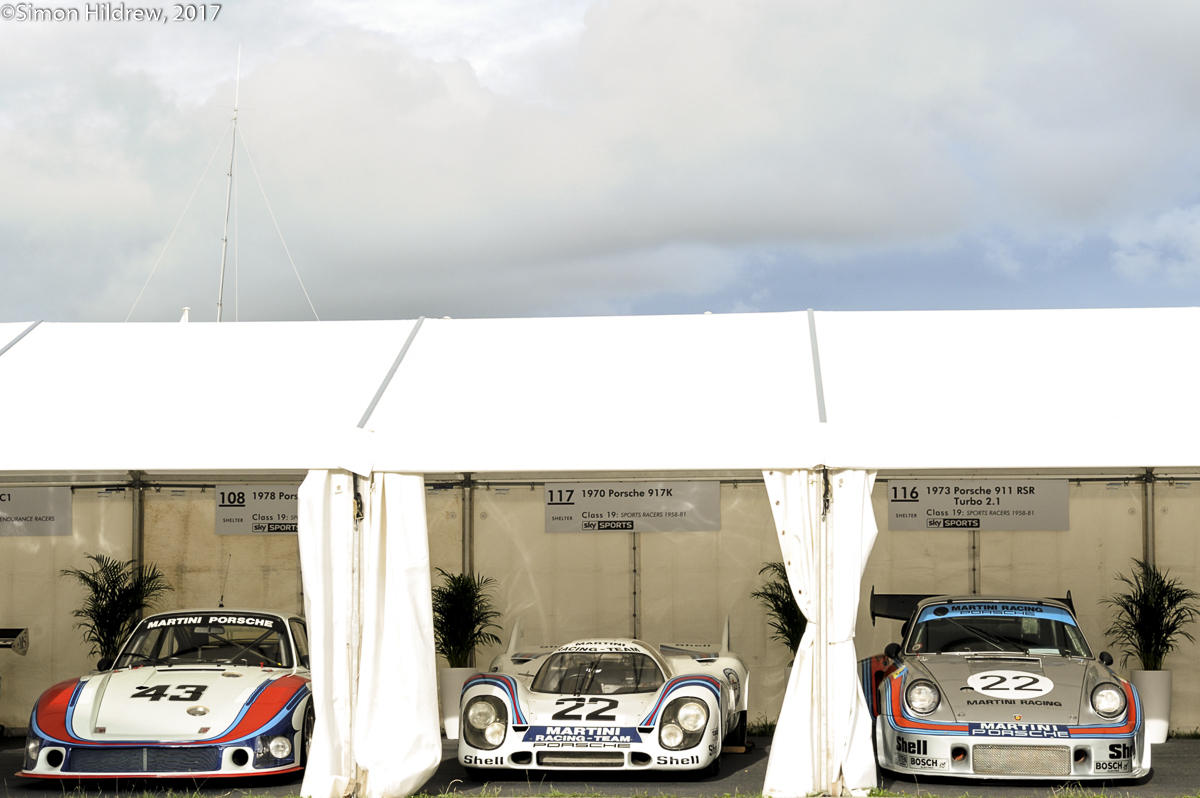 With this being the 25th running of the Festival of Speed you might be forgiven for thinking that Lord March and his team would have run out of ideas for things to celebrate. But no, they found a whole raft of subjects worthy of commemoration to draw in the crowds.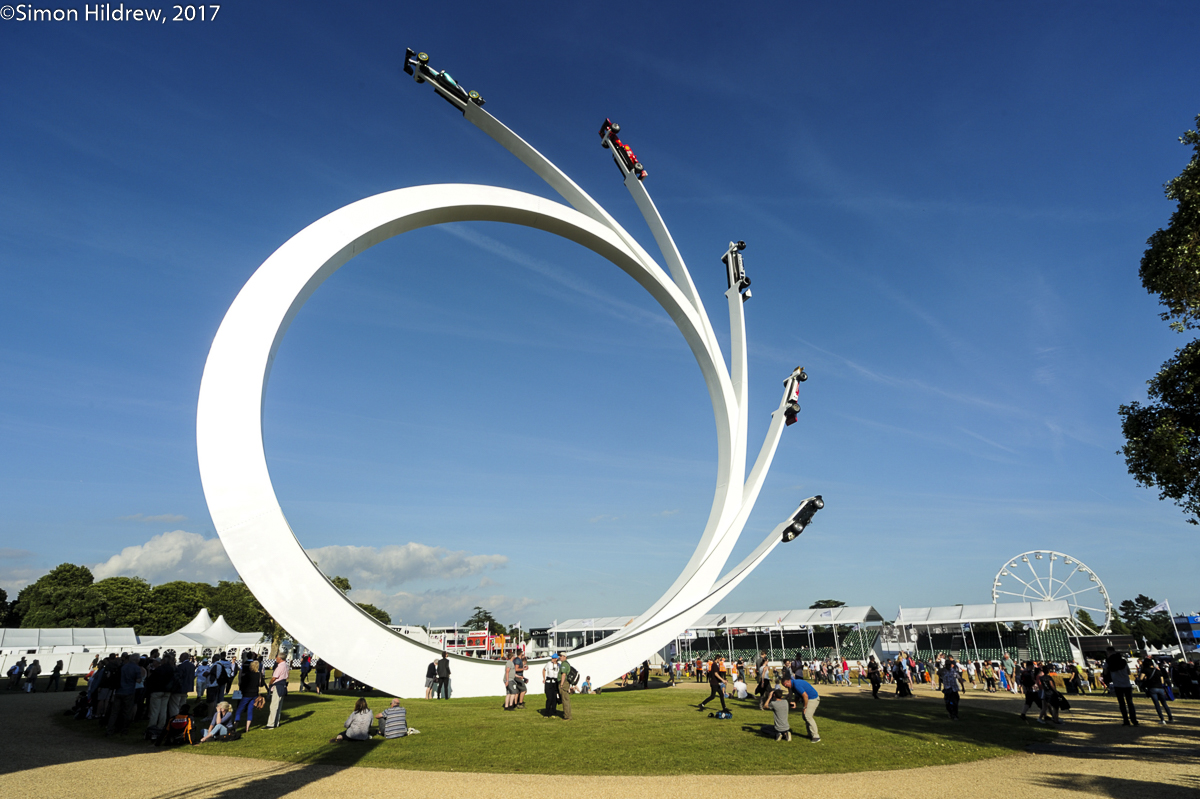 In a departure from tradition they chose to celebrate an individual rather than a make of car with the pride-of-place sculpture on the lawns in front of Goodwood House. The person concerned was no less than Bernie Ecclestone who has recently stood down as the head honcho of Formula 1. Relative newcomers to the sport might think that a controversial choice but he has done more than anyone else to make the sport what it is today and in reality much of what we watch with awe every year at Goodwood simply wouldn't have happened without Bernie's drive. There were initial fears that a life-size statue in front of the house would look like a garden gnome but as usual Gerry Judah worked his magic with a creation depicting 'The Five Ages of Ecclestone', five representative cars soaring into the sky. Starting with the Connaught he tried unsuccessfully to qualify for the 1958 Monaco Grand Prix, it progressed to Jochen Rindt's Lotus 72 (Bernie was his manager) a Brabham BT49 from the period when he owned the company, a Ferrari from the Schumacher era and last year's World Championship-winning Mercedes.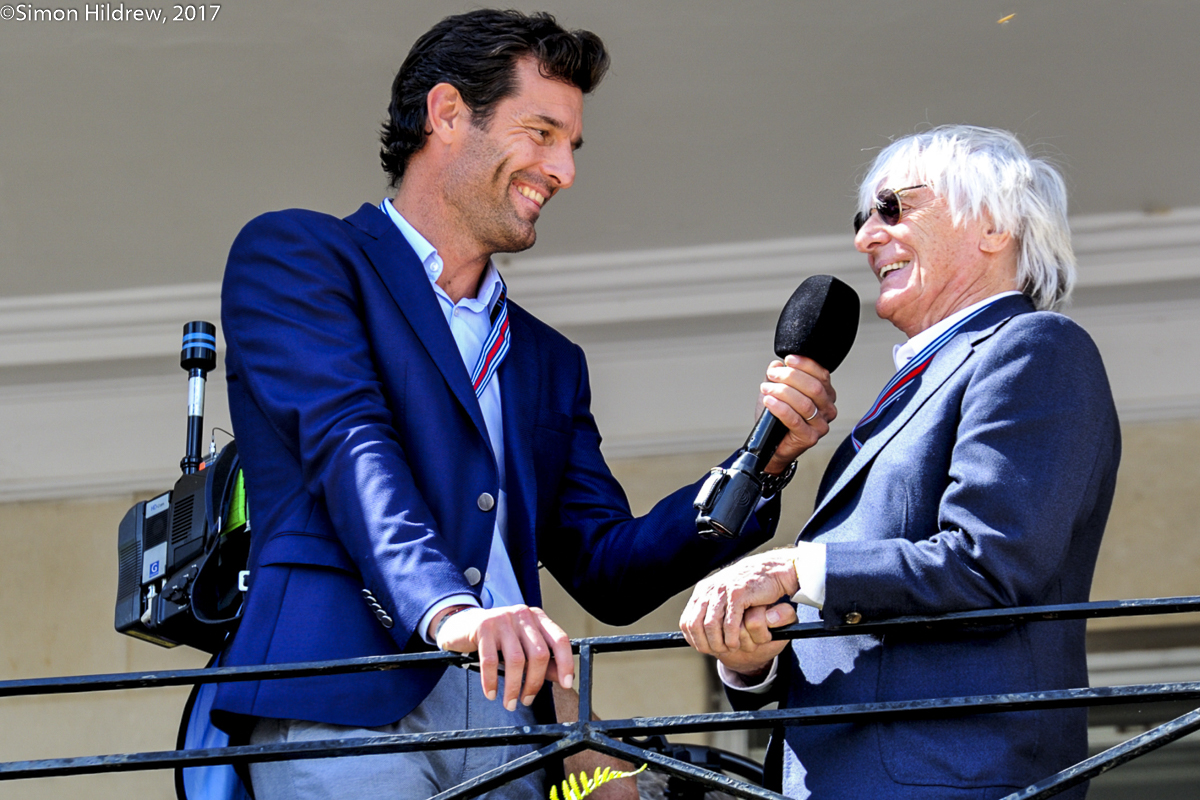 On Sunday Ecclestone was driven up the Hill by Lord March in an open AC that belonged to his grandfather, Bernie being warmly received by the enormous crowds. They were followed by a cavalcade of F1 cars, led by reigning World Champion Nico Rosberg – a big fan of the Festival – at the wheel of a 2014 Mercedes. They returned to the House, where Bernie was introduced from the balcony to the waiting fans. There was something of scrum to get a view and Rosberg, being the last to arrive, had a job to get his race car to the front doorstep. Bernie was then interviewed by Mark Webber, not the most accomplished  emcee in the world, it has to be said, before enjoying a Champagne reception surrounded by many luminaries from the F1 world, ranging from former Brabham designer Gordon Murray to FIA President Jean Todt. As if you needed reminding that the times are a-changing, amongst them were Ron Dennis and Peter Sauber, two long-standing team owners who have recently relinquished control of the teams they ran for so long, leaving them in the hands of corporate non-entities.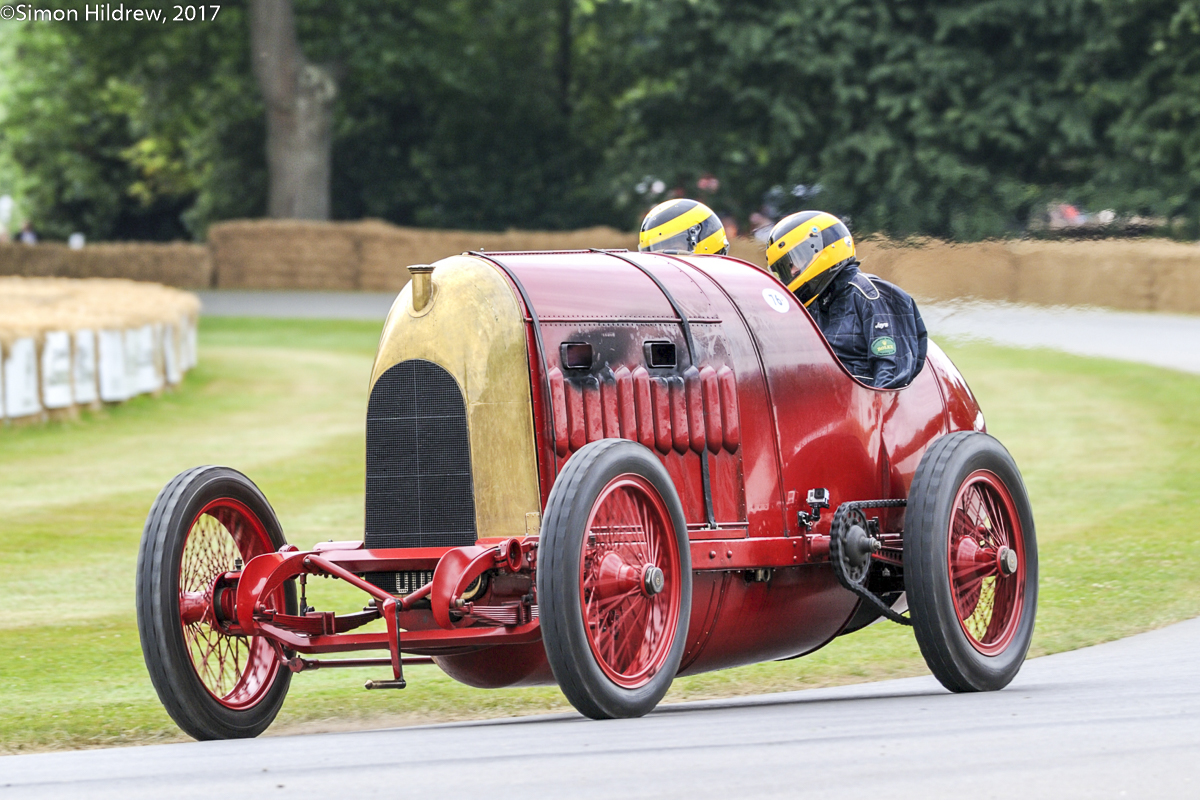 The cynics amongst us could be amused that the new guard in the shape of Chase Carey, head of Liberty Media, was left to rub shoulders amongst the riff-raff at ground level, some of whom reportedly resorted to fisticuffs! Carey may well have gone away re-thinking his ideas to give the public more access to the Formula 1 Paddock – maybe Bernie wasn't so wrong after all! He also got to ride up the Hill in Duncan Pittaway's fire-breathing monster 27-litre Fiat; aside from testing the aerodynamic qualities of his faintly ridiculous moustache (he didn't wear a helmet) it may also have given him ideas about returning to proper engines. Pittaway drove the monster to Goodwood from his home in Bristol, requiring eleven fuel stops en route – imagine that in a GP!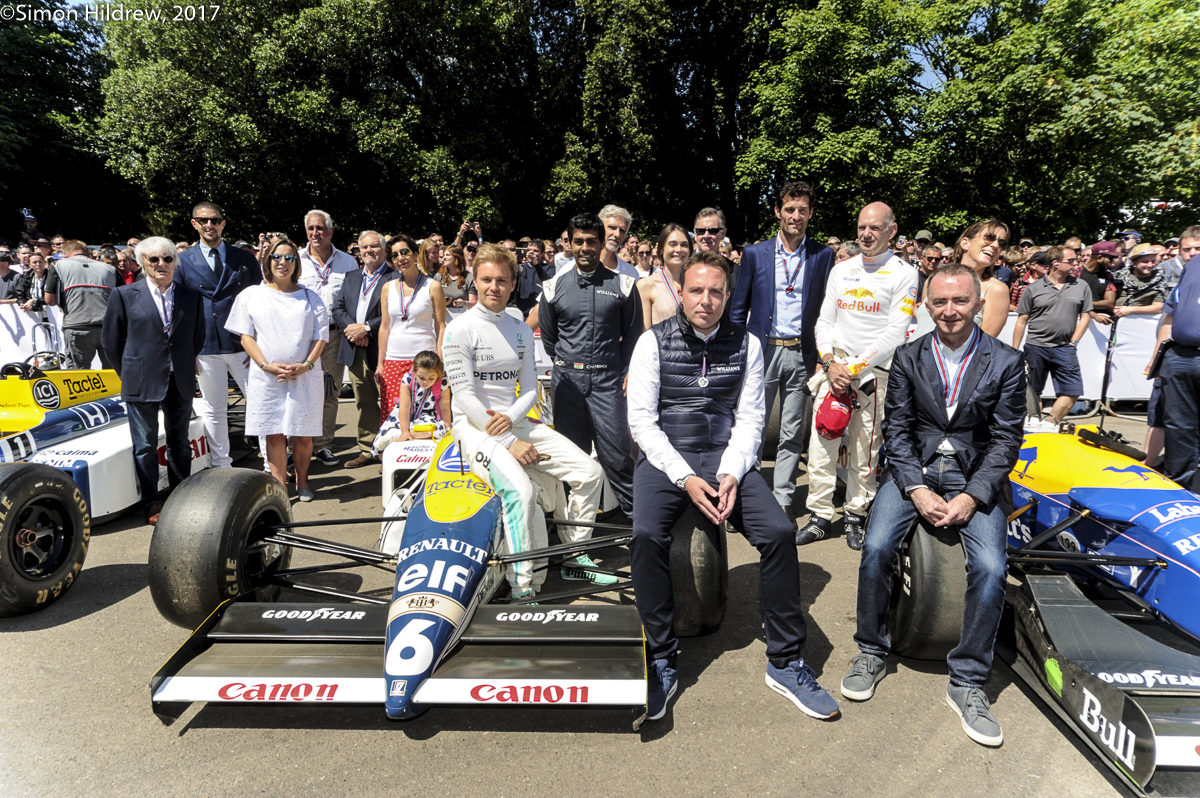 Another nod to the passing era was the celebration of the Williams Grand Prix Engineering's 40 years in Formula One. Sadly Sir Frank himself was not well enough to attend but daughter Claire and son Jonathan were present, supported by Patrick Head and Bernie and including others with Williams connections such as Adrian Newey and drivers Nico Rosberg and Damon Hill. Whilst Claire busies herself with the day-to-day running of the team, Jonathan is taking care of the history. Williams has retained ownership of many of its old cars, as recently seen at the birthday celebrations staged at Silverstone. Jonathan has a programme to bring the old cars back to life, aiming to work on two a year. This year's projects have been the six-wheeler that never actually raced, and Nigel Mansell's 1992 World Championship-winning FW14B, which remarkably has not run in the intervening 25 years! The FW14B with its Renault engine is not compatible with modern software, but fortunately Williams still has the original tower computer from the day, complete with floppy discs, and it still works! Both cars took to the Hill at Goodwood. With Claire and Jonathan firmly ensconced, and Claire shortly to give birth, hopefully this most British of teams will remain under the control of the family for many years to come.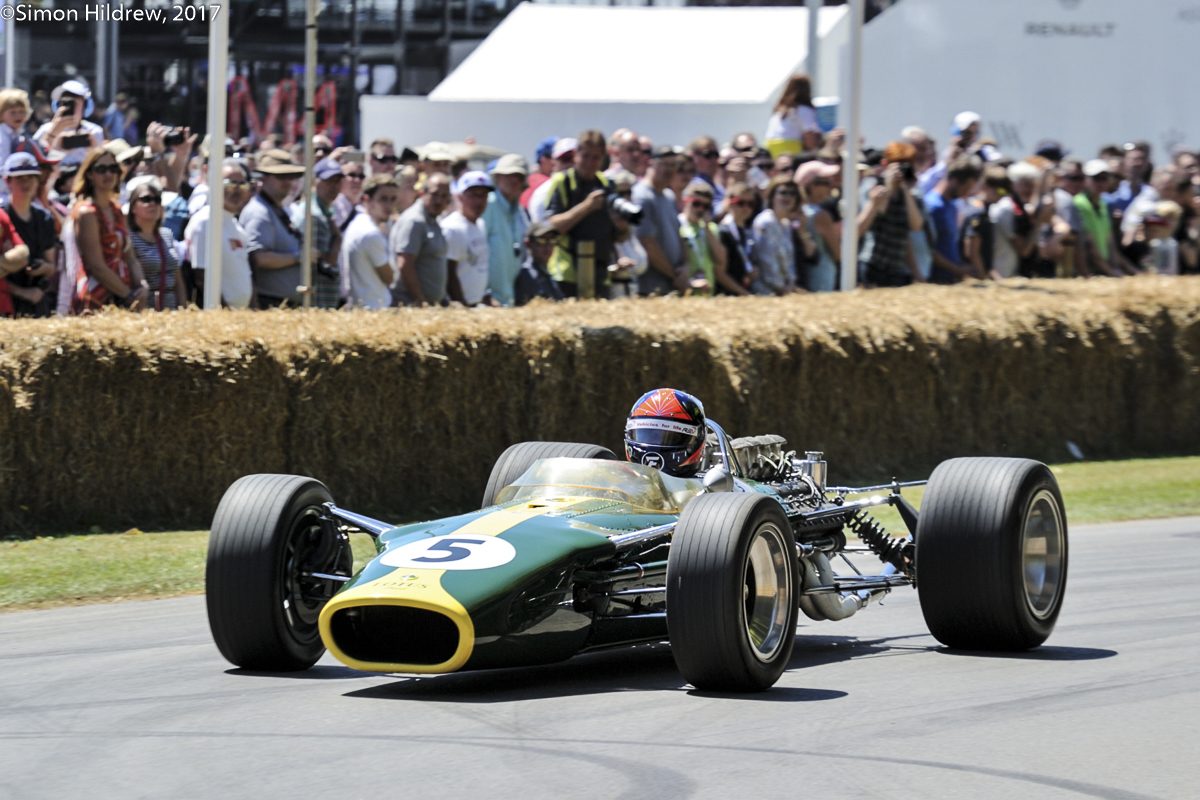 The Cosworth DFV was the mainstay of many Formula One teams for some years, including Williams, and this most successful engine of all time celebrates its 50th birthday in 2017, having debuted in the back of the Lotus 49 at the Dutch Grand Prix in June 1967. Lotus boss Colin Chapman had convinced Ford to fund development of the engine for the exclusive use of Lotus initially, in the new 3-litre formula, but such was its dominance, everyone wanted it in the following years.
The DFV powered all three of Sir Jackie Stewart's World Championships, scored whilst driving for Ken Tyrrell's team. Remarkably, all three cars were at Goodwood, so Jackie together with sons Paul and Mark demonstrated them on the Hill several times during the weekend, driving the 1969 Matra MS80, 1971 Tyrrell 003 and 1973 Tyrrell 006 in what must be a unique convoy.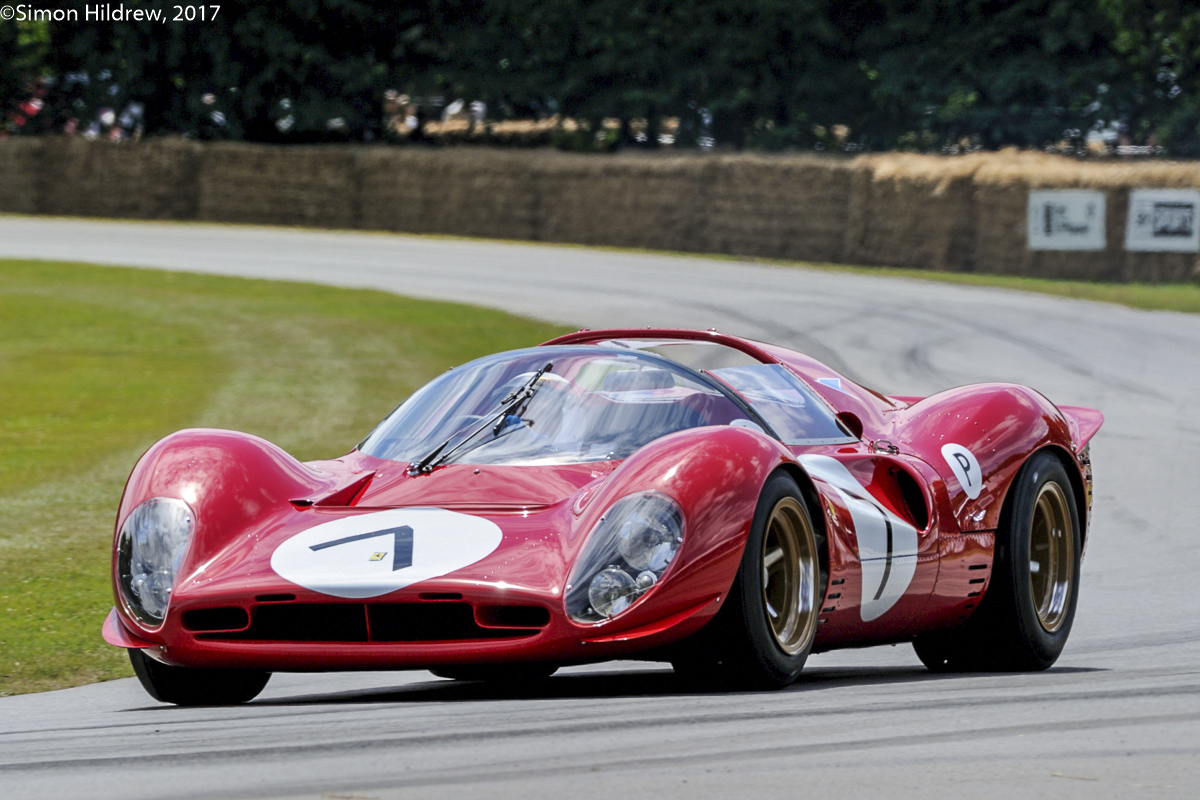 No motoring event this year has been complete without a Ferrari 70th Anniversary tribute and Goodwood was no different. One could get a bit blase about the Prancing Horse-adorned machines but Goodwood did bring together a breathtaking collection from the very beginning to the very latest and since most were demonstrated on the Hill, it was an aural as well as visual feast. Amongst them was a re-creation – the originals were all destroyed – of the Sharknose 156, giving Derek Hill an opportunity to find out what his late father Phil's 1961 World Championship-winning machine was like. During the course of the weekend Jackie Stewart was also re-united with the 330 P4 he and Chris Amon drove to second place in the 1967 BOAC 500 at Brands Hatch, thus helping Ferrari clinch the World Sportscar Championship. It is the sole-surviving example of a car Jackie himself describes as possibly the most beautiful racing car of all.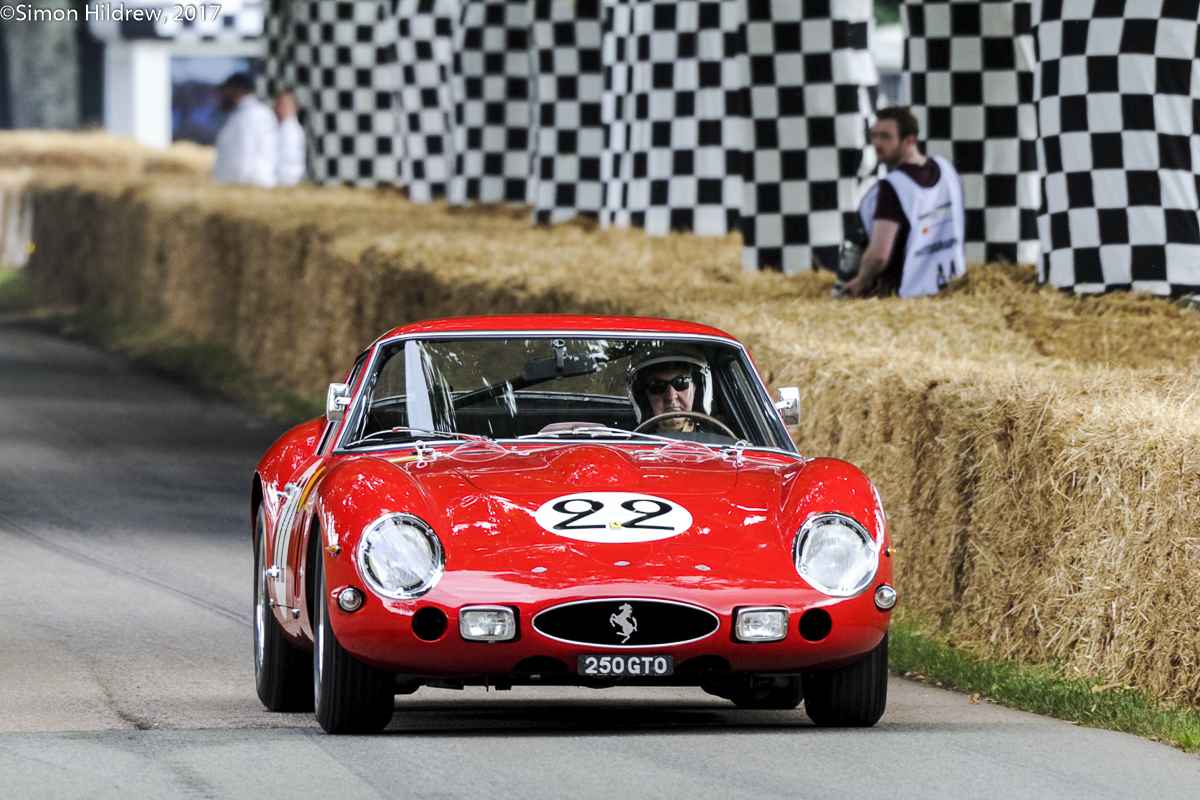 We are becoming immune to the eye-watering numbers being paid at auction nowadays for almost any Ferrari, so it was somewhat amusing to learn that Nick Mason paid £4,000 for his 250 GTO! I can recall seeing it parked, two wheels up on the kerb, outside a well-known model shop on a busy road many years ago – bet he doesn't do that now. It also has the registration number 250 GTO, leading one commentator to muse that that alone was probably worth more than his house. Another Ferrari in long-term ownership is Sally Mason-Styrron's 1949 166. The combination was actually the very first to drive up the Hill at the first Festival back in 1993. What's the betting Sally and her Ferrari will be back for the 25th anniversary FoS next year?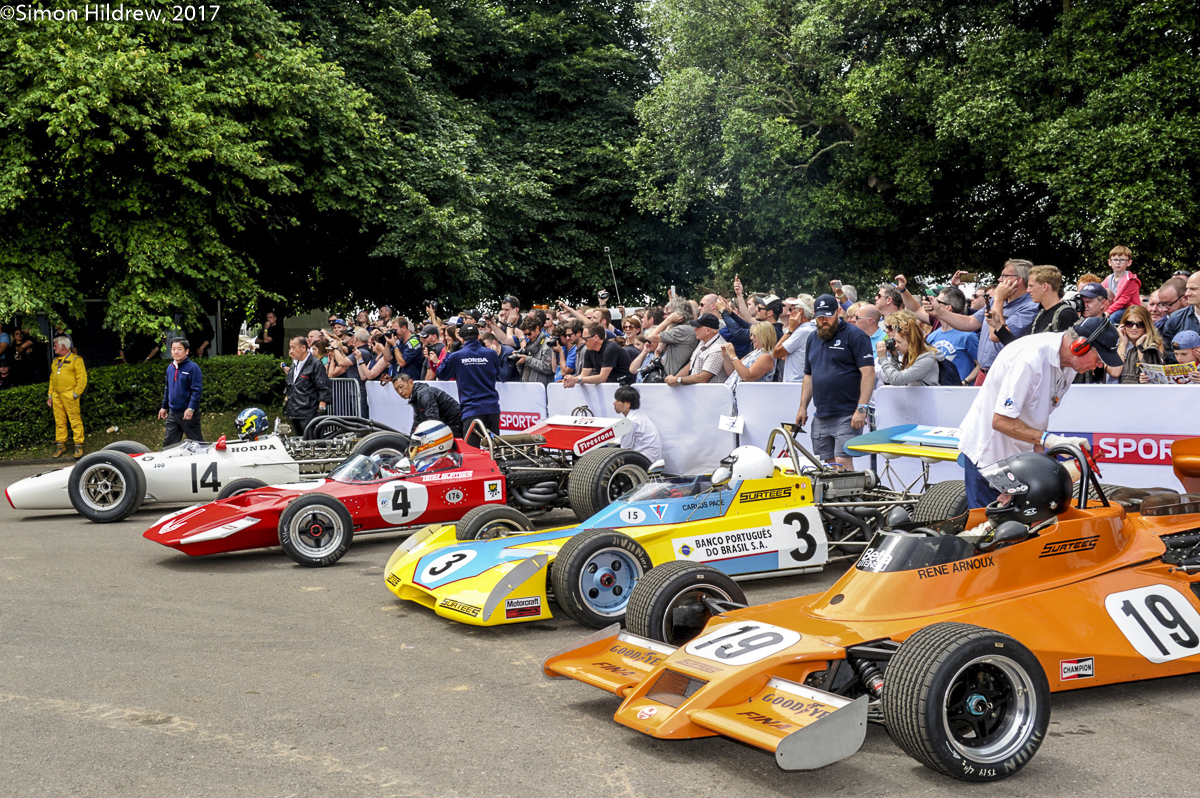 The Ferrari demonstration led neatly into a tribute to the late John Surtees, who passed away earlier this year. Surtees won the 1964 World Championship at the wheel of a Ferrari. John was a stalwart supporter of the Goodwood events from the very beginning, bringing along cars and 'bikes from his own collection, as well as cajoling others to come along. Amongst them was Stuart Graham, who like Surtees also successfully made the switch from 'bikes to cars, although not in Formula 1. He was, however, the only man to win the TT on two and four wheels. At Goodwood, Stuart both rode 'bikes and drove a re-creation of the Brut 33-liveried Chevrolet Camaro he campaigned so successfully in touring car racing.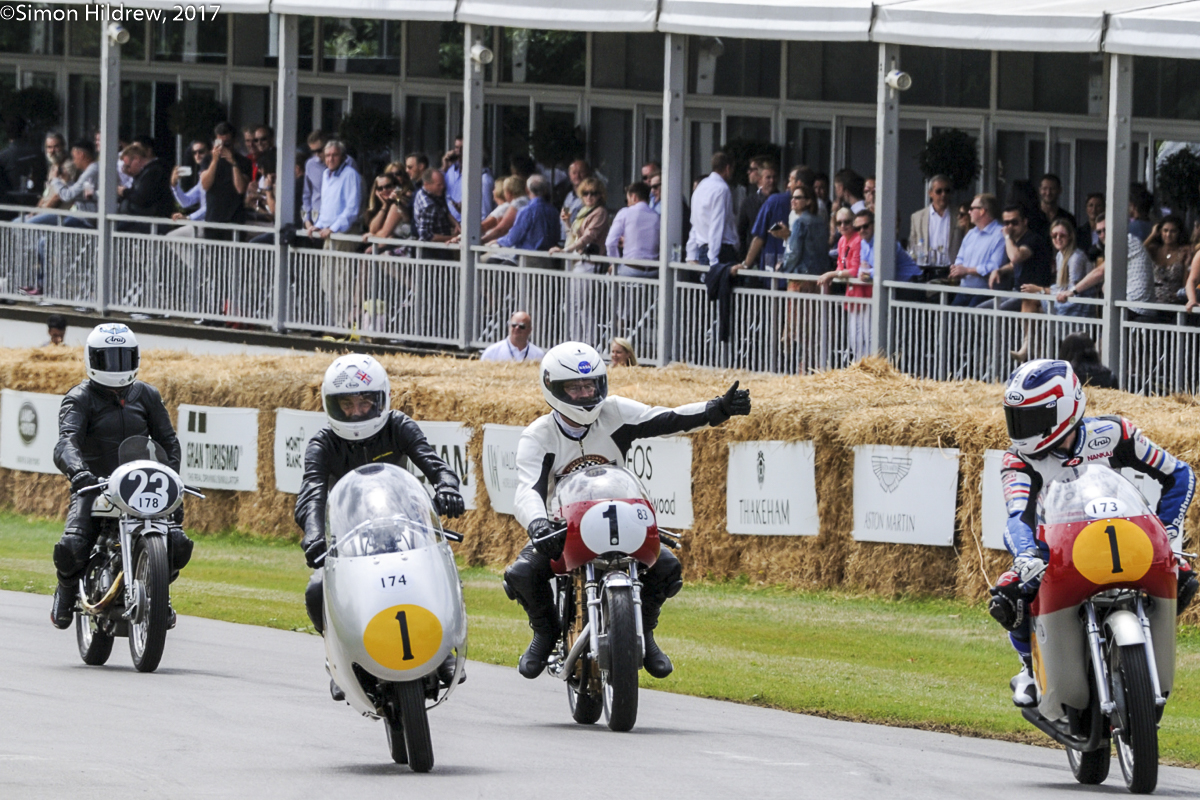 The John Surtees tribute included a minute of noise, in the presence of John's wife and daughters, Lord March and Bernie Ecclestone, followed by a demonstration of various 'bikes ridden by the likes of Freddie Spencer, and cars including a Lola T70, Surtees F1 and F2 cars, and of course a Honda F1 car.
The AMG business is now the sporting arm of Mercedes-Benz, but it started out as a tuning business run by Hans-Werner Aufrecht, ultimately becoming synonymous with Mercedes' successes in DTM, the German touring car championship, in the 1990's and progressing to the then-new GT1 sports car programme, culminating in that famous flying incident at Le Mans. Now owned by Mercedes, the company celebrates 50 years this year and to mark the occasion Bernd Schneider, a driver who has been associated with many of its successes, demonstrated a DTM Mercedes C-Klasse. Of course, Mercedes was very much in evidence elsewhere, with everything from turn-of-the-century (that's last century!) racers to recent Formula 1 cars. Amongst them was Ben Collings' 1908 French GP car that was driven on the road from Bristol in convoy with another Mercedes and Pittaway's Fiat. Imagine seeing that lot looming up in your rear-view mirror!
Doubtless there were many other anniversaries and celebrations, but Justin Law marked his own 40th birthday by setting the fastest time in the Shoot-Out that brings proceedings to a close on Sunday. Driving an IMSA Bud-liveried Jaguar XJR 12D he set a time of 46.3-seconds, just pipping Jeremy Smith's Penske PC22 Indy car. Showing the way to the future, Nick Heidfeld was fifth fastest at the wheel of the Mahindra Formula E prototype. With Lord March stating we will see autonomous cars on the Hill next year, times really are a-changing…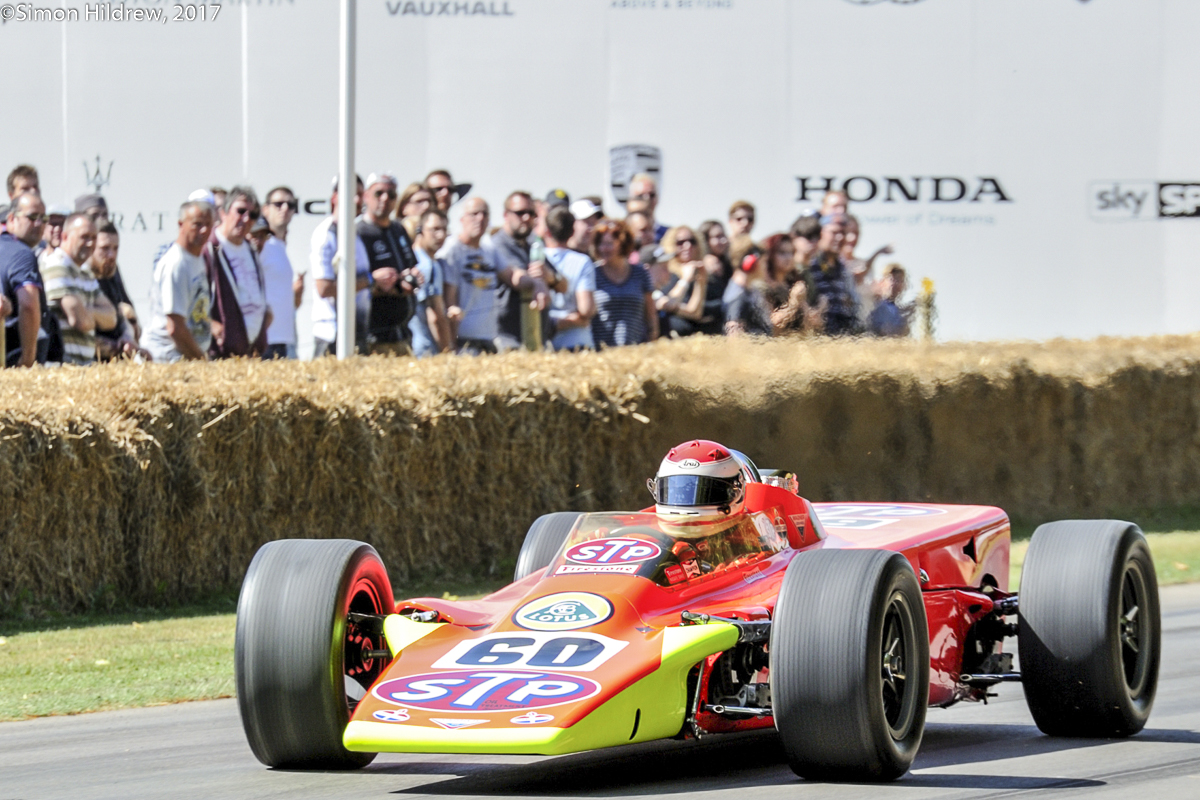 …and one last word. Not celebrating any anniversaries that we are aware of, that incorrigible enthusiast Emanuele Pirro really must have thought all his birthdays had come at once, for he got to drive the MoMo Ferrari 333 SP, Lotus 56 Turbine Indy car and the six-wheeler Williams. That's not bad for a day out, is it?
John Elwin, July 2017