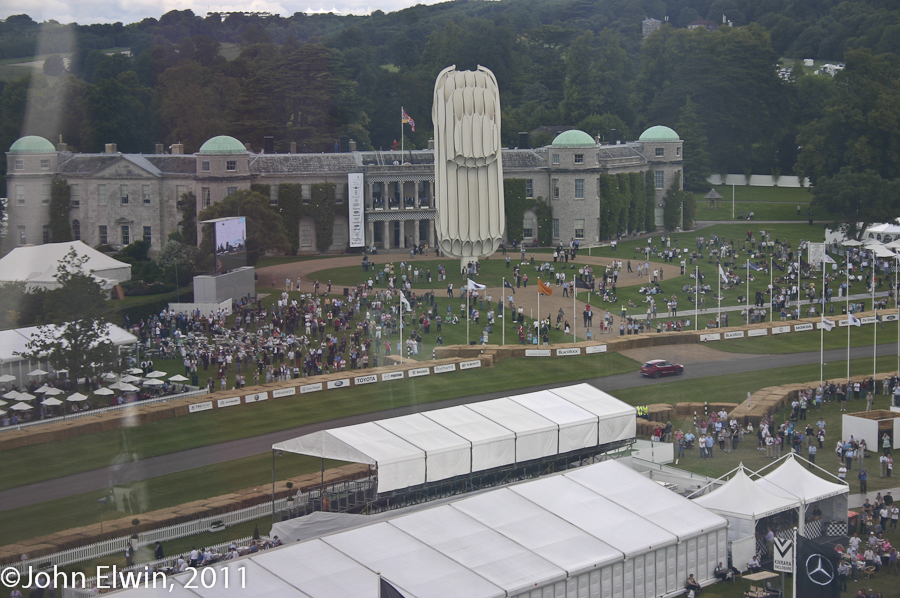 After nineteen years it must surely be getting difficult to unearth yet more rarely seen racers with which to attract the crowds to Lord March's front garden and this year's event did have a slight 'so what's new?' feel to it.
Nevertheless that did not deter a record attendance of more than 181,000 popping down to Sussex, many of them appearing to be first-timers and somewhat different to, shall we say, the regular crowd.
Of course a large number were attracted by the Moving Motor Show event that ran on the Thursday for the second year. Such is the success of this that it is likely to become a slightly more stand-alone show run over two days earlier in the week.
With the E-Type celebrating its' 50th birthday this year, Jaguar was the featured marque with Gerry Judah's customary sculpture in front of Goodwood House depicting an E-Type Coupé nose-diving into the ground; apparently the other way up was considered to look just too phallic! Whatever, looking as though it was made out of a re-cycled windmill it did not have the presence of Judah's previous masterpieces although those lucky enough to see it after dark reckoned it was more impressive when floodlit. Strangely though, Jaguar themselves did not seem to make much of the occasion, unlike others before them.
There was a dedicated Jaguar class taking to the Hill in honour of the Big Cat's history at Le Mans; it's 60 years since a C-Type took the first win and amongst those turning out was a rare appearance of a 'Lowdrag' C-Type built for the 1952 race. The streamlined bodywork might have increased performance down the Mulsanne but it also ruined the cooling and two of the three cars retired due to overheating, the third for other mechanical reasons. Amongst the E-Types being exercised were E2A, the early factory prototype that Briggs Cunningham took to La Sarthe in 1960 and 'ECD 400', the first E-Type to win a race in the hands of Graham Hill at Oulton Park in April 1961.
All eyes however were on the recently restored Lowdrag car that claimed Peter Nocker's life at Montlhery in 1964.
After languishing for many years the wreck has been rebuilt by Peter Neumark's Classic Motor Cars Ltd business, representing some four years' work and utilising as much of the original as possible – more than 5,000 hours went into the very individual bodywork alone. And no, it's not for sale.
With chatter about a possible return to Le Mans by the Tata-owned marque, former works driver, Andy Wallace, was on hand to remind everyone he has not lost his touch as he took to the Hill in a gorgeous Silk Cut XJR9LM.
If Goodwood had a central theme it was the Indianapolis 500's centenary, an impressive array of men and machinery being lured across the pond, ranging from the 1911 Marmon Wasp that won the first race, to most recent winning driver Dan Wheldon. Whilst some took to the Hill during the weekend an 'Indy Track Moment' took place each day.
A symbolic line of bricks was brought over from the Brickyard (must have been interesting explaining away that hand luggage!) and laid on the track in front of the House where 33 cars – the same number as form an Indy grid – were lined up behind a 1958 Chevrolet Pace Car, whilst an authentic American announcer did the introductions. Marching bands and majorettes added to the occasion before a roof-top guitarist pounded out 'Back Home in Indiana' before the familiar 'Gentlemen, start your engines' was given.
Amongst the stars who drove were Parnelli Jones, Al Unser Jnr., Danny Sullivan, Bobby Rahal, Emerson Fittipaldi and Dario Franchitti whilst Josh Hill got to drive grandad Graham's '66 race winning Lola – or at least the re-creation thereof.
Two-times winner Dario was in seventh heaven though. With a keen sense of history he is a great fan of fellow Scot Jim Clark and having had the opportunity to briefly get behind the wheel of Jim's '65 Indy-winning Lotus 38 so sensitively restored by Classic Team Lotus last year, he was able to have a proper run in the sister car that Bobby Johns drove to seventh place that year before Clark himself used it to finish second in 1966, making it a British one-two. Franchitti was even resplendent in Clark look-alike helmet.
Lotus was very much in evidence at Goodwood, as befits an event with the title "Quantum leaps that shaped motor sport", for Lotus were responsible for many of them. Amongst the impressive array under CTL's awning was a Type 25 (first monocoque chassis in F1), 49B (first F1 car to race with a high wing), 76 (first F1 car to run a semi automatic clutch), 88 (first F1 car to run with a composite monocoque, not to mention two chassis), 96T (first Indycar with composite monocoque).
It was a terrific vindication of all that Clive Chapman and his team have done to keep the Team Lotus to the forefront in recent years that Dan Collins set BTD during the Top 20 Shoot-out on board the twin-chassis Type 88.
It was another Lotus that caught Clive's eye though, as Parnelli Jones had brought over the day-glo red STP-liveried 56 Turbine car with which Joe Leonard so nearly won the 1968 Indy – he was leading when with just nine laps remaining the Pratt & Whitney turbine suffered a flame-out, leaving Bobby Unser to take the first win for a turbocharged car. Mused Clive, "I think our winter project will have to be restoration of our 56B if I can find an engine."
The 56B was the F1 interpretation of the Indy car built for the 1971 season. It ran in Gold Leaf colours initially, debuting at the Race of Champions before Dave Walker gave it a brief  GP debut at a wet Zandvoort. In the wake of problems surrounding the death of Jochen Rindt the year before the car was painted gold and black and sent to Monza under the World Wide Racing banner for Emerson Fittipaldi, finishing eighth. After one more non-championship race the car was abandoned in favour of the Type 72, and for sometime languished in a corridoor at Lotus, where this particular writer made use of the flat rear deck to sort-out filing whilst working there. It did have its uses after all!
Modern F1 cars no longer set times at Goodwood but many of today's stars turned out, inevitably home-grown stars Lewis Hamilton and Jenson Button received a tumultuous welcome. And without any FIA stuffed shirts in attendance to give him the seemingly obligatory dressing down, Hamilton truly entertained in a 2008 MP4-23. He also got to drive – with a little more respect – the 1981 MP4, John Barnard's design that utilised the then novel carbonfibre and launched the now Ron Dennis-run McLaren on the path to future success.
Incidentally, McLaren test driver Chris Goodwin has invested some of his earnings in a McLaren M1B, the first chassis built and raced in the US by Chris Amon. Goodwin will be following in the footsteps of his long-time historic racing father Tony when he races it at the Revival.
Other current F1 teams represented included Red Bull with an old RB1 for Mark Webber and Adrian Newey, Williams, Ferrari and both Team Lotus and Renault, all using older cars.
They reason they don't use today's cars is that the mileage counts towards their testing allowance and it also puts pointless mileage on the engines.
Martin Donnelly somewhat bravely got back behind the wheel of a Lotus-Lamborghini 102, the model with which he ended his F1 career with a huge shunt at Jerez in 1990. The car, the only Lotus ever to have used a V12, has recently been restored by CTL and owner Andrew Morris also took a turn, although with very limited track time in the car it's been a bit of a learning curve as there have been a few problems getting the Lambo to run cleanly and engine spares are not exactly plentiful.
In keeping with the Motor Show theme, the majority of manufacturers now have a presence of some sort with from Audi, occupying their usual dominant pitch by the hill down to tiny Morgan, whilst newcomers Lotus were showing the new Esprit, now signed-off for production.
Despite my opening comments, there was plenty to see at Goodwood, even a successful record attempt by Terry Grant for the longest distance by a 4-wheeled vehicle on two wheels – he managed to get his Nissan Juke all the way up the 1.1-mile hill, but one has to stop somewhere this'll be it – until the Revival in September, that is!
John Elwin, July 2011