The First Step – Brooklands New Year 2014
The Special Correspondent wasted no time in getting his motoring year off to a flying start. While off key choruses of "Auld Lang Syne" were still ringing in the air he was up and out to Brooklands, which resembled a Naval Dockyard rather than the birthplace of British Motorsport. A little rain was not going to deter him or those like him, the British Bulldog Spirit is still much in evidence.
Brooklands on New Year's Day is always a most welcome start to the season for car-starved enthusiasts and has become so popular that it invariably attracts a fine and wide variety of machines – it is well worth a visit. It nearly didn't happen this year as the River Wey burst its banks for the sixth time since Brooklands was built in 1907 and, were it not for the dedicated team of volunteers supporting the museum staff working over the Christmas period protecting the exhibits and buildings, the event would have had to be cancelled. The sincere thanks of all of us car lovers go out to them. Yet, despite the wild, wet day, they were rewarded with a surprisingly good turn-out. Here are a few of the sights: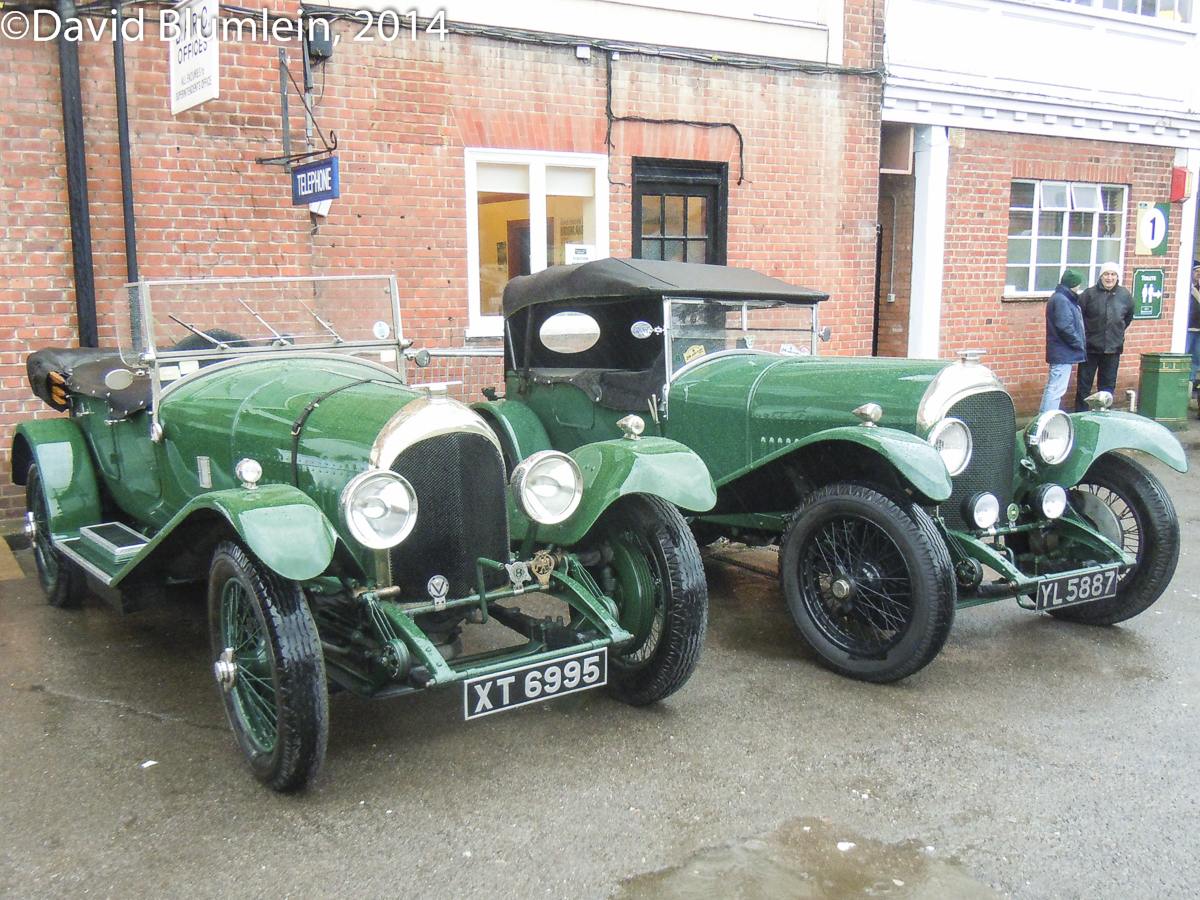 To start with, a brace of immaculate, green 3-litre Bentleys, lined up appropriately in front of the Clubhouse, an area which was under flood water a short while before.
Bentleys started winning at Brooklands in May 1921 when Frank Clement drove EXP2 to victory and went on until the chapter was closed by Bob Gregory's Speed Six saloon winning a heat on 8th July 1939.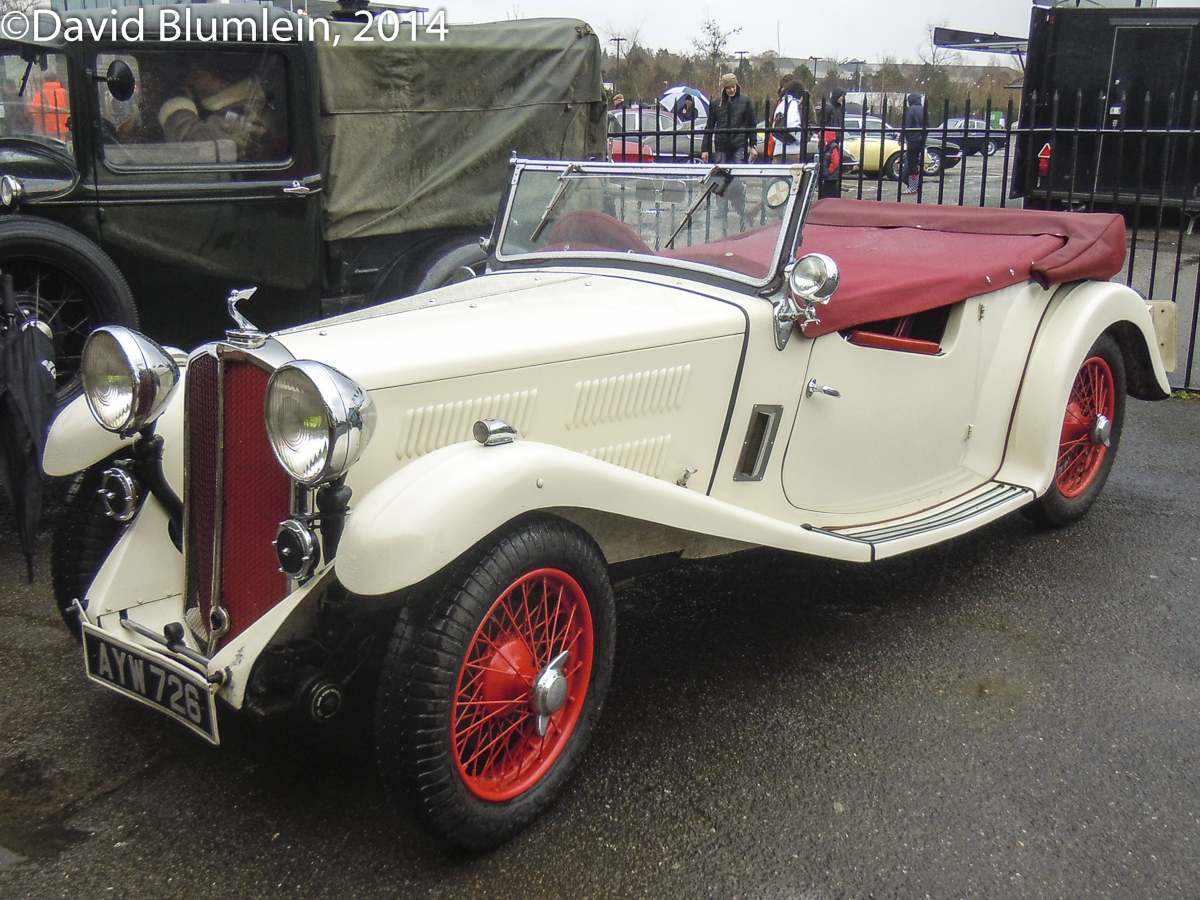 Just restored, this lovely 1934 Triumph Gloria Monte Carlo dates from the Donald Healey era. It is powered by a 4-cylinder Coventry-Climax inlet over exhaust engine. The pre-1940 Triumph Club is ensuring the survival of more and more examples of this interesting make.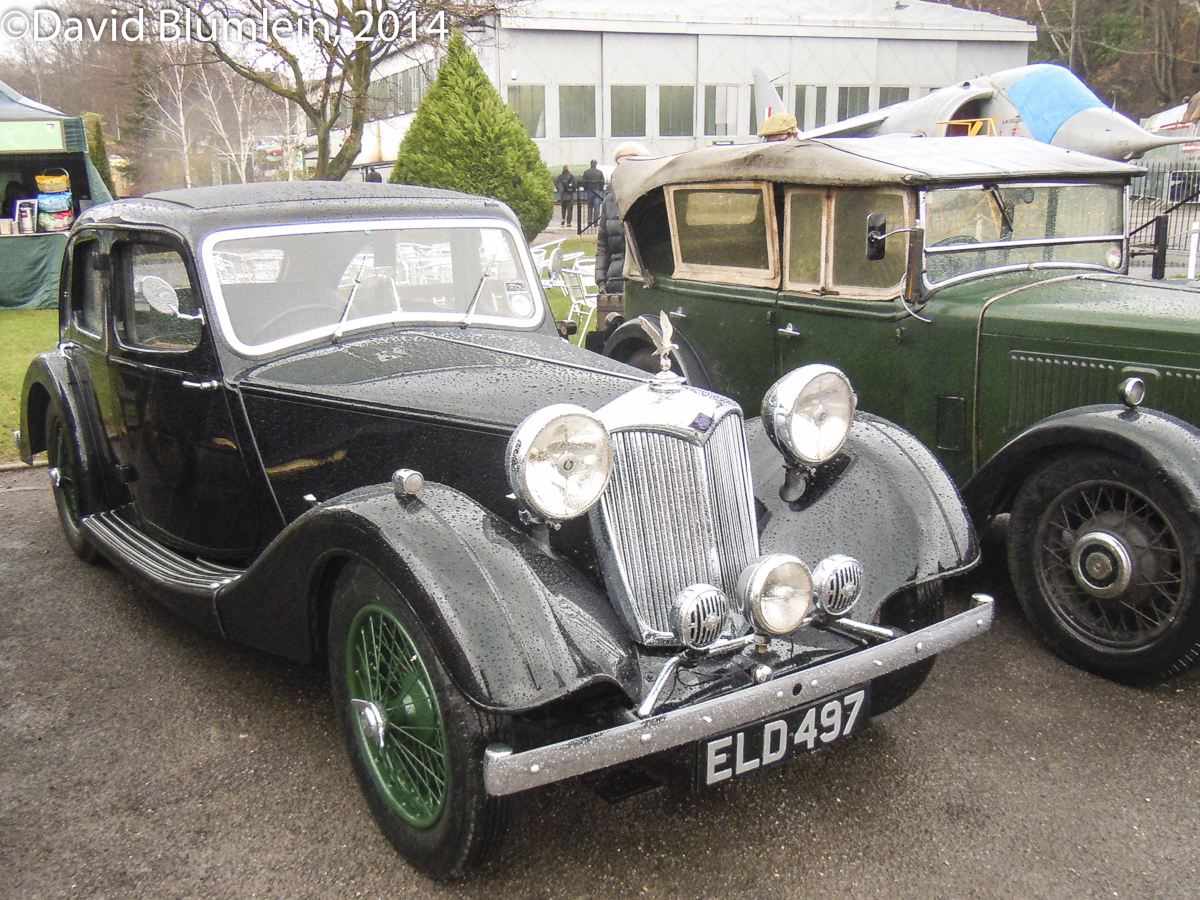 This six-light Riley Kestrel is one of the prettiest models to come from the Coventry factory. The engine is based on Percy Riley's magnificent Nine of 1926 and, although updated by Hugh Rose in the Thirties, it has the high-mounted twin camshafts with short rockers, valves set at 90˚, giving a hemispherical combustion chamber.
Like Triumph, Riley made far too many different models which contributed to its downfall in 1938 – it was rescued by Lord Nuffield.


This is an Alvis Silver Eagle, a model introduced in 1929 with a small 6-cylinder engine and a variety of body styles. It is rather nostalgic to see it on Brooklands soil because Alvis entered a team of three open-bodied Silver Eagles with 2-litre engines for the 1930 Brooklands Double Twelve race. One car retired within the first hour with big end failure but the other two placed 13th and 15th at the finish.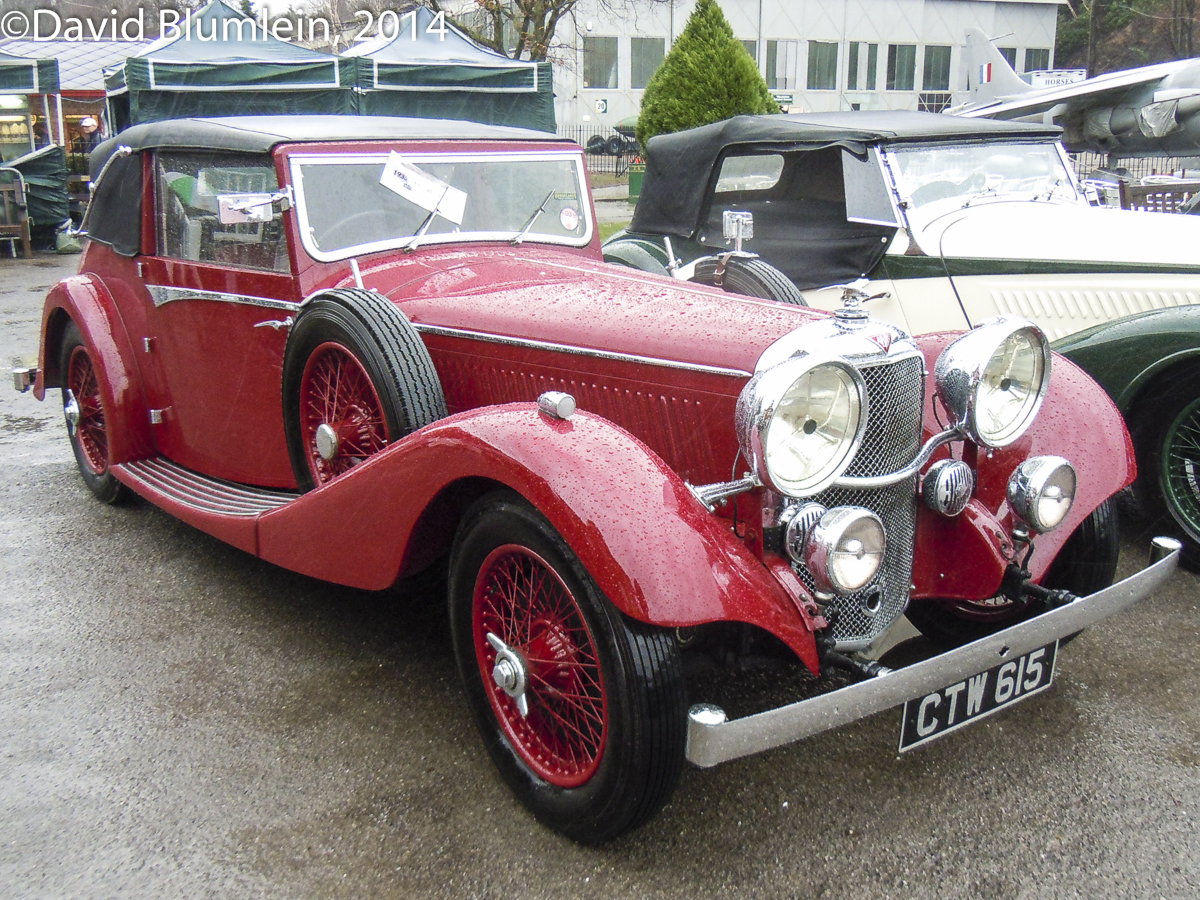 Charles Follett was a motor-trader with showrooms in London's west end and he helped Alvis financially. This attractive model, introduced in 1931, was to have been called the Silver Dart but Follett convinced the Alvis chairman T.G.John that it would sell better as the Speed Twenty. The engine was based on that of the Silver Eagle but boasted triple S.U. carburettors and 2.5-litres. In 1933 the Speed Twenty was updated in two significant ways: it was given an all-synchromesh gearbox, the first British car to do so, and independent front suspension by transverse leaf spring. This particular car was made in 1935 and is the SC model with a 2.76-litre engine.


Visitors to Brooklands seeking shelter from the persistent heavy rain would have noticed a special sign indicating that "Babs" was in the Campbell sheds. What a lovely surprise to see this historic machine back on home ground where the engineer genius Parry Thomas created it out of Count Zborowski's Higham Special! After the Count's death in a Mercedes in the 1924 Italian Grand Prix at Monza, Thomas saw the car as the basis for a world land speed record contender and bought it. It came with a huge Liberty V-12 aero-engine and a Benz four-speed gearbox in a specially made Rubery Owen chassis but Thomas modified the car extensively, giving it components from the Leyland Eight he had designed, such as the sloping radiator which enabled him to give the car a lower cowled nose. Calling it "Babs", he went to the Pendine Sands in South Wales and in April 1926 he set a new land speed record of 171 m.p.h. Coming back to Brooklands for the Whitsun meeting, the car ran in three races, Thomas letting John Cobb drive it in two.
Thomas returned to Pendine in March 1927 to beat Campbell's new record of 174 m.p.h. set in "Bluebird" in February but Thomas crashed fatally and the wrecked car was forthwith buried in the sand in Thomas's memory. Then forty-two years later the remains were dug up by Owen Wyn Owen, a lecturer at Bangor University, and he restored the car to its original condition which we see today. It usually lives in the Museum of Speed at Pendine but it is enjoying a very welcome return home here at Brooklands!


Still viewing in the Campbell sheds, I found that the so-called Vauxhall T.T. had been moved to a more accessible position in the museum – hence this consideration. It was designed as a Grand Prix car for the 3-litre formula of 1921 but was not ready in time and was thus ineligible for the new 2-litre formula that began in 1922 despite the change in engine capacity being advertised well in advance! So three cars were entered for the revived Tourist Trophy race run on the Isle of Man in 1922 but only one survived to finish 3rd. Henceforth the cars ran privately in the following years, scoring a number of wins here at Brooklands.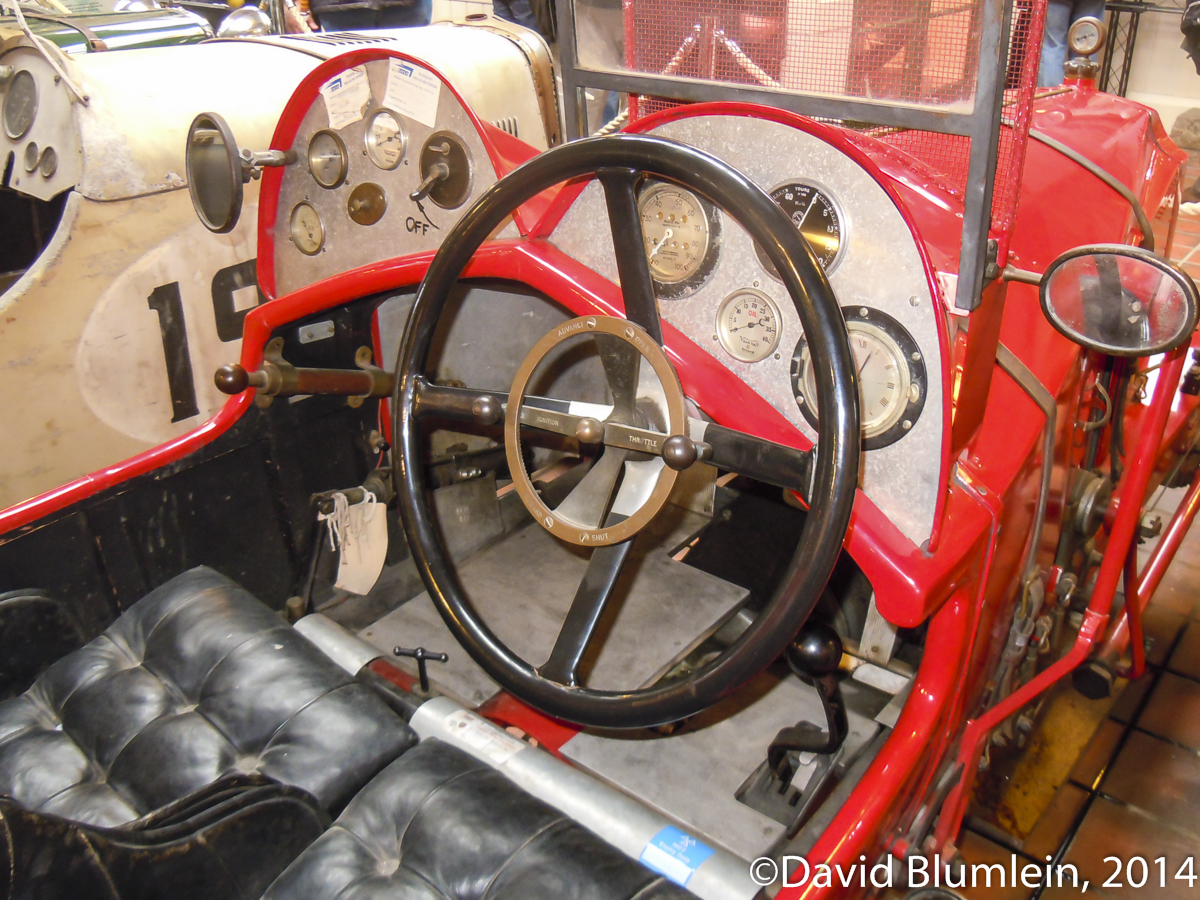 The unusual layout of the instrument panel of the Vauxhall.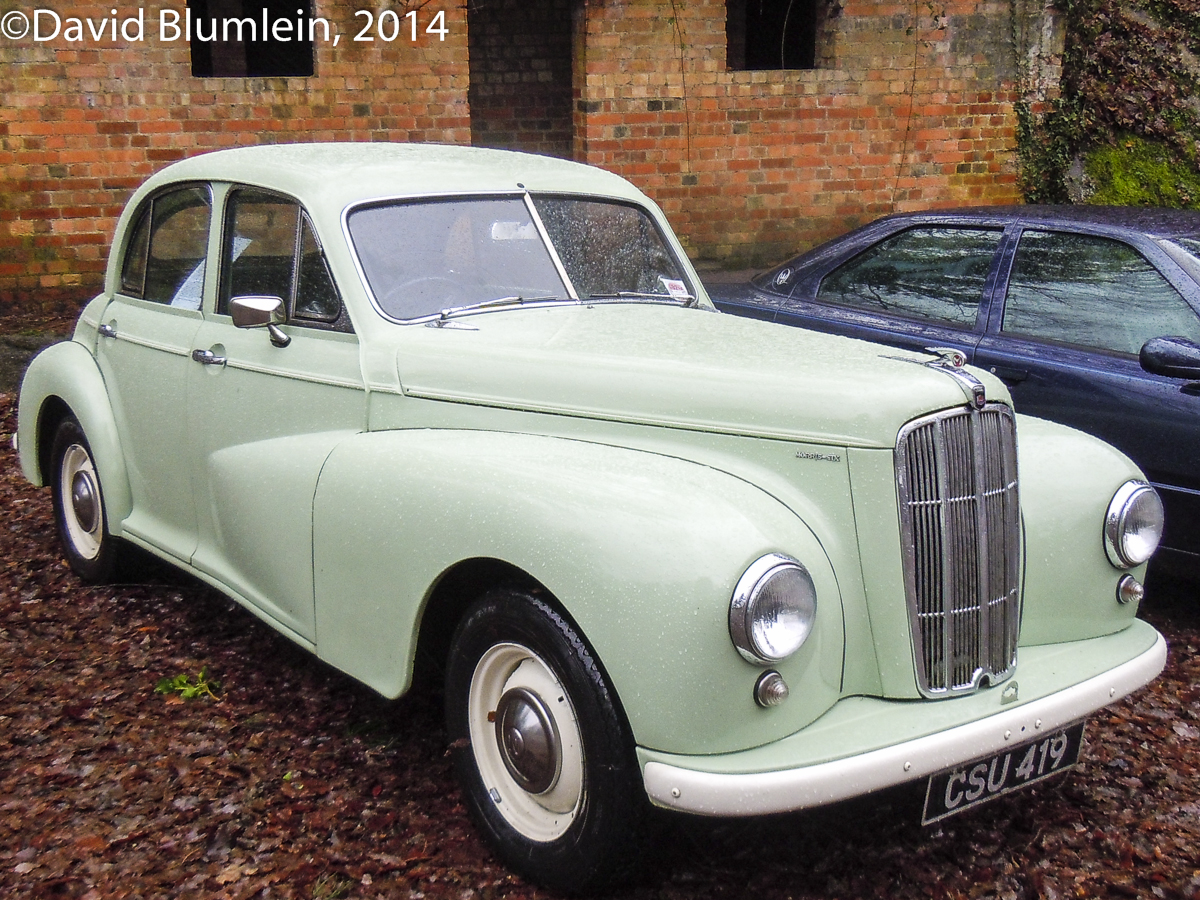 A slightly late tribute to the Morris centenary – the Morris Six, Series MS, first introduced in 1948 as a Morris version of the Wolseley 6/80 with overhead camshaft six-cylinder engine. Like all the new post-war Issigonis inspired Nuffield models, it had torsion bar independent front suspension. Only some 12,000 were made; six-cylinder Morrises were never hugely popular although this model did far better than William Morris's very first six-cylinder, the F-type, which was a disaster!
TAILPIECE


The River Wey, alongside the Paddock/Club House area, in threatening mood!
David Blumlein, January 2014