---
Sportscars at Goodwood Festival of Speed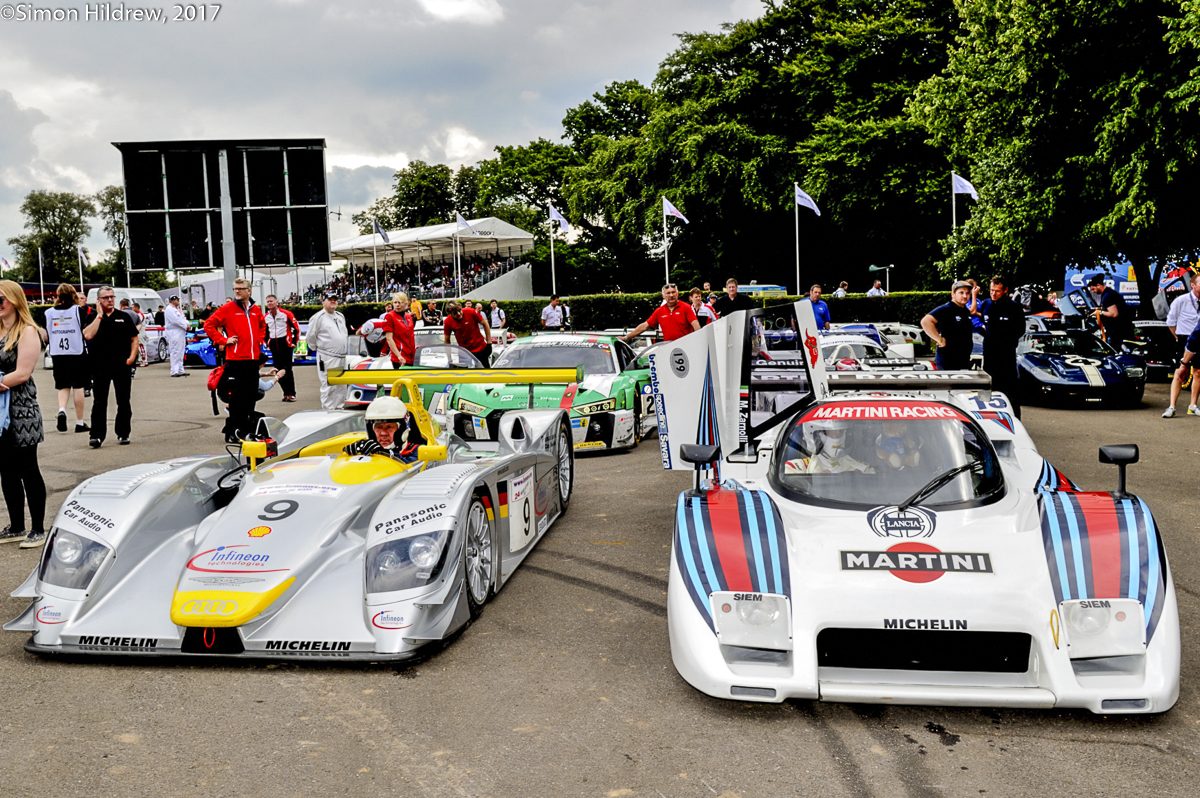 As one might expect, at Goodwood there was a fine display of sportscars from the early days right through to the 2017 winner of the Le Mans 24 Hours. There was also a special tribute to the Great Dane, Tom Kristensen, nine-time victor at La Sarthe.
Our great snapper, Simon Hildrew, was also on tip top form, so enjoy the penultimate gallery on DDC from the Festival of Speed.
John Brooks, July 2017
---
Goodwood's Silver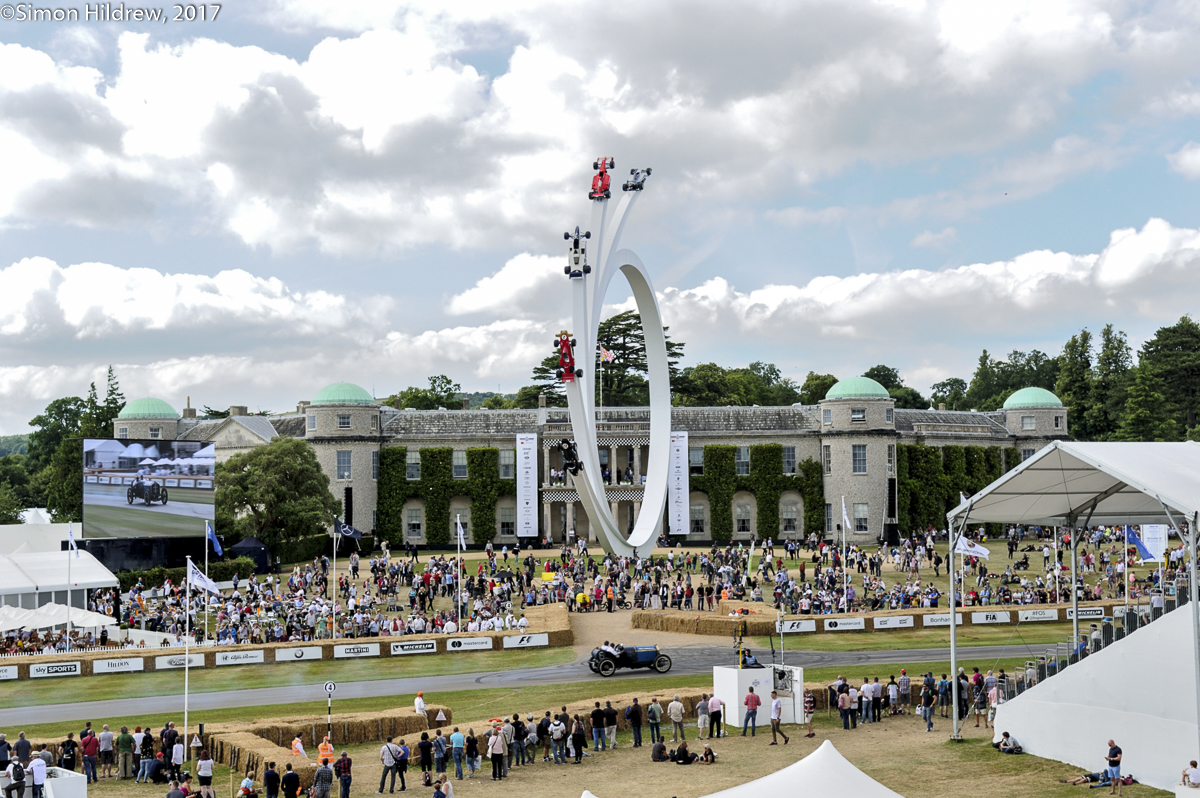 Can it really be 25 years ago that Lord March first introduced the Festival of Speed? These days it is part of what used to be known as 'The Season', a must attend for all of those who take pleasure in the automobile. Our man,  John Elwin, was in attendance at the very beginning, so who is more qualified to bring us a report of the delights to be found on the Hill in 2017?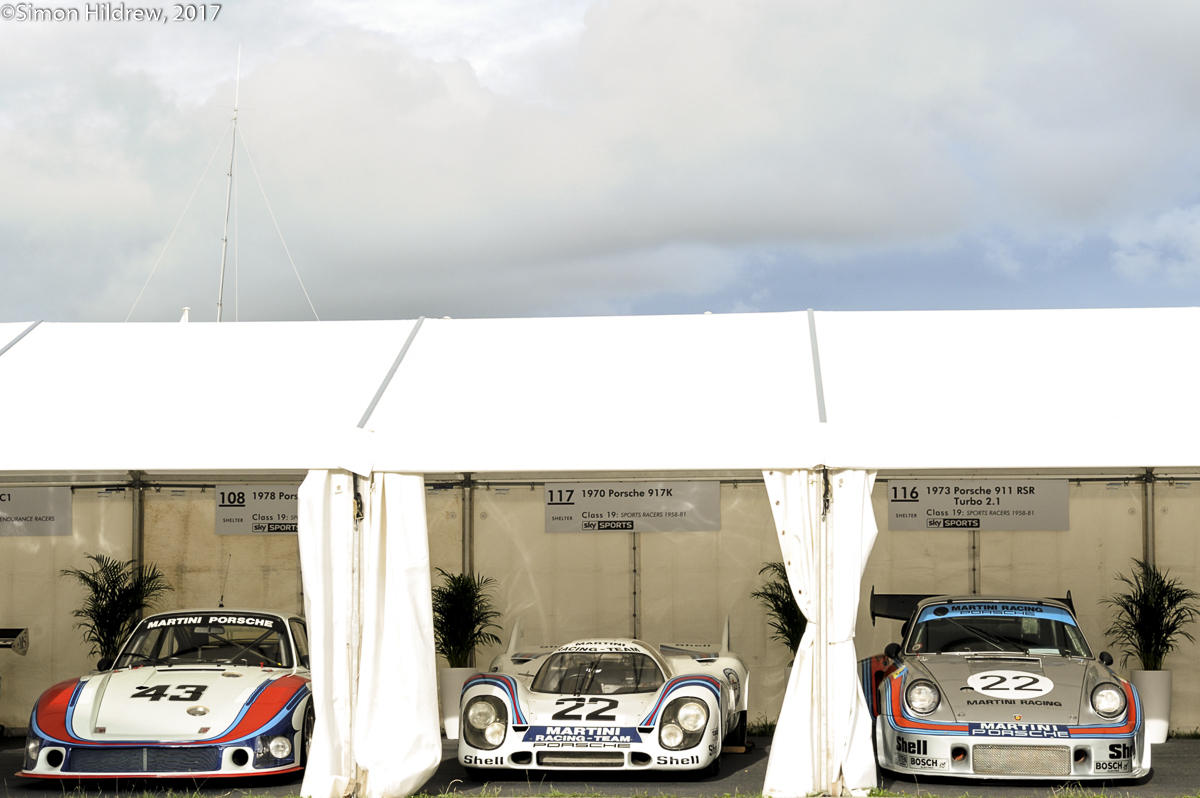 With this being the 25th running of the Festival of Speed you might be forgiven for thinking that Lord March and his team would have run out of ideas for things to celebrate. But no, they found a whole raft of subjects worthy of commemoration to draw in the crowds.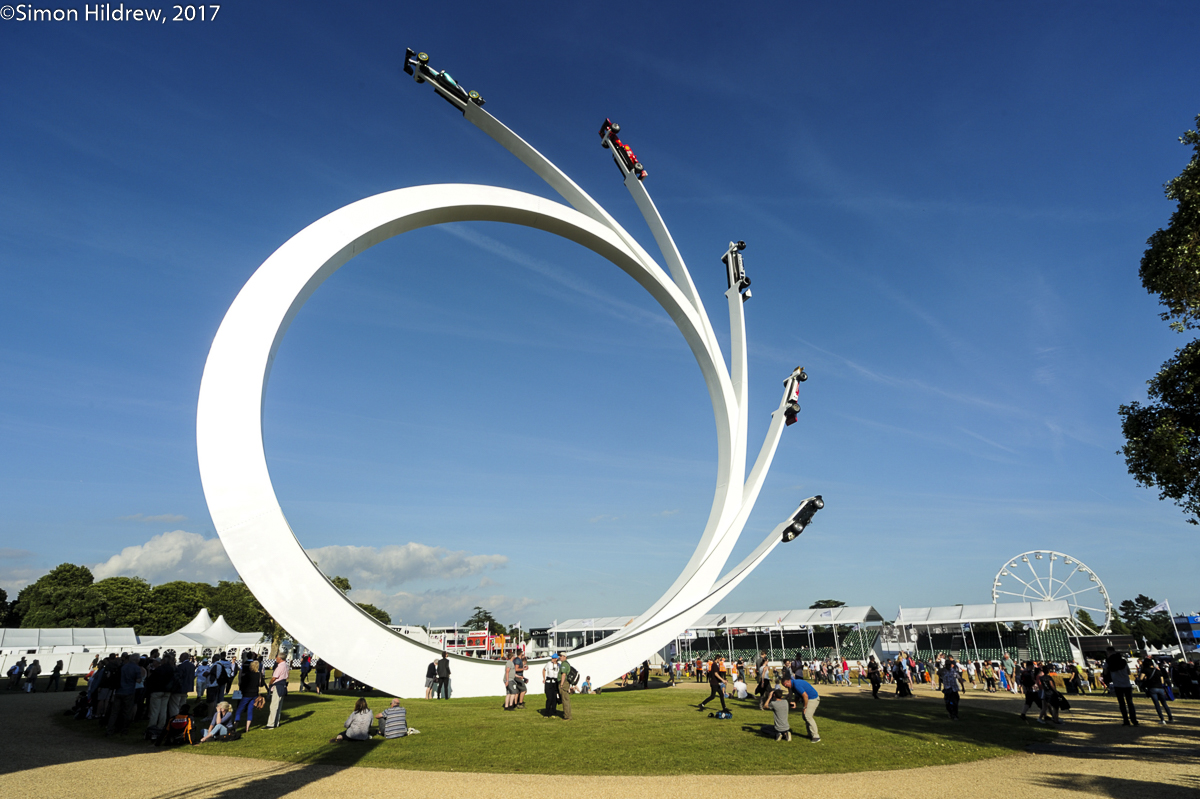 In a departure from tradition they chose to celebrate an individual rather than a make of car with the pride-of-place sculpture on the lawns in front of Goodwood House. The person concerned was no less than Bernie Ecclestone who has recently stood down as the head honcho of Formula 1. Relative newcomers to the sport might think that a controversial choice but he has done more than anyone else to make the sport what it is today and in reality much of what we watch with awe every year at Goodwood simply wouldn't have happened without Bernie's drive. There were initial fears that a life-size statue in front of the house would look like a garden gnome but as usual Gerry Judah worked his magic with a creation depicting 'The Five Ages of Ecclestone', five representative cars soaring into the sky. Starting with the Connaught he tried unsuccessfully to qualify for the 1958 Monaco Grand Prix, it progressed to Jochen Rindt's Lotus 72 (Bernie was his manager) a Brabham BT49 from the period when he owned the company, a Ferrari from the Schumacher era and last year's World Championship-winning Mercedes.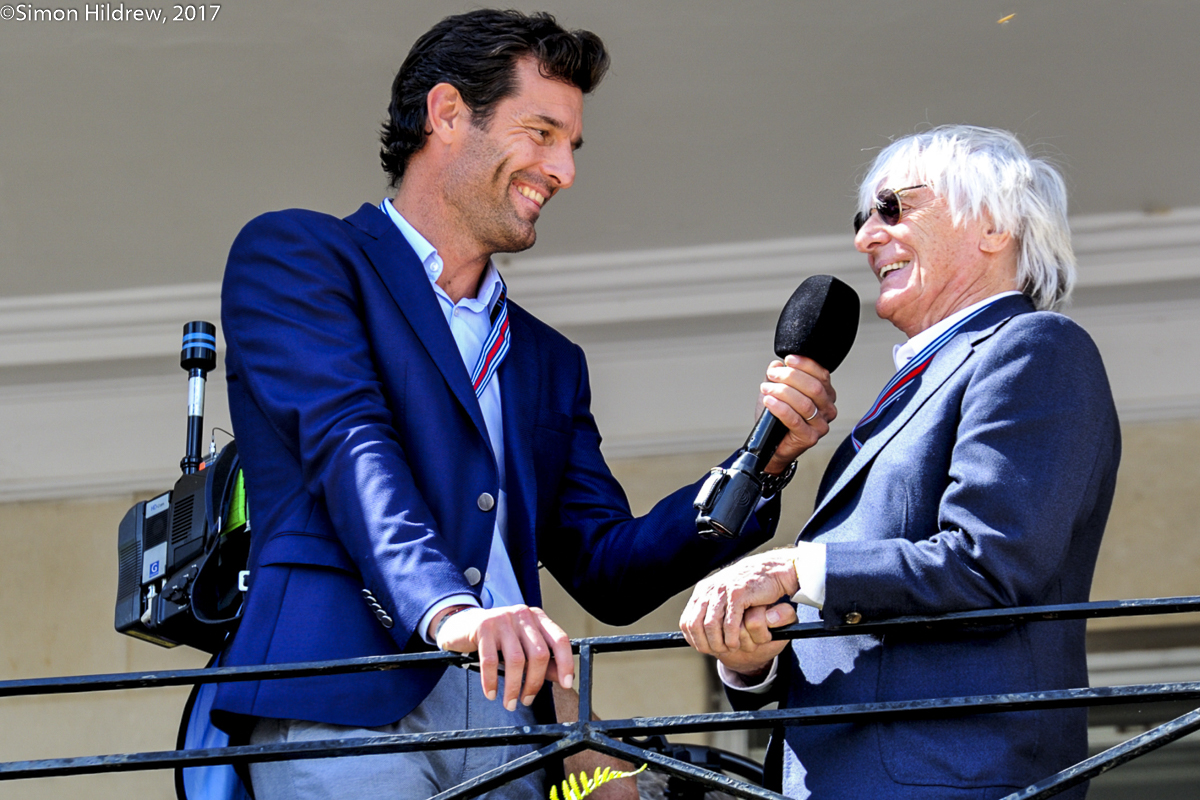 On Sunday Ecclestone was driven up the Hill by Lord March in an open AC that belonged to his grandfather, Bernie being warmly received by the enormous crowds. They were followed by a cavalcade of F1 cars, led by reigning World Champion Nico Rosberg – a big fan of the Festival – at the wheel of a 2014 Mercedes. They returned to the House, where Bernie was introduced from the balcony to the waiting fans. There was something of scrum to get a view and Rosberg, being the last to arrive, had a job to get his race car to the front doorstep. Bernie was then interviewed by Mark Webber, not the most accomplished  emcee in the world, it has to be said, before enjoying a Champagne reception surrounded by many luminaries from the F1 world, ranging from former Brabham designer Gordon Murray to FIA President Jean Todt. As if you needed reminding that the times are a-changing, amongst them were Ron Dennis and Peter Sauber, two long-standing team owners who have recently relinquished control of the teams they ran for so long, leaving them in the hands of corporate non-entities.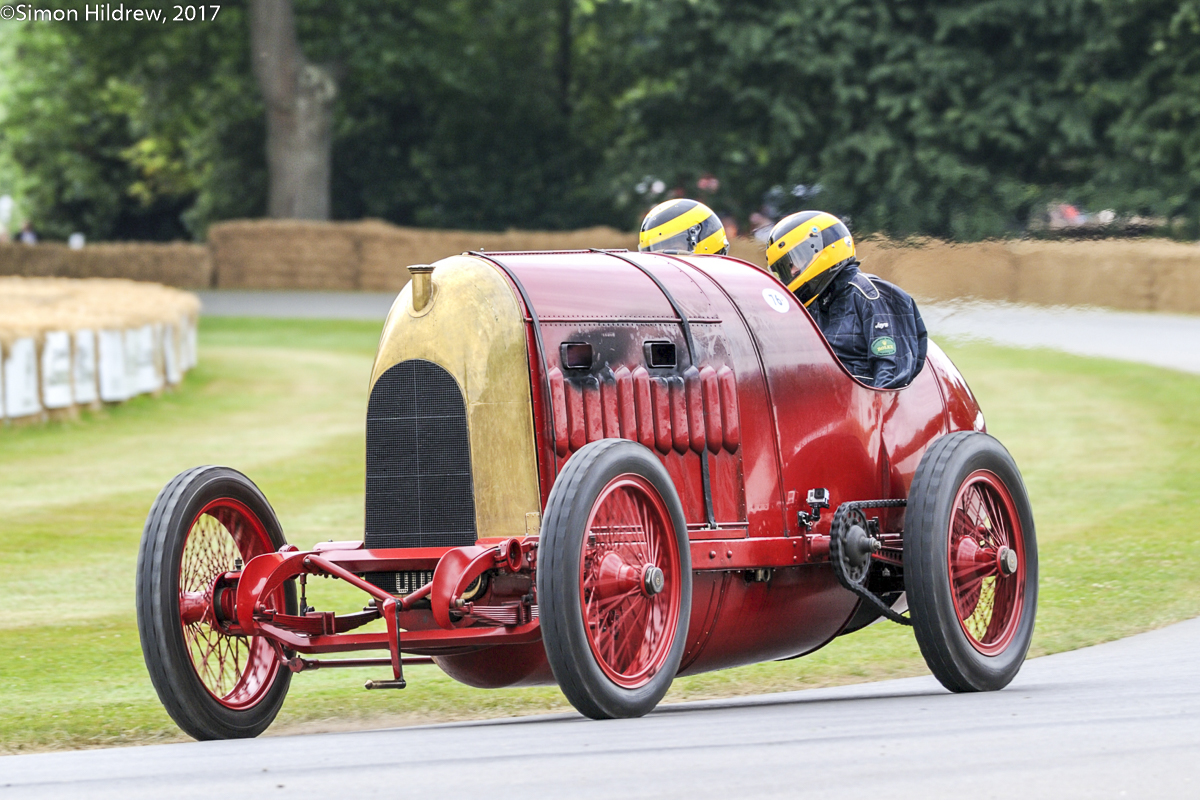 The cynics amongst us could be amused that the new guard in the shape of Chase Carey, head of Liberty Media, was left to rub shoulders amongst the riff-raff at ground level, some of whom reportedly resorted to fisticuffs! Carey may well have gone away re-thinking his ideas to give the public more access to the Formula 1 Paddock – maybe Bernie wasn't so wrong after all! He also got to ride up the Hill in Duncan Pittaway's fire-breathing monster 27-litre Fiat; aside from testing the aerodynamic qualities of his faintly ridiculous moustache (he didn't wear a helmet) it may also have given him ideas about returning to proper engines. Pittaway drove the monster to Goodwood from his home in Bristol, requiring eleven fuel stops en route – imagine that in a GP!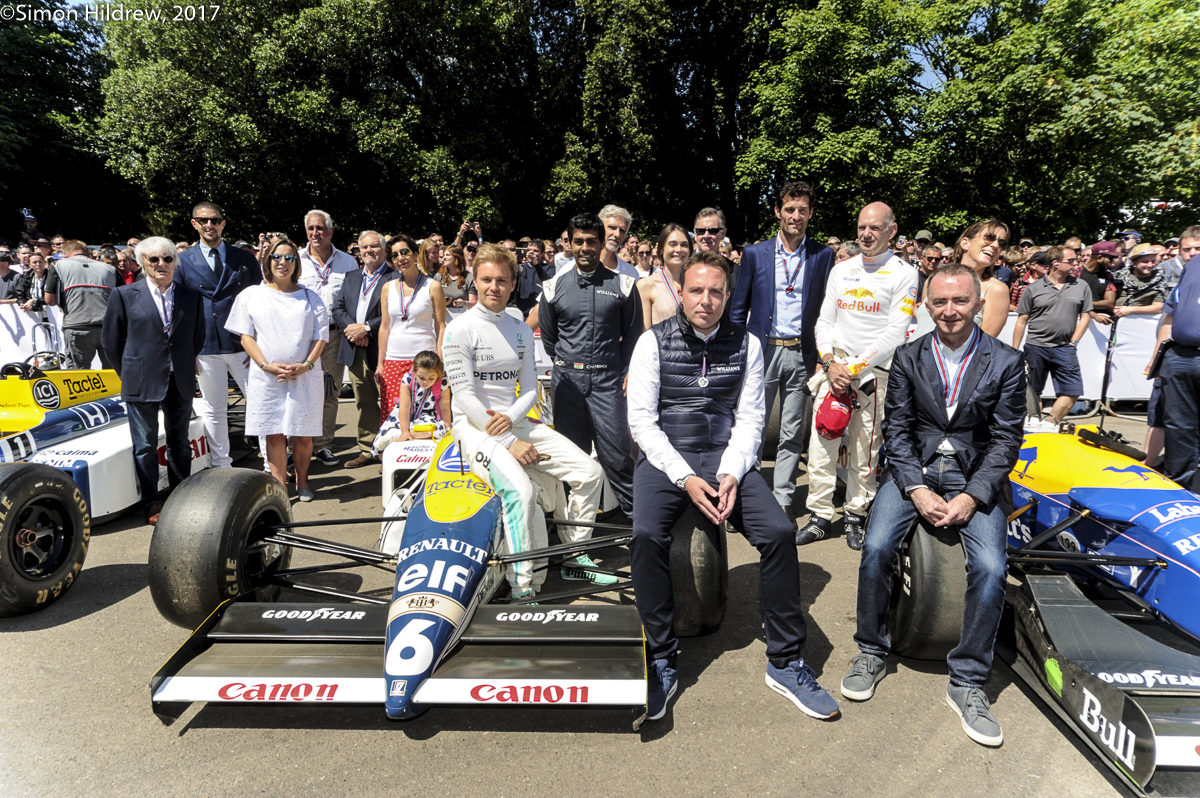 Another nod to the passing era was the celebration of the Williams Grand Prix Engineering's 40 years in Formula One. Sadly Sir Frank himself was not well enough to attend but daughter Claire and son Jonathan were present, supported by Patrick Head and Bernie and including others with Williams connections such as Adrian Newey and drivers Nico Rosberg and Damon Hill. Whilst Claire busies herself with the day-to-day running of the team, Jonathan is taking care of the history. Williams has retained ownership of many of its old cars, as recently seen at the birthday celebrations staged at Silverstone. Jonathan has a programme to bring the old cars back to life, aiming to work on two a year. This year's projects have been the six-wheeler that never actually raced, and Nigel Mansell's 1992 World Championship-winning FW14B, which remarkably has not run in the intervening 25 years! The FW14B with its Renault engine is not compatible with modern software, but fortunately Williams still has the original tower computer from the day, complete with floppy discs, and it still works! Both cars took to the Hill at Goodwood. With Claire and Jonathan firmly ensconced, and Claire shortly to give birth, hopefully this most British of teams will remain under the control of the family for many years to come.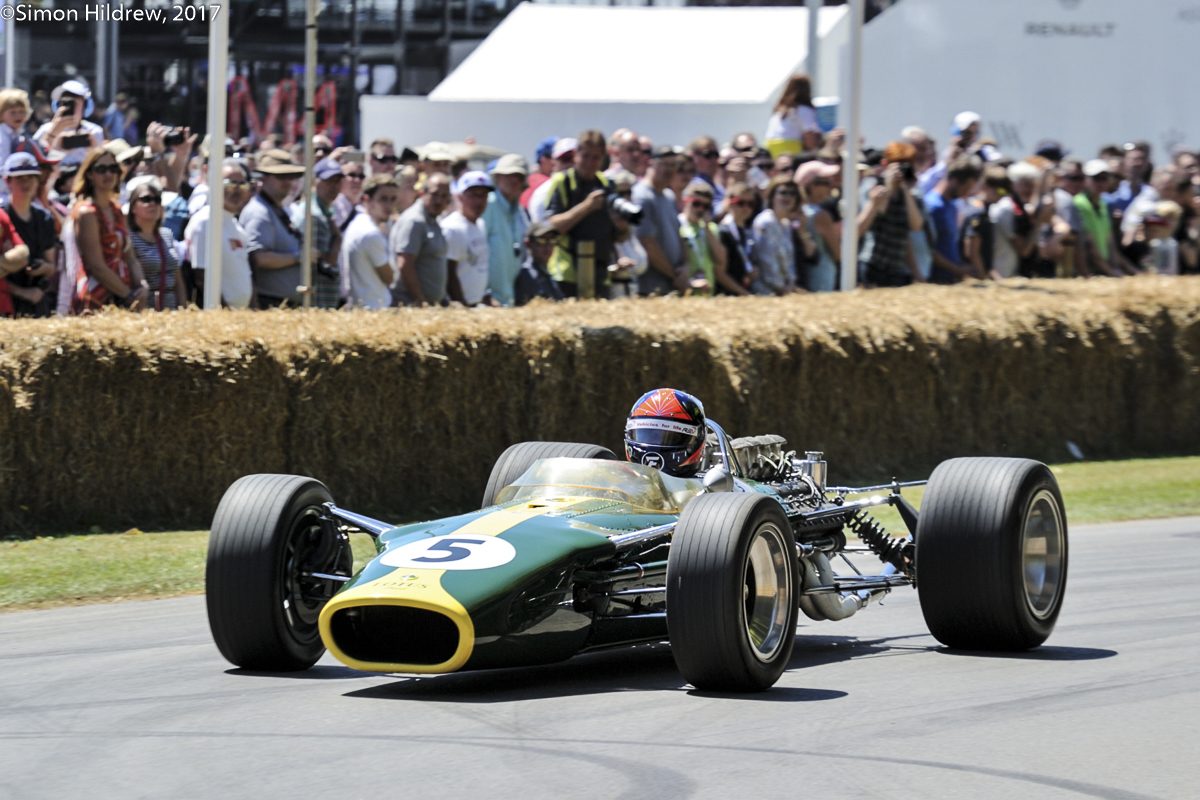 The Cosworth DFV was the mainstay of many Formula One teams for some years, including Williams, and this most successful engine of all time celebrates its 50th birthday in 2017, having debuted in the back of the Lotus 49 at the Dutch Grand Prix in June 1967. Lotus boss Colin Chapman had convinced Ford to fund development of the engine for the exclusive use of Lotus initially, in the new 3-litre formula, but such was its dominance, everyone wanted it in the following years.
The DFV powered all three of Sir Jackie Stewart's World Championships, scored whilst driving for Ken Tyrrell's team. Remarkably, all three cars were at Goodwood, so Jackie together with sons Paul and Mark demonstrated them on the Hill several times during the weekend, driving the 1969 Matra MS80, 1971 Tyrrell 003 and 1973 Tyrrell 006 in what must be a unique convoy.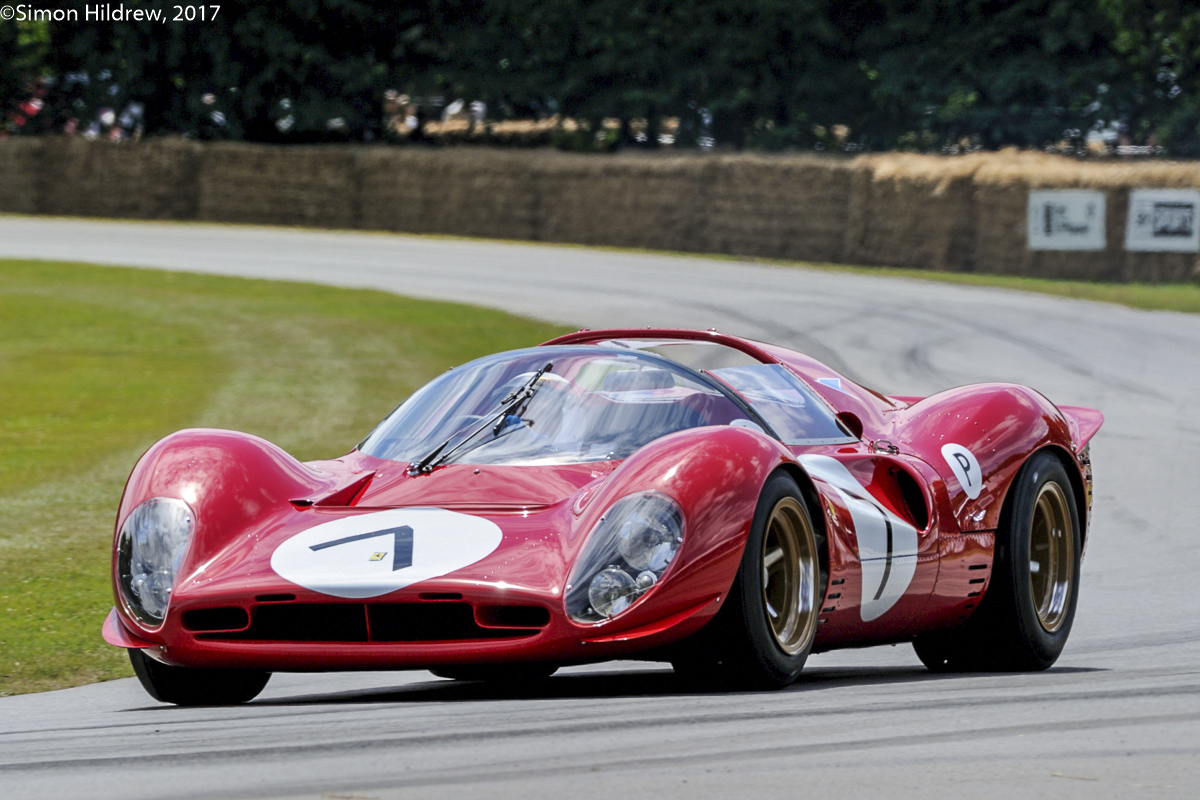 No motoring event this year has been complete without a Ferrari 70th Anniversary tribute and Goodwood was no different. One could get a bit blase about the Prancing Horse-adorned machines but Goodwood did bring together a breathtaking collection from the very beginning to the very latest and since most were demonstrated on the Hill, it was an aural as well as visual feast. Amongst them was a re-creation – the originals were all destroyed – of the Sharknose 156, giving Derek Hill an opportunity to find out what his late father Phil's 1961 World Championship-winning machine was like. During the course of the weekend Jackie Stewart was also re-united with the 330 P4 he and Chris Amon drove to second place in the 1967 BOAC 500 at Brands Hatch, thus helping Ferrari clinch the World Sportscar Championship. It is the sole-surviving example of a car Jackie himself describes as possibly the most beautiful racing car of all.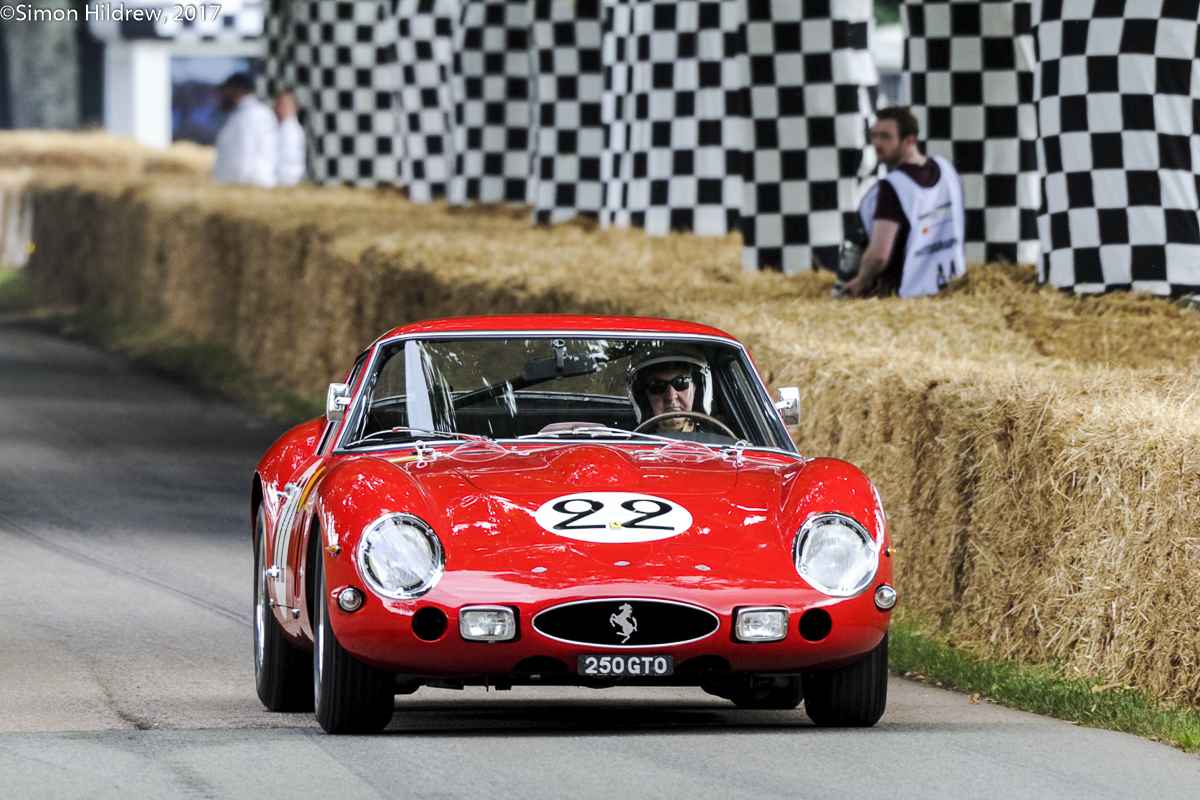 We are becoming immune to the eye-watering numbers being paid at auction nowadays for almost any Ferrari, so it was somewhat amusing to learn that Nick Mason paid £4,000 for his 250 GTO! I can recall seeing it parked, two wheels up on the kerb, outside a well-known model shop on a busy road many years ago – bet he doesn't do that now. It also has the registration number 250 GTO, leading one commentator to muse that that alone was probably worth more than his house. Another Ferrari in long-term ownership is Sally Mason-Styrron's 1949 166. The combination was actually the very first to drive up the Hill at the first Festival back in 1993. What's the betting Sally and her Ferrari will be back for the 25th anniversary FoS next year?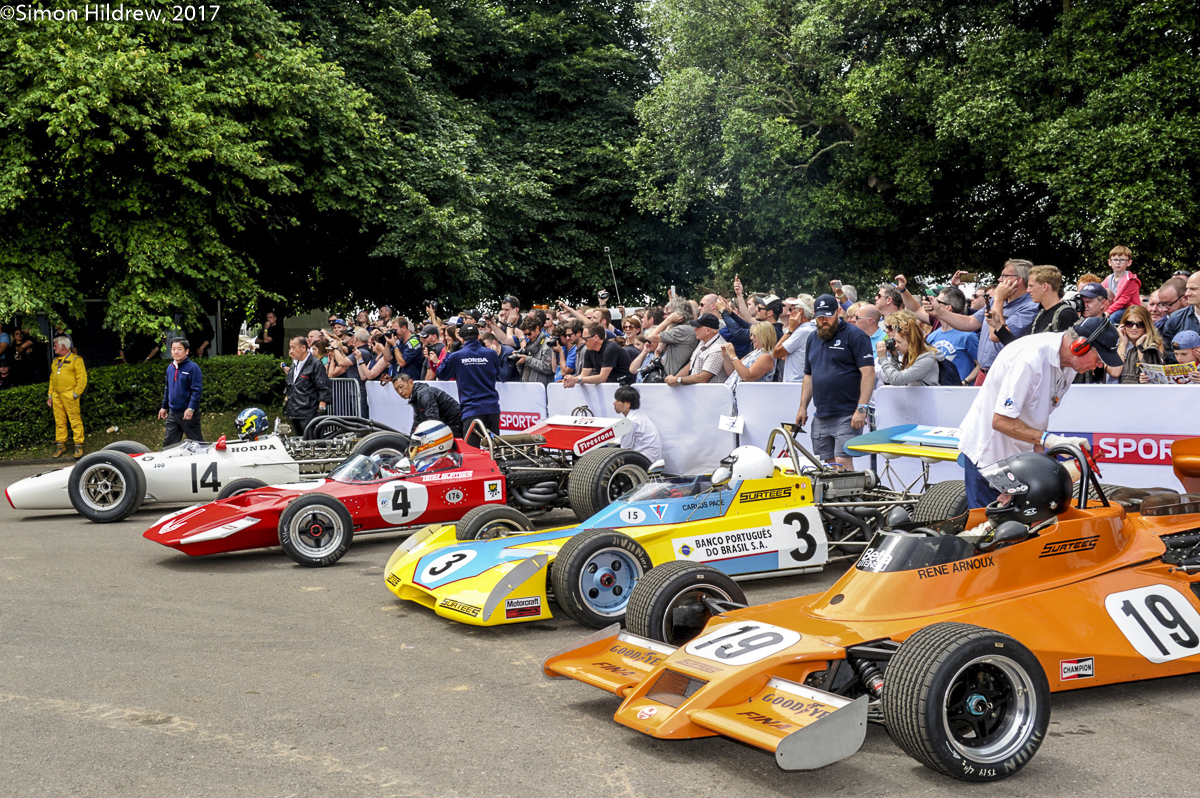 The Ferrari demonstration led neatly into a tribute to the late John Surtees, who passed away earlier this year. Surtees won the 1964 World Championship at the wheel of a Ferrari. John was a stalwart supporter of the Goodwood events from the very beginning, bringing along cars and 'bikes from his own collection, as well as cajoling others to come along. Amongst them was Stuart Graham, who like Surtees also successfully made the switch from 'bikes to cars, although not in Formula 1. He was, however, the only man to win the TT on two and four wheels. At Goodwood, Stuart both rode 'bikes and drove a re-creation of the Brut 33-liveried Chevrolet Camaro he campaigned so successfully in touring car racing.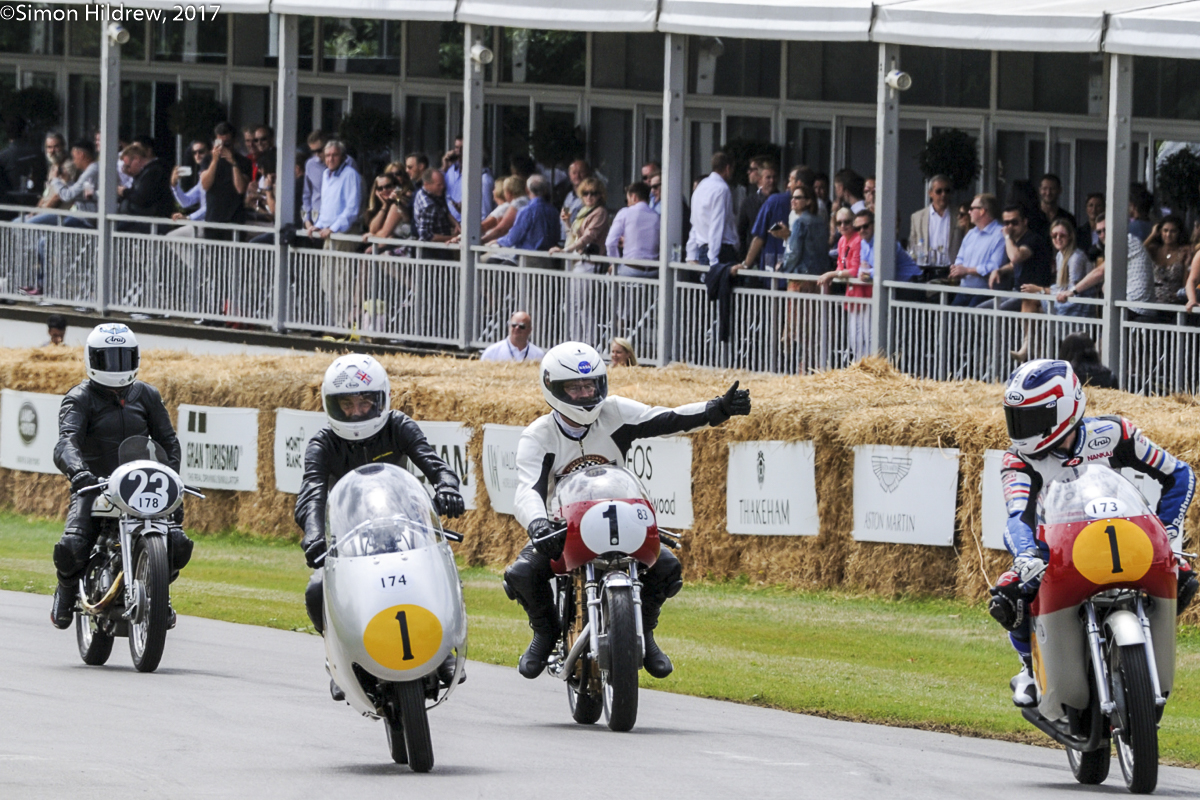 The John Surtees tribute included a minute of noise, in the presence of John's wife and daughters, Lord March and Bernie Ecclestone, followed by a demonstration of various 'bikes ridden by the likes of Freddie Spencer, and cars including a Lola T70, Surtees F1 and F2 cars, and of course a Honda F1 car.
The AMG business is now the sporting arm of Mercedes-Benz, but it started out as a tuning business run by Hans-Werner Aufrecht, ultimately becoming synonymous with Mercedes' successes in DTM, the German touring car championship, in the 1990's and progressing to the then-new GT1 sports car programme, culminating in that famous flying incident at Le Mans. Now owned by Mercedes, the company celebrates 50 years this year and to mark the occasion Bernd Schneider, a driver who has been associated with many of its successes, demonstrated a DTM Mercedes C-Klasse. Of course, Mercedes was very much in evidence elsewhere, with everything from turn-of-the-century (that's last century!) racers to recent Formula 1 cars. Amongst them was Ben Collings' 1908 French GP car that was driven on the road from Bristol in convoy with another Mercedes and Pittaway's Fiat. Imagine seeing that lot looming up in your rear-view mirror!
Doubtless there were many other anniversaries and celebrations, but Justin Law marked his own 40th birthday by setting the fastest time in the Shoot-Out that brings proceedings to a close on Sunday. Driving an IMSA Bud-liveried Jaguar XJR 12D he set a time of 46.3-seconds, just pipping Jeremy Smith's Penske PC22 Indy car. Showing the way to the future, Nick Heidfeld was fifth fastest at the wheel of the Mahindra Formula E prototype. With Lord March stating we will see autonomous cars on the Hill next year, times really are a-changing…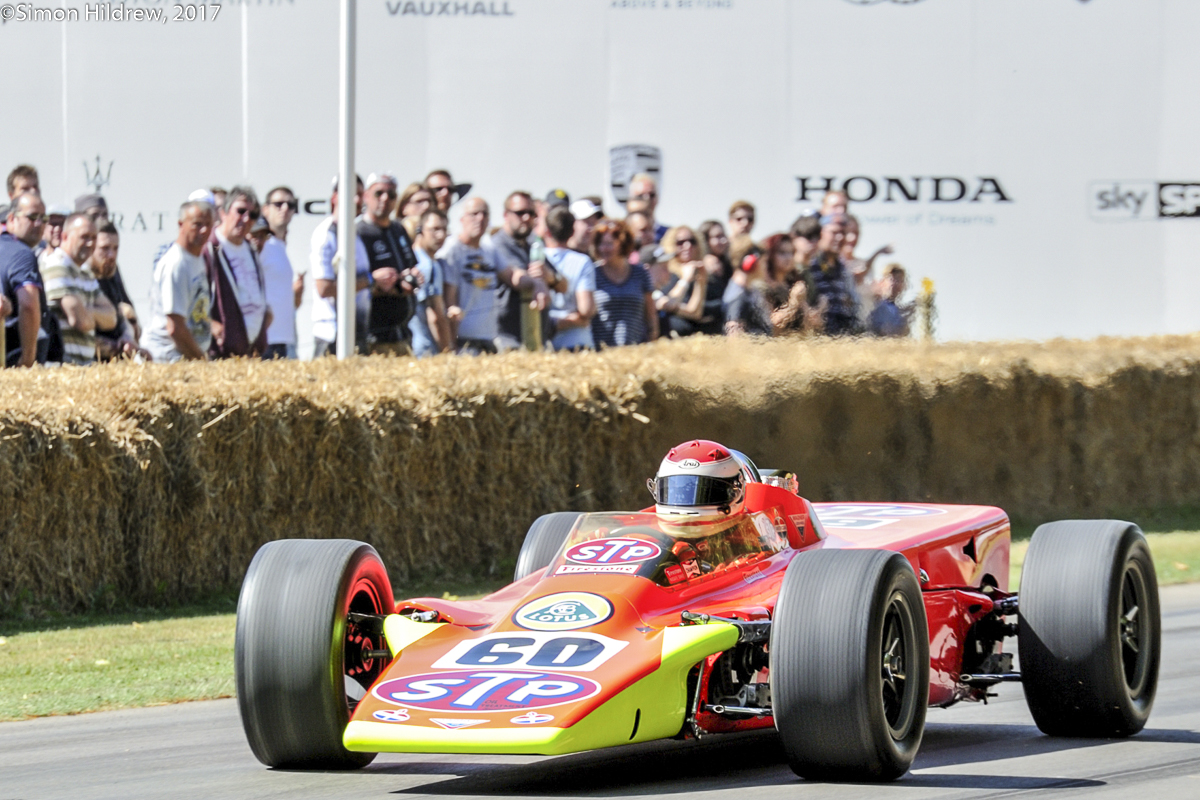 …and one last word. Not celebrating any anniversaries that we are aware of, that incorrigible enthusiast Emanuele Pirro really must have thought all his birthdays had come at once, for he got to drive the MoMo Ferrari 333 SP, Lotus 56 Turbine Indy car and the six-wheeler Williams. That's not bad for a day out, is it?
John Elwin, July 2017
---
Straight, No Chaser
My local track is Brooklands, racing there was suspended at the outbreak of the War in September 1939 and never resumed. In recent years there have been considerable efforts to restore Brooklands to some of its former glory. Our Special Correspondent was on hand to witness the re-opening of the Finishing Straight last month. Naturally he found some of the Rare and Interesting to keep us entertained and informed……………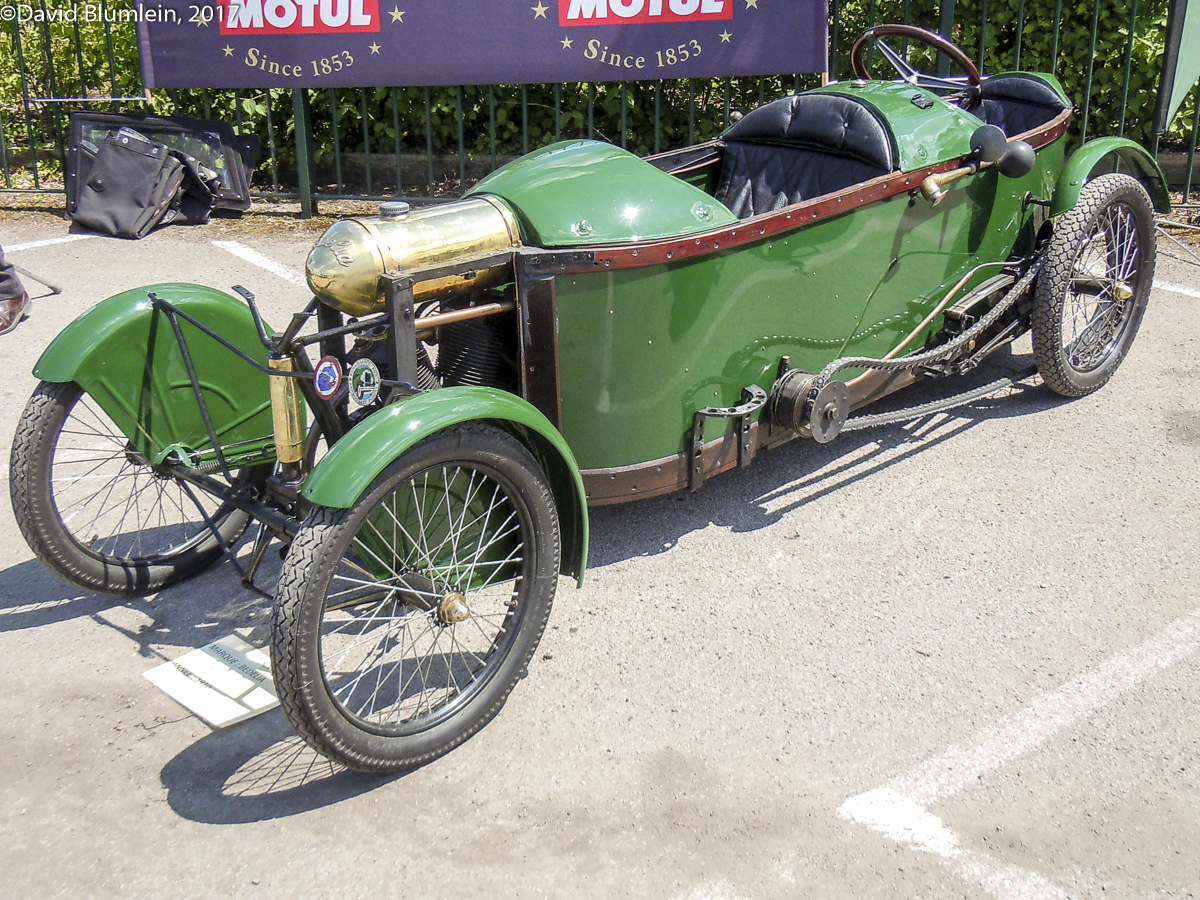 A superb example of a French Bédélia cyclecar which dates from 1910. The owner had just brought it over from France and it is a Type BD2 with a 990 c.c. V-2 Train air cooled motor. The driver sits at the back with the passenger in tandem in the front. One of these cars won the Cyclecar Grand Prix at Amiens in 1913.

The outstanding sports car of the late Thirties – the BMW 328. This is a Frazer Nash–marketed version and is the ex-Hugh Hunter car, albeit re-sprayed German white instead of the grey it was pre-war. It has a rich competition history including coming 4th in the Brooklands 3-Hour production Car Race on the Campbell Circuit in 1938.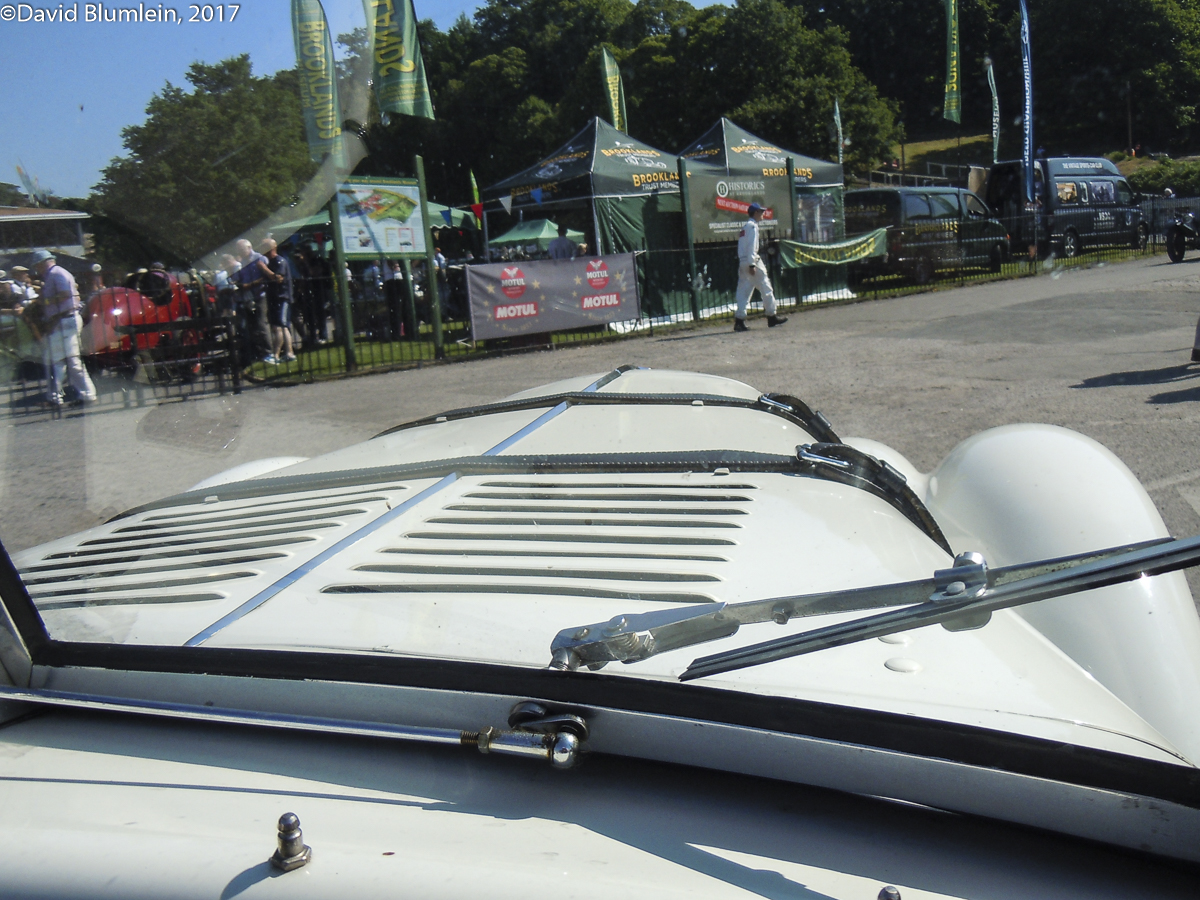 Enjoy the view through the windscreen over the long bonnet with the recessed headlights; these cars from Eisenach dominated the international 2-litre class in their time.

This is the pre-war 2-litre Aston Martin that was raced in the 1948 Spa 24 Hour race by Jack Fairman and Richard Stallebrass. Fairman came in to hand over to his co-driver during the very wet early Saturday evening of the race and the inexperienced Stallebrass lost control on his out lap on the long sweeping bend to Malmédy somersaulting off into a field and sustaining fatal injuries.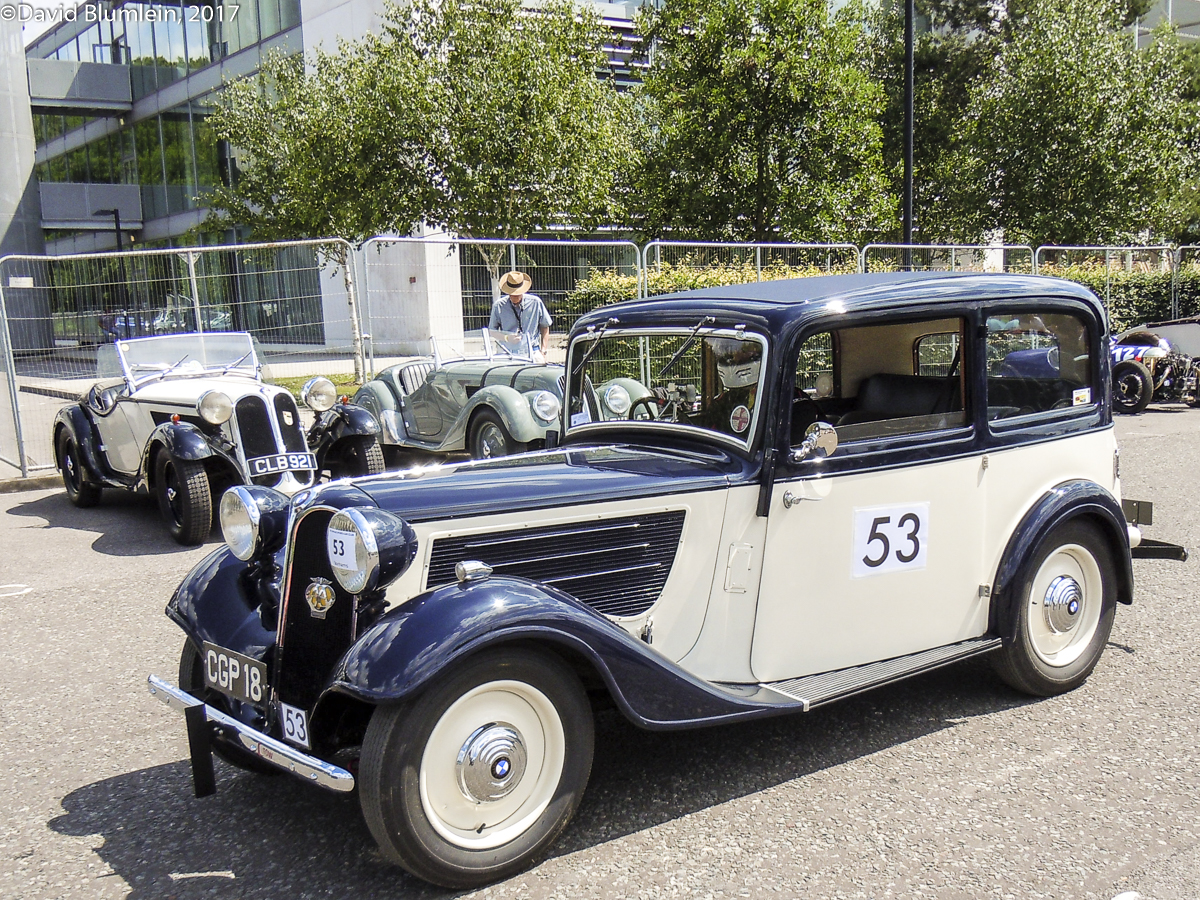 This is a Frazer Nash-BMW 319 saloon.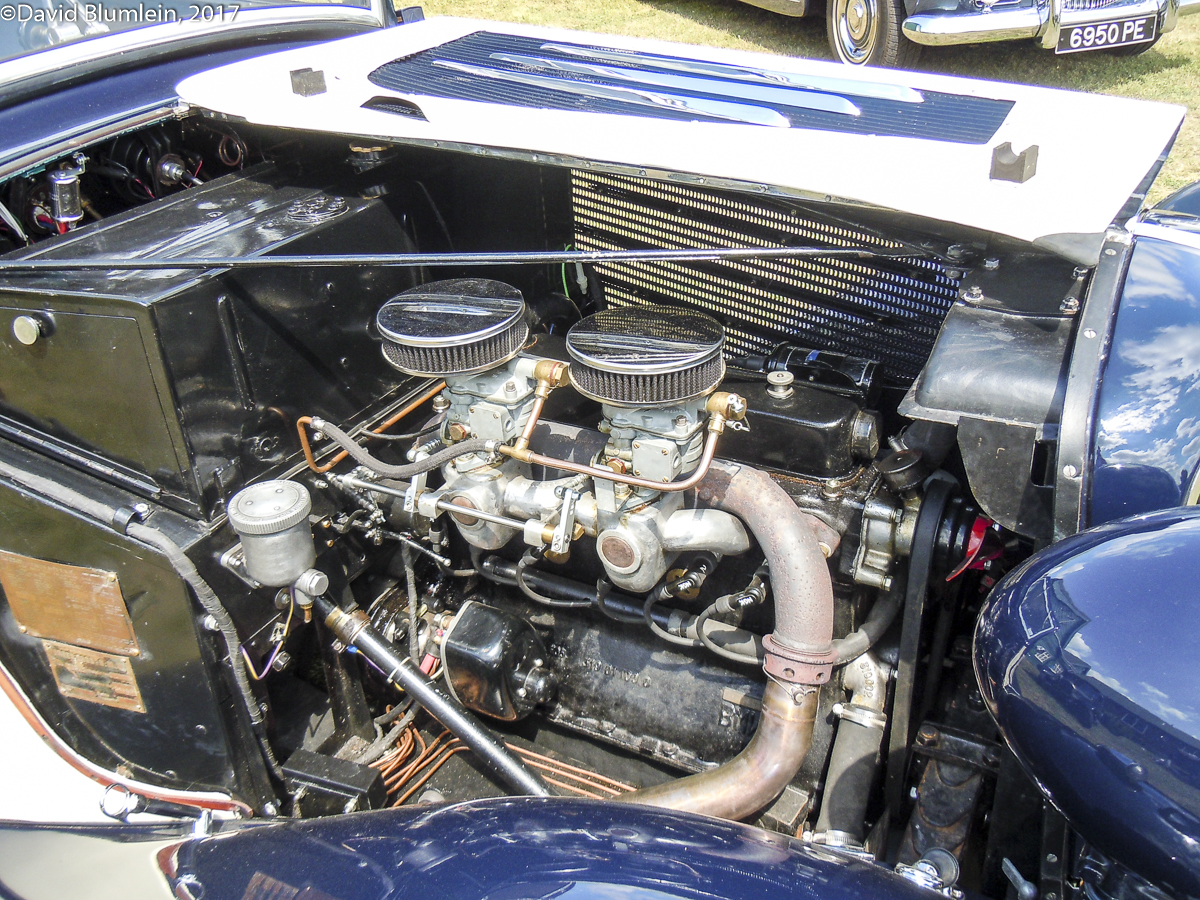 It had a 6-cylinder engine, an ordinary pushrod version not the special head used for the 328.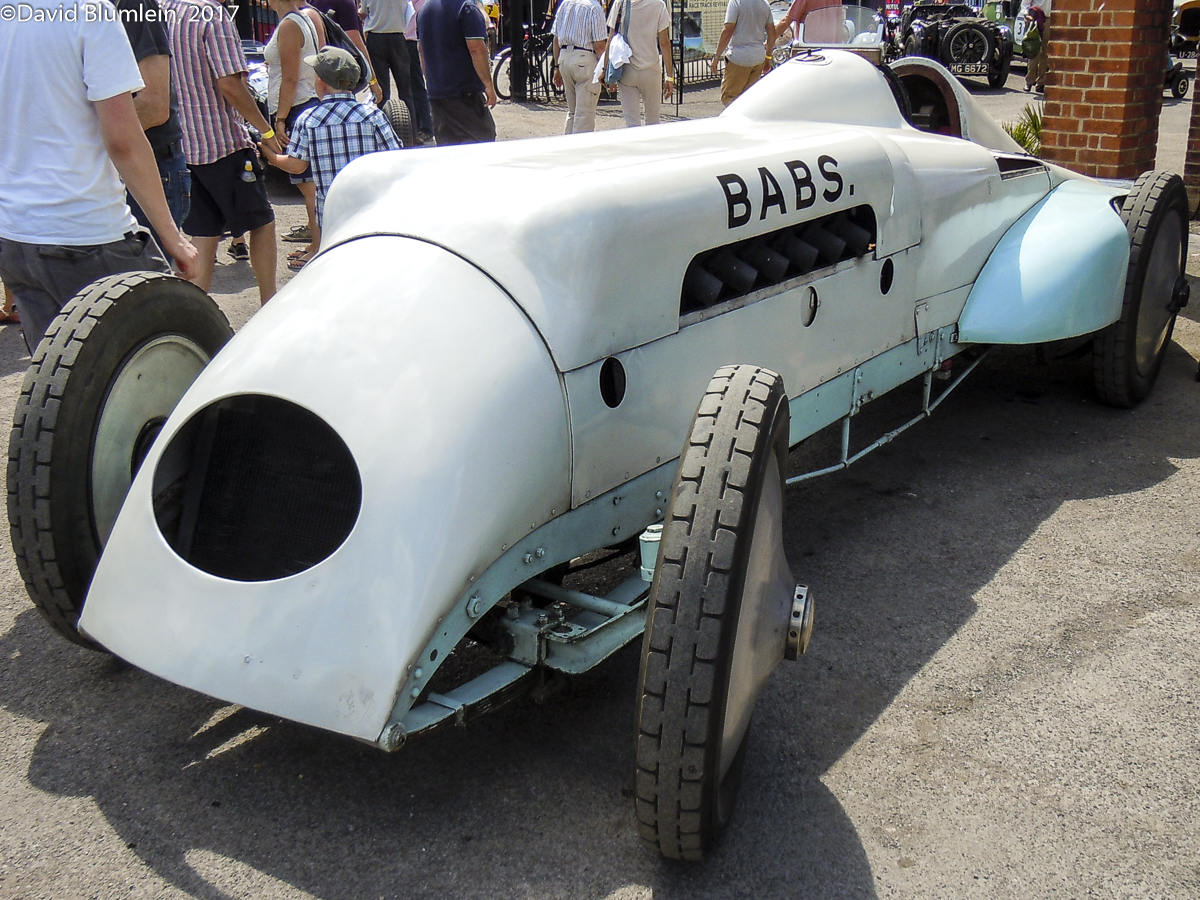 It is always pleasing to see Babs back where she was born.

We do not often see a 4-seater tourer version of the Alvis front-wheel drive cars, and rarely with the hood up! This is a 1929 long chassis car with bodywork by Carbodies and was raced at Brooklands by Edward Farley.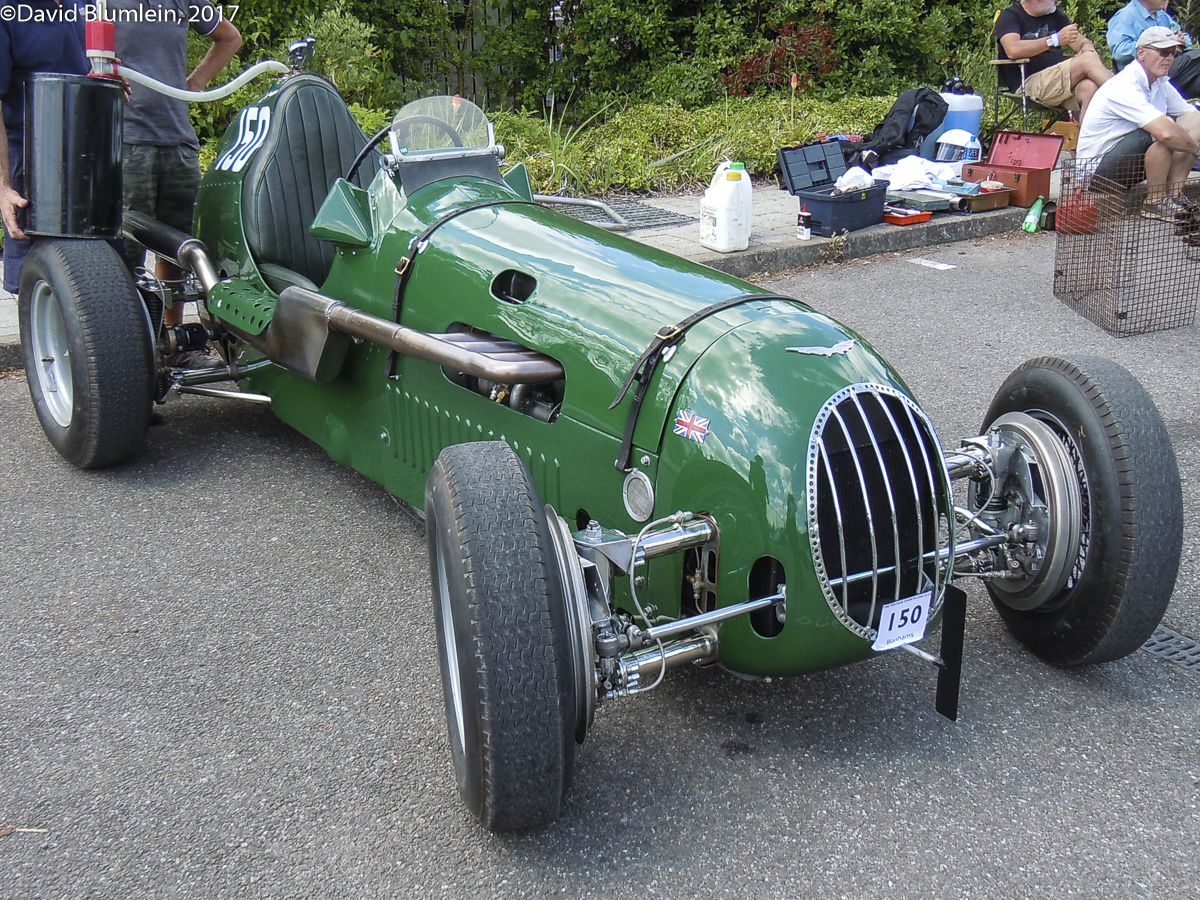 Geoffrey Taylor made a series of advanced sports and racing Altas with advanced suspension and 4-cylinder twin-cam engines he made himself. This single-seater is the one raced by George Abecassis to good effect.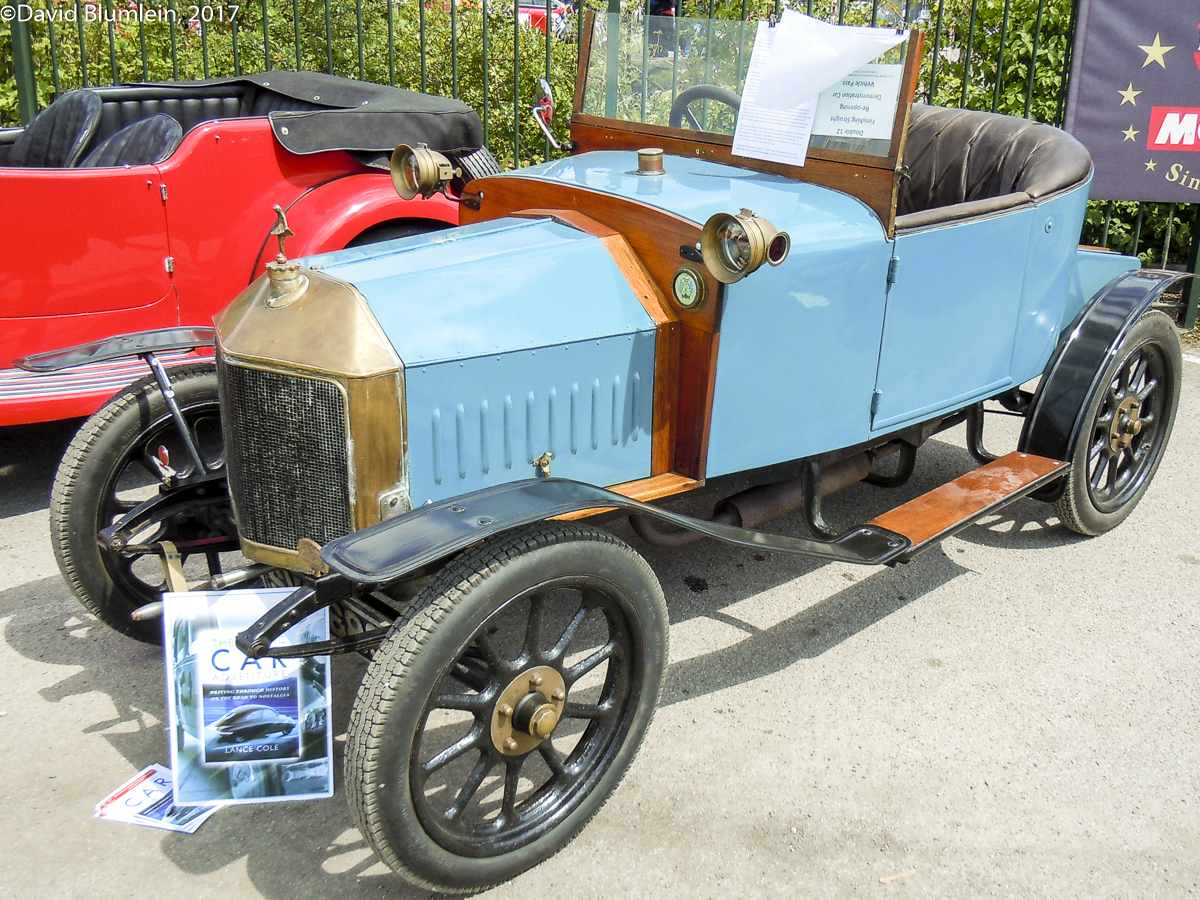 A 1914 Chater Lea. It used a Singer engine tuned by Lionel Martin who had great success with Singers before launching Aston Martin.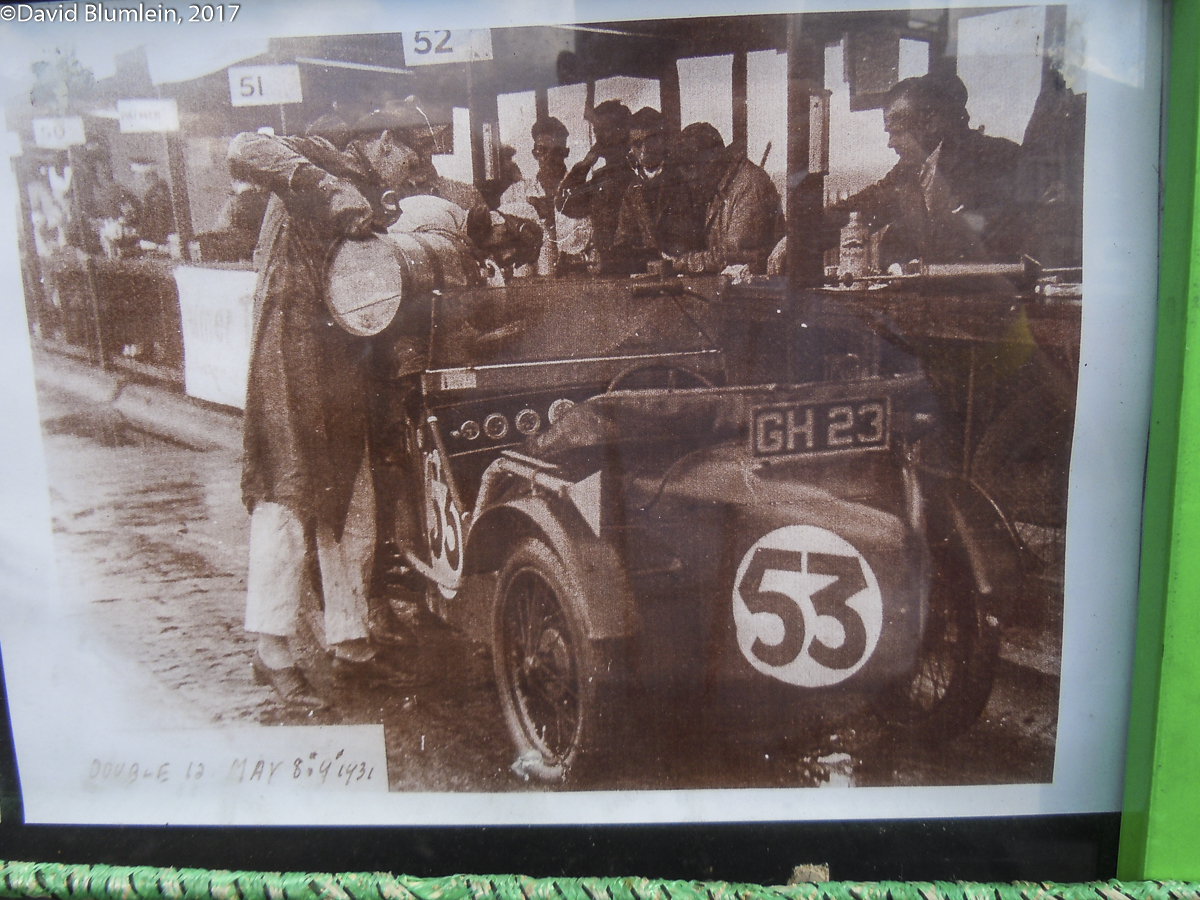 This beautiful Austin Seven Ulster ran in the 1931 Double Twelve race at Brooklands, driven by Phillip Marriage and HJ Searle.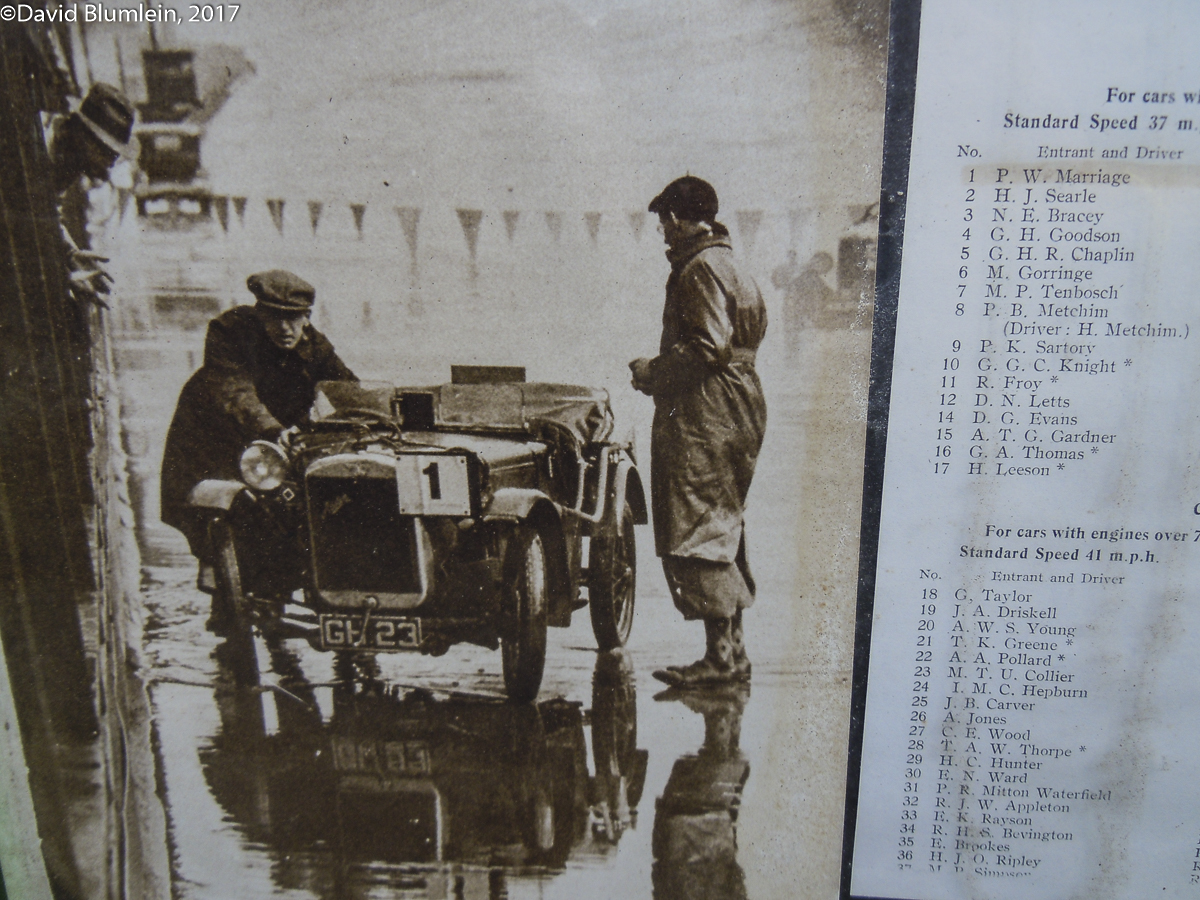 This was the race where the Austin Sevens were finally outpaced by the new Montlhéry C-type M.G. Midgets and this little Austin finished 24th and last.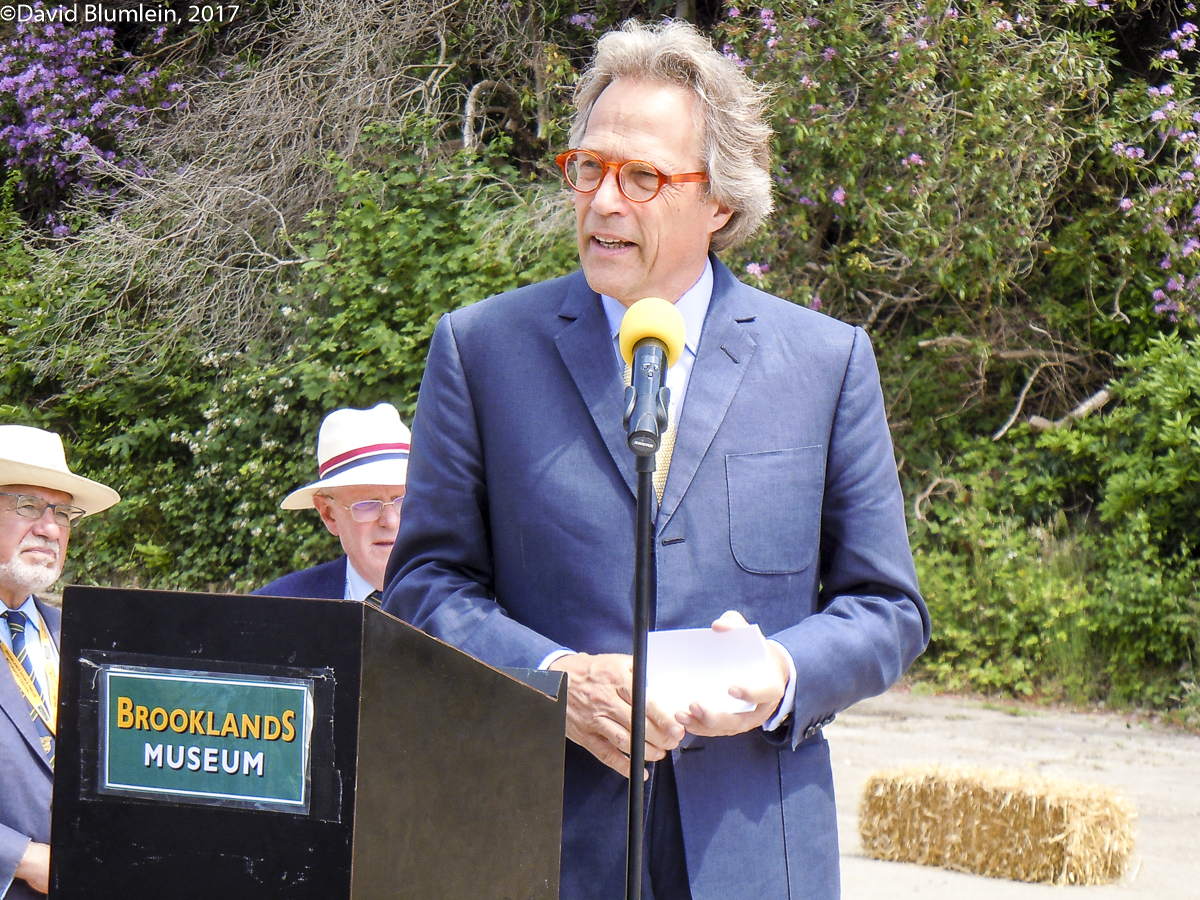 Here we see Lord March with Alan Winn, the Director of the Brooklands Museum, behind giving his address at the opening ceremony.
For the first time since 1940, we see the Finishing Straight.
TAILPIECE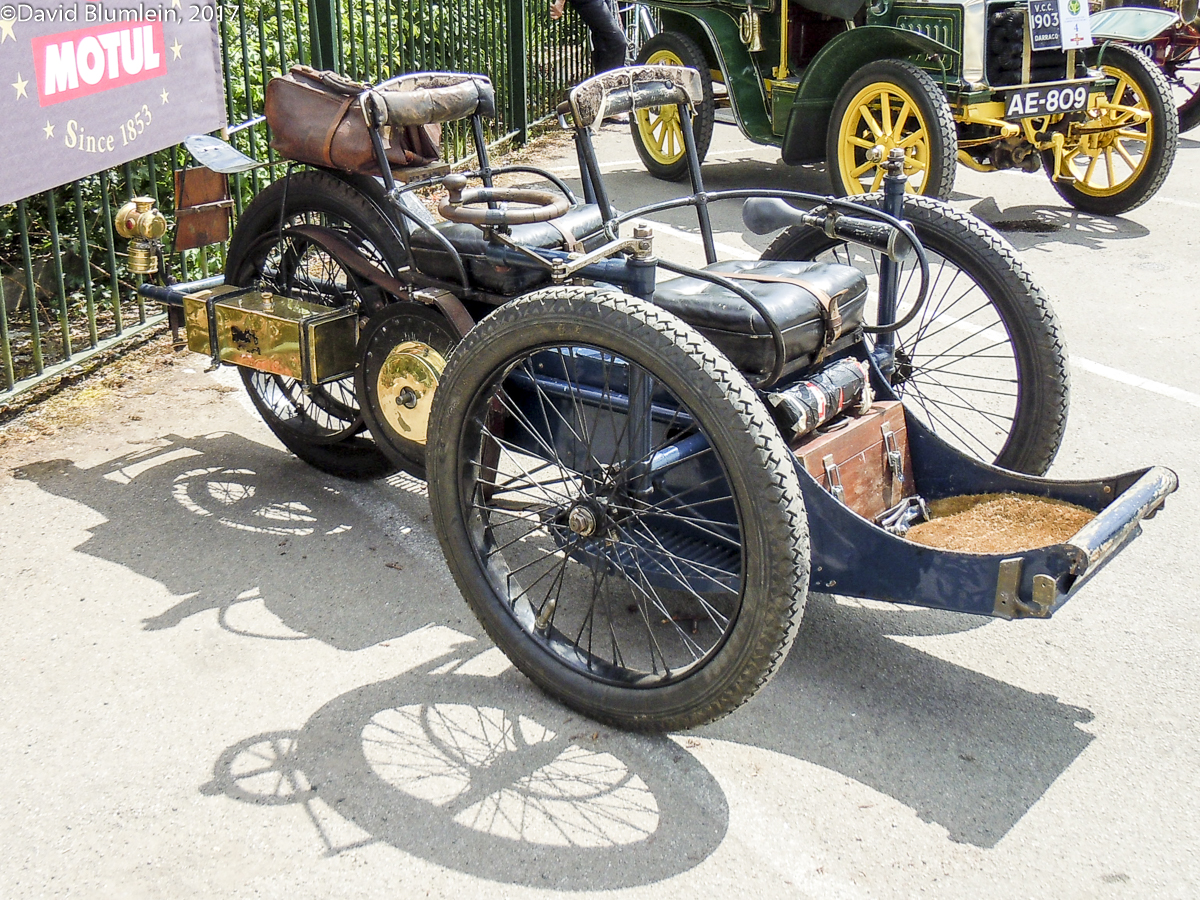 Where motoring began – a lovely little Léon Bollée Voiturette made in Le Mans.
David Blumlein, July 2017
---
A Thin Red Line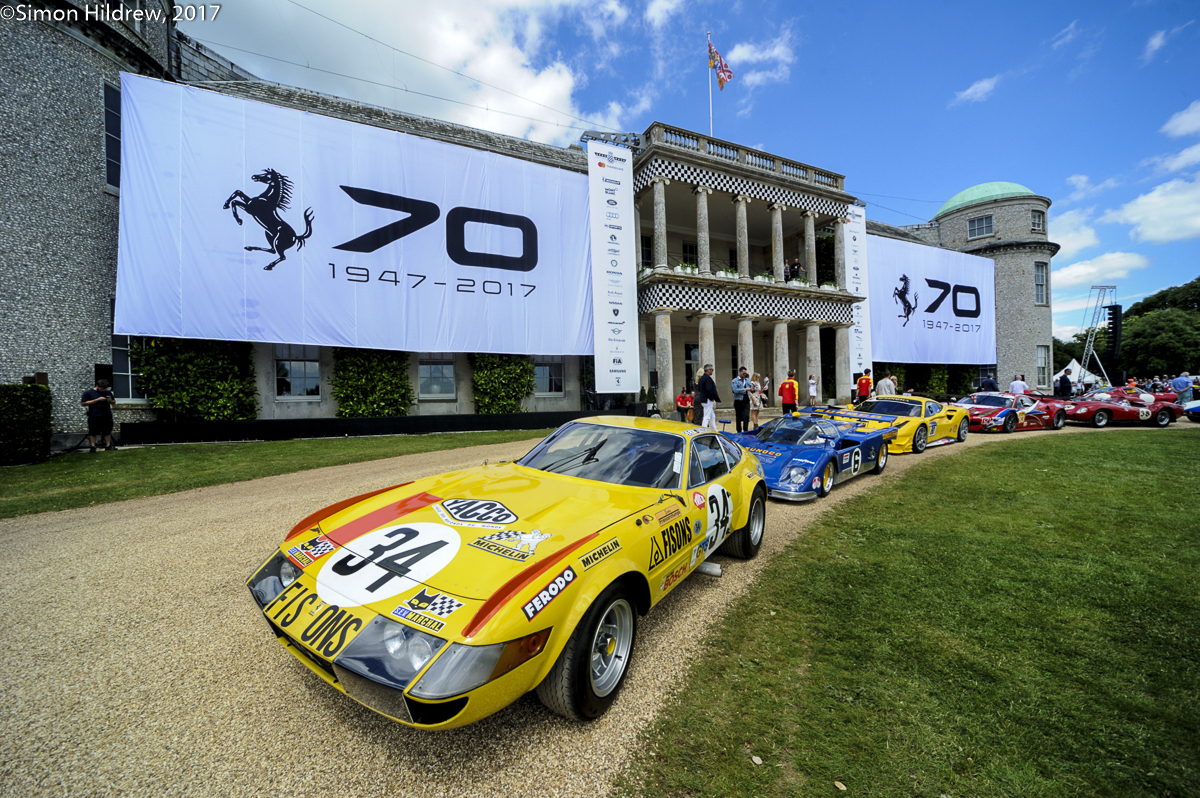 Ferrari at 70 has been a theme wherever the great and the good have gathered in 2017 to celebrate things motoring. The Goodwood Festival of Speed was no exception to this wave of enthusiasm, and being the Festival it was pretty much top rank, with iconic Ferraris at every turn.
Simon Hildrew brings us an authentic Italian flavour from the Sussex Downs……….
John Brooks, July 2017
---
Essen Delight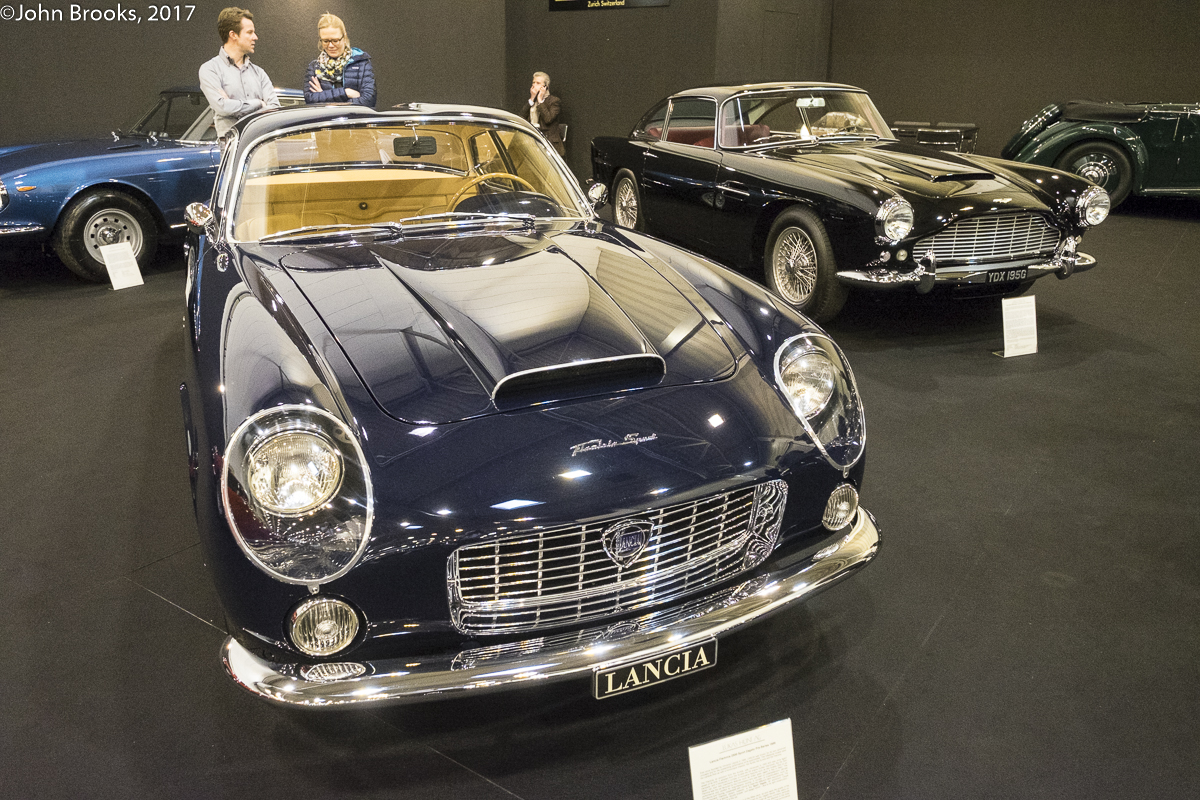 A visit to the Techno Classica is always something to savour, 2017 did not prove an exception to this rule.
Almost too much to see and do, but virtually every aspect of the automobile is illustrated and there is something in every corner to excite.
Here is my take on the show.
John Brooks, July 2017
---
Alfa Romeo at Techno Classica
We are fortunate indeed to have John Elwin, a recognised Alfa Romeo expert, to guide us through the fantastic selection from the Italian craftsmen that was on display at this year's Techno Classica. Avanti!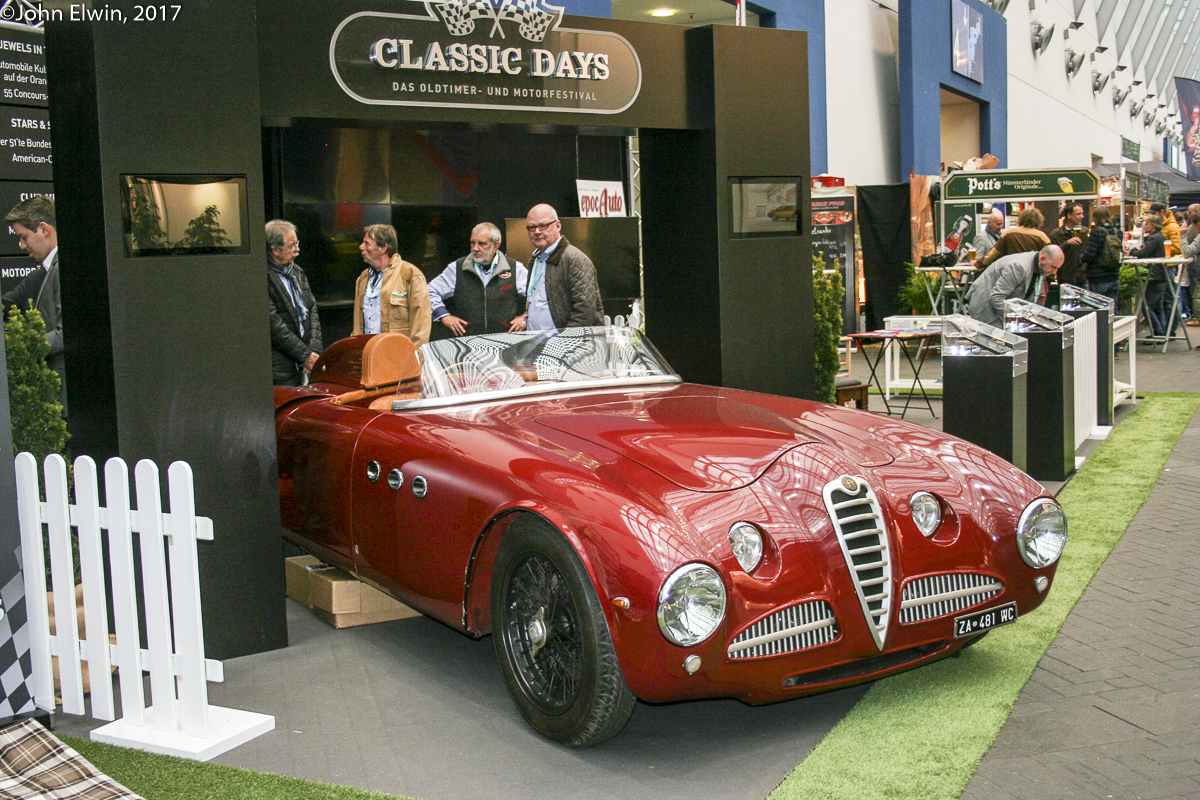 Alfa Romeo enthusiasts visiting the 29th Techno Classica Essen would surely not have been disappointed for amongst the 2,500 classics packed into the Messe Essen was a good array of the Milanese masterpieces from across the ages. What's more one unique example picked up the 'Best in Show' accolade from the concours judges, whilst two others were amongst the trophy winners.
The FIVA-endorsed 'Best in Show' award was presented to the 1960 Alfa Romeo 6C 3000CM Pininfarina Superflow IV exhibited by Britain's Jim Stokes Workshops and Fast Cars Ltd., from the USA. The car (chassis #00128) has an interesting history, as it was one of six Colli-designed Coupe's hastily built by the works for the 1953 competition season. The original plan had been to use the futuristic-looking Disco Volante but that proved to be aerodynamically somewhat unstable in testing.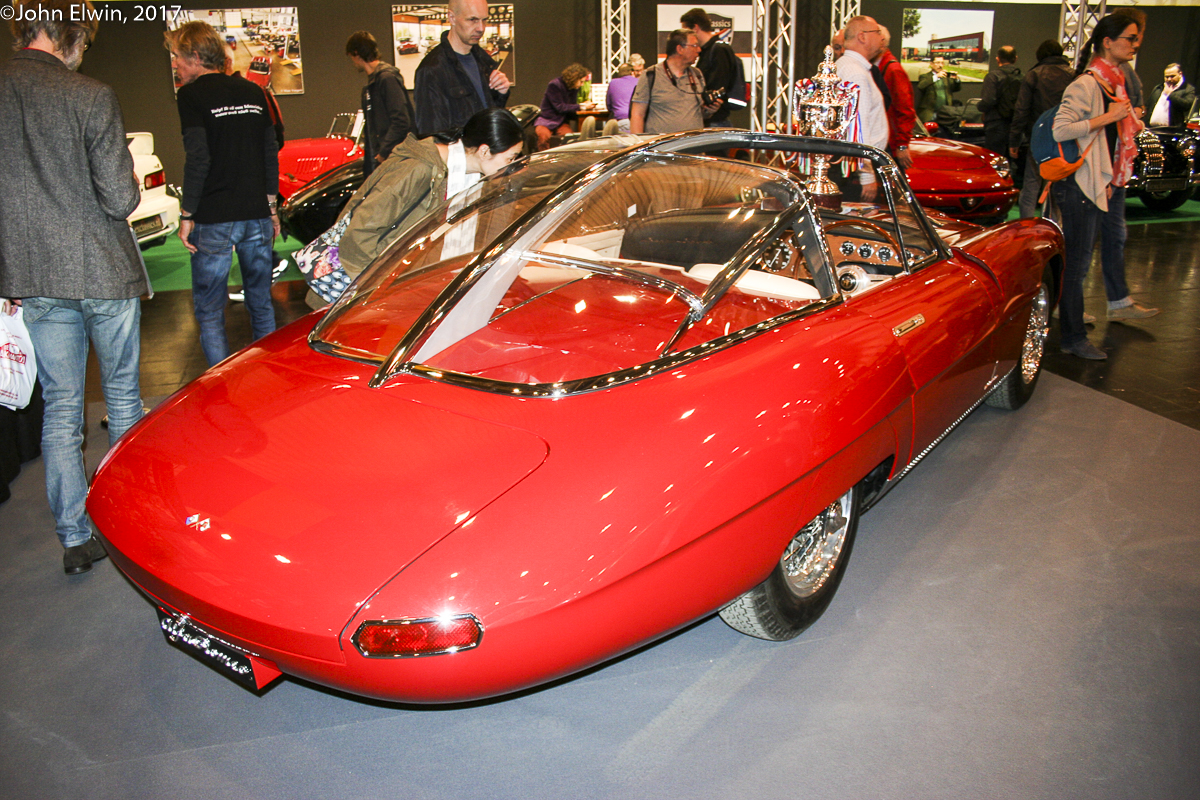 This car's primary claim to fame was to be taken to second place in that year's Mille Miglia by Juan Manuel Fangio, only losing out in the closing stages to Marzotto's Ferrari when suspension damage sustained by the Alfa left it with steering on only one side. Nevertheless the Argentinian maestro was still averaging more than 100mph! It was a particularly competitive year, with the Mille Miglia counting towards the World Sportscar Championship, so the contest at the front was ferocious, not only between the leading Italian marques of Alfa Romeo, Ferrari and Lancia, but also with the likes of Aston Martin and Jaguar sending works teams.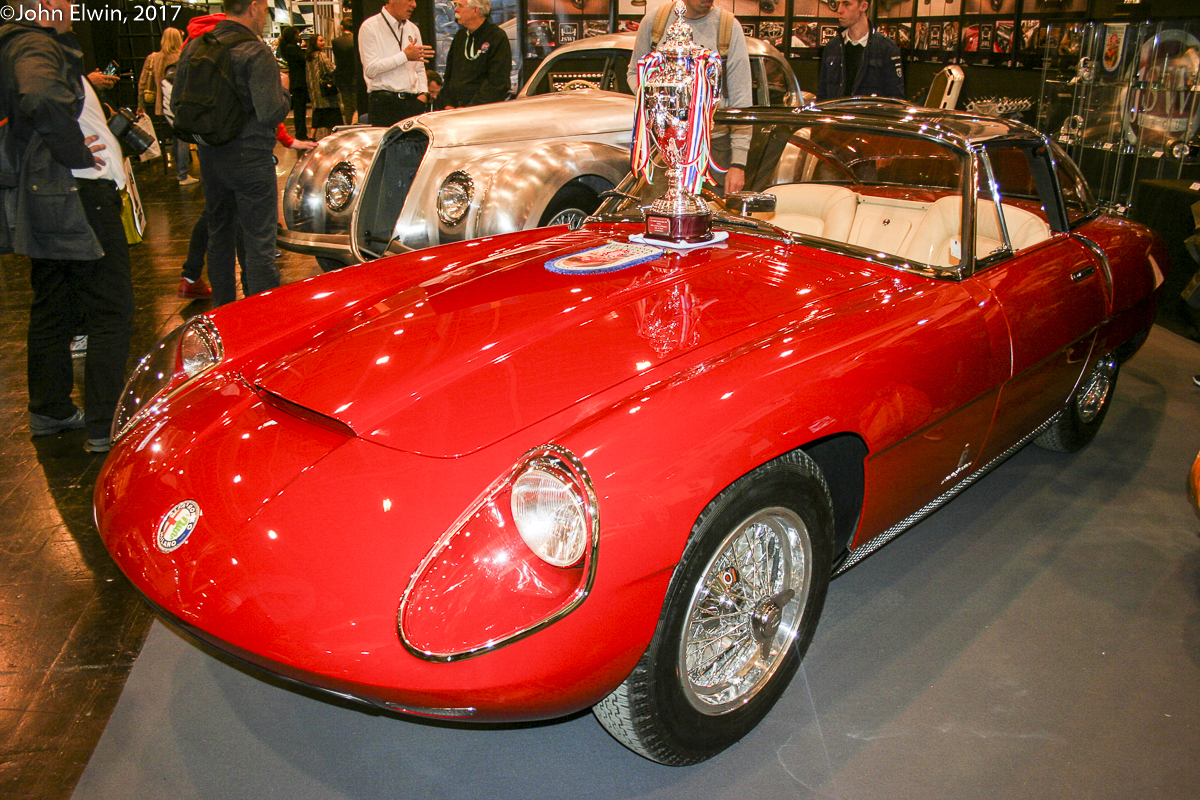 At the end of its competition life chassis #00128 was packed off to Pininfarina, where it was used as the base for a string of show cars – there was no revered retirement even if it was an ex-Fangio car! It first appeared at Geneva Motor Show in 1956, Paris later the same year and Geneva again in 1959, eventually appearing in the form you see today at Geneva in 1960, when it incorporated various features from the previous designs such as the plexiglass roof. Styling cues for the forthcoming Duetto Spyder are also evident, and with its show career over the car was packed off to the US where it toured dealerships attracting buyers into the showroom where they would hopefully buy a new Duetto.
The Superflow IV is now in the hands Craig Calder's US business Fast Cars Ltd., and rumour suggests it could be yours for around $10 million. Whilst the bodywork has gone through various transformations, it is still very much a race car mechanically, with its 3.6-litre engine, so not really suitable for road use.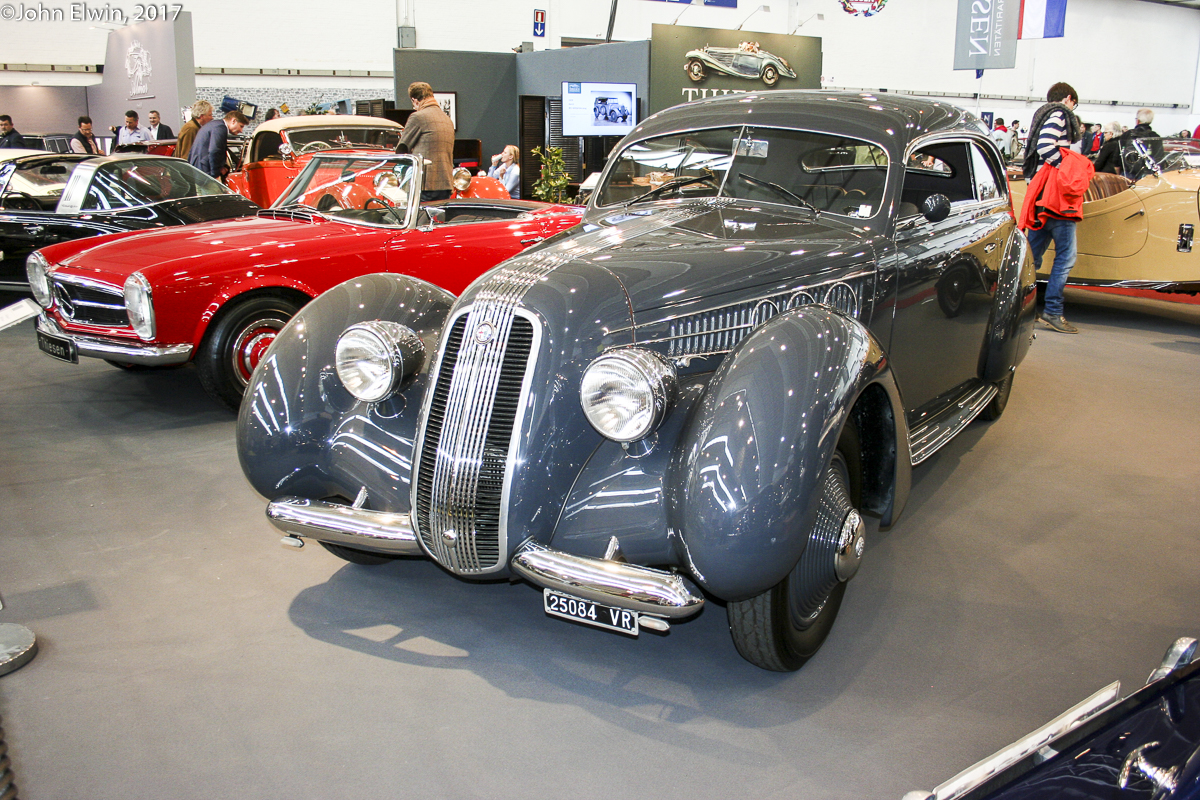 Another worthy winner was the stunning battleship grey 1937 Alfa Romeo 6C 2300B Pescara Coupe Pininfarina exhibited by German specialists Thiesen.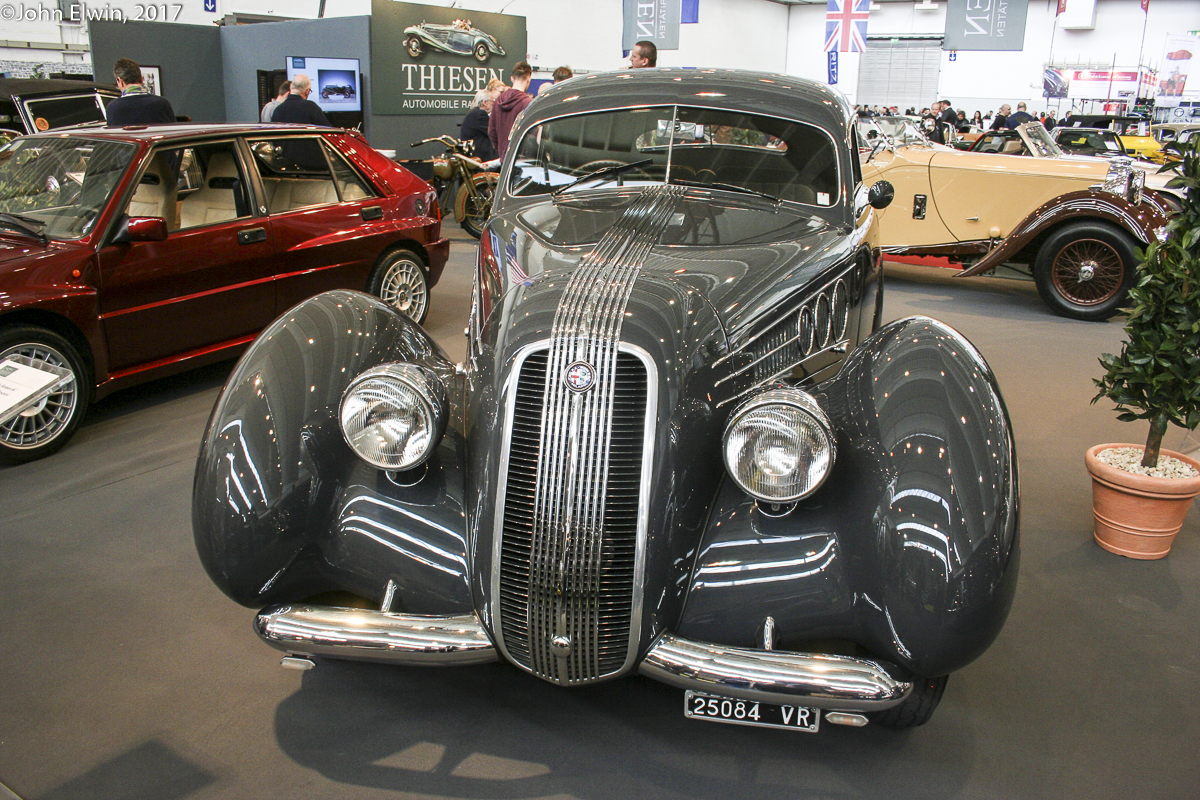 One of only two cars built, its sister car was first shown at the Concorso d'Eleganza Torino in 1937, where it won first prize, naturally! In more recent times this car has done the rounds of prestigious events, picking up awards in places like Villa d'Este, Pebble Beach and Kuwait.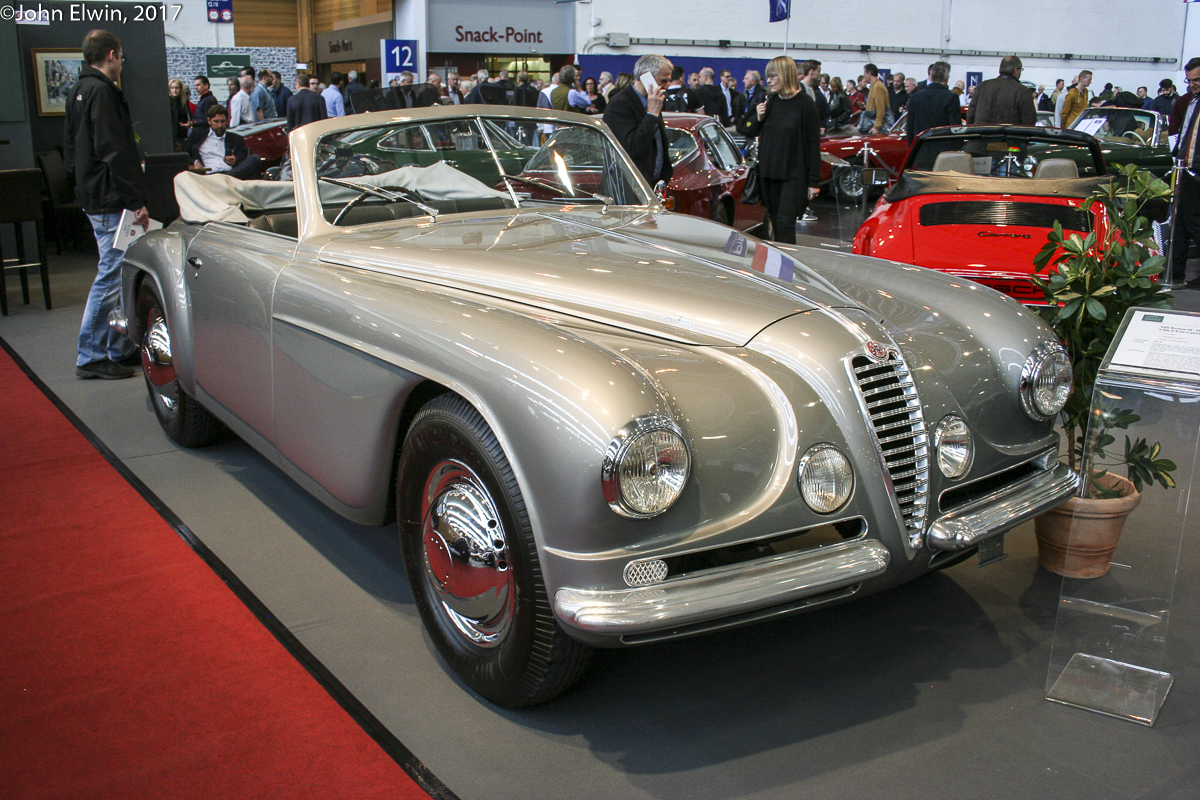 It was not the only Alfa Thiesen's brought along to Essen, for also on offer was a 1949 6C 2500 SS Villa D'Este Cabriolet, this time with body by Touring. The rather elegant metallic grey machine was first seen at Turin's Autosalon in 1950.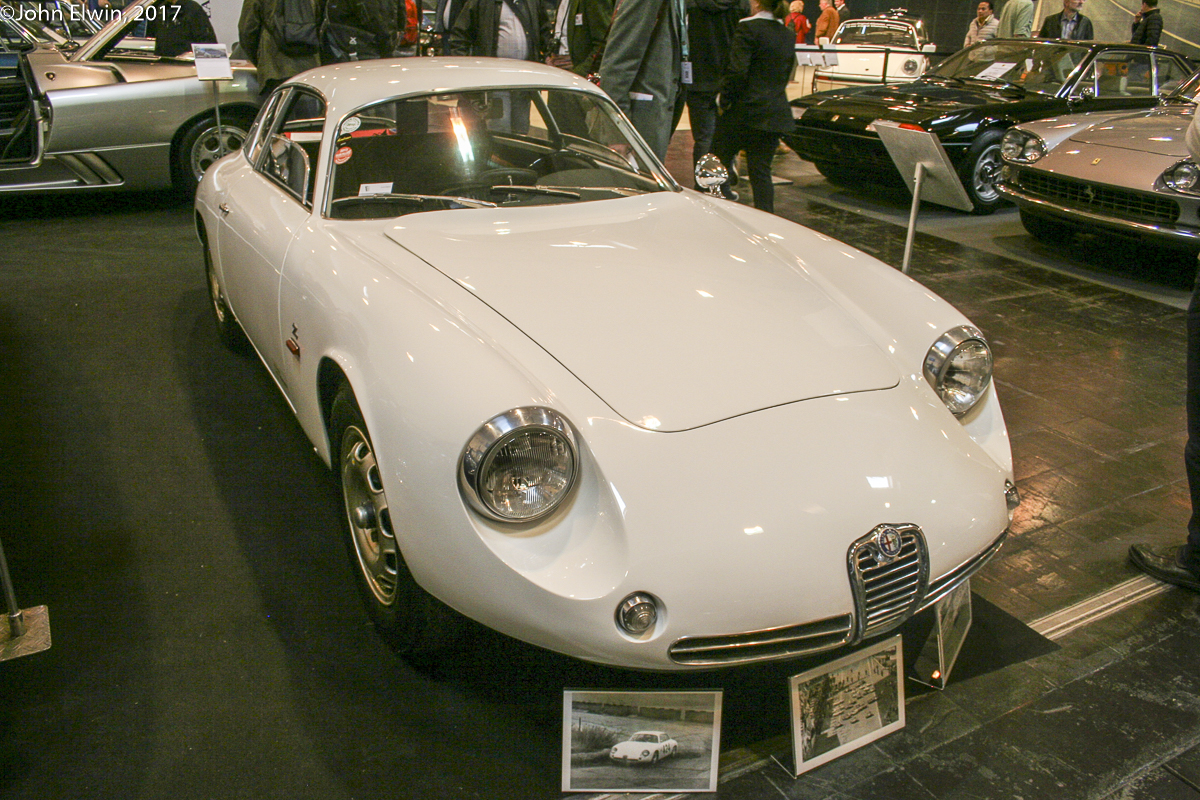 The third of our prizewinners was a 1962 Giulietta SZ Coda Tronca, one of just 30 examples built and delivered to the Swiss Alfa Romeo importer. The first owner, one Pierre Scaramiglia, used the car to contest various national and international events before selling it on to a new owner in Geneva, who used it on the road until the engine blew up. He replaced the blown unit with a Giulietta 1300 engine before selling the car on. It eventually ended up with the current owner who has spent a considerable sum restoring it mechanically to original specification, complete with correct 120 series engine. As a result it was awarded a 'Targa d'Argento' award at Villa d'Este in 2006. Dutch dealers VeniVidiVici have it on offer for a mere 675,000 euros.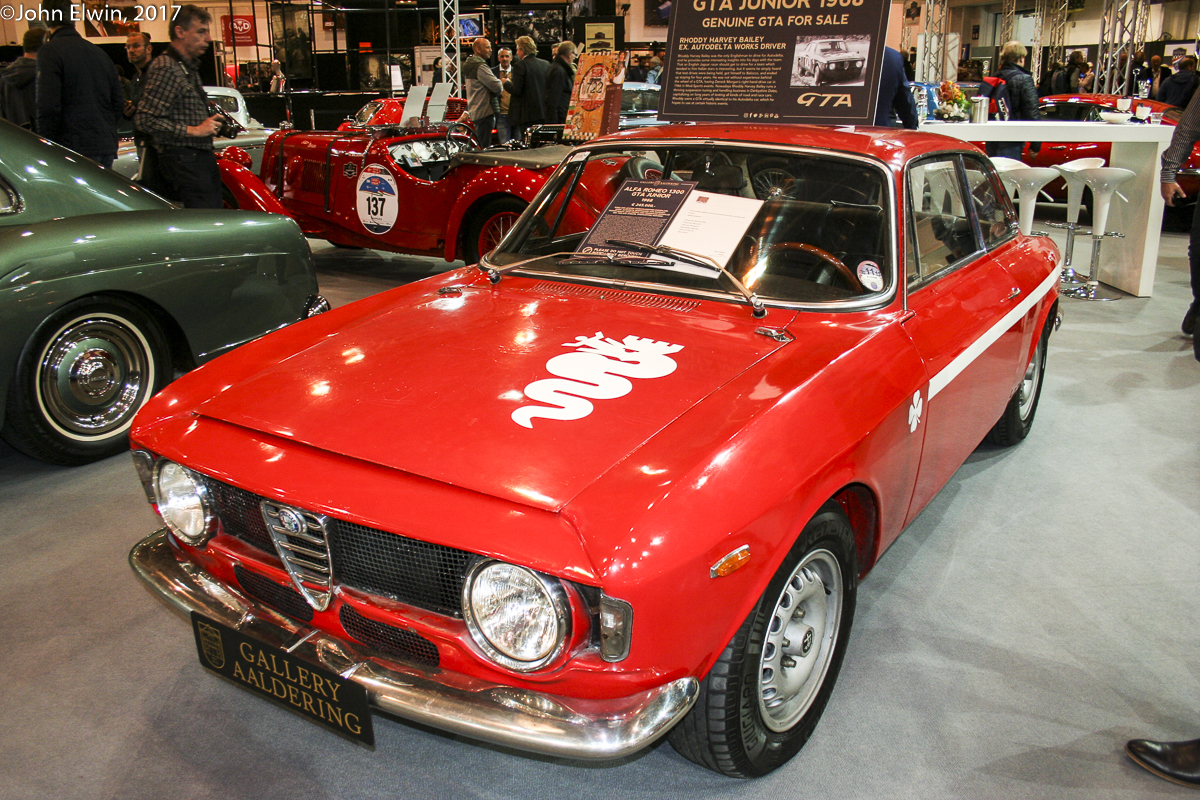 By comparison, the 1968 1300 GTA Junior on sale at Gallery Aaldering sounds cheap at 245,000 euros. It is an ex Rhoddy Harvey Bailey car, but not the works racer he drove for Autodelta. However it is a matching-numbers car built in 1968, rather than being works car raced by Harvey Bailey at the time it seems he acquired it at a later date to race in the UK. Nevertheless it is a desirable and original example of the model, of which there are many replicas. Indeed the 105-Series Giulia range is popular in all its forms (saloon, coupe, spider) and many examples were to be found dotted around various dealer stands throughout the show.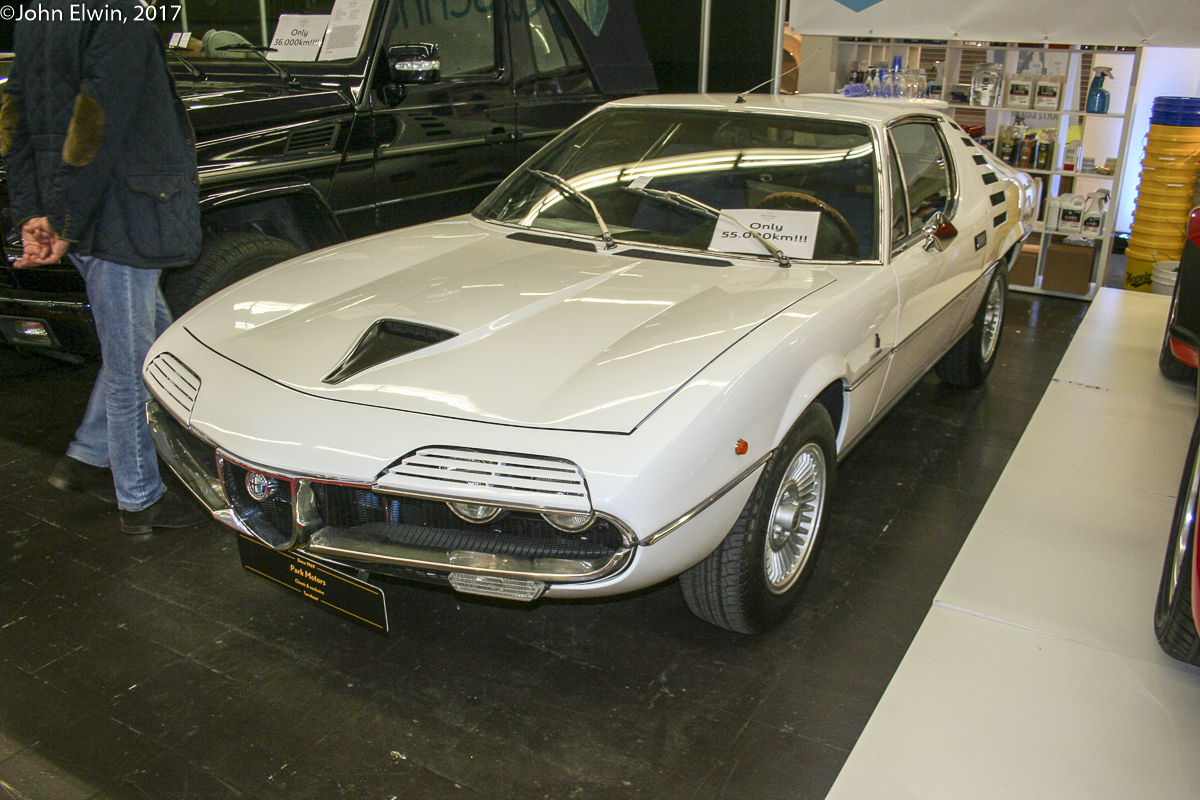 Also related was the Montreal, the V8-engined confection created for the Expo '66 staged in Montreal, Canada. A very nice low mileage example in white was on offer in Essen.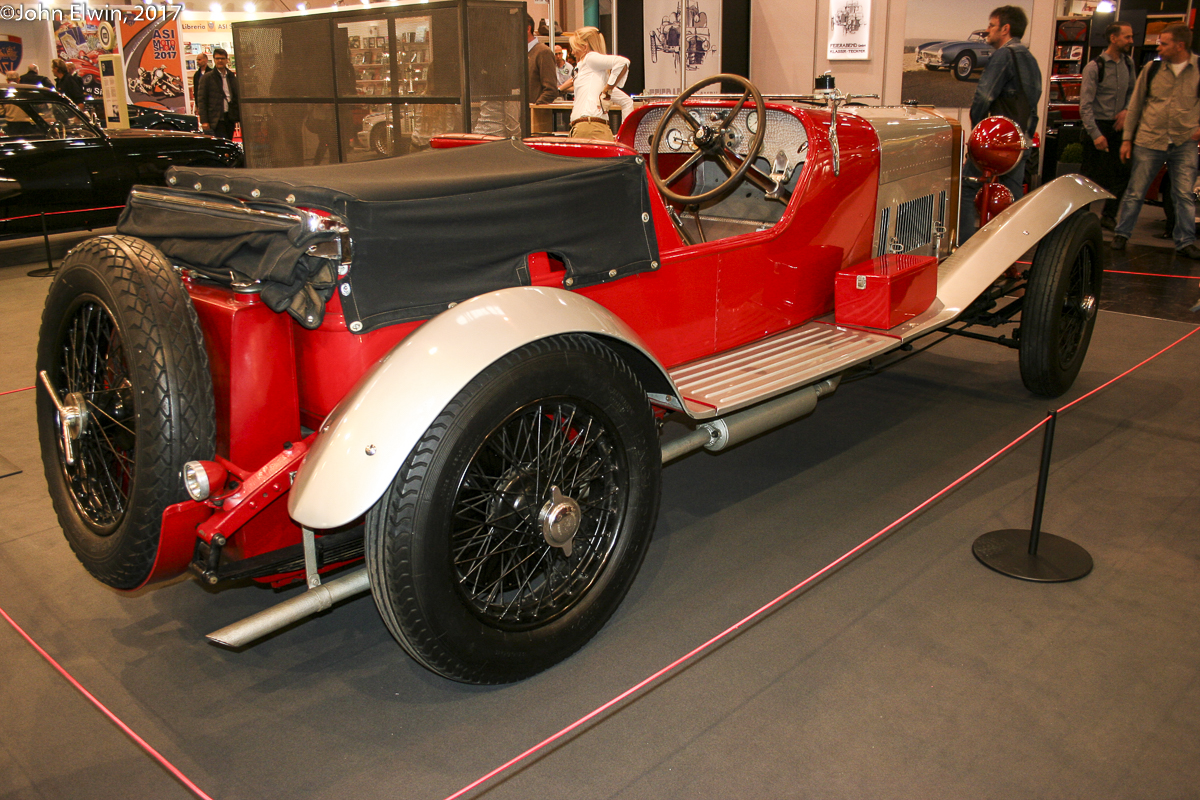 Alfa Romeo has consistently put more effort than most manufacturers into maintaining its heritage, but whilst the company stand in Essen was providing a first opportunity for many to see the new Stelvio SUV, they also brought along some exhibits from the newly revamped Museo Storico. On show was an RL Super Sport, of which just 393 examples were built during the period 1921-27. It had a sporting pedigree, a Corsa version having taken part in the 1923 Targa Florio, whilst five RL SS's competed in the 1925 Mille Miglia, the Gastone Brilli-Perj car even leading the race.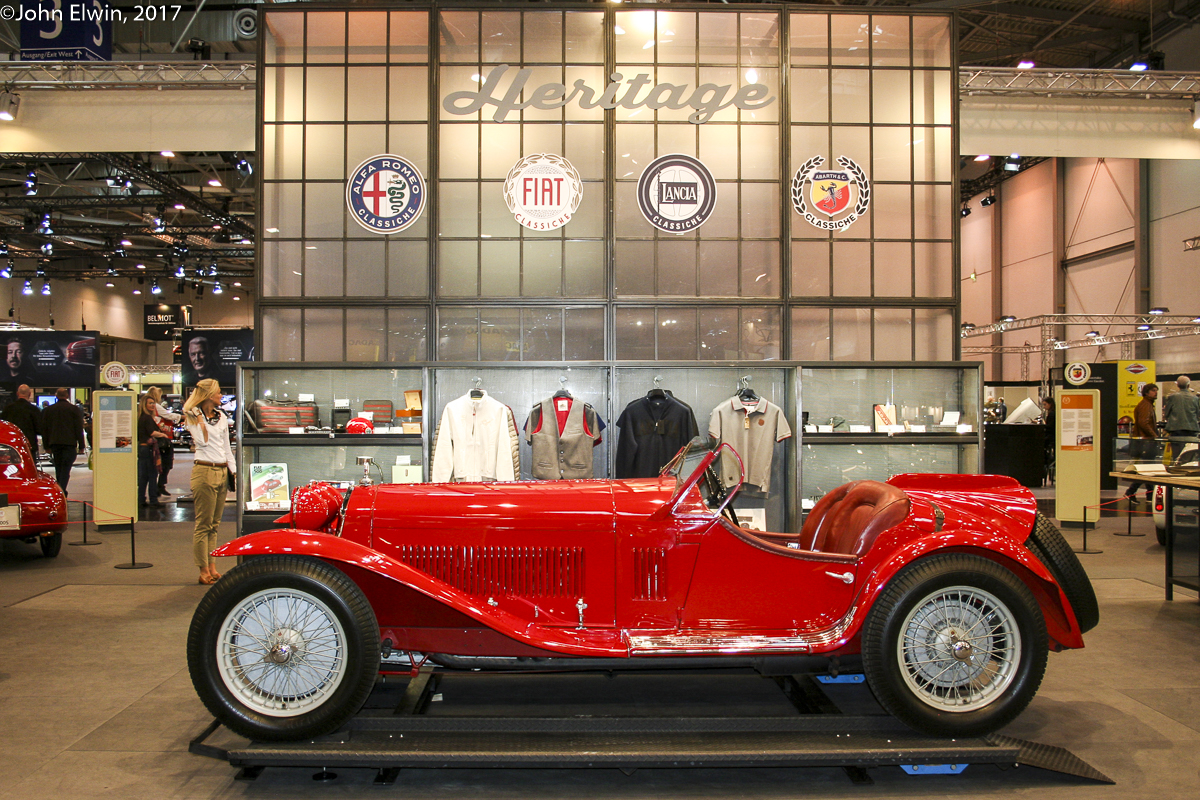 There was more sporting influence in the 1931 8C 2300 Spider Corto Mille Miglia, the chassis being developed from the 6C 1750 model. The model debuted on the Mille Miglia in 1931, Campari only narrowly being defeated by Carracciola's Mercedes-Benz. However, Alfa filled nine of the top ten places in 1932, with Borzacchini winning from Trossi. The following things went even better with a clean sweep of the top ten places, Nuvolari being victorious.
Success for the model was not limited to the Mille Miglia either, for despite building just 308 examples of the 8C 2300 between 1931-34, there was also success in the Targa Florio, at the Le Mans 24-Hours, and even in Grand Prix racing. Speaking of Grand Prix cars, a P2 did appear elsewhere, but with no information.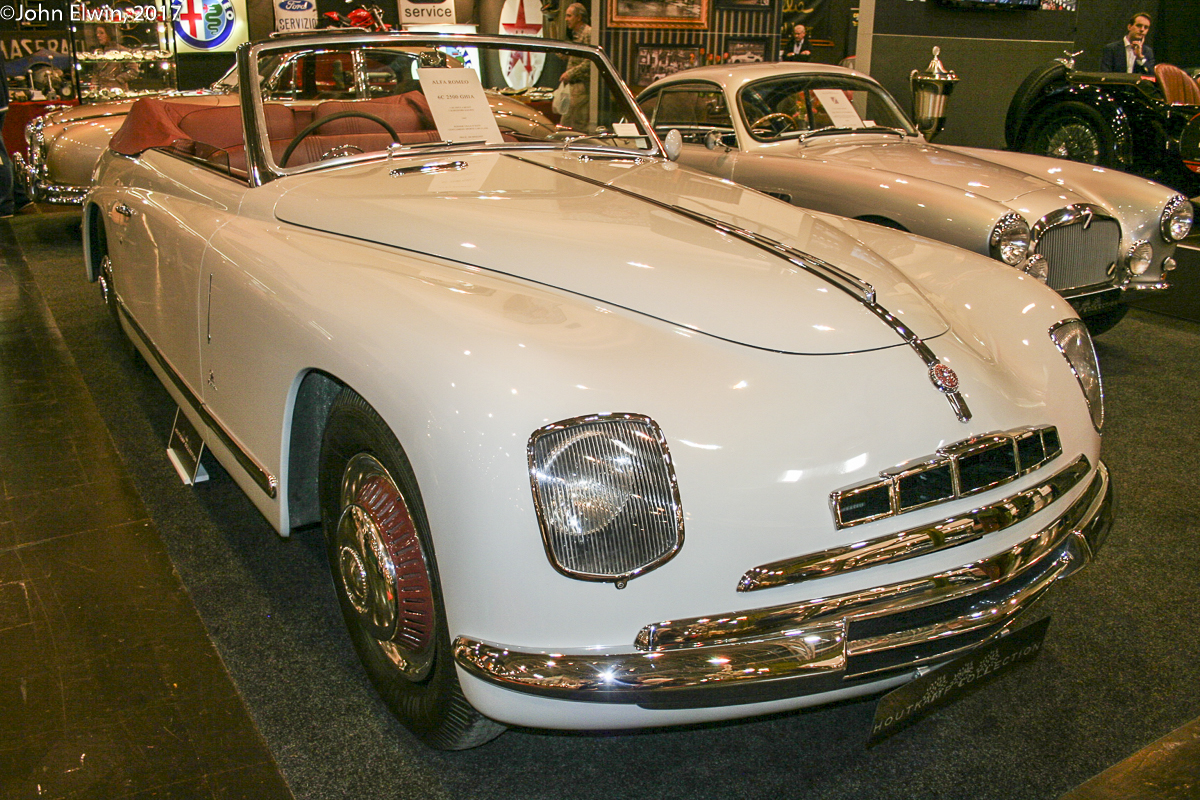 Making a return visit, having first been seen at Essen two years ago, was the 1947 Ghia-bodied 6C 2500, this being one of two surviving examples of the four originally built. Probably not the most beautiful body ever to adorn an Alfa, it nevertheless has been a class winner at Villa d'Este.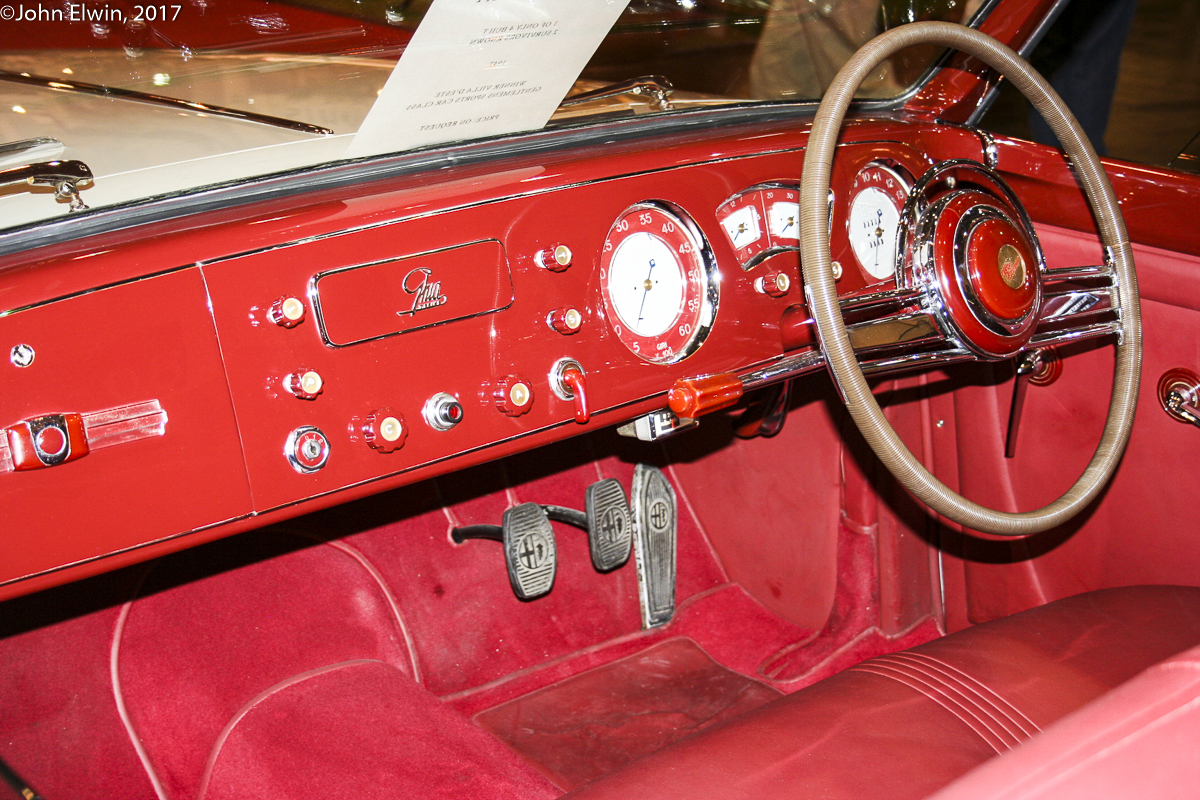 It was sold by The Houtkamp Collection from Holland after showing it at Techno Classica in 2014. Now that owner has spotted something else Houtkamp have on offer, so has put it back on the market.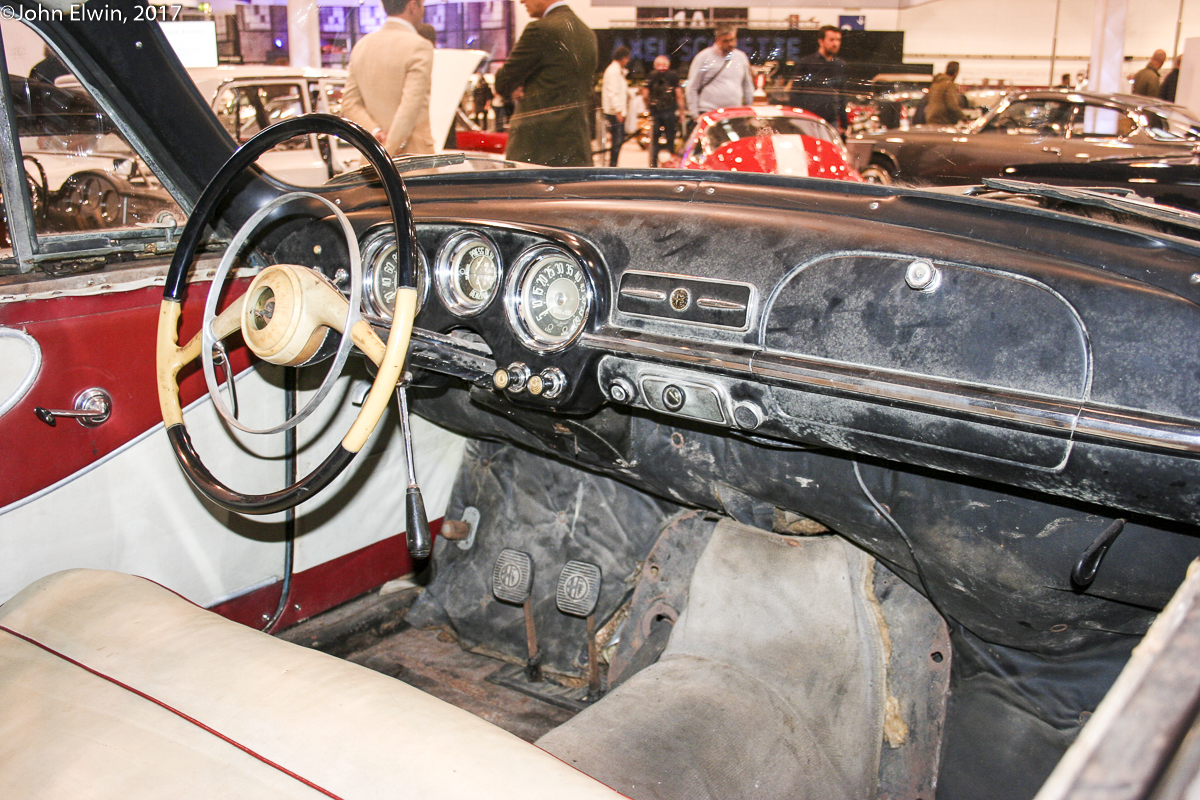 Yet another Dutch dealer, Strada e Corsa, was offering – actually it sold early on – a 1956 1900 'Primavera' Coupe with bodywork by Boano, looking remarkably like a Sunbeam Rapier from some angles.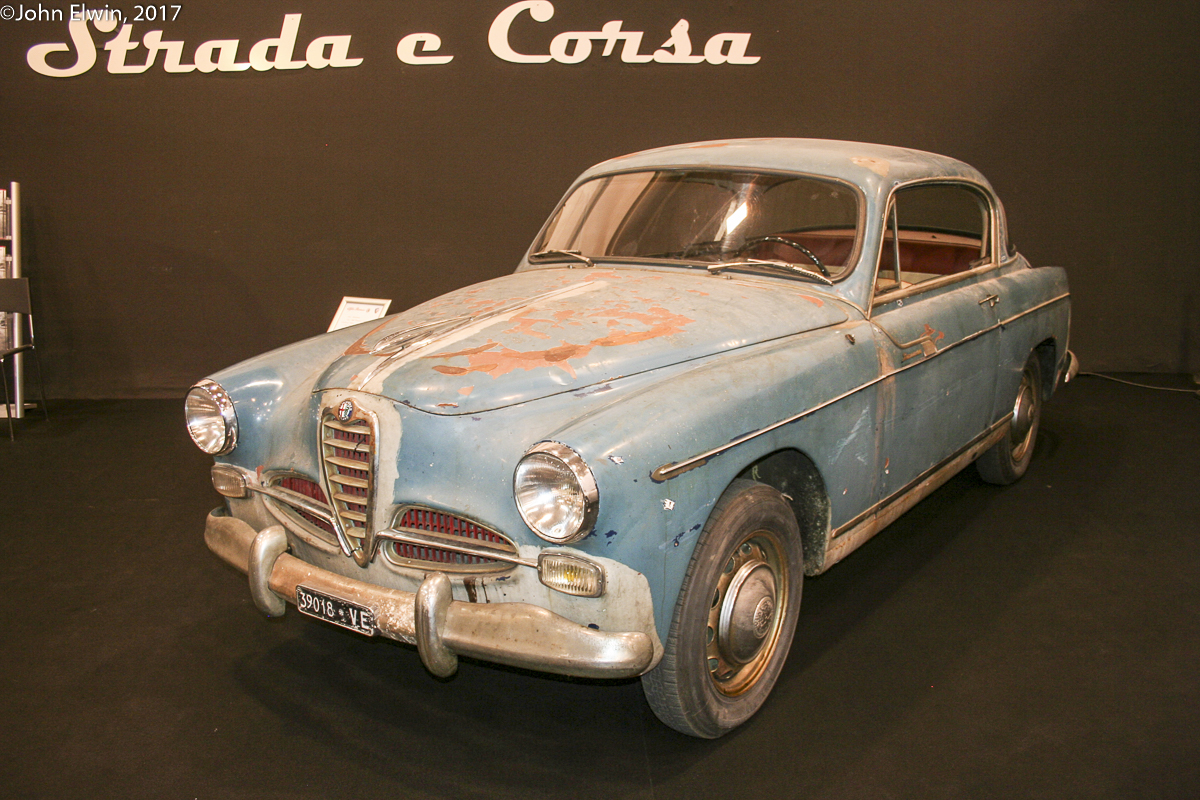 It was severely in need of a full restoration although appearing complete. However, it was a matching-number car complete with comprehensive documentation and a known history so well worth the effort, especially as it is one of the few remaining survivors of just 300 cars built.
Certainly not in need of restoration was the gleaming black 155 V6, a local car that appeared on the German Alfaclub stand, where they were marking the model's 25th anniversary. The understated, and under-appreciated, 155 provided the basis for a tremendous racing success both in highly developed DTM form and in Super Touring championships around the world, Gabriele Tarquini most notably sweeping all before him in the British Touring Car Championship in 1994 when as many as ten manufacturers competed with works- or works-supported teams.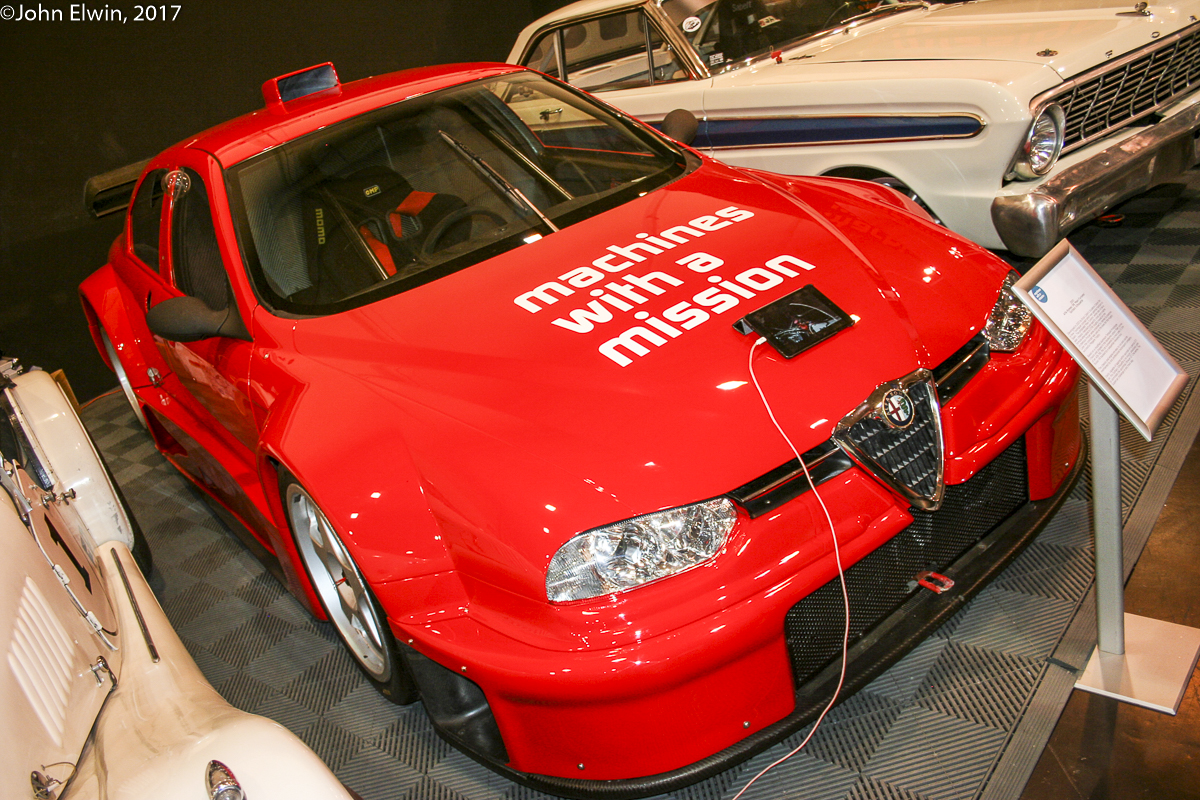 The 155 was replaced by the more stylish 156, it too achieving great success in touring car racing. It is a bit too new yet to be appearing in classic car shows. However, one trader was offering a real rarity, in the form of a car devised for a still-born Spanish racing series. With more than a passing nod to Bernie Ecclestone's 164 Procar prototype, the 2001 Alfa Romeo 156 'Maxi-Turismo' featured carbon fibre 156 bodywork a-top a Tampoli sports prototype chassis. The Enzo Coloni-built car is powered by a race spec. version of Alfa's 3-litre V6, mated to a Hewland sequential 'box.
There we have it. The scale of Essen being what it is I am bound to have missed something but hopefully I've spotted all the important ones!
John Elwin, July 2017
---
Techno Matters
The Techno Classica is one of the highlights of the year for those who appreciate the heritage of the automobile, here is the first of a few pieces from this year's show. Our Special Correspondent goes once more on the trail of Rare and Interesting.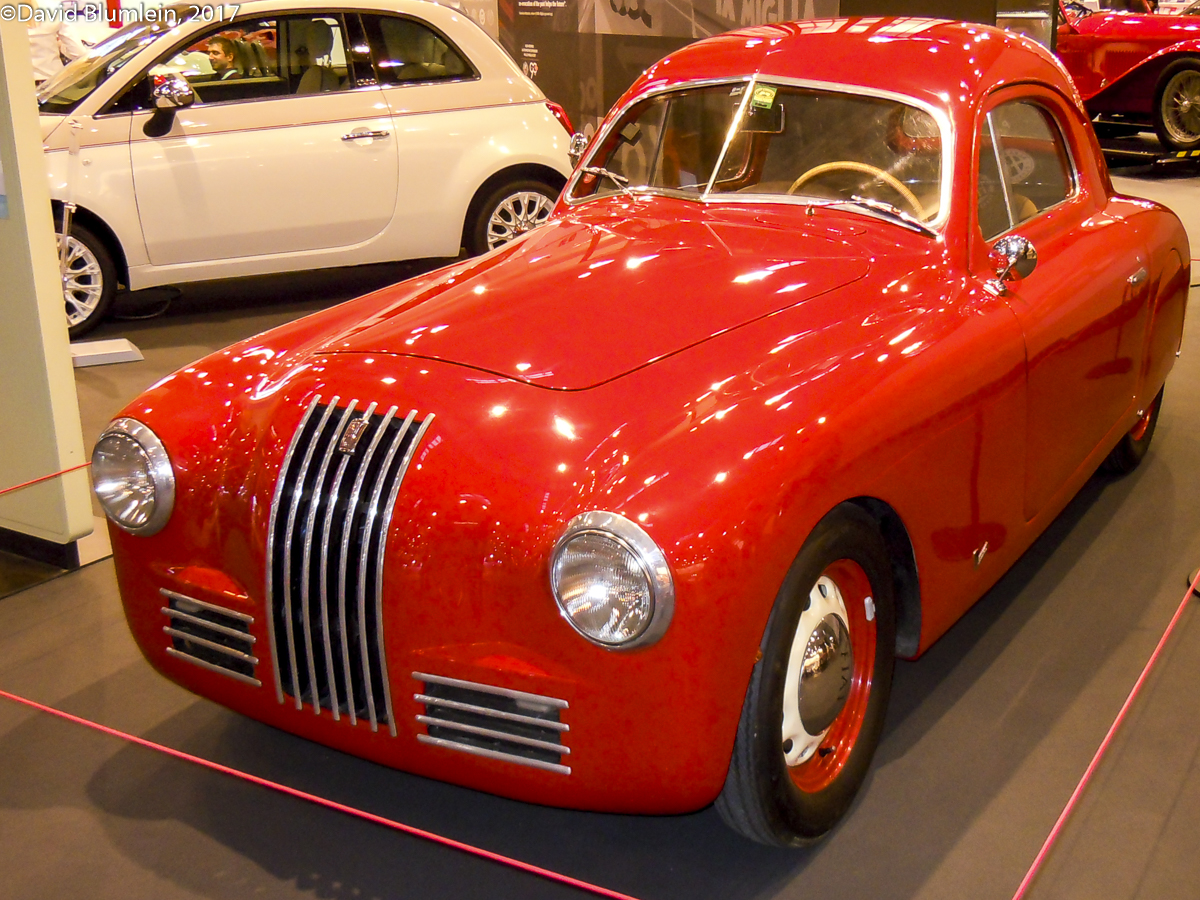 In 1937 Fiat produced the 508C M.M., a full-width and all-enveloping sporting coupé based on the 508 Balilla model. This was intended as a racing version; it had a 42 b.h.p. 4-cylinder ohv-engine of 1089 c.c. and Dubonnet coil spring independent front suspension. It made its début in the 1938 Mille Miglia where it won its class. This car was the ancestor of the post-war 1100S we see here.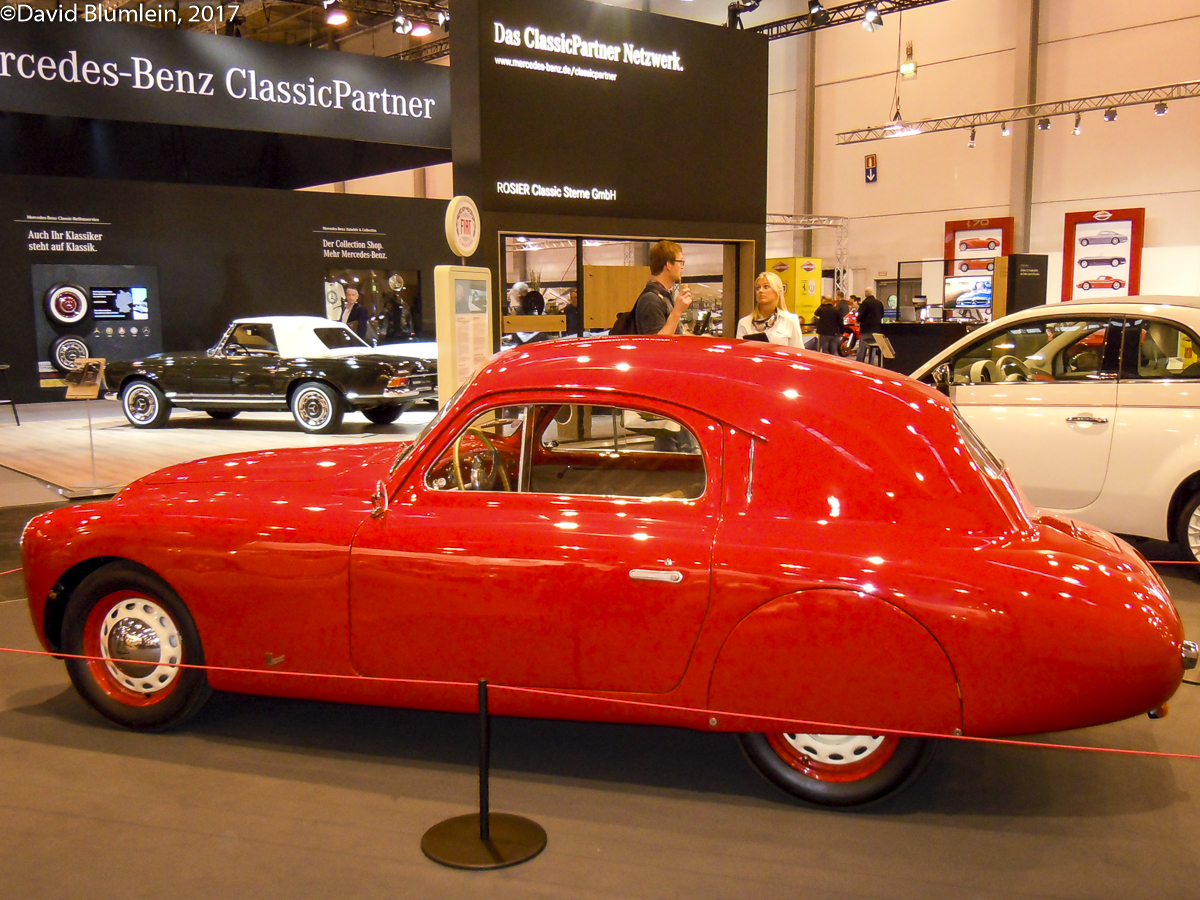 The 1100S was made from 1947-50 and its chassis and running gear were based on that of the 1100 Saloon. It was given 51 b.h.p. and the bodywork was by Savio of Turin; in fact, the cockpit was so narrow that staggered seating was fitted. It was also 10 inches shorter than the 508C M.M.
The first prototype appeared at the Sassi-Superga hillclimb in May 1947 in the hands of factory test driver Carlo Salamano but it was in the Mille Miglia that year that the 1100S did so well, finishing 5th, 6th, 7th and 8th overall. A splendid 3rd overall was achieved in the same race in 1948.
Alfa Romeo presented the Merosi-designed RL model at Milan in October 1921 and two versions were offered in 1922, the Normale and the Sport. A racing version was developed which won the 1923 Targa Florio in 1923 driven by Ugo Sivocci. This in turn led to the RL Super Sport in 1925 with the power increased to 83 b.h.p. for the 6-cylinder 3-litre engine.
Shown is an RL SS and Alfa Romeo entered five of these Super Sports for the first Mille Miglia race in 1927.
Despite leading the race at Rome the best result they could manage was 7th. However, with the coming of the Jano-designed cars Alfa Romeo went on to win this famous Italian race a record eleven times.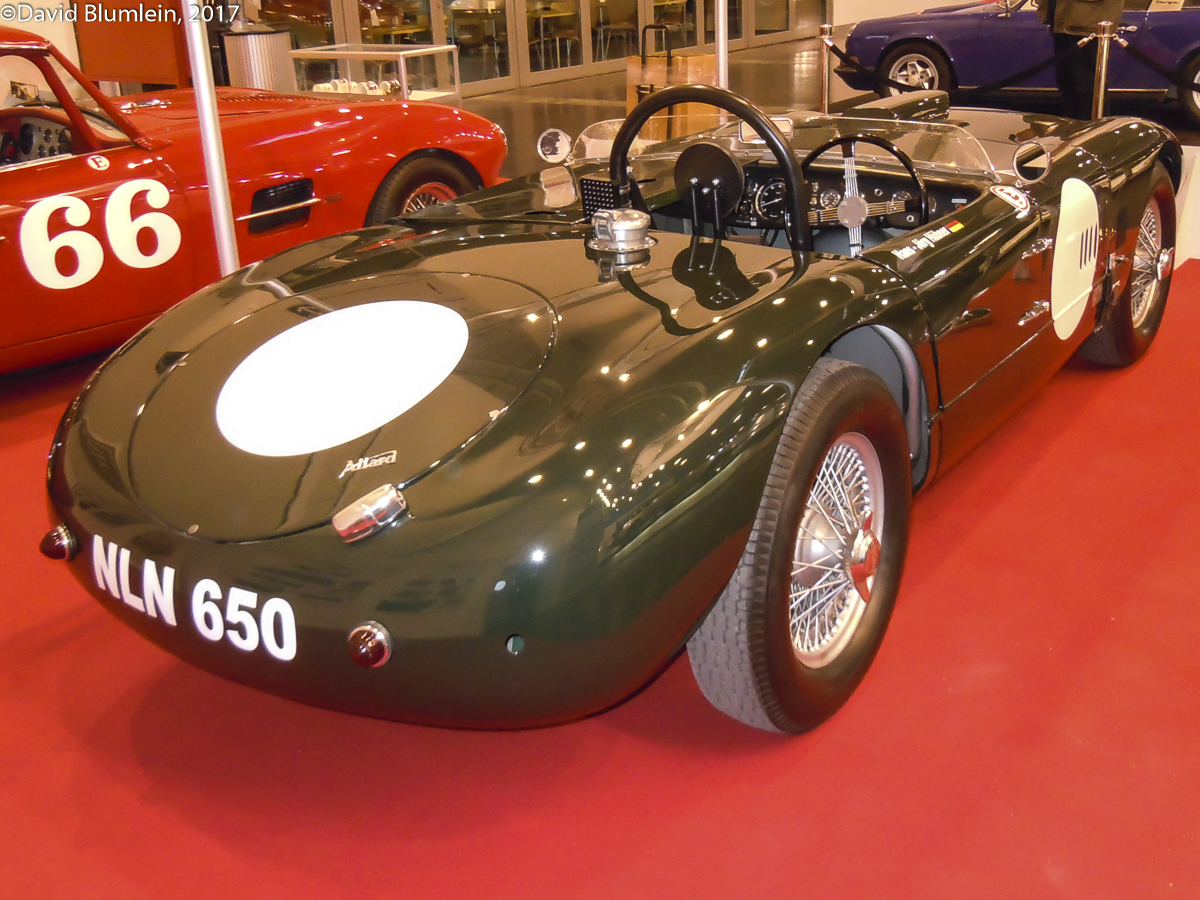 This is an Allard JR. Built for the 1953 season, it was the last of that company's attempts to make a successful sports racing car. Preliminary outings took place at Ibsley, in the Silverstone Daily Express Production Sports Car Race where Sydney Allard lying third spun off at Beckett's and dented the tail and at a club meeting on an early circuit layout at Thruxton. Two cars with 5.4-litre V8 Cadillac engines ran at Le Mans but their only claim to fame was that Sydney led round the first lap which seemed to matter to the French in those days! Both cars were out before nightfall.

We must remember Allard for two outstanding achievements: a superb third place overall at Le Mans in 1950 and Sydney Allard's outright win in a P1 Allard saloon in the 1952 Monte Carlo Rally, the only time a driver has won this prestigious event in a car of his own construction.
I wonder how many of our readers have ever heard of a Ford Rheinland? Ford were early in Germany using a factory in Berlin Westhafen until 1931 after which they moved to Köln (Cologne) where they still are. This model used the Model B chassis but had a 4-cylinder 3.286 c.c. engine and was made in 1934. And did readers know that all the modern Aston Martin V12 engines have been made in Ford's big factory in Köln?
Fiat upgraded its 500C Station Wagon in 1951 by giving it all-metal bodywork and calling it the Belvedere. This 1952 example with a 596 c.c. 4-cylinder ohv engine ran in the 1954 Mille Miglia.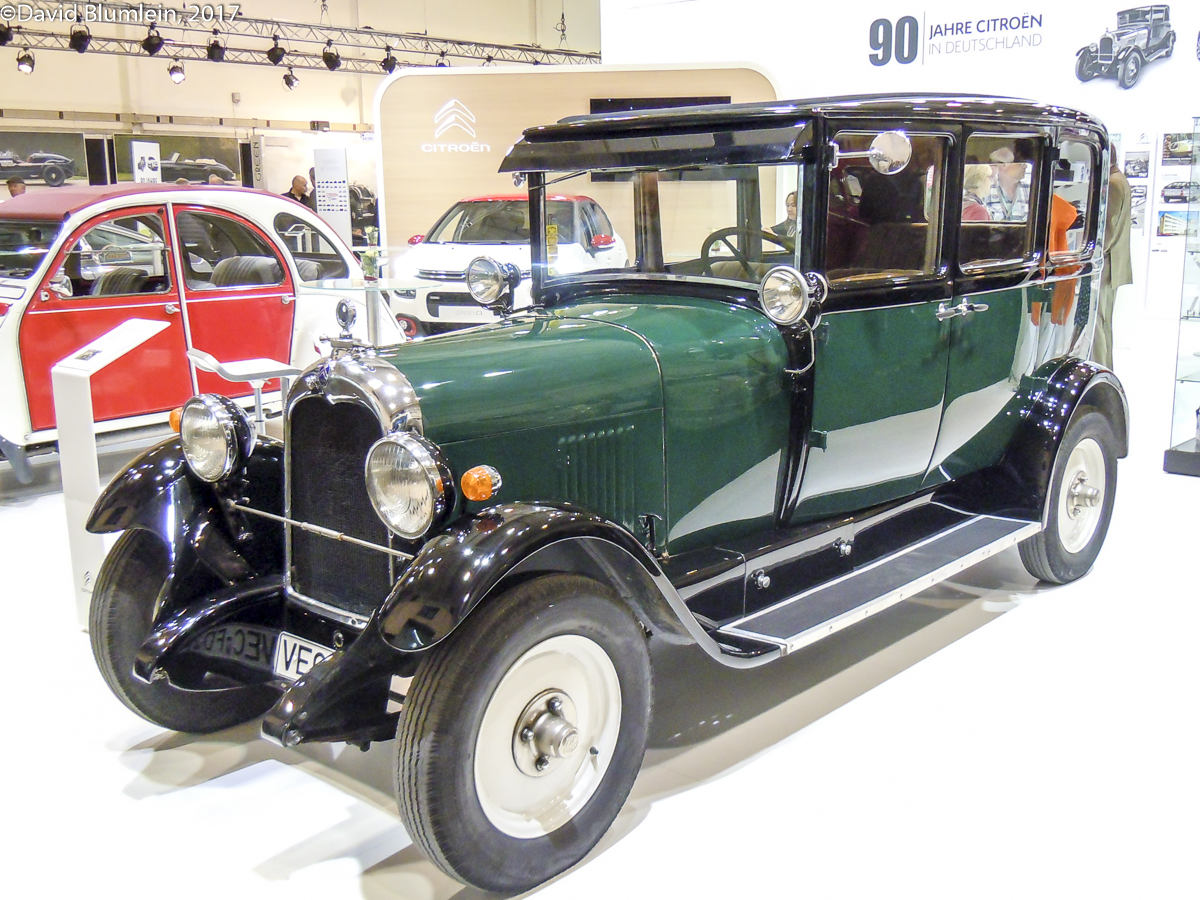 Citroën was celebrating 90 years of production in Germany. Their first factory was in Köln Poll and this Type B 14 was their first product in 1927. It was known locally as " Der Poller".
Wanderer was from 1932 a member of the Auto Union combine and this is a factory replica built on an original chassis of one of the team of three special aluminium-bodied roadsters for the Liège-Rome-Liège rally in 1938 and 1939.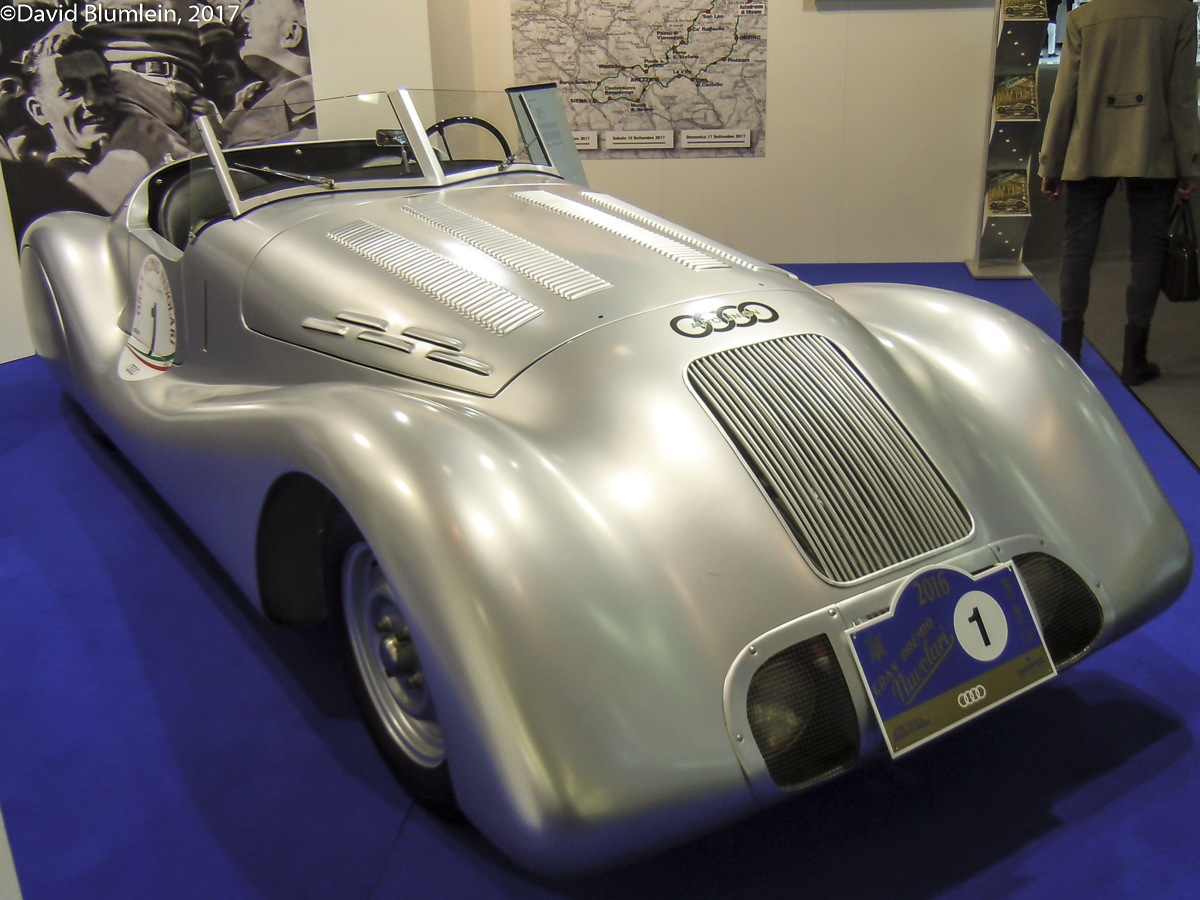 Its 6-cylinder alloy engine, designed for Wanderer by Ferdinand Porsche, had three Solex carburettors and ran in 2-litre form. One car finished 8th in 1938 and the cars won the Team Prize in 1939. They have all disappeared since.
In 1932 Dr Porsche received a contract from NSU to build three prototypes of a small car ( Porsche Type 32) – it had a flat-four air-cooled ohv rear-mounted engine made by NSU and bodywork by Reutter.
However, there was a problem: NSU had made an agreement with Fiat in 1930 when NSU decided to cease car production because of the economic crisis and handed over their automobile department to Fiat, leaving NSU to concentrate on motor cycles. Thus this car could not possibly go into production.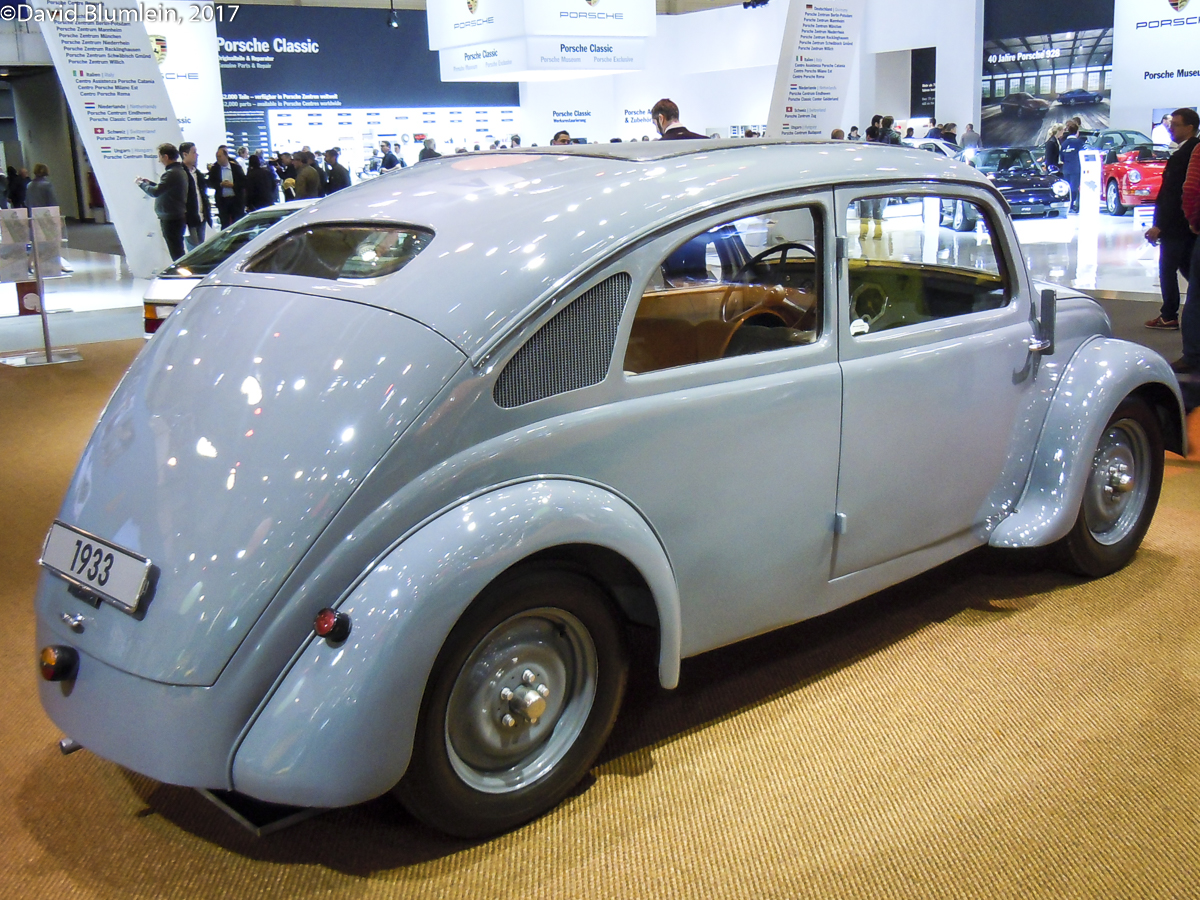 Meanwhile Dr Porsche was discussing with Hitler the possibilities of a People's Car – a Volkswagen – and it reached a point where Hitler ordered Porsche to undertake the design of such a machine. As can be seen, Porsche leaned heavily on the work he had already done for NSU.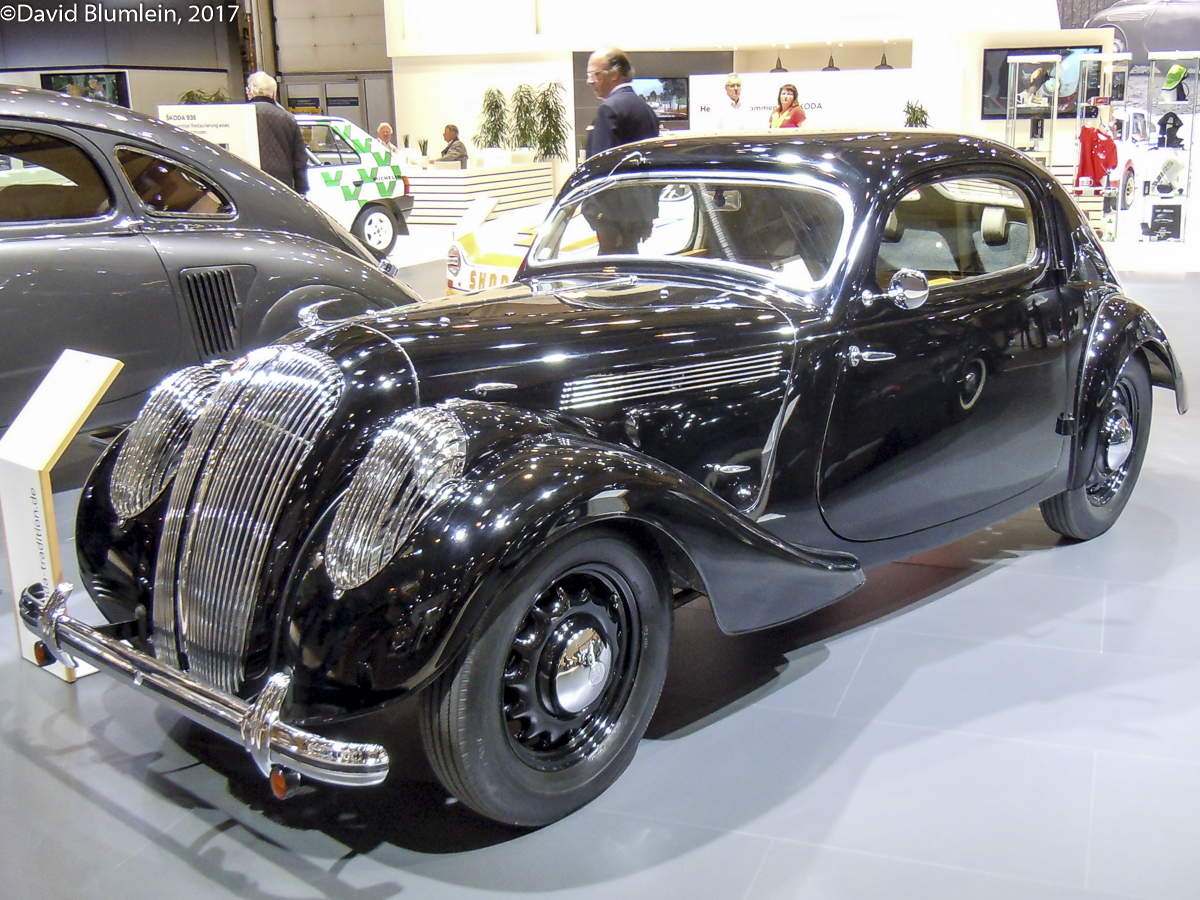 I cannot resist the chance to show the Skoda Popular Monte Carlo Coupé, a great favourite, and with it the Roadster version. By building these cars (72 in all) Skoda was celebrating the 2nd place in class of their 420 Popular model in the 1936 Monte Carlo Rally, their first participation in this prestigious event.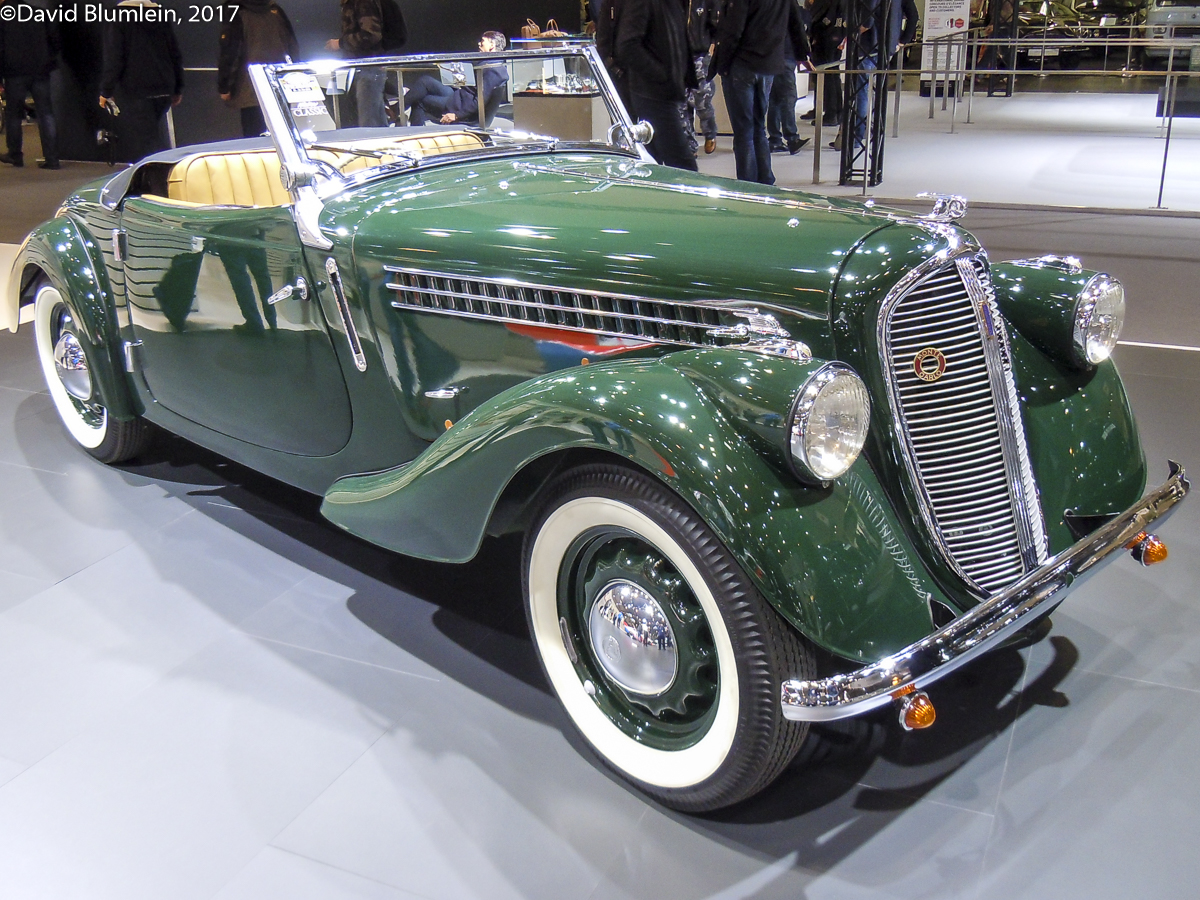 Skoda made superb cars in the Thirties – this particular car had, for example, independent suspension and even a transaxle (rear –mounted gearbox) to help with weight distribution. Compare this advanced engineering for the time with that of, for example, an Austin Ten of the same period!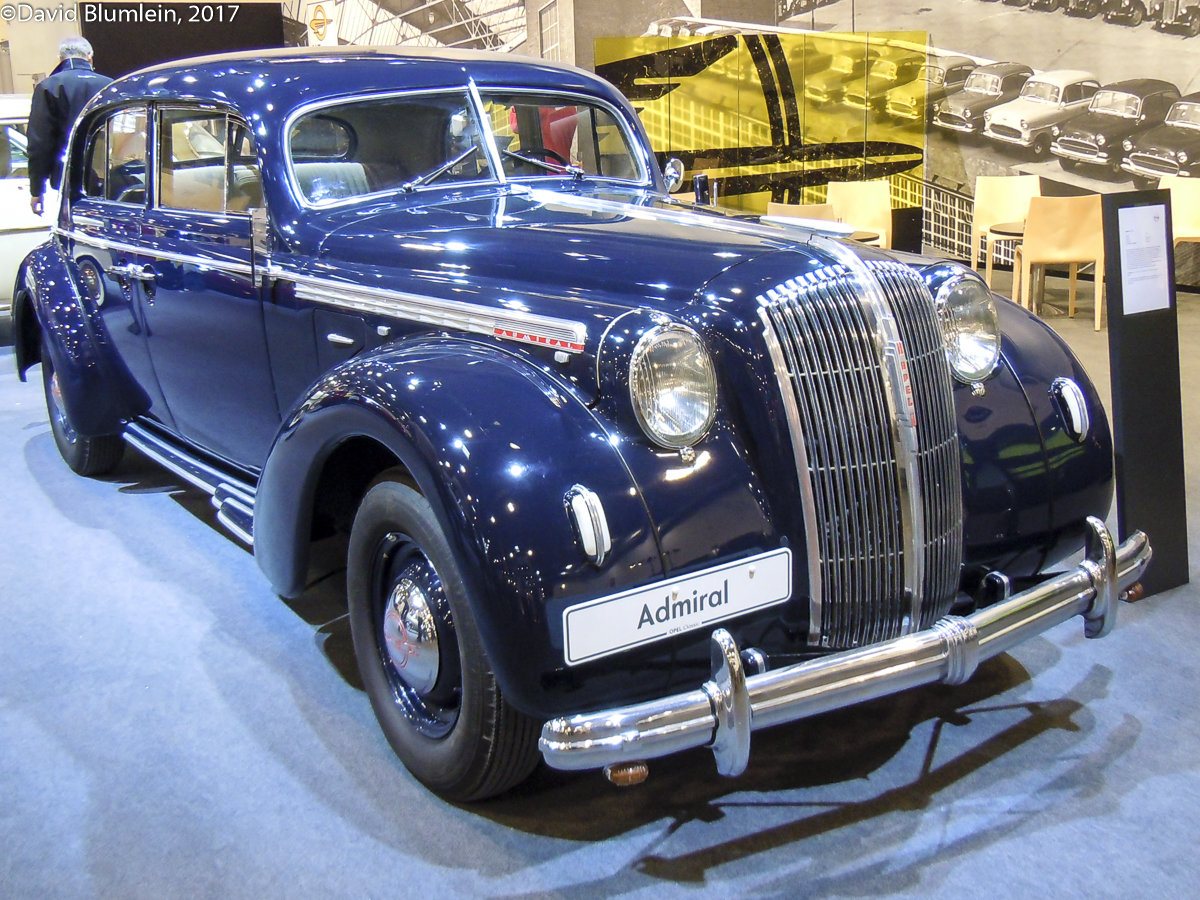 The Opel Admiral, the flagship of the Rϋsselsheim range in the late Thirties. It had independent front suspension and used a 3626 c.c. version of General Motors' excellent 6-cylinder ohv engine which went on to power the Opel Blitz 3-ton lorry, the German Army's first choice. (Readers may be surprised to know that Mercedes-Benz was obliged to build these lorries as the L701 in their Mannheim factory).
TAILPIECE
Guess what this is! It is a Volkswagen "Beetle" with bodywork by the Berlin coachbuilder Rometsch. This company also made 4-door versions of the "Beetle" for use as taxis!
David Blumlein, July 2017